Dodgers Report:

Tommy Lasorda
April, 22, 2013
Apr 22
12:48
PM PT
There have been better weeks to be a Dodger fan. The team lost all but one game last week, has seen its starting pitchers go down one after the next and has generally looked anemic when at bat. The cloud of a record payroll isn't making expectations any easier.

If you need a reminder that hope is far from lost, you can pick up Josh Suchon's new book, "Miracle Men: Hershiser, Gibson and the Improbable 1988 Dodgers," which is trickling into stores now. It shows how teams can endure an endless string of adversity and still reach, and win, the World Series. Most people didn't think that team was very good going into the season and most people didn't think it stood a chance going into the World Series against the Oakland A's.

Suchon, a radio co-host of postgame Dodger Talk from 2008 to 2011, is now the play-by-play voice of the Albuquerqe Isotopes, the Dodgers' Triple-A affiliate. He's also a former newspaper reporter and longtime friend. He and I worked together at the Oakland Tribune for about 10 years.

I caught up with Suchon by phone to talk about the book:

Q. So, you grew up three BART stops from the Oakland Coliseum and worshipped the A's. How did you bring yourself to write this book and how did it come about?

A. I had the idea during the 2009 playoffs when I was flying on the Dodgers charter flights. I was reading Joe Posnanski's book about the 1975 Cincinnati Red, which I loved. I wanted to write a book about a team that won the World Series. My first thought was to do the '81 Dodgers, but there were already a number of books on that team. I assumed there had been a half-dozen books on the '88 team, too, but to my surprise, nothing had really been written. It was a perfect opportunity.

Q. Did you find it bittersweet or therapeutic?

A. I was hoping it would be therapeutic. Writing the off-season chapter, the spring training chapter, all the Orel Hershiser chapters, the NLCS chapter, those were all really fun. But there were times writing the World Series chapters when the 39-year-old Josh turned into the 15-year-old Josh and I got angry. I watched all five games again and, a few times, it was very distressing the way they A's didn't play the way they had all year. I'm over it. I really am.

Q. Who was the first person you interviewed and how did you piece a 25-year-old narrative back together?

A. The first person was [ex-GM] Fred Claire. Without his help and his candid way, the book wouldn't have been as good as it is. It was pure luck I happened to talk to Fred first, but because I did it helped me ask better questions later and bring stories alive. My favorite interviews were probably Steve Sax and Tim Belcher. They had great memories, great stories and were very enthusiastic. I talked to probably two-thirds of the players from that team, plus broadcasters Vin Scully and Jaime Jarrin. The key guys, like Orel and Kirk Gibson, Mike Scioscia and Mike Marshall, were all very helpful.

Q. One of the things that struck me was how honest the players were to the newspaper reporters back then. Just during spring training, you detail several team feuds and you cite newspaper clippings in which players publicly blast each other or management. How different was that world from the media world we live in now?

A. That was one of the bigger surprises. In some ways, it was a wakeup call about how baseball gets reported now. Because ESPN wasn't in 24-hour news cycle, there wasn't the dot-com presence, obviously things were still very much driven by newspapers. The quotes were fantastic. Guys ripped each other on the record every day, it seemed like. Maybe it's because they didn't have the Internet, so people didn't see every quote and they didn't get in trouble for it. They didn't have their guards up as much.

Q. Did writing this book shed any light on why the Dodgers haven't been back to the World Series since?

A. I tried not to delve into that, because I wanted the focus on '88. Going into that year, they were struggling. They had had back-to-back losing seasons, attendance was down, the Lakers had taken over as the most important team in town. They had lost their way, which is why nobody expected much in 1988. Most of the media predicted they'd be in third or fourth place. Everything came together just right for them. They needed contributions from everyone on the roster. Obviously, Hershiser and Gibson saw most of the headlines, but a lot of guys did great things and had career years. They kind of went against the Dodger Way and signed free agents. Fred Claire got ripped for his trades, but those trades and the farm system were what got them through.

Q. We all have a conception of Orel Hershiser as "the Bulldog," many people remember the scoreless-innings streak and hear him a lot broadcasting games nowadays. He writes the foreword for your book. Give us some insights we might not have.

A. Going back to Posnanski's book, what struck me most when I read it is how much better I appreciated Pete Rose afterward. He showed just how intense he was as a player and how much he hated losing. I wanted people to really understand Orel Hershiser. He was not drafted very highly, he was mostly a middle reliever in the minor leagues. Because he was tall and skinny and wore glasses and was a Christian, a lot of people had doubts about whether he had the toughness to be a big-game pitcher. I think that drove him more than he admits to this day. Also, I don't think people appreciate the 59-inning scoreless streak enough. It was overshadowed by the Olympics, by the start of the NFL season, with two teams in L.A. and USC and UCLA both having top 10 football teams. Four of the six starts were on the road.

Plus, it was mathematically impossible. He went into the last game of the season needing 10 scoreless innings, which meant not only did he have to throw a shutout, but the other guy did as well. It was Andy Hawkins of all people. Sure enough, it happened. Every Dodger hitter I interviewed for the book, I asked, "Were you trying to score?" They all said, "Yeah." Just an unbelievable accomplishment.

Q. How much time did you spend researching Game 1 and all the intricacies of Gibson's home run off Dennis Eckersley?

A. That was the challenge, because it's the game everyone remembers and I wanted to bring it to life without boring people who already know the details. I have a page or two about the 3-and-2 backdoor slider, which has been talked about for years and years, but what is rarely mentioned is how often Eckersley went to that pitch against left-handed batters. Tim Leary showed me the scouting report from that game and I saw where it said he was going to throw that against lefties. But he only got to 3-and-2 to left-handed batters that year eight times. Four of them were in May, so the Dodgers based this entire scouting report on four pitches in the last four months of the season. Talk about a small sample size. Dennis always said it was a stupid pitch. [Catcher] Ron Hassey said no way, it was his best pitch to a lefty.

One of the best stories is from Vin Scully, who told me it was the only time in his life after a game that he couldn't sit down, he couldn't get in his car and go home. He had all this energy in his body. He was pacing around the O'Malleys' suite. To hear Vin Scully say something like that is remarkable. He's the picture of calm and he couldn't sit down.

Q. What else stands out about that post-season?

A. I've always thought bulletin board material was overrated. If you need that to motivate you, you probably won't win the series. But there was a ton of that stuff in those series and the players still talk about it. David Cone had ghost written a story in one of the New York tabloids and said a bunch of stuff about Jay Howell. Before the World Series, Don Baylor said the A's wanted to play the Mets, because they were the best team in the National League and they wanted a challenge. That had an impact. Guys read the paper. Tommy Lasorda used that stuff to fire up the team.

Oh, and Hershiser wasn't the original World Series MVP. They told someone else he was the MVP and he was walking to the stage to do an interview, when they told him they'd made a mistake. People have to buy the book to find out who it is.

Q. Nice tease. Any other cool tidbits?

A. The reactions I got about the Pedro Guerrero-for-John Tudor trade in August were interesting in how mixed they were, even to this day. Some guys said they were sorry to see Pedro go, but when John Tudor walked in the door, it gave them a lot of confidence. Other guys said they still don't know why they made that trade.

Q. How do the Isotopes look so far?

A. Well, the Dodgers have already taken our three best pitchers, our Opening Day starter [Steven Fife] and our two best relievers, Shawn Tolleson and Josh Wall. We had Tim Federowicz and then the Dodgers took him back four days later. On behalf of the Isotopes, I'd love it if the Dodgers could stay healthy the rest of the year.


January, 9, 2013
Jan 9
4:00
PM PT
If you haven't heard by now, Mike Piazza didn't win election to the Hall of Fame in his first appearance on the ballot.
The 12-time All-Star catcher, who played for the Dodgers from 1992 to 1998, wasn't alone.
No nominees got in Wednesday
, largely due to the taint of performance-enhancing drugs in their era; Piazza got 57.8 percent of the vote, Barry Bonds got 36.2 percent and Roger Clemens received 37.6 percent.
William Weinbaum, a producer for ESPN's "Outside the Lines," caught up with Hall of Fame manager Tommy Lasorda after Wednesday's announcement for his thoughts on Piazza's exclusion and the shutout thrown to the rest of the class of 2013.
"I was hoping and praying Mike would be selected," Lasorda told Weinbaum. "He had more homers than any other catcher and hit over .300.
"I don't think he took them [steroids] and that's my opinion. I hope I'm not wrong."
Lasorda, a longtime friend of Piazza's father, didn't otherwise disagree with the way members of the Baseball Writers' Association of America took a hard stance on suspected PED users.
"If guys cheated, they don't deserve to be in the Hall of Fame," Lasorda said.
In Piazza's case, the allegations have been circumstantial. In a 2010 Clemens biography, former Sports Illustrated writer Jeff Pearlman wrote that Piazza confided to some reporters that he used performance-enhancing drugs. Pearlman also quoted two former major league players who said Piazza was suspected of using steroids by other players.
"Assumptions? A lot of ships got sunk on assumptions," Lasorda said. "I don't think it's something, unless it's fact."
There is, of course, plenty of time for Piazza to make it to Cooperstown. This year's nominees have 14 more years before they fall off the ballot, presuming they win at least 5 percent of the vote every year.
Lasorda told John Shea of the San Francisco Chronicle last month that he didn't think Clemens, Bonds or Sammy Sosa deserved to get in, a sentiment he echoed to Weinbaum.
"How did they get those numbers? Who ever thought somebody would hit 70 home runs? Babe Ruth never hit 70," Lasorda said.
January, 9, 2013
Jan 9
12:00
PM PT
As meaningless games go, the Dodgers have some pretty cool ones scheduled for March. Leading the list is their March 6 game in Arizona against the Mexican World Baseball Classic team.

Second is this: Wednesday they announced they'll take on their Class-A team in Rancho Cucamonga in a split-squad game on March 28, with Tommy Lasorda managing. The rest of the team will be playing the Angels in Anaheim.

The game is at 6:05 p.m. at The Epicenter in Rancho Cucamonga.

"This is an amazing opportunity to showcase our partnership with the Los Angeles Dodgers," Quakes general manager Grant Riddle said in a statement.

In the announcement, the Dodgers said that tickets for the event are only available right now to Quakes season-ticket holders.

It's too early to tell which Dodgers players will make the trip to Rancho. Typically, front-line players play sparingly -- if at all -- in the final few exhibition games. It might come down to whether they'd rather drive 40 miles east or 30 miles south.
June, 17, 2012
6/17/12
6:34
PM PT
LOS ANGELES -- The thought had crossed my mind several times during this increasingly compelling, increasingly magical season for the Los Angeles Dodgers. But the thought crossing my mind and the thought crossing the Hall of Fame lips of
Tommy Lasorda
are two very different things. So when the latter happened Saturday, the old skipper engaging reporters during his first visit to Dodger Stadium since suffering a heart attack a couple of weeks ago, about a dozen pens were set into furious motion.
"It's a lot like my 1988 team," Lasorda said. "We didn't have an overabundance of guys who were great, but we had guys who were great together, and I think that is what you are seeing now. At least that is what I see."
Well, it's what I see, too. And I have a strong suspicion that a lot of other people are seeing the same thing.
I viewed the '88 club mostly from afar, being a college kid in Arkansas, catching the Dodgers whenever they appeared on national telecasts -- which weren't nearly as ubiquitous then as they are now. But I found them fascinating, the
Kirk Gibson
impact, the
Orel Hershiser
scoreless streak, the inevitable collapse that just never came, until finally, they were popping champagne in the bowels of what was then known as the Oakland Coliseum.
The Dodgers, fresh from another victory Sunday -- this time 2-1 in 10 innings over the Chicago White Sox before a Father's Day sellout of 53,504 at Dodger Stadium -- are headed back to that same concrete doughnut this week for an interleague series against the Oakland A's, beginning Tuesday night. They will take with them, somehow, the best record in the majors (42-25) and a five-game lead in the National League West.
What they won't take with them is a stockpile of top-level talent or any discernible swagger or any convincing reason why any team that encounters them should be in any way intimidated. So far, though, these Dodgers haven't needed any of those things. All they have needed is that same refusal to quit, that same quiet confidence, that same belief that no opponent is unbeatable and that no deficit is insurmountable.
All traits, of course, that marked that '88 world championship team. And so, to that extent, perhaps Lasorda's comparison should be viewed as the ultimate compliment to this 2012 club, if only they had more than a vague -- and in some cases, non-existent -- recollection.
"I was just born in '88, so I didn't get to see them," Dodgers shortstop
Dee Gordon
said. But there was Gordon, who has been struggling at the plate as long as just about anybody can remember, delivering a walk-off single against White Sox reliever
Matt Thornton
in the 10th inning, bringing home
Tony Gwynn Jr.
, who is a good guy and a serviceable player but nowhere near the hitter his Hall of Fame father was.
This after veteran
Bobby Abreu
, a guy whom the Los Angeles Angels gave up on earlier this season, singled to start a game-tying rally in the ninth, one that was helped along by a key single from an infielder named
Elian Herrera
, who most casual Dodgers fans didn't even know existed until a few weeks ago. The rally was capped by a sacrifice fly from another player,
Juan Rivera
, who also had been given up on by his former club, the Toronto Blue Jays, less than a year ago.
Where this will lead in a few months is anyone's guess. But we all know where it led 24 years ago -- to a place no subsequent Dodgers team has been able to reach.
Keep in mind, this is a team playing without its superstar, center fielder
Matt Kemp
, and probably will be doing so at least through the All-Star break. Consider, though, that the Dodgers have gone 19-12 in the 31 games Kemp has missed so far.
It's one of those teams for which everything seems to fall in place. Case in point: on Sunday,
Andre Ethier
, the team's main, middle-of-the-order power threat without Kemp, went 0-for-3 with three strikeouts and an intentional walk, prolonging a hitting slump that is closing in on a month now. But Ethier, a two-time Gold Glove right fielder, may have saved that game with three spectacular catches, each of which took away at least a single and the last of which took away at least a double at a critical juncture in the ninth inning.
Consider also that the Dodgers have gotten little to no production out of the leadoff spot, where Gordon usually hits; that they have gotten such inconsistent production out of
James Loney
that first base has become a platoon situation; that second baseman and second-place hitter
Mark Ellis
has been on the disabled list for a month and may be there for another month; that reigning Cy Young Award winner
Clayton Kershaw
has been merely good, which is a precipitous drop from otherworldly, which is what he was the second half of last year.
And yet, despite all that, here the Dodgers are. As intriguing and compelling as they have been, arguably, in a generation. Oh, and just like in '88, they also have pretty good pitching, entering Sunday with the second-best team ERA in the majors. They also have played more one-run games than anybody else in the majors, including each of their past four games, and they have gone 18-13 in those games.
Don Mattingly
, the Dodgers' current manager, spoke one day on the just-completed homestand about how rare it is to encounter a team like this, a team in which every individual seems to be on the same page, working toward the same goal, subordinating himself to the team for the good of himself and his teammates.
Mattingly said that of the 14 seasons he spent as a major league player, all with the New York Yankees, only one of them, the last one in 1995, fit that bill. When
Derek Lowe
and
Bill Mueller
were with the Dodgers, they used to wax nostalgic all the time about their 2004 Boston Red Sox team, which also boasted that once-in-a-lifetime type of chemistry on its way to famously breaking an 86-year World Series title drought.
There is no denying that this is one of those teams. That guarantees nothing, of course. The collapse that never happened in '88 could happen in '12.
But whatever the destination, it is becoming easier now to actually buy into the notion that it is going to be a lot of fun watching these Dodgers get there.
February, 22, 2012
2/22/12
3:14
PM PT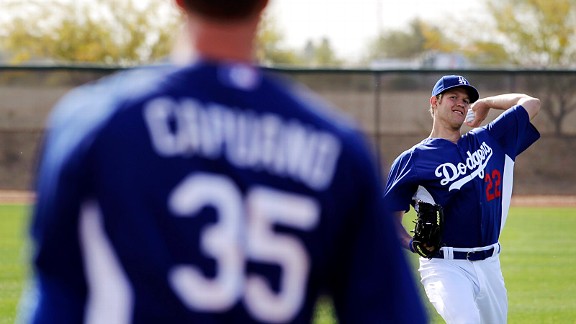 AP Photo/Jae C. Hong
Clayton Kershaw, right, throws to Chris Capuano during a spring training workout Wednesday.
Spring training workouts tend to be mundane, and that includes the first one, which for Dodgers pitchers and catchers took place on Wednesday. Half the pitchers threw bullpens, with the other half scheduled to do the same tomorrow (except
Ted Lilly
, who will arrive late because his wife gave birth Tuesday). No one's arm fell off. That's pretty much all you need to know.
Mostly, then, for those of us who weren't actually participating, that first workout was a chance to renew acquaintances after the long winter and, while standing on the sideline, engage in a few conversations. For me, this year, it also was a time to field comment after comment about the length of my hair.
The day began with the usual standing around the clubhouse, for which the daily beat crew was joined by a couple of national writers I hadn't seen since the winter meetings. We met with
Ronald Belisario
, and he
admitted he had tested positive for cocaine
, which was why he couldn't get a visa to come to the U.S. last year and join the Dodgers.
Then they closed the clubhouse for a meeting, so we returned to the media workroom to write the Belisario story. I filed just in time to make manager
Don Mattingly
's morning media briefing. While waiting for Mattingly to emerge, I spent a couple of minutes chatting with assistant general managers,
Logan White
and
DeJon Watson
.
Then it was out to the back fields, where a couple of us cornered general manager
Ned Colletti
for a couple of quick questions and wound up having a casual conversation that lasted about 45 minutes. That's fairly common with Colletti, a former sportswriter who has an easy, relaxed way about him and likes to spin a good yarn.