Dodgers Report:

Toronto Blue Jays
July, 29, 2013
7/29/13
1:54
PM PT
LOS ANGELES -- Is it throwing a wet blanket on this thing to point out that the Dodgers would be in fourth place if they played in the American League East?
Or, that they would be seven games out if they played in the NL Central? Or that they wouldn't be leading any other division aside from the one they're lucky enough to be playing in?
Might be, but the way they're going, none of those things may be true in a week or two. The Dodgers, along with the
Tampa Bay Rays
, can't seem to lose.
Never was that more true than Sunday, when they were tied in knots by the
Cincinnati Reds
' young lefty,
Tony Cingrani
, and struck out a team-record 20 times, then, somehow, pulled it out in the 11th inning.
Five weeks ago, it seemed like the Dodgers sat around waiting to lose. Now, it seems like they sit around thinking up new ways to win. The baseball schedule tends to move in those big, sweeping cycles, but the trajectory of the Dodgers' season seems entirely novel.
SCORING
Yasiel Puig
is an interesting baseball player.
We'll leave aside the matters of his head-long, go-for-broke running style, his on-field swagger or how he comports himself in the clubhouse and confine this discussion to the numbers.
He is a wildly streaky player. The staff at ESPN Stats and Info passed this one along this morning: From his promotion June 3 to July 2, Puig batted .443 with a 1.218 OPS. For the next 19 days, he batted .220 with no home runs and .520 OPS. He went from striking out 20 percent of the time to striking out 32 percent of the time.
And now? The sample size is smaller than either of the first two, but it kind of looks like he's back. Puig batted .435 this past week with two home runs (including the walk-off blast Sunday) and he "only" struck out 25 percent of the time.
Puig's hot week made up for a slight softening from
Hanley Ramirez
, who at times expanded his strike zone as pitchers give him fewer and fewer pitches to hit, suddenly aware he's been the hottest hitter on the planet.
Andre Ethier
cooled off at home after a torrid road trip.
The Dodgers pounded the ball in Toronto, as many teams do, and then adapted to more pitching-friendly games in Los Angeles. Hard to fault them. The Reds have some very good pitchers.
Grade: A-
DEFENSE
All eyes should be on the bullpen for several reasons. For one thing, general manager Ned Colletti has said that's his primary focus heading into Wednesday's non-waiver trade deadline. For another, the bullpen has been the point of weakness when the Dodgers have looked their most vulnerable this season.
July has seen a dramatic uptick in the fortunes of Dodgers relievers, particularly the most-maligned one.
Brandon League
, though working in some lower-stress settings, pitched 4 2/3 scoreless innings and picked up three wins in relief.
Kenley Jansen
pitched five out of six days and saved three games.
It was a mixed bag from
Hyun-Jin Ryu
,
Zack Greinke
and
Chris Capuano
, but pretty definitive from
Clayton Kershaw
. He held the Reds to one run and struck out eight in eight innings.
Grade: B+
DECISION-MAKING
One scout who has seen
Carlos Marmol
frequently was asked why, even as he has struggled, he doesn't give up many hits.
"Because he walks you before you have a chance," the scout said.
It will be interesting to see how long an audition the Dodgers give Marmol, who allowed six hits and two walks in just 2 2/3 innings last week. Perhaps his window of opportunity is about as long as young flame thrower
Jose Dominguez
is on the the disabled list. The Dodgers have also said they'll consider using Capuano or
Stephen Fife
out of the bullpen, so maybe it's not even that long.
Manager Don Mattingly's oddest game was Sunday, when he made a mid-inning defensive replacement in left field and lifted Capuano after 7 2/3 shutout innings after just 83 pitches. He later called the Capuano move a "tough call," and sounded sorry for potentially embarrassing veteran
Jerry Hairston Jr
.
But this is how well the Dodgers are going: neither move had any negative fallout.
Grade: B
GRIT-METER
When the Dodgers fell behind 8-3 in the seventh inning of Tuesday's game, they had about a 2 percent chance of winning, according to truebluela.com stat wiz Eric Stephen. Didn't matter. They came back and won anyway. They won the next night, too, despite trailing when they were down to their last strike.
And then, Sunday, they were in the midst of, arguably, the worst offensive game in Los Angeles baseball history, and they somehow pulled it out.
They aren't just the It Team. They're the Grit Team!
Grade: A
STATE OF CONTENTION
Monday, the Dodgers slipped into sole possession of first place for the first time all year. They started the week half-a-game behind the
Arizona Diamondbacks
and finished it 2 1/2 games up. Yeah, it's going well, but until they have a comfortable lead, we're sticking with ...
Grade: A-
July, 24, 2013
7/24/13
8:43
PM PT
At some point, the
Los Angeles Dodgers
will come down from the clouds and we'll see where this thing is headed, right?
They're probably not going to play at an .821 pace between now and Sept. 29, as they have for the past 28 games. Nor are they likely to play .417 baseball, as they did for the season's first 72 games.
Those trends are virtually impossible to align, and, over these next 62 games, the Dodgers will give us a good indication about which stretch was more telling. You'd be foolish to bet against the optimistic scenario right now.
[+] Enlarge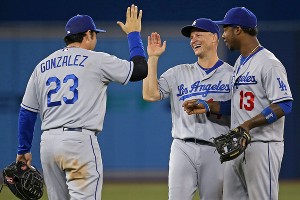 Tom Szczerbowski/Getty ImagesMark Ellis, center, belted a two-run homer in the 10th to send the Dodgers on their way to another win, the team's 10th in a row on the road.
They've reached the 100-game mark feeling about as good as a team can feel about itself, especially after coming off a perfect road trip capped by Wednesday's 8-3 win in 10 innings over the
Toronto Blue Jays
at Rogers Centre.
The Dodgers have won all six games since the All-Star break, all on the road in what were supposed to be challenging settings. They've won 23 of their past 28. Their 10 straight wins on the road are a record for an L.A. Dodgers team.
They seem to think they can win no matter what the circumstances, which is exactly what they're doing. They overcame a five-run deficit in the seventh inning to win Tuesday. They overcame a 3-2 deficit in the ninth to win Wednesday.
So many Dodgers players are seeing the ball well and hitting it with the barrel of their bats. That's what makes for this kind of streak, a domino effect of players in a groove.
Andre Ethier
went 4-for-6 Wednesday with some big hits.
Yasiel Puig
snapped his homerless drought and had three hits.
Mark Ellis
has been quietly doing as much as anybody. He had the two-run home run that got the Dodgers' rollicking 10th-inning rally going.
The Dodgers have scored 41 runs in their past four games, and that kind of production can obscure a lot of frailties. The fielding isn't particularly good. In fact, that's sugar-coating it.
Hanley Ramirez
is looking shaky at shortstop again and the Dodgers committed three errors Wednesday.
The back end of the pitching rotation -- at times, a group that includes
Hyun-Jin Ryu
-- has been suspect.
Ricky Nolasco
got the Dodgers into the sixth inning, but it was a slow grind at times. He gave up four walks, so -- even though Toronto was hitless through four -- it amounted to little after
Brett Lawrie
's two-run double in the fifth tied the score.
July, 23, 2013
7/23/13
8:30
PM PT
When Don Mattingly made all those now-famous comments about mental toughness and what it takes to compete in the major leagues, he was probably envisioning a
Los Angeles Dodgers
team a lot like this one.
Remember that day, May 22, when Mattingly said things like, "some guys are willing to go another level for that prize. They'll do whatever it takes to beat you"?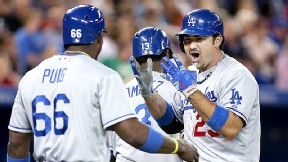 Tom Szczerbowski/Getty ImagesAdrian Gonzalez's three-run homer in the eighth inning Tuesday is an example of the grit the Dodgers have been showing lately.
The Dodgers went to multiple levels to beat the
Toronto Blue Jays
10-9 Tuesday night at Rogers Centre. They overcame a five-run deficit, rallying furiously throughout the game, and won for the fifth straight time and 22
nd
time in their past 27 games.
Just as they played like a last-place team for all those weeks, the Dodgers looked every bit a first-place squad Tuesday, cementing their position at the top of the NL West.
Adrian Gonzalez
, the forgotten man in this Dodgers resurgence -- as well as the only consistent and healthy hitter all season -- hit a three-run home run off
Darren Oliver
in the eighth inning to give the Dodgers the lead for good. It wasn't just timely, it was impressive. ESPN Stats & Information calculated the distance of Gonzalez's home run at 430 feet.
Andre Ethier
followed with a solo shot and the Dodgers withstood a ninth-inning Toronto charge off closer
Kenley Jansen
.
If there's one final piece the Dodgers would like to add before the July 31 trade deadline, it's another reliever. Their newest bullpen arm,
Carlos Marmol
-- the ex-
Chicago Cubs
closer summoned Tuesday from Double-A Chattanooga -- didn't give them any reason to change their mindset after he gave up three runs and four hits, including a home run to
Jose Reyes
.
Chris Capuano
continues to make a pretty decent argument that the Dodgers could use another starter, too, lasting only 4⅓ innings and giving up five runs. Capuano has started 12 times this season and given up five runs or more in five of them.
No matter what flaws are cropping up, the Dodgers are burying them in a flurry of runs. They have scored 33 runs in their past three games. It's coming from all over the place now.
Mark Ellis
drove in three runs Tuesday and
Jerry Hairston Jr
. homered.
July, 22, 2013
7/22/13
8:07
PM PT
Back in late May, when the
Los Angeles Dodgers
were sapped by injuries and buried under expectations, the pitchers were careful not to complain about the paltry run support they were getting night after night.
Even
Clayton Kershaw
, who saw nothing but zeroes and ones in the Dodgers' line score virtually every time he pitched, held his tongue.
And this is why.
The Dodgers are a whole lot easier to pitch for when they're battering down fences and pounding all the bases. As Kershaw had Sunday,
Hyun-Jin Ryu
(8-3) was able to coast behind a big early lead, making it stand up in a 14-5 Dodgers win over the
Toronto Blue Jays
at Rogers Centre.
[+] Enlarge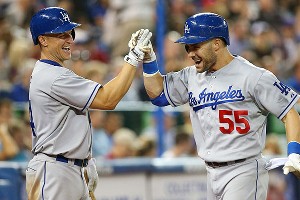 Tom Szczerbowski/Getty ImagesThe light-hitting Skip Schumaker, right, added to the Dodger fun with a three-run homer in Monday's 14-5 win.
It was the Dodgers' fourth win in a row, all after the All-Star break, and their 21st win in their past 26 games. It put them in a first-place tie atop the National League West. Should the
Arizona Diamondbacks
lose Monday night, the Dodgers would be alone in first place for the first time all season.
This offensive surge is something to behold. What once was confined to isolated pockets of the lineup -- namely the ones in which
Yasiel Puig
and
Hanley Ramirez
batted -- has now broken out all over the place. Catcher
A.J. Ellis
drove in five runs, including on a two-run homer off
Josh Johnson
in the second inning, and scrappy utility guy
Skip Schumaker
drove in three more, all on a rare home run.
Otherwise, the Dodgers just sat back and let Toronto collapse. The Blue Jays, who entered the season with similar expectations but remain stuck deep in last place, made five errors.
Puig didn't quite break out of this enduring cold spell (though he snapped an 0-for-12 skid with his third-inning RBI single), but he did continue to dazzle with his feats of daring in the outfield. Puig robbed
J.P. Arencibia
of extra bases in the eighth inning with a running catch before colliding with the wall once again.