Dodgers Report:

Trevor Cahill
September, 4, 2014
9/04/14
11:45
AM PT
LOS ANGELES -- After this weekend's series, the Dodgers will bid the
Arizona Diamondbacks
farewell (they don't see them again until 2015) and good luck (six of Arizona's next nine games are against the
San Francisco Giants
).
The fourth-place Diamondbacks have gone 5-8 against San Francisco and 4-12 against the Dodgers, but they could have a big impact on the NL West by playing spoiler for one of the teams.
Not that this should impact the race, but when asked about playing spoiler at the All-Star Game, plain-spoken Arizona catcher
Miguel Montero
, who has clashed with Dodgers outfielder
Yasiel Puig
, told ESPNLosAngeles.com, "I don't know. I really like the Giants a little better than the Dodgers."
That comment aside, if the Dodgers don't make the playoffs, they can't blame the schedule. The Giants are the only potential playoff team left on their schedule and the
Chicago Cubs
are the only non-division opponent left to play.
It would be helpful if the Dodgers could continue their mastery of Arizona. The bad news is this is one of those series in which Cy Young near-lock
Clayton Kershaw
won't pitch. The good news is
Zack Greinke
(13-8, 2.72 ERA) and
Hyun-Jin Ryu
(14-6, 3.18) will.
It took a while for Arizona to announce its rotation for this series, but it will go with youngsters
Chase Anderson
(8-6, 3.75) on Saturday and, on Friday,
Vidal Nuno
(2-9, 4.46), the pitcher they got from the
New York Yankees
in exchange for
Brandon McCarthy
.
On Sunday, the Dodgers will face
Trevor Cahill
(3-10, 5.06), who has pitched well lately as long as he's not facing the Dodgers, who roughed him up for eight runs in 3 1/3 innings on Aug. 26 in L.A.
The Dodgers pushed back
Dan Haren
's start, meaning he wouldn't face one of his former teams (the
Washington Nationals
) but will face another one of his former teams (Arizona). Haren has pitched well against both Washington and Arizona, so the motivation appears to be simply a matter of allowing Haren extra time to recover. The 33-year-old is coming off back-to-back quality starts against two of the weaker-hitting teams in the league, the
San Diego Padres
and
New York Mets
.
Haren is 24 innings shy of giving himself the option of returning to the Dodgers next season at a salary of $10 million, but he has said he hasn't decided if he will play in 2015 and that the vesting option is not a motivating factor for him in these final weeks. What will motivate Haren is trying to help the Dodgers get to the playoffs. His previous two seasons were with Washington, which disappointed mightily in 2013 and the Angels, who were World Series favorites after adding
Albert Pujols
in 2012 and finished in a distant third place.
March, 4, 2014
3/04/14
11:30
AM PT
Clayton Kershaw
is upset with his results
this spring.
After walking three Oakland A's batters and giving up a couple of RBI hits in the third inning of his second spring start, Kershaw told reporters in Arizona, "I'm searching for answers right now."
[+] Enlarge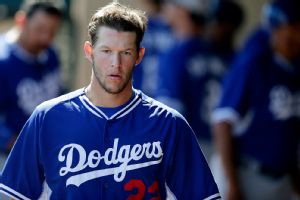 AP Photo/Gregory BullClayton Kershaw says he's "searching for answers" in reference to his two very average outings during spring training so far.
This kind of accountability is refreshing, of course, since most pitchers after a bad Cactus League start will tell you they felt "great," and were unconcerned with the results. But is Kershaw's concern telling in any way? It sounded a bit familiar, considering a year ago
he was saying exactly the same kinds of things
.
Kershaw has started two games this spring and looked nothing like himself. In four innings, he has as many walks (four) as strikeouts and he has given up seven hits and eight runs.
The minute Kershaw got out of the desert a year ago, things changed. He walked to the mound at Dodger Stadium and pitched a four-hit shutout, improbably hitting the home run that propelled the Dodgers to victory over the
San Francisco Giants
on Opening Day. He went on to win his second Cy Young award in three seasons.
So, take his Arizona comments with a grain, if not a shaker-full, of salt. On the other hand, they're not entirely to be dismissed. There is one glaring difference between 2013 and 2014: Australia.
When Kershaw expressed his frustration last spring, he had 20 more spring innings to get things right and he did just that, ironing out his command issues in time for the season. If the Dodgers keep Kershaw on his current turn, he would pitch Opening Day in Sydney on March 22, giving him just two more Cactus League tuneups and about eight or nine more innings, tops.
So, should the Dodgers hold him out of the Australia series? You could probably build a pretty good argument for that, considering they're trying to get a better handle on his innings after he pitched 259 of them a year ago. But
Zack Greinke
has already been essentially eliminated from those games by his strained calf and Arizona manager Kirk Gibson has let it be known that
Patrick Corbin
and
Trevor Cahill
will pitch those games.
It's not as if the Dodgers couldn't compete in those games with
Hyun-Jin Ryu
and
Dan Haren
on the mound, but they'd certainly stand a better shot of flying home happy if Kershaw pitched in one of them. He still has time to get a positive roll heading into the season, but less time than you might think.
August, 31, 2012
8/31/12
11:14
PM PT
LOS ANGELES -- At some point, the
Los Angeles Dodgers
are going to run out of opportunities this plump and ripe for the picking.
They lost for the 10th time in 15 games -- this time 4-3 to the
Arizona Diamondbacks
in 11 innings Friday night -- and the door closed another inch. Every team ahead of the Dodgers in either the division or wild-card standings lost Friday.
They remain 4 1/2 games behind the
San Francisco Giants
and 1 1/2 out in the wild-card race, a jumble of four teams.
Jason Kubel
hit the decisive home run off Dodgers reliever
Matt Guerrier
, and the game ended with Dodgers at first and third when catcher
A.J. Ellis
popped out to left.
The Good:


Mis-matchup.
Andre Ethier
was batting .216 against lefties, so it's not surprising Kirk Gibson brought in reliever
Mike Zagurski
to face him with a runner at third and two outs in the sixth inning. Ethier didn't exactly crush the ball, but he made good enough contact to bloop it over lunging shortstop Jake Elmore to tie the score at 3. It was a redemptive moment for Ethier, who had lost a ball in the twilight in the second inning to let Arizona's first run score.
Bouncing back.
You can learn more about a reliever off a bad outing than a good one.
Shawn Tolleson
probably will have sleepless hours thinking about his previous outing at Coors Field -- four runs allowed without recording an out -- for weeks. But at an important moment for the Dodgers, the young reliever flipped the script. Tolleson pitched two scoreless innings Friday, allowing the Dodgers to build a rally off
Trevor Cahill
.
Doubling up.
The Dodgers, frankly, were more than a bit lucky. Arizona hit plenty of balls hard in key situations that landed in the Dodgers' gloves, and four of them turned into crucial double plays. It was a season high in double plays for the Dodgers. Luck is a big part of them, but the players still have to turn them.
Luis Cruz
made a diving stop on
Chris Johnson
's hard shot in the ninth inning, threw to second from his knees and started a key double play.
The Bad:
Softening up.
Adrian Gonzalez
's Dodgers career started with a loud noise -- his three-run home run in his first at-bat. It's the at-bats since then that have been strangely quiet. Gonzalez is 5-for-28 (.179) with just three RBIs since that swing. It's a small sample size, but then again, so is the amount of time the Dodgers have with Gonzalez in their lineup this year.
Power shortage.
Matt Kemp
looked a little frustrated striking out in the eighth inning, when he slammed his bat to the turf. It's not so much that he has been struggling -- when he's healthy -- but he hasn't been driving the ball consistently. Kemp is batting .271 since Aug. 8, but since then, he has struck out 19 times, hasn't homered and has 10 RBIs in 19 games. The Dodgers need Kemp on the field, but they also need him a bit more productive.
Nothing in reserve.
Has there ever been a team with a less impressive bench? Don Mattingly had
Juan Uribe
(.186),
Matt Treanor
(.176),
Nick Punto
(2-for-13 as a pinch hitter),
Juan Rivera
(.240) and
Adam Kennedy
(one home run) at his disposal Friday night. The Dodgers looked long and hard at pitchers before Friday night's waiver deadline -- an attempt that proved unsuccessful -- but maybe they should have been trying to sniff out some bench help.