Dodgers Report:

Tyler Skaggs
September, 5, 2012
9/05/12
5:45
PM PT
Reliever Steven Rodriguez was packing for a trip to Jackson, Miss., when he got a call from Double-A Chattanooga manager Carlos Subero. While the team was going to Jackson, Rodriguez would be heading a little further west.
"I left so many things," Rodriguez said. "I just grabbed a bunch of clothes and said, 'Let's go.'"
It's fair to say the timetable has sped up a bit for Rodriguez, whom the Dodgers drafted out of Florida in the second round just three months ago. The
Dodgers
need a second left-handed reliever to go with
Randy Choate
now that
Scott Elbert
is on the disabled list.
Rodriguez, 21, had three saves and a 1.32 ERA and 22 strikeouts in 15 games for Chattanooga.
"I didn't expect this," Rodriguez said. "Now, I've got to go out and do my job."
Meanwhile, Dodgers manager Don Mattingly admits he's a bit befuddled at the Dodgers' offensive funk.
He's particularly galled that the Dodgers have struggled so badly against soft-tossing, left-handed pitchers, guys like
Mark Buehrle
,
Jeff Francis
,
Tyler Skaggs
and
Eric Stults
. They're facing
Clayton Richard
, a lefty who throws with a bit more velocity, tonight. They'll see another finesse left-hander,
Barry Zito
, Sunday in San Francisco.
"We're kind of seeing the same guy and not making enough adjustments," Mattingly said.
Here are lineups for Wednesday's game:
San Diego
Everth Cabrera
SS
Will Venable
RF
Chase Headley
3B
Carlos Quentin
LF
Yasmani Grandal
C
Yonder Alonso
1B
Logan Forsythe
2B
Cameron Maybin
CF
Clayton Richard
P
Dodgers
Mark Ellis
2B
Shane Victorino
LF
Adrian Gonzalez
1B
Matt Kemp
CF
Hanley Ramirez
SS
Andre Ethier
RF
Luis Cruz
3B
A.J. Ellis
C
Aaron Harang
P
September, 1, 2012
9/01/12
10:47
PM PT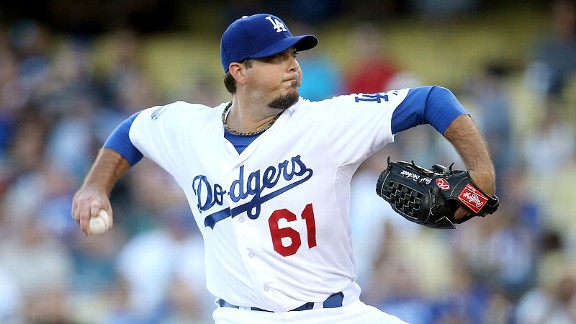 Stephen Dunn/Getty ImagesNewcomer Josh Beckett stepped up to give the Dodgers a key effort when they needed it.
LOS ANGELES -- One scout called it "Rotisserie Baseball." Another said, "I don't see much thought put in about how these guys were going to be as teammates."
Even if nobody was copping to it, you could see the
Los Angeles Dodgers
were dealing with some of the growing pains that come from lopping off one-third of your roster and grafting in its place a quarter-of-a-billion dollars worth of mercenary talent. They kept telling us how good they were, but they couldn't come up with any evidence.
How do we know it wasn't working, aside from the 2-5 record since the mega-trade with the
Boston Red Sox
? Well, the (at least) three closed-door meetings in the last few days seem to be a pretty good clue.
Manager Don Mattingly got his whole team together after Thursday night's game to get some things off his chest. The following day, according to MLB.com, Mattingly and general manager Ned Colletti met with the newcomers in Mattingly's office. And, according to a source, the Dodgers also convened for a meeting before Saturday's game.
You wonder whether, at some point, every player had to say his name and tell the group a story from sixth-grade camp.
At some point the Dodgers need to become a team rather than assemblage of expensive parts, or it's doubtful anyone is going to be paying much attention to them in a couple of weeks, other than to pick over the wreckage. Maybe 90 percent of baseball is the sum of individual battles, but there's that 10 percent -- the subtleties of when to run, the relationship between a pitcher and catcher, the feel between double-play partners -- in which chemistry counts for something.
Maybe Saturday's 2-1 win over the
Arizona Diamondbacks
was a turning point in building this thing back into a coherent unit. It sort of felt like it.
A new guy,
Josh Beckett
, pitched stalwartly into the seventh inning. A member of the old guard,
Andre Ethier
, had the key hit. A new guy,
Brandon League
, got the save while the old-guard closer,
Kenley Jansen
, is down. A semi-new guy,
Hanley Ramirez
, had the other meaningful hit.
September, 1, 2012
9/01/12
9:23
PM PT
LOS ANGELES -- The
Los Angeles Dodgers
, for once, didn't look like a collection of talented players. They looked like a team.
With a strong pitching performance from newcomer
Josh Beckett
and a key home run from longtime Dodger
Andre Ethier
, they defeated the
Arizona Diamondbacks
2-1 Saturday night to keep their playoff hopes alive and well.
The Dodgers remained 4 1/2 games behind the first-place
San Francisco Giants
and just 1 1/2 games out of a wild-card spot.
The Good:


Beckett forth.
Beckett may have had a 5.23 ERA with the
Boston Red Sox
, but the Dodgers are counting on him big-time. Manager Don Mattingly hinted before the game that Beckett is the team's No. 2 starter behind
Clayton Kershaw
. That's exactly what Beckett looked like Saturday, striking out nine Diamondbacks and carrying the ball into the seventh inning. It was Beckett's best outing in more than a month. The move should be good for him, not only because he has a chance to win but because he no longer has to face the
Detroit Tigers
,
Texas Rangers
,
Baltimore Orioles
and
New York Yankees
, his last four opponents before the trade.
Big swing.
Ethier's opposite-field home run off
Matt Albers
in the sixth inning felt like the Dodgers' biggest hit in weeks, maybe months. The offense has been stuck on bad, young lefty
Tyler Skaggs
had pitched a strong game for Arizona and the Dodgers would have lost ground with a loss. Ethier fell behind, fought back to a 3-and-2 count and stayed back to stroke the ball over the wall in left-center. He's been absurdly streaky lately, but mostly good.
Pocket rocket.
The eighth inning was exactly why the Dodgers traded for
Shane Victorino
. He walked and broke quickly for second base. The catcher,
Miguel Montero
, rushed his throw, it trickled into center field and Victorino made it to third with nobody out. Perfect table setting for the Dodgers' big bats. The only problem is those guys aren't producing right now (see below). Desperate to score a key insurance run, Victorino broke for home on
Matt Kemp
's medium-deep fly ball and put a wicked hit on catcher Montero, but he held on.
The Bad:
Big chill.
The Dodgers probably aren't going to get going offensively until
Adrian Gonzalez
emerges from this funk. He drove a ball to left-center field that probably would have been a double at Fenway Park and it was a routine fly out at Dodger Stadium. Those kinds of things can get in your head. Gonzalez was the centerpiece of the largest deal in baseball history, financially speaking. He must be feeling some pressure. So far, he's batting .182 as a Dodger.
Buzz-proof.
It's a holiday weekend, the Dodgers let people bring their dogs to the game and they still drew only 35,992 fans (and 537 dogs). Five sections of the upper deck down the left-field line were completely empty. The Dodgers haven't exactly gotten the bounce from last weekend's trade they were looking for. You can't blame the fans, considering the Dodgers had gone 7-14 in their latest home games, but this pennant race isn't exactly being played out in an electric environment so far.
The Strand.
Neither Gonzalez nor Matt Kemp could hit the ball deep enough to score Victorino in the eighth. Kemp nearly did, hitting it to medium right field, but Montero blocked the plate and held on after a collision with Victorino to complete the 9-2 double play. The Dodgers have to get that run in. Arizona had the infield in, so Gonzalez was set up to succeed.