Dodgers Report:

Yadier Molina
October, 16, 2013
Oct 16
7:42
PM PT
LOS ANGELES --
Adrian Gonzalez
is quiet. His mannerisms on the field are almost as reserved as his demeanor in the clubhouse.
He goes about his business with a soft-spoken nature that has resulted in him being painted as everything from professional to aloof, depending on his locale and production, over the course of his career.
The playoffs, however, have a way of changing the perception of players and teams.
During the course of the National League Championship Series, Gonzalez has gone from a wallflower to a lightning rod of criticism as the
St. Louis Cardinals
have grown increasingly tired of the Los Angeles Dodgers' theatrics on the field.
[+] Enlarge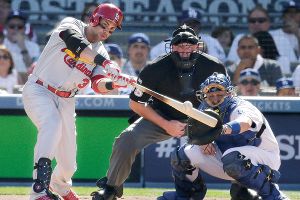 AP Photo/Chris Carlson"There's no time to try to be concerned with unwritten rules or the way guys are acting on the field," said Dodgers catcher A.J. Ellis.
It began in Game 3 when Cardinals pitcher
Adam Wainwright
said Gonzalez was heckling him from third base. "Mickey Mouse stuff," Wainwright said.
"I did what I always do," said Gonzalez, who insists he never heckled Wainwright. "We are in LA, so Mickey Mouse stuff does go. So if that's, you know, Mickey Mouse is only an hour away. So, you know, it fits us. I did what I always do."
On Wednesday, Gonzalez's "Mickey Mouse" act continued after his 450-foot home run into the right field pavilion in the third inning gave the Dodgers a 3-2 lead. He flipped his bat and after he touched home plate he gestured Mickey Mouse ears with both of his hands on his head as he neared the dugout.
"The Mickey Mouse ears, I was just having fun with the comment that was made earlier," Gonzalez said. "Nothing against them or anything; it was just to have fun."
The Cardinals certainly didn't think it was funny after the game, but didn't want to continue their war of words in the media heading into Game 6 in St. Louis on Friday.
"They have the right to do whatever they want to," Cardinals catcher
Yadier Molina
said. "We're here to win a game and they can do whatever they want to do."
October, 1, 2012
10/01/12
6:13
PM PT
Don Mattingly figures he'll spend his free time after the
Los Angeles Dodgers
take batting practice Monday in his office, with the TV tuned to the
St. Louis Cardinals
St. Louis Cardinals ' game against the
Cincinnati Reds
.
"It's hard not to badmouth somebody if they're not winning, like a good fan does," Mattingly said.
If not for a couple of fielding plays in the past few weeks, Mattingly's interest in that game in St. Louis would have been in passing, if he had any at all. The Dodgers are still in a desperate situation -- trailing St. Louis by two games with three to play for the wild card -- but they're at least alive going into tonight's home game with the
San Francisco Giants
.
If
Matt Kemp
hadn't thrown
Yadier Molina
out at third on Sept. 15 or
Mark Ellis
hadn't started an inning-ending double play in the third inning of Sunday's game, the Dodgers very likely would be out of it by now.
Ellis' play came after the
Colorado Rockies
had loaded the bases with one out against
Josh Beckett
.
Jordan Pacheco
ripped a ball toward the hole on the right side. Ellis speared it and made a throw to second while backpedaling into shallow right field to begin an improbable double play that got Beckett out of the inning. If he doesn't catch the ball, Colorado gets off to a 2-0 lead, putting pressure on the Dodgers.
"You never know what's going to be the important play of the game," Mattingly said. "It was a great play and could have changed the game right there. It gives us momentum."
Ellis was a big source of conversation Monday afternoon. While the Dodgers were stretching, the video board in left field played a tribute the Oakland A's put together for their long-time second baseman last season.
Adam Kennedy
and
Andre Ethier
were behind the prank.
The Dodgers' up-the-middle defense is a topic of discussion going into the off-season. The team is debating whether to leave
Hanley Ramirez
at shortstop -- where he has been sub-par this season -- or move him back to third base and give
Dee Gordon
or
Luis Cruz
or perhaps a shortstop from outside the organization -- the job.
Ellis admits it has taken time to learn to turn double plays with Ramirez.
"It's getting better. We've had enough time by now to have a feel for each other," Ellis said. "Spring training should help. It did for Dee and I."
Here are lineups for Monday's game:
San Francisco Giants
Angel Pagan
CF
Marco Scutaro
2B
Pablo Sandoval
3B
Buster Posey
C
Hunter Pence
RF
Brandon Belt
1B
Xavier Nady
LF
Brandon Crawford
SS
Matt Cain
P
Los Angeles Dodgers
Mark Ellis
2B
Andre Ethier
RF
Matt Kemp
CF
Adrian Gonzalez
1B
Hanley Ramirez
SS
Shane Victorino
LF
Luis Cruz
3B
A.J. Ellis
C
Aaron Harang
P
September, 16, 2012
9/16/12
11:50
AM PT
As he watched
Matt Kemp
strike out in his first three at-bats Saturday night, manager Don Mattingly formed a plan for Sunday's day game. He was going to give Kemp a "mental day," a game to sit and watch and take his mind off this protracted batting slump.
Then, Kemp had one of his best at-bats in weeks, even if it wasn't obvious to the crowd. It resulted in a fairly week ground ball to the shortstop, but Kemp had some good swings against hard-throwing reliever
Mitchell Boggs
, timing 96-mph fastballs and fouling some balls straight back, a sign that a hitter is seeing the ball well and just missing it.
Just a few minutes later, Kemp made the throw that seemed to turn the game's momentum, a one-hop strike that nabbed
Yadier Molina
at third and may have sparked the Dodgers' two-run, two-out rally in the ninth. Mattingly changed his mind about Sunday.
Kemp is back in there, batting third, trying to snap out of a funk that has seen him bat .114 this month with two RBIs and 12 strikeouts.
"He's going to want to be out there," Mattingly said. "That kind of charge may be something that sparks him going forward."
Here are lineups for Sunday's game, with
Stephen Fife
stepping in for injured
Clayton Kershaw
and the Dodgers facing St. Louis ace
Adam Wainwright
:
St. Louis
Jon Jay
CF
Carlos Beltran
RF
Matt Holliday
LF
Allen Craig
1B
Yadier Molina C
David Freese
3B
Skip Schumaker
2B
Pete Kozma
SS
Wainwright P
Dodgers
Shane Victorino
LF
Andre Ethier
RF
Kemp CF
Adrian Gonzalez
1B
Hanley Ramirez
SS
Luis Cruz
3B
Mark Ellis
2B
Matt Treanor
C
Stephen Fife P
September, 15, 2012
9/15/12
10:37
PM PT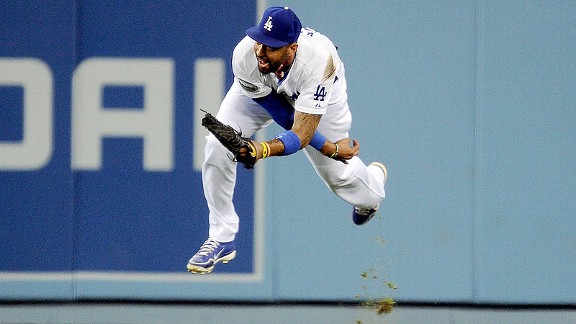 Jayne Kamin-Oncea/US PresswireMatt Kemp left his feet to make an amazing throw to third base against the Cardinals.
LOS ANGELES -- It was the kind of play that brings tears to your eyes.
"It really chokes me up,"
Los Angeles Dodgers
manager Don Mattingly said.
Matt Kemp
carries an air of confidence that can, at times, suggest he's indifferent to the outcomes on a baseball field. It's doubtful that he is, of course. He has been around here for a long time and, while the Dodgers have a lot invested in him, he has a lot invested in this team.
Perhaps the physical embodiment of his desire to win came in the ninth inning of Saturday's thrilling 4-3 Dodgers win over the
St. Louis Cardinals
.
Bad things were happening all over the place.
Clayton Kershaw
had to schedule an appointment with a hip specialist in New York and might miss the rest of the season. The Dodgers' bats -- particularly Kemp's -- had fallen back into the doldrums.
St. Louis was leading both in the wild-card standings and on the field and was about to lead by more.
Yadier Molina
had sent a ball soaring toward the wall in center field. Kemp got turned around on it, couldn't catch it, smacked into the wall and, by the time he recovered, the ball was bouncing rapidly back toward the infield.
Kemp kicked out of cool and into frantic. He picked up the ball with his bare hand, threw it without setting his feet -- in fact, he left his feet entirely -- and somehow got enough on it to get it precisely to
Luis Cruz
on one hop. Molina was out trying to stretch it into a triple. You could, of course, argue that a Molina should never be thinking triple, but you won't see a better throw.
It might not be possible to make a better throw.
"I mean, that's just total not-wanting-to-lose," Mattingly said.
May, 18, 2012
5/18/12
10:46
PM PT
LOS ANGELES --
Kenley Jansen
blew his second save in five chances this season -- his first since being named the Los Angeles Dodgers' full-time closer -- by giving up a two-out, pinch-hit, game-tying home run to the St. Louis Cardinals'
Lance Berkman
in the top of the ninth inning. But
A.J. Ellis
drew a four-pitch bases-loaded walk from Cardinals reliever
Fernando Salas
in the bottom of the inning to give the Dodgers a 6-5 victory before 40,906 on Friday night at Dodger Stadium.
The winning rally began when
Elian Herrera
, the rookie utility man the Dodgers promoted from Triple-A Albuquerque for the first time earlier this week, led off the bottom of the ninth by working Salas for an eight-pitch walk, fouling off a pair of 3-2 pitches in the process. The Cardinals walked
James Loney
intentionally to load the bases with one out for Ellis and set up a potential double play.
The blown save ruined veteran left-hander
Ted Lilly's
chance to run his record to 6-0 to begin the season. Lilly scattered four hits over seven strong innings and didn't allow an earned run, although the Cardinals did tag him for four unearned runs in the third inning.
The Dodgers improved baseball's best record to 26-13.
The Good


Risky business.
With Loney running off second and one out in the second, Ellis pulled a single through the left side. Although the ball was hit sharply and Cardinals left fielder
Matt Holliday
was charging, Dodgers third-base coach
Tim Wallach
never hesitated in enthusiastically waving Loney home. Holliday's throw beat Loney, but was just off-line enough that Loney was able to run to the infield side of the plate and barely avoid catcher
Yadier Molina's
tag, slapping the plate with his right hand as he slid in. Ellis went to second on the throw and subsequently scored on Tony Gwynn's triple, making it 3-0 early.
Hit 'em where they ain't.
With Cardinals shortstop
Rafael Furcal
shading him well toward the second-base bag, left-handed-hitting
Adam Kennedy
poked a game-tying single in the third right through the spot where Furcal would've been standing in a straight-up defensive alignment, bringing
Mark Ellis
home from third. The .186 batting average Kennedy sported coming into this game led many to wonder if his long career was nearing its end. Not yet, apparently. Batting fifth for the Dodgers, Kennedy went 3-for-3 with a double, a walk, a run scored and an RBI, and he also speared two smoking-hit liners hit right at him at third base. He also committed an error in the seventh, but it turned out to be harmless.
Bouncing back.
After giving up a two-run homer to Holliday to cap a four-run Cardinals third, Lilly retired 13 of the next 15 batters, giving up only one hit with another hitter reaching on Kennedy's error. Only two balls were hit out of the infield during that stretch, which kept the game tied through the seventh inning and saved the Dodgers bullpen on a night when Lilly got into early trouble and could have been headed for an early exit.
The Bad
About face.
No sooner had the Dodgers taken a 3-0 lead in the second than the Cardinals came back with four in a wild-and-wooly third that included an errant pickoff throw by catcher A.J. Ellis that rendered all four runs unearned; a momentary failure by Ellis to locate a pitch in the dirt on which
Shane Robinson
struck out, allowing Robinson to reach; and an ejection of manager
Don Mattingly
for arguing from the dugout when the Dodgers didn't get the call on what would have been an inning-ending third strike to
Matt Carpenter
that would have preserved a two-run lead.
Wasted chances.
The Dodgers stranded nine baserunners through the first eight innings, seven of them in scoring position and three of them at third base, all three of whom had gotten to third base with less than two outs.
The unset table.
Dee Gordon's
maddening struggles in the leadoff spot continued, the Dodgers shortstop going 0-for-5 without hitting a ball out of the infield.