Dodger Thoughts:

Playoffs
November, 17, 2011
11/17/11
9:17
PM PT
"As the winner of the first Cy Young Award, I am so very proud of Clayton Kershaw and his outstanding performances that led to his receiving the 2011 Cy Young Award. I am reminded of Sandy Koufax whenever I see Clayton pitch and feel that there is a deep comparison between the two. Clayton has an outstanding work ethic, as did Sandy, which will show itself through Clayton's baseball career."
–
Don Newcombe
Cliff Corcoran of SI.com has a well-done piece looking at Clayton Kershaw's workload and how it could mean he's in for an early decline – or, conversely, that he's on a Hall of Fame path. Corcoran concludes by recommending the Dodgers not dally in signing Kershaw to a big contract extension.
ESPN.com looks at the adjustments Kershaw made to become a Cy Young winner.
* * *
In case you missed it amid the Cy Young news, baseball has engineered a major realignment. The Houston Astros are moving to the American League West, there will be interleague play throughout the season, and biggest of all, there will be two wild-card teams in each league, who will face off in a one-game playoff. Jayson Stark of ESPN.com
examines the changes
from all angles, while DodgerTalk co-host Joe Block
reacts
to the realignment news and potential increase in interleague games by discussing whether NL teams should keep a designated-hitter type on their roster.
* * *
No, Matt Kemp, we haven't forgotten about you:
David Golebiewski of Baseball Analytics has a deep examination of how Kemp is able to maintain a high batting average on balls in play.
For a change of pace, here's Grant Brisbee at Baseball Nation with a history of ... Matt Kemp trade rumors!
November, 1, 2010
11/01/10
9:25
AM PT
Giants at Rangers, 4:57 p.m.
A World Series title for the Giants, should it arrive in the next four to 54 hours, will be hateful to many Dodger fans, though others will be above caring. I can't say I'm looking forward to the potential celebration, though I've moved past
the cringe phase
into acceptance. It really has come to seem like the Giants' year, and after more than 50 that haven't been, why shouldn't it be?
But if I've stopped worrying about what this means for me as a Dodger fan, I still am interested in what the Giants have done from a player personnel perspective to get here. And forgive me if I find it instructive.
Every player transaction a front office makes is designed to increase the odds of the team winning on the field. There can be parallel and sometimes competing timetables, short-term vs. long-term, but either way, it's all about increasing those odds.
San Francisco is poised to win its first World Series title
without having a single player earning more than $10 million this year
making a meaningful contribution. The team has two eight-digit earners, both of whom are riding the bench. Barry Zito was a serviceable starter this year but didn't make the postseason roster, while Aaron Rowand had a .659 OPS in 357 regular-season plate appearances and has one at-bat so far in the Fall Classic.
Of course, this doesn't mean that high-salaried players can't be valuable. Furthermore, the Giants aren't exactly a low-budget team; their payroll trumps that of their World Series opponents from Texas, who had to overcome their own share of ownership strife to make it this far. But it does reinforce in my mind that the notion in recent years that the Dodgers
had to
get superstar X or superstar Y to win led to a phony hysteria.
If the Giants win the World Series, the principal reason will have been a homegrown foursome of starting pitchers, including three first-round picks in a six-year period, that coalesced in utterly timely fashion with a largely no-name bullpen and arguably the best rookie catcher from the National League West since Mike Piazza. (Quiz question: Do you know the names of the top Giants scouting executives?)
Putting aside how close the Dodgers came to glory in 2008 and 2009, the 2010 Giants could have been the 2010 Dodgers. Oh, it most certainly did not play out that way, but it wasn't long ago that the Dodgers were the safer bet.
Instead, the Dodgers' tricycle of homegrown first-round draft choices in the starting rotation busted a wheel when Scott Elbert (or, if you prefer, Greg Miller) flat-tired. Russell Martin — at one point the best rookie catcher from the National League West since Mike Piazza — is now a vapor. A nearly iron-clad bullpen in 2009 fell apart this year despite much the same makeup. And that's before you even begin talking about what might have been with Matt Kemp and friends.
The core of the Giants is under 27 and entered 2010 with zero postseason experience. And yes, Tim Lincecum is a superstar, but Clayton Kershaw outpitched him this year.
As much as we want to blame everything and global warming on the McCourts, they are not all that went wrong with the Dodgers this year. I want the Dodgers to have better owners, but there is so much more that affects a team's World Series chances than ownership. Much of the Dodgers' ill fortunes this year is tied up in the tiniest of fibers, threads that might have held together but simply frayed.
You make the best moves you can make — but those moves include the draft as much as free agency and trades, maybe even more so. You make the best moves you can make, and then you hope those players execute well and have some good fortune to boot. You make the best moves you can make, and then you play the cards. The Giants might be about to hit 21; the Dodgers busted. That's the way the game goes every 56 years or so.
October, 28, 2010
10/28/10
4:33
PM PT
I've been noticing a number of San Francisco Giants fans online who either a) are looking to rub in their World Series appearance and potential title on Dodger fans or b) seem annoyed that Dodger fans haven't given the Giants enough credit.
I say this from the most sincere and truthful place that I can: In all the times the Dodgers have been in the playoffs in my lifetime — 1974, 1977, 1978, 1981, 1983, 1985, 1988, 1995, 1996, 2004, 2006, 2008 and 2009 — I never once gave a thought to how Giants fans felt about it.
Getting to the playoffs and sometimes winning the World Series wasn't about sticking it the Giants. It was about getting to the playoffs and sometimes winning the World Series. When the Dodgers popped the champagne in '81 and '88, it wasn't, "Take that, Giants!" That wouldn't have even occurred to me. It was, "We are the champions, my friend."
San Francisco, you deserve congratulations for your great season. But at this point, it has nothing to do with the Dodgers. Most of you probably realize this, but if you're a Giants fan thinking about Dodger fans this week, I promise you, your attention is in the wrong place.
Rangers at Giants, 4:57 p.m.
October, 21, 2010
10/21/10
9:15
AM PT
I'm not someone who lives and breathes the Dodger-Giant rivalry — I'm always more interested in the Dodgers winning than who they're beating — but I have to admit, each Giants win this past week has been making me cringe.

That being said, it's not all because of the rivalry, but the second whammy of how close the Dodgers came to winning the National League pennant themselves the previous two seasons.

I'm definitely rooting for the Rangers right now.
October, 3, 2010
10/03/10
9:56
PM PT
These former Dodgers spent time on the eight teams in the 2010 major league baseball playoffs. Not all, of course, will be on the postseason rosters or are even still with the organization. Still, you know darn well the eight finalists couldn't have done it without:

Atlanta Braves
David Ross (.871 OPS in 145 plate appearances)
Derek Lowe (4.00 ERA in 193 2/3 innings pitched)
Scott Proctor (6.35 ERA in 5 2/3 IP)
Takashi Saito (2.83 ERA in 54 IP)

Cincinnati Reds
None

Philadelphia Phillies
Wilson Valdez (.667 OPS in 363 PA)
Jayson Werth (.921 OPS in 652 PA)
Danys Baez (5.48 ERA in 47 2/3 IP)

San Francisco Giants
Cody Ross (.819 OPS in 82 PA)
Guillermo Mota (4.33 ERA in 54 IP)

Minnesota Twins
Orlando Hudson (.710 OPS in 559 PA)
Jason Repko (.671 OPS in 146 PA)
Jim Thome (1.039 OPS in 340 PA)

New York Yankees
Chad Moeller (.695 OPS in 15 PA)
Chan Ho Park (5.60 ERA in 35 1/3 IP)

Tampa Bay Rays
Willy Aybar (.654 OPS in 309 PA)
Dioner Navarro (.528 OPS in 142 PA)

Texas Rangers
Alex Cora (.571 OPS in seven PA)
June, 15, 2010
6/15/10
9:41
AM PT
As this day breaks, the Dodgers find themselves one of three National League West teams
within a half-game of the best record in the NL
, all of them on pace to win at least 92 games. And Colorado, potentially the best of them all, lurks only three games behind the Dodgers.
That's quite a pennant race to look forward to. Arguably, the best team in the NL might not be as good on paper as the third- or even fourth-best team in the American League East. But with the fourth-best team in the NBA Eastern Conference putting the hopes of our favored hometown Lakers squad in jeopardy, this seems the wrong week to be dismissive.
April, 18, 2010
4/18/10
9:49
AM PT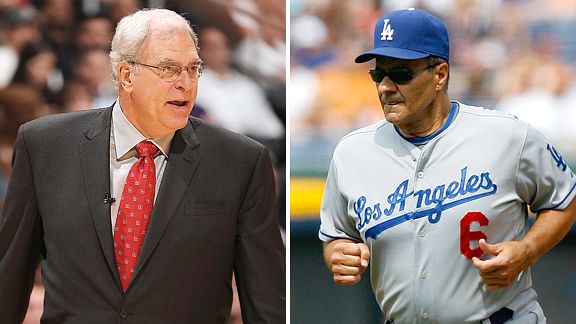 Getty Images
Phil Jackson and Joe Torre have dealt with doubt from outside and within.
What do the 2009 Dodgers and 2009-10 Lakers have in common? Both teams won their divisions and had the top record in their league/conference, but entered the playoffs having lost six of their final nine games.
Last year, there was much anxiety and a fair amount of hopelessness when the Dodgers hit the postseason with such a shaky final stretch. With the Lakers beginning the defense of the NBA title today, I asked current Laker blogger and former Dodger blogger
Brian Kamenetzky
of ESPNLosAngeles.com and KSPN 710 AM to compare and contrast the two teams.
It's an interesting question, because looking back the Dodgers certainly didn't close well. I remember the sense of doom in the air as it looked like they might somehow blow the NL West title to Colorado. Of course, they were already in the playoffs anyway, so it may not have mattered much, other than to give us media types something to talk about (and set up the Dodgers to see Philly a round earlier, costing guys in the locker room a better playoff share).

So what happened to the Lakers is similar, in the sense neither team went/will go into the postseason playing its best base/basketball. (There's a movie in there somewhere). The difference, though, is expectations. The Lakers spent all season as the, if not prohibitive favorite to win a title, not far off, whereas the Dodgers weren't perceived as the best Major League Baseball had to offer. A nice team, but World Series caliber?

There was similarity in the angst, but I wonder if the different feel despite similar situations reflects some of the more ingrained attitudes fans have towards the teams. Right now, people expect the Dodgers to come up short. They're not pulling for it, but because it's been over 20 years now since the last title, the faithful have less faith. The dark cloud forever hanging over this ownership (before the divorce, even) doesn't help. Neither did the corporate feel of the Fox years.

The Lakers, meanwhile, are expected to succeed. Recent history gives people the strong belief they'll be rewarded for their emotional investment. That's the key difference, as far as I see it.
I also have to think that motivation was more of an issue for the Lakers, since winning a division title is such a non-event for them, relatively speaking. After Cleveland put the league's best record out of reach – an event that only potentially impacts the Lakers in the seventh game of a seven-game championship series – the final week of their season became as much about getting healthy as anything else.
Certainly, poor regular-season finishes indicate at a minimum that a team is vulnerable, but is there a hangover effect? The Dodgers certainly put that theory to rest when they swept the St. Louis Cardinals in the National League Division Series (keeping in mind that the Cards themselves lost eight of their final 10 regular season games). And when you consider that the Dodgers were one out away from being even with the Phillies after four games in the NL Championship Series, it's hard for me to see a convincing argument that the late-season losing made a difference – not to mention the fact that an on-fire finish to the regular season could leave a team open to accusations of being over-confident.
As recently as the second round of the 2009 NBA playoffs, when the Houston Rockets won the first, fourth and sixth games of their series with the Lakers, fans and the media were openly questioning the Lakers' heart and ability to advance. Those doubts became a pretty distant memory within the next month, when the Lakers took out Orlando in five games to win the NBA title.
It really feels to me that the playoffs truly are a new season – and definitely not an easy one. I expect the Lakers to come out fully motivated. That doesn't mean they might not fall short of repeating as champions, but if they do, it will be because of how well the other team played, not how poorly the Lakers did. As a footnote: Was the Kings' thrilling overtime victory Saturday over Vancouver in Game 2 of their NHL first-round series a failure on the Canucks' part, or more a triumph on the Kings' part?
But I'll give Kamenetzky the last word:
It started with ... needing more motivation, but with about three or four weeks left in the regular season, I really felt the team was trying. It wasn't an issue of complacency, they just weren't playing well.

To me, their struggles are a sign of weakness. The alchemy going into playing the way they want to offensively is heavily influenced by continuity, and they've had none of it this season, thanks to their injury issues. Moreover, the Lakers have serious deficiencies shooting the ball from the outside, especially once Ron Artest fell off a cliff, accuracy wise. The Threepeat teams at the start of the decade weren't good three-point shooting teams, either, but they compensated by using Shaq and a younger, more aggressive Kobe to live at the line. This Lakers team doesn't do either, which historically is a bad recipe for success.

I think they'll get through the early rounds of the playoffs, in part because most of the teams they'll face have issues of their own (primarily health), but I don't think it's a matter of finally having something to play for. They're still very good (or potentially very good, at least) and could win a title, but I wouldn't use my money to lay a bet on it in Vegas.