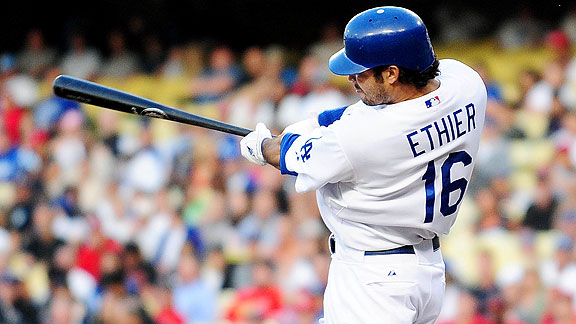 Gary A. Vasquez/US Presswire
Andre Ethier has as many home runs with at least two runners on base in 2010 as the rest of the Dodgers combined.
Rafael Furcal, SS

Ronnie Belliard, 2B

Andre Ethier, RF

Manny Ramirez, LF

Casey Blake, 3B

James Loney, 1B

Russell Martin, C

Reed Johnson, CF

Clayton Kershaw, P
You know what I look forward to seeing? The Dodgers breaking open a close game or rallying with a three-run home run.
But in 74 games this year, the Dodgers have only eight three-run homers, along with two grand slams by Andre Ethier. That total comes in 443 plate appearances with at least two runners on base.
The Dodgers were on a pretty good pace until shortly before Ethier's pinkie injury. In nearly seven weeks since May 11, the Dodgers have two three-run home runs.
Manny Ramirez is 16 for 31 (.516) with three doubles and six walks with at least two runners on base, but doesn't have a homer this year in those situations.
James Loney, who broke the 50 RBI barrier Saturday, is second on the team with two three-run homers. He is 21 for 53 (.396) with four doubles, two homers and four walks with at least two runners on base.
Here are the 10 three- or four-run home runs.
The Dodgers are actually pretty decent at keeping rallies going. But sometimes, you just want to see them hit the heights.