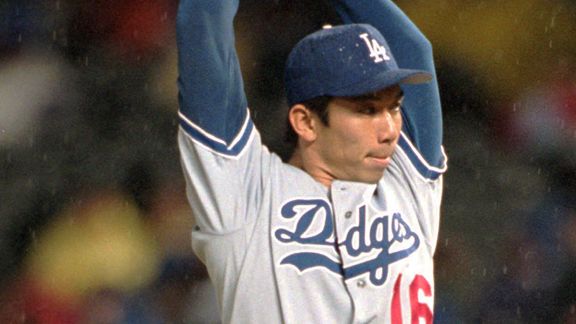 David Zalubowski/AP
With raindrops falling, Hideo Nomo winds up to pitch to Rockies leadoff batter Eric Young on September 17, 1996, unaware that 27 outs later, he would have a Coors Field no-hitter. Nomo pitched from the stretch after the first inning to combat the wet mound.Robert Whiting, author of You Gotta Have Wa, is writing a detailed four-part series for the Japan Times on the impact Hideo Nomo had on baseball on both sides of the Pacific. So far, part one and part two have been published, and they are very good reads.
Here's a sample:
... The Prime Minister of Japan hailed him as a national treasure. It was a remarkable turnaround, given that only months earlier, Nomo had been criticized heavily for deserting his team and his country. Ironically, Nomo received far more attention as a major leaguer than he ever had playing for the lowly Pacific League's Kintetsu Buffaloes, who toiled before sparse crowds and hardly ever appeared on nationwide television.

One could even credit Nomo for helping to repair U.S.-Japan relations, which had been in tatters because of trade disputes.

Not so long before Nomo had arrived in America, the relationship was at a 40-year low. The speaker of the Japanese parliament had labeled Americans "uneducated and illiterate," while American congressmen had been railing at Japan over "unfair trade practices" and its fanatical corporate warriors.

A group of U.S. congressmen had even smashed a Japanese car to pieces on the Capitol lawn. But the love affair of MLB fans with Nomo helped to dissipate the acrimony between the two countries.

Nomo was on the cover of Sports Illustrated and Time Asia and the subject of more than one TV documentary.

The New York Times noted with approval a shift in the mood in Japan. "Nomo's arrival in MLB," wrote that prestigious newspaper, "signifies that the Japanese penchant for closed door exclusivity is receding."

The Asahi Shimbun called Nomo's success a "catharsis" for Japanese who were weary of the constant carping of the U.S. government over trade.

Nomo's appearance in the 1995 All-Star Game in Arlington, Texas, was an historically significant moment, coming as it did almost exactly a half-century after the end of the Pacific War between Japan and the United States, and no one watching could escape its significance. A player from Japan had emerged to reignite the national pastime in a way that perhaps no native-born American could have, given the bitter emotions that remained over the strike.

He brought back all the feelings that baseball players used to inspire. He was modest, humble, shy, hardworking and a joy to watch on the field. That last sentence could have been used to describe a Christy Mathewson, Lou Gehrig or a Joe DiMaggio. It made Americans and Japanese stop and contemplate baseball's role in cross-cultural relations. ...

Of course, not all was sweetness and light. Occasionally, nationalism and even prejudice reared its ugly head. ...
(Thanks to Brett Bull for the tip.)
* * *
Vin Scully Is My Homeboy passed along video of an old Hollywood Stars Night at Dodger Stadium from the 1960s, starting with a combo of Walter Alston and Phyllis Diller, followed by Milton Berle, Dean Martin, Mickey Rooney, Annette Funicello, Billy Barty and more. See if Nancy Sinatra's boots are made for walking to first base ...