Monday, January 24, 2011
The 2011 National League West: A first look

---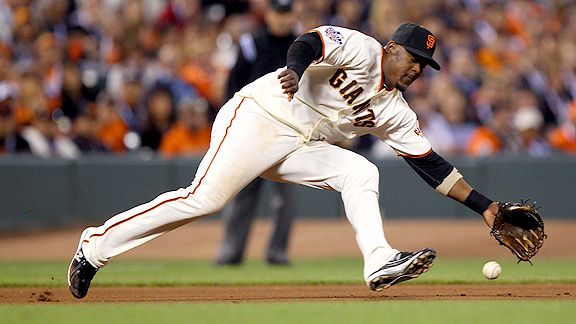 Jed Jacobsohn/Getty ImagesIn 2011, Juan Uribe will be trying to bring at least a division title south to Los Angeles from San Francisco.


With so much attention locally focused on what the Dodgers are or aren't doing, it's easy to lose perspective of where they stand relative to their rivals in the National League West. Realizing that we all have higher goals than a division title, let's nonetheless check in on the coming division race and see where the competition stands heading into spring training.

Arizona Diamondbacks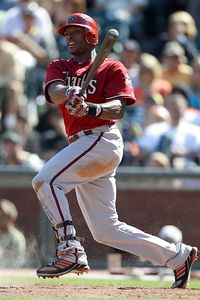 Brad Mangin/MLB Photos/Getty Images
Justin Upton


On Aug. 30, 2008, Arizona hosted the Dodgers with a 4 1/2-game lead in the NL West and the combination of Dan Haren and Brandon Webb starting the next two games. Since that moment, the Diamondbacks have gone 152-204 and have been by far the worst team in the division. Arizona had a flat-out ugly 2010, finishing 65-97, 15 games behind the fourth-place Dodgers and 27 behind the division-winning Giants. The offense was mediocre, punctuated by 9.4 strikeouts per game. The pitching was worse, with an adjusted ERA of 89 (100 being average) that was 14th in the National League.

Hopes for a turnaround in 2011 are pretty limited, based on an offseason that has only brought names the caliber of Henry Blanco, Willie Bloomquist, Geoff Blum, Zach Duke, Aaron Heilman, Melvin Mora, Xavier Nady, Willy Mo Pena and J.J. Putz. Plus, at least last year they had Haren (and Edwin Jackson) for more than half a season, not to mention 57 homers (and 383 strikeouts) from departed corner infielders Mark Reynolds and Adam LaRoche.

Putz, though he's about to turn 34, should help last year's disastrous bullpen, and at age 23, Justin Upton (like his Bison-like counterpart in Los Angeles), could easily bounce back from the setbacks of last season, when his OPS dropped from .899 to .799. Daniel Hudson, acquired at midseason, will try to build upon his 11-start, 1.69-ERA debut. But overall, it's going to take more than strategically placed eyeblack to make Kirk Gibson a winning manager in his first full season at the helm.

Colorado Rockies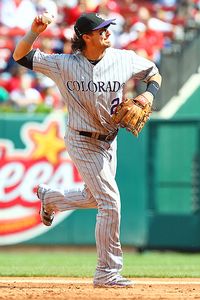 Dilip Vishwanat/Getty Images
Troy Tulowitzki


A popular pick to win the NL West entering the 2010 season following their spirited near-miss in 2009, Colorado fell out of the lead on the second day of the season and never returned. They did make a late charge, pulling within a game of the division lead after making up 10 games in the standings in 26 days, capped by a 12-2 thumping of the Dodgers on Sept. 18. They then took a 6-1 second-inning lead against Clayton Kershaw the next afternoon. But if you'll recall, the Dodgers rallied to win that game in 11 innings, handing the Rockies the first of a stunning 13 losses in their final 14 games of 2010.

That tailspin doesn't rule out a pennant pursuit in Denver this year. The Rockies return four budding stars in Troy Tulowitzki (26), Carlos Gonzalez (25), Ubaldo Jimenez (27) and Jhoulys Chacin (23, with a second-half ERA of 2.44 and 9.5 strikeouts per nine innings) and complements in Dexter Fowler (25 in March) and Ian Stewart (26 in April). But you also haven't had much of an offseason when your biggest acquisitions are arguably infielders Ty Wigginton and Jose Lopez.

This is a team that will contend for the division title, and Rockies management has enough faith in it that their main expenditures, at least thus far, were to richly extend the contracts of Tulowitzki and Gonzalez rather than bring in big outside talent. That might well be the right strategy, especially if last year's stretch crawl was a fluke, but with 37-year-old Todd Helton at first base and question marks elsewhere, Colorado didn't make itself an obvious favorite this time around.

San Diego Padres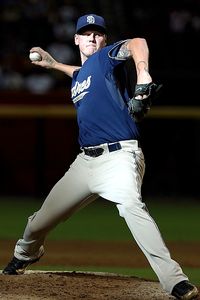 Christian Petersen/Getty Images
Mat Latos


Last year's guide against wasting your time making predictions, San Diego sat in first place at the end of April, May, June, July and August. Then came the Giants, but even so, the Padres had a chance to tie San Francisco in the 162nd game of the season.

So San Diego was the big surprise team -- with Adrian Gonzalez. Can it be without him? Unlike Colorado, San Diego will have lots of new faces, potentially starting Brad Hawpe at first, Orlando Hudson at second, Jason Bartlett at shortstop and Cameron Maybin in center field, almost making July 31 pickup Ryan Ludwick seem like an old-timer. Meanwhile, ex-Cincinnati Red pitcher Aaron Harang will try to help returning starting pitchers Clayton Richard, Wade LeBlanc and most importantly, 23-year-old Mat Latos (2.92 ERA in 2010) absorb the losses of Jon Garland and Kevin Correia.

I'm not going to be the one to argue that the Padres will be better in 2011 after trading Gonzalez for three minor-leaguers and outfielder Eric Patterson (.652 OPS in 179 career games), or that they'll maintain any of their 10-game advantage over the Dodgers. But I'm also not ready to say they won't be a thorn in the Dodgers' side.

San Francisco Giants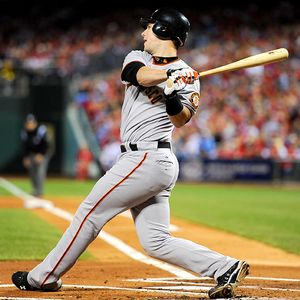 Rich Pilling/MLB Photos/Getty Images
Buster Posey


Seven-and-a-half games out of first place and one game over .500 at the midpoint of the 2010 season, San Francisco went 51-30 in the second half to rally to the title and start what I think can objectively be said was a surprising postseason stomp to the World Series title. The Giants went 9-3 against the fading Dodgers in the second half to emphasize their superiority.

Are they still superior? To date, their lone offseason addition of note has been to sign Miguel Tejada (36 in May), and that effectively only supplants the loss of Juan Uribe to the Dodgers. Much like Colorado, San Francisco is putting its faith in the status quo. That status quo, of course, includes their top-flight starting rotation, superb young catcher Buster Posey and third baseman Pablo Sandoval, who has been tweeting photos showing how much weight he has lost this winter. It also includes 30-and-over position players Cody Ross, Andres Torres, Mark DeRosa, Aaron Rowand, Freddy Sanchez and Aubrey Huff.

Much of the Dodgers offseason has seemed an unspoken bid to emulate the Giants' path to the top: Build a starting rotation that's competitive every night, and try to sneak by with limited offense. For all the concern about who takes residence in Mannywood, Los Angeles still seems to have the better outfield. But the potential of superstar in Posey and a comeback from Sandoval (not to mention a promotion for minor-league first-baseman Brandon Belt) might give San Francisco the edge elsewhere.

Summary
Eight months from October, the Giants look like the main roadblock for the Dodgers, with the Rockies close behind. With serious questions about a) what kind of production the Dodgers will get at catcher, third base and left field, b) the ongoing health issues of Rafael Furcal and c) the bounce-back potential of Matt Kemp and James Loney, it doesn't seem inappropriate to pencil the Dodgers in for third place at this time, but they should be in the thick of the race for the division title.


---