Friday, March 25, 2011
Ivan DeJesus Jr. likely to start at second base while Blake is out

---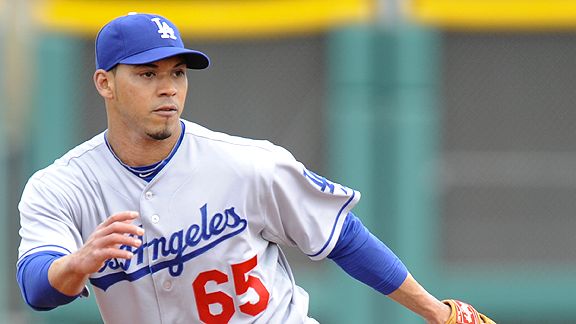 Rob Tringali/Getty ImagesIvan De Jesus Jr. has a .380 on-base percentage this spring.


"Barring an injury," writes Tony Jackson of ESPNLosAngeles.com, "infielder Ivan DeJesus looks like a strong bet to make the club and remain in the big leagues until Blake returns from back injury. DeJesus, who will be making his major league debut, likely will get the bulk of the starts at second base during that time, while Juan Uribe will move to third."

It's a pretty impressive feat for the infielder, who has remaining options, who had to come back from a 2009 broken leg and was even said by some to be in the Dodgers' doghouse last year.

Jackson also writes that the Dodgers will carry four starting pitchers on their Opening Day roster, and will call up a fifth starter from the minors April 12. That pitcher figures to be John Ely, especially if Tim Redding's back ailment today proves to be serious. Jackson:

... Redding returned to Camelback Ranch, the team's spring-training complex in Glendale, for further examination. No diagnosis or prognosis was immediately available. ...

The season opener for Triple-A Albuquerque isn't until April 7, so whomever the Dodgers choose to start in place of Garland could start that game and then be perfectly lined up to pitch for the Dodgers on April 12 in San Francisco. ...

* * *

Diamondbacks 6, Dodgers 3

Highlights:

Coming in to relieve the injured Redding with one on and none out in the fourth, Rubby De La Rosa got a double-play grounder and only allowed a bunt single in his first three innings.
Backup catchers A.J. Ellis and Hector Gimenez each went 1 for 2.
Xavier Paul thew out a runner at the plate.
Doubles by Aaron Miles and Justin Sellers' sandwiched Ellis' single and gave the Dodgers an early 2-0 lead.
Lowlights:
Redding allowed a two-run homer in the third and six hits total in his three-plus innings, before leaving with the back trouble.
De La Rosa allowed three runs in his fourth inning of work.
Tony Gwynn Jr. went 0 for 4, his spring OPS falling to .689.
Sidelights:
Christina Taylor Green's brother Dallas and Tucson shooting victim Ken Dorushka threw out first pitches before today's game.
Nick Charles, who has terminal cancer, will call the opening bout on HBO's "Boxing After Dark" on Saturday, says Sports Business Daily.
Rafael Furcal has been recovering from an offseason illness, reports Dylan Hernandez of the Times in this feature.
Great pics of Fernando Valenzuela pitching in Mexico last week, shared by Roberto Baly of Vin Scully Is My Homeboy.
Another great item, this from Eric Nusbaum at Pitchers & Poets, gives us Ken Levine talking about Vin Scully: "Normally I can look over somebody's shoulders, I can pick up their scorecard and I can kind of figure it out. With one exception – Vin Scully. He's got lines and dots and stuff. I have no idea. You need Navajo code breakers to figure out Vin's scorebook. I have no idea."
Here's part 3 of Mark Timmons' LADodgerTalk.com interview with Logan White.
The Dodgers aren't the only ones with injuries, by any means. The shoulder of Phillies closer Brad Lidge is hurting, and so is Philadelphia's bullpen, writes David Schoenfield of ESPN.com.
Padres starting pitcher Mat Latos is also ailing, notes Aaron Gleeman of Hardball Talk.
Will Leitch on the Mets (via Rob Neyer): "Even if this year is a write-off, the team will be more enjoyable to watch than it has been the last four years, if only because the franchise is finally moving forward. It's going to get better, soon. I promise, this isn't a scam. You are forgiven for fearing otherwise. This is, after all, the Mets."

* * *

Dodgers at Mariners, 7:05 p.m.


---