Saturday, September 17, 2011
Loney living large with another homer in Dodgers' 6-1 rout

---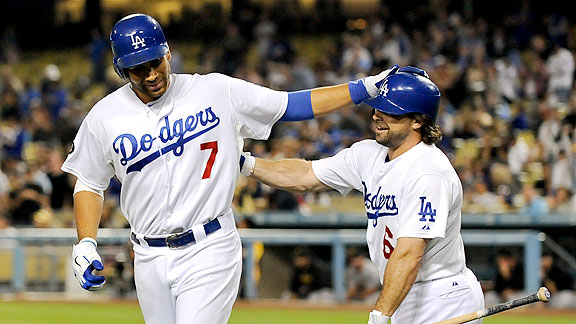 Gus Ruelas/APJames Loney isn't trying to make Aaron Miles feel small; he's just feeling big after hitting another three-run homer.

Just to illustrate the kind of season it's been for James Loney: On April 24, his on-base percentage and slugging percentage combined were .403.

Tonight, after hitting a three-run homer for the second consecutive at-bat (in the first inning) and then doubling in the third of the Dodgers' 6-1 victory over Pittsburgh, Loney's slugging percentage by itself was .402, rising above .400 for the first time since Opening Day.

There's no changing that this has been a disappointing year for Loney, who is still down in the low .700s for OPS, but I'll take this version of Loney over the guy who started the season.

Tony Jackson of ESPNLosAngeles.com suggested late Friday that Loney's turnaround might be attributable to the July change in Dodger hitting coaches – his OPS is near .900 since Dave Hansen took over – but Loney's been on the upswing since late April, posting a .357 on-base percentage and .432 slugging percentage in 443 plate appearances between April 25 and tonight's game. Those figures are actually superior to the .341/.409 that encompasses Loney's output from 2008-2010.

What does this mean for 2012? Well, you don't have to fear that Loney is a player in decline at age 27. (At least not as much: until he hit the home run tonight, Loney's career slugging marks had dipped every season since he reached the majors in 2006.) It still doesn't assure you that he's a proper major-league first baseman at the plate, but it certainly increases the possibility that the Dodgers will bet on the stability at the position for at least one more year, while taking the chance on the hope that he still might have a breakout season in him.

Taking away nothing from Jayson Stark, I don't see Albert Pujols or Prince Fielder wearing a Dodger uniform next season. (Mike Petriello of Mike Scioscia's Tragic Illness has a much longer look at this.) That doesn't mean Loney is guaranteed to return, but he has elevated his status from guaranteed goner. For the nothing-if-not-likeable first baseman, progress.

* * *
Matt Kemp scored his 100th run and stole his 40th base tonight. According to The Associated Press, he is the first player in franchise history with at least 40 steals, 100 runs scored, 100 RBIs and 30 home runs.
Tim Federowicz drove in his first career run and has reached base in five of nine plate appearances so far.
Jerry Sands went 3 for 4 and has a .425 on-base percentage in September (40 plate appearances).
Ted Lilly pitched seven innings of one-run ball on 97 pitches, allowing six baserunners and striking out seven. The Pirates had neither a homer nor a steal against him.
Kenley Jansen struck out both batters he faced, improving his strikeouts per nine innings to 15.72 as he aims to catch Carlos Marmol's single-season record of 15.99. Jansen has struck out 23 of the last 38 batters he has faced and has 23 strikeouts in his last 29 outs.
Juan Rivera hit the second of two homers that spoiled the homecoming of James McDonald (three innings, five runs).
The Dodgers improved to 75-76 in their first game since Atlanta ended Los Angeles' 2011 postseason hopes for good.
---