Wednesday, April 14, 2010
Goodness gracious, forsaken alive: Billingsley, Dodgers drag fans into 7-7 marathon

---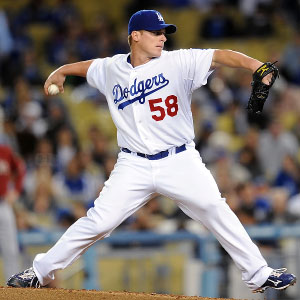 Lisa Blumenfeld/Getty Images
Chad Billingsley retired nine of his first 10 batters, but only got eight more outs from his next 18.

Chad Billingsley, who was looking ever-so-close like that guy who could always be counted on to get the job done, is now the guy getting the Job done.

Close to scintillating in the first three innings Wednesday against Arizona – he threw 45 pitches and faced one over the minimum while striking out four, lowering his season ERA at that point to 1.08 – the be-plagued Billingsley staggered through 61 pitches over the next 2 2/3 innings, allowing six runs on eight hits in all while walking three. And what looked like a breeze for Los Angeles became an even longer endurance test than Tuesday's 3:42 game, with the Dodgers and Diamondbacks headed into extra innings, 7-7, exactly four hours after the game's 7:10 p.m. start time.

It took some doing for Billingsley to not outpitch Arizona's Rodrigo Lopez, who allowed five runs and 11 hits to the first 22 Dodgers he faced, but Billingsley did it, and he is now facing his latest calamity.

In the fourth, trailing 3-0, Arizona surrounded a Justin Upton infield hit with four big fly balls off Billingsley – a homer by Stephen Drew, a double by Adam LaRoche and sacrifice flies by Mark Reynolds and Chris Young. Billingsley then issued a walk before he got out of the inning, after which Matt Kemp put the Dodgers back in front with a two-run homer.

In the fifth, Billingsley came very close to making his previous inning look like an aberration, retiring the first two hitters before making a great 1-1 pitch to Drew that was called a ball. Drew eventually drew a 3-2 walk, and then Upton doubled and LaRoche singled to tie the game again.

And in the sixth, Billingsley again came within one strike of making it through, but Conor Jackson doubled right down the third-base line on an 0-2 pitch to give Arizona a 6-5 lead and cast Billingsley adrift. He finished the night with 116 pitches to get 17 outs, and his ERA leaped to 5.73.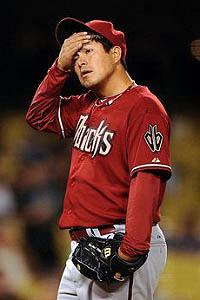 Mark J. Terrill/AP
Rodrigo Lopez looked like a sure-fire losing pitcher in the early going, but it didn't turn out that way.

Starting in the top of the fourth, of the nine baserunners Billingsley allowed (leaving out an intentional walk), six did their damage with two strikes. Last year, opponents had a .245 on-base percentage against Billingsley with two strikes, though it's safe to assume that figure was higher in the second half of the season. Tonight, Billingsley couldn't shut the door, on the Diamondbacks or his doubters.

The Dodgers tied the game in the bottom of the sixth inning on a Kemp sacrifice fly but didn't get any more runs despite loading the bases with one out. Then, Carlos Monasterios was called upon for the first time in his career in a close situation and gave up a dead-center leadoff homer to Upton in the seventh. Ramon Ortiz bailed Monasterios out of a two-walk, one-out jam that pushed the game past the 3:00 mark with nearly three innings to go by inducing a double play. George Sherrill, trying to recover from his bad start to 2010, also got a double play and then a strikeout to handle the eighth, while Charlie Haeger made himself useful in relief with a shutout ninth. (For the record, yes, that's a Jonathan Broxton situation too if he's available.)

Manny Ramirez doubled to lead off the bottom of the ninth with the Dodgers' 18th baserunner, but after James Loney struck out, Casey Blake doubled home pinch-runner Jamey Carroll to tie the game at 11:06 p.m. A Blake DeWitt grounder moved Blake to third. Russell Martin was intentionally walked, but pinch-hitter Reed Johnson grounded out to send the game into the 10th.

Despite my stating the obvious, the offense and the pitching stayed at their weird extremes. Kemp, Ramirez, Martin and Andre Ethier each reached base at least three times. But regardless of what was to come in extra innings, Los Angeles will be practically desperate for Hiroki Kuroda to deliver another sharp performance Thursday against Dan Haren.

* * *



Hong-Chih Kuo is scheduled to make a 20-pitch rehab appearance in the first inning Thursday for Inland Empire. Elsewhere in the minors for the Dodgers:




---