Dodger Thoughts:

Adrian Beltre
October, 26, 2011
10/26/11
8:40
AM PT
Eric Nusbaum of
Pitchers & Poets
has paid loving tribute to former Dodger Adrian Beltre at
Deadspin
. I would excerpt a portion, but I couldn't find one I was satisfied with – I kept wanting to take more. You really need to read the whole thing.
Marking the 25th anniversary of Game 6 of the 1986 World Series, Mark Simon of ESPN.com presented 10 tidbits on Bill Buckner, many of them Dodger related.
The shining of the World Series spotlight on Mike Napoli has put Mike Scioscia in its path. In an interview with ESPN 710 AM, chronicled by Mark Saxon of ESPNLosAngeles, Scioscia said health and durability questions were the reason for the trade.
October, 4, 2011
10/04/11
2:44
PM PT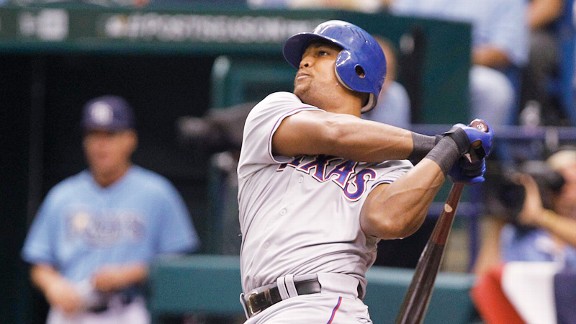 Lynne Sladky/APAdrian Beltre hit 147 home runs in seven seasons with the Dodgers, all before turning 26.
Adrian Beltre
, who hit three home runs today in the Texas Rangers'
4-3 victory over Tampa Bay
(clinching their American League Division Series), has 2,033 hits and 310 home runs in his career at age 32, to go with a superb defensive reputation. How many of you think the former Dodger third baseman will play well enough, long enough, to win the favor of Hall of Fame voters?
Beltre is likely to finish in the top five all-time
among third basemen in hits
, though I imagine he'll need to make it all the way to 3,000 to win enough Hall votes and avoid the fate of the Ron Santos of the world. When his time comes, would that number still be a golden ticket, or could something like Beltre's relatively low on-base percentage hold him back?
Texas has Beltre under contract for four more seasons, with a vesting option for a fifth. If he can average 140 hits per season, he'd be in the 2,700 or 2,800 neighborhood when his contract expires.
Hopefully, we'll learn Wednesday that Bert Blyleven has been elected to the Hall of Fame, capping what has to be the most effective grassroots campaigns for Cooperstown ever.
I'm speaking of the one led by Baseball Analysts blogger Rich Lederer, my former All-Baseball.com blogging colleague. Jon Paul Morosi of
FoxSports.com
has a nice profile of Lederer. Here's the start of it:
Rich Lederer is an investment manager. Stock and bond portfolios are his thing. He is the president and chief investment officer of Lederer & Associates Investment Counsel in Long Beach, Calif.

But Lederer loved batting averages long before calculating his first P/E ratio. He is a baseball guy. His father, the late George Lederer, covered the Los Angeles Dodgers for the Long Beach Independent-Press-Telegram through their first 11 seasons on the West Coast.

Lederer has since taken up the family business — as a hobby. In 2003, he founded a baseball blog, now called BaseballAnalysts.com. He writes at night, after his real job is done. The website hasn't made him rich or famous. Yet, his words may soon resonate through the game's most hallowed corridors.

If Bert Blyleven is elected to the Baseball Hall of Fame on Wednesday, he will have Rich Lederer to thank.

Well . . . I suppose Blyleven should first thank his right arm — the one that produced 287 wins (more than Jim Palmer), 3,701 strikeouts (fifth all-time) and 60 shutouts (ninth all-time).

After that, the gratitude goes to Lederer's noggin.

Blyleven has climbed steadily in the Baseball Writers' Association of America voting since the founding of Lederer's website. Blyleven, who polled below 30 percent on his first six times on the ballot, reached 74.2 percent last year. That did not happen by accident. ...
* * *
June, 18, 2010
6/18/10
1:25
PM PT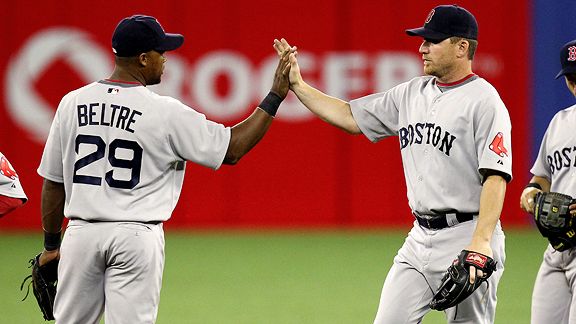 Tom Szczerbowski/US Presswire Adrian Beltre and J.D. Drew led the Dodgers in home runs in 2004 and 2006, respectively.
Today in Boston, the Dodgers say a rare hello to former Boys in Blue
Adrian Beltre
and
J.D. Drew
.
Moving from Seattle's pitcher-friendly ballpark Safeco Field to Fenway Park has revitalized Beltre offensively. The third baseman, now 31, has a .374 on-base percentage and .574 slugging percentage, his best numbers since he left the Dodgers. I'm not sure ballpark adjustments entirely account for his improvement from .304/.379 with the Mariners last season.
In six career games against the Dodgers
, Beltre is 8 for 24 with two doubles, a homer, three walks and one strikeout. Beltre was 3 for 21 with three walks and a homer for the Dodgers against Boston.
Drew, 34, has declined so far this year, his OPS falling from .914 in 2009 to .807 while starting 60 of 68 games in right field. This weekend marks the first time he faces the Dodgers since opting out of his contract. Something tells me that Drew would get booed if he ever returned in a visiting uniform to Dodger Stadium, a shame considering his .905 OPS for Los Angeles.
* * *
Carlos Monasterios won't be the least experienced starting pitcher in Fenway Park tonight. Fellow Venezuelan Felix Doubront, 22, is making his first major-league start. The lefthander's ERA with AAA Pawtucket was 1.08, though he never reached the six-inning mark in any of his four starts. He struck out 16 in 16 2/3 innings against 22 baserunners. For AA Portland, Doubront had a 2.51 ERA in 43 innings spread over eight starts.
From the Dodger press notes: "Monasterios has now outlasted all Rule 5 draft picks for the Dodgers other than D.J. Houlton (2005). Since 1981, the Dodgers have drafted just nine players in the Rule 5 draft and only four made the Opening Day roster – Houlton, Monasterios, Frank Lankford (1998) and Jose Antonio Nunez (2001). Both Lankford and Nunez were returned to their previous teams in May. Houlton stayed on the roster all season."
Nick Green has signed a minor-league contract with Toronto, according to the team (via MLB Trade Rumors).
A barnburner in Albuquerque on Thursday, with the Isotopes falling, 15-12 in 11 innings after rallying from an eight-run deficit. Claudio Vargas pitched an effective three innings in his return to the Dodger organization, but then the roof caved in on Cody White, who allowed 10 runs in four innings. Lucas May had a single, double and one of four Albuquerque home runs, raising his OPS to .830. Russ Mitchell hit his fourth homer in his past four games.
Kyle Russell doubled but also wore the platinum sombrero in Chatanooga's 14-2 win. Russell has struck out 19 times in 36 AA at-bats. Dee Gordon reached base four times for the Lookouts, raising his OPS to .951 in his past 10 games. Kenley Jansen continues his fast track up the Dodger system since he converted to relief pitching from catching; he has 24 strikeouts and a 1.17 ERA against 18 baserunners in 15 1/3 AA innings.
Ethan Martin pitched six innings of one-run ball with six strikeouts for Inland Empire.
Collectibles from Pedro Guerrero's magic June 1985 are on auction, writes Ernest Reyes of Blue Heaven. They were obtained directly from Guerrero.
Here's a Dodger divorce update from Dodger Divorce.
Why do some teams avoid giving physicals to players they're going to acquire, wonders Craig Calcaterra of Hardball Talk.
Why do managers bat reserve players in the same batting slot as the starters they're replacing, regardless of whether that makes sense, wonders Joe Pawlikowski of Fangraphs.
Jerry Seinfeld and Keith Hernandez will reunite in the Mets broadcast booth next week.
Davey Lopes was interviewed by David Laurila of Baseball Prospectus. The big news to come out of the interview was that Phillies second baseman Chase Utley has been playing with a bum knee, but I'm linking it for the moment Lopes talks about the day he stole five bases against the Cardinals and how he kicks himself for not getting seven.
We know how great Sandy Koufax's 1966 was. At this stage of the season, it was even greater.
Beyond the Box Score has a neat graph of Wins Above Replacement for the first round of the 2006 (Clayton Kershaw) draft.
The San Diego Padres pitching gets a long look from Jerry Crasnick of ESPN.com.