Dodger Thoughts:

Albert Pujols
January, 25, 2012
1/25/12
4:17
PM PT
A bundle of clickable goodness today ...
December, 8, 2011
12/08/11
9:51
AM PT
It could have been the Dodgers making the big news today. And someday, it will be.
But for now, it's all Angels.
On Thursday, the Dodgers continue their participation in a bankruptcy court hearing with Fox, a hearing largely focused on how to maximize the value of the baseball team. While that is going on,
the Angels signed Albert Pujols and C.J. Wilson
-- and just like that, the team from Anaheim seems to have written the book on how to maximize franchise value.
The commitment the Angels are making to the 31-year-old Pujols is, for those of us who live in the real world, insane. Ten years, $250 million-plus and all the fringe benefits I suspect you can name. It's an incredible amount of money.
But the reason the Angels are able to make such a long-term splurge relates to the same reason that Dodgers fans should have hope for the franchise after all the courtroom drama is over. The TV money coming into the Southern California baseball market, whether from Fox Sports or its newly emerging rival, Time Warner Cable, is
out of this world
.
As Richard Sandomir recently wrote in
The New York Times
, the Dodgers' current TV rights deal with Fox calls for just less than $40 million in its final year, 2013. In the next contract, the annual payment the Dodgers receive in TV revenue is expected to be, at the bare minimum, $150 million, and quite possibly will go north of $200 million. Sandomir even calculates that $300 million per year is a believable figure when all the bidding is done.
I'm not one to use the word "game-changer" frequently, but that's a game-changer.
There are two principal reasons for the soaring dollars. Live sports has become invaluable programming for broadcasters in a DVR age that has brought declining ratings to conventional TV programming. And as I wrote for
Variety
this week, with TWC taking the Lakers from Fox to start new cable channels dedicated to the NBA team, the Dodgers are more valuable because of the need to fill the cable programming schedules in the summer months.
What's relevant to Thursday's signings is that the Angels are hardly being left out of the TV party. The Los Angeles Times
reported in October
that the Angels were close to negotiating an extension of their current TV deal with Fox, one that already stood to pay them more than the $80 million per year that Fox agreed to pay the Texas Rangers last year. Although you wouldn't have assumed the Angels would get quite what the Dodgers could count on, the marquee value of Pujols -- the equivalent of signing a saner, younger Manny Ramirez -- certainly will help. You can make a direct argument that the appeal of Pujols and his effect in boosting the Angels' win total will only help the team draw more TV money as negotiations are finalized.
When you consider the probability that the Angels will be getting more than
$1 billion
from Fox over the life of Pujols' contract, then absorbing those final $25 million-a-year seasons or whatever they are, even after he's over-the-hill, doesn't seem so vexing. Pujols is sponge-worthy, and the Angels are going to have a lot of sponges.
That the Dodgers know they have the same revenue potential, if not more, reminds us how easily the team could have been a major player in this winter's free-agent market. Heck, even under a normal budget,
we already knew
the Dodgers could have figured out a way to afford Prince Fielder (probably a better fit for the team than Pujols because he's younger and not demanding a 10-year deal).
Eric Stephen of
True Blue L.A.
reiterated the point this week. If you combine the salaries of Aaron Harang, Juan Rivera, Chris Capuano, Mark Ellis, Jerry Hairston Jr. and James Loney, you would basically have the money to sign Fielder and a starting pitcher. Then you play bargain ball at second base, and you still probably have a better team than what the Dodgers will put out in 2012.
Factor in the Dodgers' post-2013 TV money and a new owner with deeper pockets, which will come regardless of how the current bankruptcy hearing plays out, and it's really no sweat. A contract the size of the one Pujols is getting makes me uncomfortable -- except when I remind myself just how different the financial landscape will be for the Dodgers in the coming years.
Nothing the Angels did Thursday guarantees them a World Series title -- and more often than not during the next 10 years, the team that does win the Series will
not
be Pujols' team. My point is not that the Pujols signing is a great one, but that it's a feasible one. Over the life of the contract, taking into account both his peaks and his valleys, Pujols should make the Angels a better contender for titles and TV viewers. Even at Pujols' astronomical salary, the Angels' risk-reward ratio is a solid one. Adding Wilson to the party only underscores this point.
And it serves as a reminder that anyone looking to acquire the Dodgers or their TV rights would be more confident in doing so knowing that Matt Kemp, Clayton Kershaw
and
a player of Pujols' or Fielder's caliber is in place. (And hey, Fielder is still out there ...)
So take heart, Dodgers fans. Frank McCourt is still selling, and the TV dough is still coming. This time next year, the Dodgers should be in the money, and we'll have to worry (sigh) only about whether they're spending it wisely.
At the bottom of this morning's Ramona Shelburne news story for
ESPNLosAngeles.com
about the Bryan Stow situation, she quotes Jerome Jackson, a lawyer representing Frank McCourt, as follows:
... "What happened to Bryan Stow was a tragedy," he said. "The Dodgers have held fundraisers. The Dodgers have helped police in solving this case. That doesn't mean we're legally responsible for what happens here.

"What baffles me is that the level of public outrage at the Dodgers seems to be higher than the level of outrage at the people who inflicted the blows." ...

Here's what I'd say to that:
1) Let's be clear — whatever outrage exists isn't against the
Dodgers
, it's against McCourt.
(Update:
As Dodger Thoughts commenter Zissou_Steve points out, there was more outrage against Dodger
fans
than there was against McCourt when this incident occurred.)
2) Despite the anger against McCourt, I wouldn't say that when it comes specifically to the Stow beating, people are angrier at McCourt than they are at the assailants. People understand who the true villains are.
3) However, if you're trying to address public anger with McCourt, it sure doesn't help when you make statements such as these:
"I've been doing these cases for 23 years and I have never seen one yet in which it didn't take at least two people to tango," (Jackson) said, referring to the notion that jurors could decide Stow bears some liability in the attack. "So stay tuned and stand by."
Whatever the facts of the case are, when it comes to the question of "public outrage," that's an issue of public relations. Does this look like an example of good public relations?
* * *
Matt Kemp was the only unanimous selection to The Sporting News National League All-Star Team that also includes Clayton Kershaw.
Robinson Cano, whom I still link to Kemp because of all the trade rumors involving the pair a couple years back, is looking (via agent Scott Boras) to redo his contract with the Yankees that includes club options of $14 million for 2012 and $15 million for 2013, according to Wallace Matthews of ESPNNewYork.com.


... Boras, has been peddling his sales pitch through the media recently, cautioning the Yankees that allowing Cano to become a free agent after the 2013 season would be extremely risky, not to mention expensive, the implication being that he would take Cano out onto the open market, where he would no doubt draw a lot of interest.


An insider told Matthews that the chances of Cano's contract being re-done were "highly, highly unlikely."
Albert Pujols defended his hit-and-run playcalling, as well as the fact that he didn't swing when he called the first hit-and-run in Game 5 Monday. (Joe Strauss, St. Louis Post-Dispatch)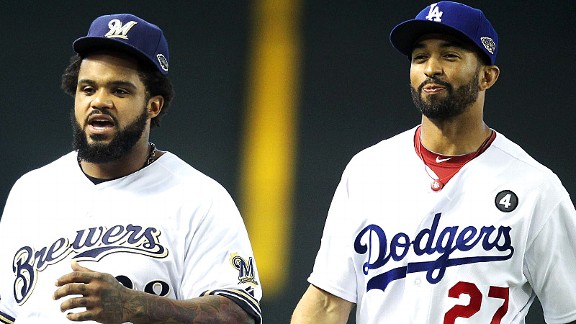 Christian Petersen/Getty ImagesFuture teammates? (In Los Angeles, we mean.)
If the Dodgers lived in a world of riches and roses, they would sign Albert Pujols or Prince Fielder, get as much value in exchange for James Loney as they could, and greet the 2012 season with high hopes.
Now let's talk about the world they actually live in.
It's a world that I've believed does not include any realistic possibility of Pujols or Fielder coming to Los Angeles except in the visitor dugout. Even if the imminent hearing on Frank McCourt's ability to auction off the team's TV rights results in the final blow to his ownership, I've felt there would be too much chaos this winter to allow the Dodgers to commit, if I'm low-balling it, what would be a minimum of $150 million for a Fielder signing.
Plus, there's an argument that even if all was normal with the Dodgers – and by normal, I'm referring to the Dodgers as they've been at their best, as opposed to the Dodgers spending like the Yankees – the team shouldn't be pursuing Fielder or Pujols, much less aging, gimpier players like Carlos Beltran (35 in April) or Aramis Ramirez (34 in June).
The Dodgers will have no more important long-term signings to pursue than Matt Kemp before the end of the 2012 season and Clayton Kershaw before the end of 2014. Each of those players will require contracts that, at some point, are paying them more than $20 million annually. In the middle of this decade, the Dodgers could be spending more than $40 million a year on those two players alone. And I hope they do, because both Kemp and Kershaw are great bets to make good on the deals, and because the Dodgers are long overdue for some great, homegrown players to spend a solid decade or more with the team.
So, is it really sensible to turn that into $60-plus million per season on three players? It's hard not to notice, for example, that neither of the two teams playing in the World Series have devoted that much of their payroll to so few players.
St. Louis paid Matt Holliday $17 million this season and Pujols (in the last year of an eight-year contract signed before he could become a free agent) $16 million. Chris Carpenter made $15 million, but no other hitter who started the season with the Cardinals made more than Lance Berkman's $8 million.
Texas paid Michael Young $16 million and Adrian Beltre $14 million in 2011. Josh Hamilton, like Kemp a potential free agent after the 2012 season, made only $7.25 million.
You can look at those bullet points two ways, actually. On the one hand, you don't need a $20 million player to make the World Series. On the other hand, spending even $30 million on two guys doesn't guarantee you'll have enough to fund the rest of a championship team – Texas and St. Louis were anything but locks to play in the season's final week.
Pujols will be 32 when he starts his next contract and near 40 when it ends. Fielder is younger than Pujols, but would be closer to 300 pounds than perhaps any Dodger ever. (Beats Frank Howard, right?) Even if the Dodgers were in the best financial shape of their lives, doesn't part of you imagine that if Pujols or Fielder signed with Los Angeles, somehow, some way, something would go wrong? Horribly wrong?
So guess what. The Dodgers should sign Prince Fielder.
Betcha didn't see that coming.
Here are the reasons:
Fielder, who is only 4 1/2 months older than Kemp, might not play until he's 40, but no one's going to give him a 12-year contract. The big first baseman should be good for the next several years easily. For all the concerns about his physical condition, he has averaged 160 games per season since 2006.
He is truly awesome, not only supplying mammoth power (that admittedly would decline some playing regularly in Dodger Stadium) but also the mammoth on-base percentage that made Manny Ramirez so valuable during his Los Angeles heyday. Fielder's lifetime OBP is .390, including .381 in road games (.386 in 70 plate appearances at AT&T Park, if that sort of thing interests you). That ability isn't going to go away anytime soon.
He would be a bird in the hand. He would be insurance in case Kemp, who might command more as a free agent, proves too difficult to come to terms. His presence could also help entice Kemp to stick around, given how he would feel about having Fielder in the cleanup slot (although at the end of the day, the best contract offer will carry the biggest weight for Kemp, plain and simple).
The Dodgers – even the bankrupt Dodgers – can afford him.
That last point is the one I've sort of put out of sight, out of mind, out of a belief that it wasn't even worth thinking about. But then, I started to think about it. The Dodgers could always backload a Fielder contract so that the hefty portion (pun acknowledged but not admired) comes after the post-2013 local TV contract money can be accessed. However, the Dodgers should be able to afford Fielder even if they pay him the proper amount starting next year.
The Dodgers have a somewhat shocking amount of
2012 payroll commitments
: over $100 million. But then you notice that roughly $20 million of that total is allocated for Loney and Andre Ethier: two players coming off mixed seasons, two players who themselves will be eligible for free agency a year from now and unlikely to be resigned. If you replaced those two players with Fielder and an up-and-coming minor-leaguer, the Dodgers might be better off, if not next year, than as the decade goes on.
Let me reiterate that a Kemp-Fielder combo doesn't get the Dodgers automatically credentialed into the 2012 World Series, any more than a Ryan Braun-Fielder combo did for Milwaukee in 2011. With or without Fielder, the Dodgers are an ownership-challenged team with holes at second base, on the bench and, pending what happens with Hiroki Kuroda, in the starting rotation.
Essentially, those problems will exist even without Fielder. Signing Fielder might even help solve one of them, by allowing them to trade Ethier. At any rate, I'm confident a Fielder signing wouldn't mark a repeat of Andruw Jones.
If it's a choice between Kemp, Kershaw and Fielder, then Fielder is the lowest priority for me on that list. But it doesn't necessarily have to be a choice.
It won't be heartbreaking if the Dodgers don't sign Fielder as a free agent, and it certainly won't be surprising. It could, however, be very, very cool.