Dodger Thoughts:

Alex Belth
While I've been screwing around pretending I'm a writer, our old friend Alex Belth has gone and
produced a masterpiece
.
November, 1, 2011
11/01/11
9:18
AM PT
Not getting too excited about this, but let's just say I'm hoping it's one more roll of the boulder downhill ...
Frank McCourt might be closer than he's ever been to selling the Dodgers, according to Bill Shaikin of the Times.


... McCourt has long vowed not to surrender the Dodgers. In April, as Commissioner Bud Selig appointed a trustee to oversee the team and attendance plummeted at Dodger Stadium, McCourt insisted he would not sell.

However, analysts suggested McCourt now might be willing to sell for a simple reason: Even if he won in court, he could lose.

Based on figures McCourt submitted to the Bankruptcy Court, he would be hard-pressed to sell the Dodgers' television rights, settle his divorce and be left with enough capital to renovate Dodger Stadium and restore the team to prominence.

"I don't know that there's a way for him to win," said Marc Ganis, president of the sports business consulting firm Sportscorp Ltd.

Shaikin also writes that if Fox Sports loses local rights to the Dodgers when the current contract expires following the 2013 season, it could lead to the consolidation of the two Fox Sports cable channels into one.
How will Prince Fielder age? One day at a time — and here's one analysis of how those days will go, from Ryan Campbell of Fangraphs.
Hardball Talk has begun its review of the 111 free agents on the market this winter. Here's something about two 34-year-old players that might amuse you:


Marcus Thames, 2010: .350 on-base percentage, .491 slugging
Andruw Jones, 2011: .356 on-base percentage, .495 slugging

Dodger prospect Allen Webster gets an evaluation, with video, from Mike Newman of Fangraphs.
Matt Kemp is scheduled to be a guest on "Last Call with Carson Daly" in Thursday late-night programming, which really means Friday morning.
Eric Stephen of True Blue L.A. went the extra mile in looking at the Dodgers' Gold Glove finalists.
Mike Petriello of Mike Scioscia's Tragic Illness presented his 15-point plan to make the Dodgers the best they can be in 2012.
Bob Timmermann shared some great old baseball photos on Twitter on Saturday, including Vin Scully getting stats from Allan Roth, Dick Enberg in a Valley State (now Cal State Northridge) uniform and Willie Davis' bad day.
Former Dodger Tom Goodwin was named first-base coach for the Mets.
Best headlines of 2011 has to include this from Alex Belth of Bronx Banter on CC Sabathia: "The Stay Put Marshmellow Man."
In case you're curious, Sabathia's new deal pays out in the following manner: $23 million each of the next four seasons (as had already been in place), $25 million in 2016, $25 million vesting option in 2017 or $5 million buyout. More from ESPNNewYork.com.
Across town, Mets general manager Sandy Alderson said he doesn't expect to trade third baseman David Wright.
May, 3, 2011
5/03/11
10:26
PM PT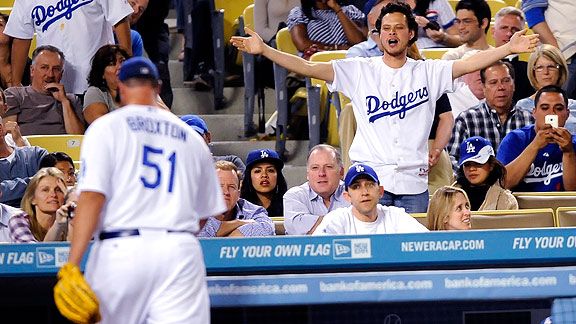 Gus Ruelas/APJonathan Broxton leaves the game after walking two of three batters.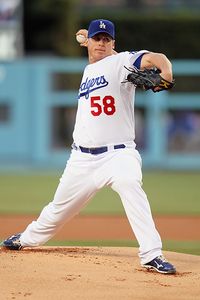 Jeff Gross/Getty ImagesChad Billingsley allowed only one run in seven innings, all for naught.
Jonathan Broxton has given Dodger fans a lot of heartache this year, but tonight he looked as sickly as he ever has in my memory.
Broxton entered tonight's game in the ninth inning of a 1-1 tie. After retiring Aramis Ramirez on two fouls and a popout, Broxton walked the next two batters on eight pitches, and few of them were close to the strike zone. According to MLB Gameday, the pitches were all fastballs, one reaching 93 miles per hour and the average at 91. That's just not the Broxton of 12 months ago, and I'm not convinced it's even the Broxton of 12 weeks ago.
People have been strangely fascinated with Broxton's facial expressions and posture, but here's a suggestion: Someone needs to look at his arm. Even if they've looked at it before, look at it again.
After the first walk, Blake Hawksworth began warming up in the bullpen, and after the second, Don Mattingly came to the mound. He talked to Broxton and the other assembled Dodgers, clearly stalling for time as Hawksworth raced to get ready, before finally telling home-plate umpire CB Bucknor to call for a rare mid-inning hook of the Dodger reliever.
Though I've always suspected Broxton's been off physically since his serious struggles began in late June, this was possibly the first time I watched him and said to myself, "There's a guy that's headed straight for the disabled list." Of course, what I observe from my seat far from the pitcher's mound has no real relevance, but I just offer it as an impression.
It is, I will say, a little peculiar to me that it doesn't occur to the people who are calling for Broxton's head and questioning his mental makeup that Broxton is possibly pitching hurt, and maybe has been for some time. If he has been concealing an injury, I sure hope he comes clean. (
Update:
From KABC 790 AM via
True Blue L.A.
: "After the game, Don Mattingly told reporters that Broxton was still his closer, but didn't sound convincing. "When guys tell you they're fine, you believe that. The inconsistency in velocity concerns me. You don't know if you're getting the whole story. We need to figure this thing out.")
Hawksworth looked like he would bail the Dodgers out after he got Alfonso Soriano on a can of corn to Matt Kemp, but the next batter, Geovany Soto, drove one to right-center that split Kemp and Andre Ethier for a double, driving in two runs. Blake DeWitt followed with his second pinch-hit single in two nights,
capping the Cubs' 4-1 victory over Los Angeles
.
On the bright side, Ethier got the business of taking his 28-game hitting streak to 29 out of the way in the fourth inning with a single over leaping second baseman Darwin Barney, tying Ethier with Zack Wheat's 1916 skein for the second-longest in Dodger history. For anyone complaining about Ethier getting a couple cheap hits this week, he got robbed of one by a diving Barney in the eighth inning.
Two innings later, after a single by Jamey Carroll, a sacrifice by Jerry Sands and a groundout by Ethier, Kemp gave the Dodgers a 1-0 lead with a single to center – the only run the Dodgers got against Ryan Dempster, who entered the game having allowed 33 earned runs in 31 innings this season.
Another struggling Cub, Carlos Pena (.171 slugging percentage), got well with one out in the top of the seventh. Pena tied the game with a high fly over the short fence down the right-field line for his first homer of the season, this coming off Chad Billingsley, who only allowed three other hits and two walks all night while striking out eight. And that took us to the ninth.
Elsewhere ...
Emo Juan Uribe is an instant Hall-of-Fame website. (Thanks, Mike Scioscia's Tragic Illness.)
Marcus Thames is likely to be out at least four weeks, Don Mattingly told reporters today.
No combo of two players has ever contributed a higher percentage of a team's offense than Ethier and Kemp, writes Jonah Keri for ESPNLosAngeles.com.
Francisco Liriano walked six but threw the first no-hitter for the Twins since ex-Dodger Eric Milton in 1999. By the score of 1-0, he beat former Dodger Edwin Jackson, who threw an even wilder no-hitter in 2010.
As David Schoenfield of ESPN.com's Sweet Spot notes, this was the first two-strikeout no-hitter since the Dodgers' Jerry Reuss in 1980.
From KABC 790 AM's Joe Block on Twitter: "How rare is a 30-game hitting streak? There have been 43 since 1900. Liriano's no-hitter was the 228th in MLB since 1900."
How do major-league cities rank if you go strictly by the value of sitcoms that were set there? Grant Bisbee of McCovey Chronicles answers the question at SB Nation. Fun list – now quibble away!
The soon-to-be Pacific 12 Conference on Wednesday will officially announce a 12-year TV deal with Fox and ESPN networks that is going to bring in approximately $3 billion to member schools over a 12-year period. You can get a hand on some of the details in my Variety story.
Alex Belth's Bronx Banter has a cool new redesign, co-produced by Baseball Toaster's Ken Arneson.
January, 3, 2011
1/03/11
3:53
PM PT
Looks like the world is getting back to work ...
The Dodgers signed Tim Redding to a minor-league contract. Redding, who will be 33 in February, had a 2.89 ERA in 109 Triple-A innings last year, following a 2009 major-league campaign in which his ERA was 5.10 with 76 strikeouts in 120 innings.
Albert Lyu of Fangraphs has a precision look at Matt Kemp's struggles against fastballs in 2010 compared with the year before. "Kemp's whiffs against lower-90s fastballs dramatically increased in the past year, nearly doubling that of the average hitter," Lyu writes.
Ronald Belisario won a Venezeulan winter league closer of the year award, notes Roberto Baly of Vin Scully Is My Homeboy.
Baly also passes along word of the arrival of Clayton and Ellen Kershaw in Africa.
Mike Petriello of Mike Scioscia's Tragic Illness wonders if there is still room to add a second lefty reliever to the 2011 Dodger bullpen, especially because Hong-Chih Kuo can't be wasted as someone who only faces lefty batters.
Alex Belth of Bronx Banter shares a sweaty, tongue-tied New York moment, co-starring Tina Fey.
Farewell, Anne Francis and Pete Postlewaite.
Detroit Tigers pitcher Armando Galarraga
lost a perfect game
with two out in the ninth inning tonight because of a blown call at first base. Alex Belth's reaction at
Bronx Banter
suits me perfectly.
Cabrera raised his arms as soon as he threw the ball and the runner was out. But Jim Joyce called him safe. He blew the call. Right in front of him. Blew it. Trevor Crowe grounded out for the 28th and final out.

I felt sick to my stomach watching it on TV. It was like getting kicked in the gut or lower. The fans in Detroit booed. It seemed like half of the Tigers team had to be restrained from jumping Joyce whose professional life may never be the same after one blown call. From what little I know about umpires, they take their mistakes to heart, so I can only assume this is the worst night of Jim Joyce's life (and I feel for him as I imagine nobody feels worse about this than he does).

After the game, Joyce told reporters, "I just cost that kid a perfect game," Joyce said. "I thought he beat the throw. I was convinced he beat the throw, until I saw the replay."

Joyce's mistake surely spoiled the best night of Galarraga's life, but instead of letting this sickening feeling overshadow Galarraga's brilliance, let's just flip it—this was a wonderful feat. Joyce's mistake only allowed Galarraga to accomplish something even more unique than a perfect game. A 28-out perfecto.

No matter what the record books say, this was perfection by Galarraga, plus one. An untimely mistake by Jim Joyce can't spoil what we all saw and know to be true.
At the
Hardball Times
, Josh Fisher is part of the Million Fan March calling for expansion of instant replay in baseball.
Update:
Craig Calcaterra of
Hardball Talk
looks at the pros and cons of Bud Selig overturning Joyce's call and retroactively making the perfect game official.