Dodger Thoughts:

Andrew Lambo
November, 18, 2010
11/18/10
10:29
AM PT
Tony Jackson of ESPNLosAngeles.com has taken a journey down into the Dodger farm system, returning with a couple of stories: a feature on
Ivan De Jesus Jr.
, along with
updates on seven other minor-leaguers
. Here's the opening to the DeJesus story:
One look at Ivan De Jesus Jr.'s numbers in the Arizona Fall League, which concludes Thursday, could yield the reasonable conclusion that the longtime Los Angeles Dodgers infield prospect is ready for the major leagues. One look at what he did in the Pacific Coast League this season could make you wonder why he didn't receive a September call-up to a team that by September really didn't have much to lose. ...

In other news ...
September, 18, 2010
9/18/10
1:40
PM PT
... plus the 18 2/3 innings they got in between from
Octavio Dotel
,
who went to Colorado in another trade
today. That would be the Dodgers cutting their losses. Dotel will help the Rockies try to make the playoffs but is ineligible for the postseason because the trade happened after August 31.
August, 17, 2010
8/17/10
6:09
PM PT
Manny Ramirez is alive! He took batting practice at Dodger Stadium tonight and is close to a rehab assignment. Ramona Shelburne of ESPNLosAngeles.com
has details
.
Rafael Furcal felt tightness and will be held back from starting a rehab assignment for at least a couple more days.
* * *
Question: Are the Rockies more disappointing than the Dodgers this season, less or the same?
Related: Bob Timmermann explores "The Dodgers in 2010: The Year of Crabbiness" at L.A. Observed's
Native Intelligence
.
* * *
Elsewhere ...
Zach Lee is expected to make an appearance at Dodger Stadium on Wednesday, the team said.
Lou Gehrig might not have had Lou Gehrig's disease (amyotrophic lateral sclerosis), reports Alan Schwarz in a fascinating New York Times article.
Josh Wilker has a fine piece about Mickey Rivers today at Cardboard Gods.
Remember Brent Mayne, he of the last Dodger catching tandem that couldn't hit straight before this one? Mayne has a blog and an interesting post about ballplayers as social misfits. (via Hardball Talk).
If it's an upset that the Padres are in first place and the Dodgers are in fourth, it's another upset that the Dodgers had a more satisfying 2010 draft than the Padres did. Paul DePodesta tells the story of what happened to leave San Diego's front office disappointed at It Might Be Dangerous ... You Go First.
Claudio Vargas has been granted his release by Albuquerque, the Isotopes said.
Former Dodger prospect Andrew Lambo has had his second setback of 2010 — a shoulder injury, reports Dejan Kovacevic of the Pittsburgh Post-Gazette.
Sweet-hitting pitcher Micah Owings, whose career ERA and slugging percentage each start with the number five, has been designated for assignment by Cincinnati.
July, 31, 2010
7/31/10
1:47
PM PT
Octavio Dotel, 36 years old with 52 baserunners allowed in 40 innings for Pittsburgh this season against 48 strikeouts,
comes to Los Angeles
as the Dodgers give up on James McDonald and minor-league outfielder Andrew Lambo.
Dotel has had a brief resurgence
since mid-June
, so the Dodgers will try to ride that wave and hope this isn't another Edwin Jackson for Danys Baez.
In a way, the Dodgers are copying the Padres' formula -- trying to smother the opposition with pitching options, and hope the offense scores just enough to make it worthwhile. It's a plan that could work, especially if Manny Ramirez comes back and Matt Kemp and Andre Ethier step things up. I'm just not in love with the guys they acquired this week to try to make it happen.
* * *
In other news, Andre Ethier is away from the team for the birth of his second child.
June, 25, 2010
6/25/10
1:02
PM PT
Prentice Redman
, a 31-year-old career minor leaguer who has a .401 on-base percentage and .551 slugging percentage for Albuquerque this season, will sit out the next 50 games after testing positive
for amphetamine usage
.
Redman's only major-league appearances came
in 2003 with the Mets
. The Dodgers announced that Matt Kemp will be sent to Albuquerque to replace Redman. Just kidding.
Xavier Paul (.392/.594), Jamie Hoffmann (.358/.441) and Michael Restovich (.367/.556) are the other primary outfielders on the Isotopes, with Timo Perez and Jay Gibbons also seeing time on the grass.
The news of Redman's suspension comes on the day that Dodger prospect Andrew Lambo
returns to the field for AA Chattanooga
after serving
his own 50-gamer
.
Lambo is joined by the recently promoted
Jerry Sands
and
Aaron Miller
.
Meanwhile,
the Minnesota Twins called up Jason Repko
. Repko has a .780 OPS in AAA this season,
batting mostly against righties
. His numbers are better against righties for a change, but BABIP (batting average on balls in play) explains that.
May, 1, 2010
5/01/10
5:43
PM PT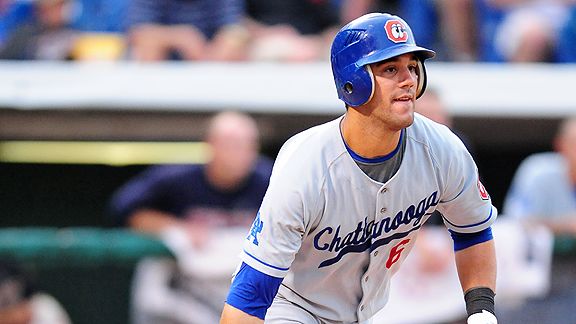 Los Angeles Dodgers
Andrew Lambo, shown here with Chattanooga in 2009, has been considered a potential starting Dodger left-fielder by 2012.
Andrew Lambo
, ranked No. 3 among Dodger prospects in the 2010 Maple Street Press Dodger annual, was suspended for 50 games for violating the Minor League Drug Prevention and Treatment Program. The violation was for a second positive test for a "drug of abuse," rather than a performance-enhancing substance, according to Tony Jackson of
ESPNLosAngeles.com
, who adds more details.
Lambo, a 21-year-old in his second season playing for AA Chatanooga this year, had an on-base percentage of .390 and slugging percentage of .566 (the latter fifth-best in the
Southern League
). He transferred from Reseda's Cleveland High School to Newbury Park High School because of a marijuana-related incident.
Jackson also has other notes about the team
here
.
* * *
I'm just getting back into the swing of things after my anniversary sojourn. Tonight's game is basically all hands on deck for the bullpen, started by reliever Carlos Monasterios. Ramon Ortiz figures to get some action assuming Monasterios doesn't last five innings, although Charlie Haeger, whose Dodger future is an open question and whose next start has not been officially scheduled, could also get a call before the front end of the relief corps gets into it. It would be nice if Dodger manager Joe Torre was willing to use a key reliever early in the game, if necessary, to keep it close.
It's an interesting test for Monasterios, but Dodger fans do need to keep expectations in line. (After the past week, I suspect that won't be a problem.)
As for who starts in Vicente Padilla's place next, James McDonald made a push after returning from the broken-fingernail disabled list with five no-hit innings (two walks, five strikeouts)
against Round Rock on Friday
. Keep in mind that the Express are among the
poorer-hitting Pacific Coast League teams
.
February, 22, 2010
2/22/10
8:56
PM PT
The way people picked apart Manny Ramirez's statements today for significance was crazy. Crazy, I says!
It's Manny Ramirez. If there's one guy in baseball you judge by actions instead of words, it's Manny Ramirez. And yet, the baseball world got their engines all revved up, over what?
Over nothing
. Over a guy saying what everyone knew. Over a guy talking in such stream-of-consciousness that if he read his own quotes, he'd probably not recognize them.
In a world that rages against Tiger Woods for being robotic or disingenuous, here's Ramirez telling it like it is. Granted, what "it is" can change from one minute to the next, but that's kind of the point. You can't take what he says so seriously. We know
he
doesn't. We
know
this. We have years of intimate experience with this knowledge.
So why do people act like the opposite is true? Why do people act like they care about anything except how well he performs on the field after the games start?
Do you think that if Ramirez is hitting, people will care that he said anything bad? That if he isn't hitting, people will care that he said all the right things?
I'm not nominating Ramirez for sainthood, but it's just ridiculous how he became target practice today. It was like people trying to draw life lessons from a fortune cookie.
Manny was being Manny. And we were being us.
* * *