Dodger Thoughts:

Andy LaRoche
December, 21, 2011
12/21/11
8:17
AM PT
As I still wonder whether Vanessa Bryant will join a Dodger ownership group ...
March, 29, 2011
3/29/11
7:35
AM PT
Whatever your 2011 expectations for Jay Gibbons were, you've got to feel for the man. From Tony Jackson of
ESPNLosAngeles.com
:
Gibbons is expected to begin the season on the 15-day disabled list because of lingering problems with the vision in his left eye, an issue Gibbons thought he had resolved when he returned two weeks ago from a visit to a San Francisco doctor who gave him a better-fitting contact lens.

Gibbons said upon his return from that trip that his vision in his everyday life was dramatically better. But he said Monday that wasn't the case in the batter's box, because he couldn't pick up the spin on breaking balls.

"My vision was great coming back, but I had no depth perception," Gibbons said before Monday night's Cactus League game, a 5-4 loss to the Los Angeles Angels before 19,415 at Dodger Stadium. "I went up there in spring training with very little chance. Those pitchers are pretty good. Once they figure out you can't see, they cut you up pretty quickly."

Gibbons, who lives in the Los Angeles area, plans to see another doctor here on Tuesday -- "about the fifth different guy I've gone to," he said -- in hopes of trying yet another contact lens. His original problem was that the lens kept popping out, the result of some flattening of his cornea that is a normal result of the PRK (photorefractive keratectomy) surgery he underwent last fall as a follow-up to the lasik procedure he had in 2004.

He came back from San Francisco with a lens that had a lower base curve so it clung more securely to his eye. But he now says his vision at the plate was less clear than it had been before. ...
OK, it's not a total tragedy: Gibbons' $650,000 salary for 2011 became guaranteed Monday. And when a door closes for one guy, it opens for someone else. But you'd still like to see a player go down swinging, instead of not seeing.
* * *
Almost-a-Dodger Eric Chavez will be on the Yankees' Opening Day roster (with Russell Martin and Andruw Jones), but once-a-Dodger Ronnie Belliard will not, reports Wallace Matthews of
ESPNNewYork.com
:
It was hardly surprising -- Chavez had a terrific spring, outhitting everyone on the team for average, even the red-hot Alex Rodriguez, and showed he could still play an excellent third base and a serviceable first base -- but certainly inspiring for a player hampered by multiple back and shoulder injuries over the past five seasons, and potentially a steal for the Yankees, who waited as long as possible to be sure Chavez would make it through camp in one piece.

"That one's pretty evident with the spring that he had," manager Joe Girardi said in announcing Chavez had made the team. "We feel that he's healthy and we feel that it's a good bat on a day that we rest Alex or Tex [Mark Teixeira]. I'm really pleased with what he did. ...

They also released Ronnie Belliard, which came as no surprise to anyone, since he came in overweight, almost immediately strained a calf muscle which cost him nearly two weeks, and batted .136 after his return to action. ...
* * *
Up in Oakland, Andy LaRoche
is still waiting to hear if he grabbed a spot with the A's
. LaRoche had a .987 OPS and team-high four homers this spring, playing four infield positions. In Arizona, Tony Abreu has
reportedly been placed on waivers
. Pittsburgh's James McDonald, who has thrown only 6 2/3 innings this spring,
might miss the start of the season with a left side injury
.
January, 25, 2011
1/25/11
7:11
AM PT
The fifth in a series of at least five, on how close selected Dodger prospects are to the majors ...
Ivan DeJesus, Jr.
Vitals:
SS-2B, 5-foot-11, 190 pounds, turns 24 on May Day.
Summary:
For the first time in this series, we're talking about a prospect who is trying to bounce back instead of one who is ascending. Two years ago, the son of 1970s Dodger Ivan DeJesus was coming off a year in which he delivered an impressive .419 on-base percentage to go with a .423 slugging percentage in the Double-A Southern League while still 21. To compare,
Dee Gordon had an inferior .332/.355 in the same league at age 22
.
But a broken leg suffered on an ill-fated slide in Spring Training wiped out DeJesus' 2009 season. Then the Dodgers bumped him up to Triple-A as he started his comeback in 2010, and DeJesus only managed to go .335/.405 while in hitter-friendly Albuquerque of the Pacific Coast League. DeJesus still is on the young side, but his future is unclear.
For comparison's sake:
Chin-Lung Hu
comes to mind, because Hu is the most recent Dodger middle infield prospect to excite with a strong Double-A season (.380/.508 in 2007), then disappoint in subsequent years. Spending the next three seasons in Triple-A, Hu couldn't break .800 in OPS. (In 191 scattered major-league appearances, Hu's OPS is .524.) Long after they had given up on him, the Dodgers finally dumped Hu this offseason for Mets minor-league journeyman pitcher Michael Antonini. So yes, Hu got promoted, but it didn't mean a lot.
For a more off-the-wall comparison, how about
James Loney
? Different position, but same track record of having but one minor-league season with an OPS over .800. In his final minor-league action, Loney was reduced to a .345 on-base percentage and .382 slugging percentage with Albuquerque in 261 plate appearances over the first half of the 2007 season. But then Loney was promoted to the majors anyway and produced at a .381/.538 clip the rest of 2007. Say what you will about Loney as a first baseman, but if DeJesus came in at those numbers as a second baseman, people would be quite satisfied.
But as you can gather, the comparisons don't help much.
X factor:
Tales of bad vibes emerged in early September when Ken Gurnick of
MLB.com
wrote a short piece about DeJesus failing to earn a callup when rosters expanded. "DeJesus was drafted in the second round in 2005 as a shortstop, but he played second base this year, and scouts say his range and footwork around the bag need improvement, perhaps the after-effects of the injury," Gurnick said. "Sources also claim that DeJesus ... is in the doghouse because he has yet to grasp some of the subtleties of teamwork and game approach."
Gurnick found more positive words about DeJesus
earlier this month
from Don Mattingly, who managed DeJesus in the Arizona Fall League: "He swung the bat well," Mattingly told Gurnick. "I know since the injury, they say he's a step slower here or there, but he's prepared to hit at the major-league level. He has a good feel for how pitchers try to handle him. I thought he was really good offensively. Defensively, I didn't see him as much as I'd like to because of the restrictions on who plays where. Offensively, the kid is ready to hit and produce. Where he fits, who knows?"
How close is he?
Keeping in mind the usual caveat that the Ned Colletti Dodgers almost never hand a rookie a starting job in April, there's a job in Spring Training that can be won. The team has a roster opening for an infielder, and if DeJesus came out like gangbusters, the Dodgers might consider pushing Juan Uribe to third base and Casey Blake to the left field squad. DeJesus could also contend for a backup infield role.
But much more likely is DeJesus returns to Albuquerque to play the keystone opposite Gordon and work on his game, with an eye toward a midseason promotion if he shows progress. With a year of Triple-A already behind him, DeJesus' destiny is largely in his hands at this point. Whether he can become more than Hu is up to him.
Did you know?
DeJesus' dad led the National League in runs in 1978 with 104, one more than Pete Rose.
* * *
Some links:
November, 19, 2010
11/19/10
11:02
PM PT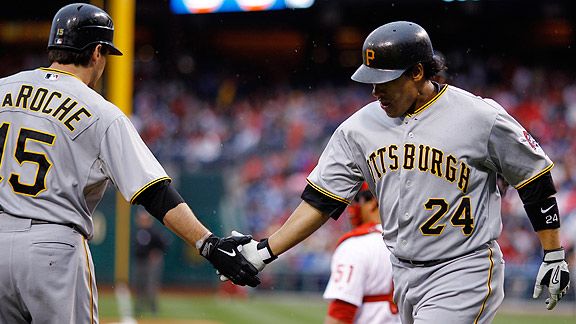 Matt Slocum/APAndy LaRoche congratluates Delwyn Young after Young's solo home run May 17 in Philadelphia.
Two seasons ago, the Dodgers gave away
Delwyn Young
, then sent
Andy LaRoche
away to get Manny Ramirez a few months later. Now, the Dodgers can have them back for nothing. Pittsburgh
designated Young and LaRoche for assignment today
.
Both players occasionally flashed ability but mostly have washed out. That's not as big a surprise for Young, who was never expected to be much more than a bench player, but the bigger disappointment was LaRoche, whose
fine minor-league career
seemed to have him poised for a starting role. Indeed, yours truly insisted in 2008 that the Dodgers didn't give LaRoche a fair chance to win the third-base job before deciding to trade Carlos Santana and Jon Meloan for Casey Blake, days before the Ramirez trade.
When LaRoche was sent away (along with minor-league pitcher Bryan Morris), I consoled myself with the fact that at least the Dodgers were getting a major talent back. And more than ever, there's no doubt the trade was a major win for the Dodgers, especially with injuries and stagnating development making LaRoche a discard.
Either player might be worth a flyer on a minor-league contract, especially considering the Dodgers' depth issues, but based on Ned Colletti's past actions, if there's any ex-Pirate he'd be taking a chance on for next season's major-league roster, it would be today's third DFA,
Zach Duke
. Duke is five years removed from the 1.81 ERA he posted in his rookie debut and hasn't averaged more than 5.5 strikeouts per nine innings since, but he did have a 4.06 ERA in 2009 and will still only be 28 in April. For a general manager who saw potential in every R. Ortiz under the sun, Duke certainly seems like someone whose tires would get kicked.
And believe it or not, there's a fourth ex-Pirate in the Dodger news today, though don't expect to see him in Los Angeles. The Dodgers purchased the contracts of two players and added them to their 40-man roster – one was 28-year-old catcher
Hector Gimenez
, who had a .916 OPS for the Pirates' Double-A team in Altoona – the first time in eight professional seasons he had broken the .800 mark.
The other was
Luis Vasquez
(25 in April), who had a nifty 2.68 ERA and with 39 strikeouts in 40 1/3 innings, but all the way down in Single-A. Vasquez allowed only 24 hits but walked 26.
No, this doesn't mean the Dodgers have solved their catching and bullpen issues. Nor, certainly, have they provided us an answer who will start in left field in 2011, though Colletti gave Jim Bowden of MLB Network Radio (news via
MLB Trade Rumors
) this conversation piece: Jay Gibbons, Xavier Paul and Jamie Hoffmann are all considered candidates to be the outfield's Opening Day third wheel.
* * *
Don Mattingly completed his managerial stint in the Arizona Fall League, and Tony Jackson of
ESPNLosAngeles.com
touched base with him.