Dodger Thoughts:

Blake DeWitt
February, 8, 2011
2/08/11
2:13
PM PT
With my third Sweet Spot post
, I finally bring things back to the Dodgers ...
My recent interview with Dodgers general manager Ned Colletti prompted me to reflect on a little-discussed aspect of his tenure ...
Blake DeWitt doesn't need to worry about being sent to the minors anymore – and that was true before Monday's five-RBI explosion – writes Tony Jackson of
ESPNLosAngeles.com
. "I finally had to call him in at one point and tell him, 'No, you're not going (to the minor leagues),"' Dodger manager Joe Torre told Jackson. "And then I said, 'We're going to make another move this weekend, and it's not going to be you then, either."'
* * *
The Dodgers begin the day with the second-best record in the National League (half a game behind San Diego) and fourth-best in the majors (3 1/2 games behind Tampa Bay).
A 3-year-old girl is expected to recover after a batting practice line drive from Russell Martin fractured her skull, reports Ken Gurnick of MLB.com. My sincerest best wishes to her and her family.
While the Dodger starting rotation has stabilized for the time being, Albuquerque still has a makeshift bunch. Brent Leach continues to be pressed into starting duty, and Monday he allowed seven runs in 1 2/3 innings – then was ejected for hitting a batter with a pitch – in what became a 20-7 Isotopes defeat. Ivan DeJesus, Jr. went 3 for 3 with a walk.
Tim Sexton struck out 10 in six shutout innings, giving up four hits and walking none, for Chattanooga in a 3-0 victory. Sexton, who turns 23 Thursday, has a 4.22 ERA with 43 strikeouts in 49 innings this season against 69 baserunners.
Revenue for Southern California college and pro sports dropped 18 percent from 2007 to 2009, according to a study conducted by graduate students from the UCLA Anderson School of Management and reported in the Times.
The MLB draft continues today with the second round starting at 9 a.m.
June, 7, 2010
6/07/10
11:08
PM PT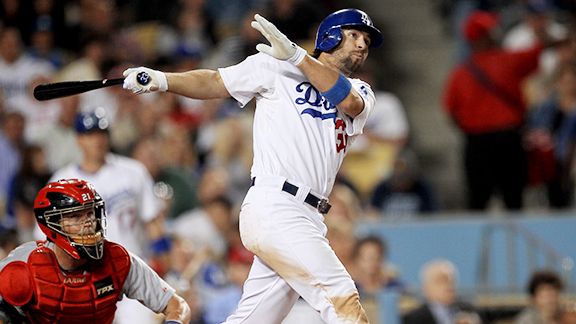 Kirby Lee/Image of Sport/US Presswire
Blake DeWitt drove in five runs, three on this, his first home run of the year.
On a night that Blake DeWitt drove in a career-high five runs, one of the mesmo men was at it again.
Carlos Monasterios pitched a two-hitter for six innings despite striking out nary a batter. Even after giving up Ryan Ludwick's second solo homer of the night and a Randy Winn single to start the seventh inning, Monasterios can go to sleep tonight with his ERA still at 2.27 for the season and, thanks to an efficient Dodger offense capped by DeWitt's first home run of the season,
a 12-4 Dodger victory Monday over St. Louis
.
Monasterios needed only 41 pitches to get through four innings, then got into a two-walk, none-out jam in the fifth but escaped with a double play and a fly out. He cruised into the seventh inning even though, according to Vin Scully, there was only one swing and miss against Monasterios all night. But as has been the case most of the year with Monasterios and John Ely, the contact wasn't enough to do major damage.
After taking a 2-0 lead in the first inning and then seeing it halved in the next frame by Ludwick's first home run, the Dodgers scored four runs in both the fourth and fifth innings, with pretty much everyone getting into the act. Manny Ramirez started things off with a double, and after a Ronnie Belliard walk, scored on a DeWitt single. A.J. Ellis squeezed home Belliard, and after Monasterios sacrificed, Rafael Furcal hit a ground-rule double to right to make the score 6-1.
In the fifth, walks to Andre Ethier and James Loney were followed by a Belliard RBI single, and then DeWitt hit one off the right-field foul-pole screen to make it 10-1.
Every Dodger starting position player (plus pinch-hitter Garret Anderson) had a hit except Loney, who walked three times. And every Dodger starter scored in this emphatic end to the streak of winning games by one run.
* * *
Congrats to the family of Dodger PR veep Josh Rawitch, who not only became the father of his second child today, but had the birth announced on the air by Scully.
May, 17, 2010
5/17/10
9:38
PM PT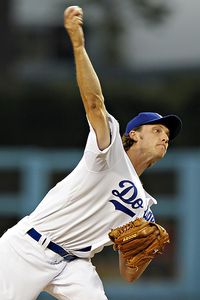 Alex Gallardo/AP
John Ely: 24 strikeouts since his last walk.
Well, the infamous eighth inning came, and once again John Ely couldn't get past it.
I kid, of course. I kid, because I love. Love love love.
The 24-year-old rookie has now faced 84 consecutive batters without walking one – by far the longest active streak in the majors – and more importantly, pitched well enough Monday to lead the Dodgers to their eighth consecutive victory,
4-2 over Houston
.
Need someone to tell you what facing Ely is like? Try asking the Astros' best hitter, Lance Berkman. In the top of the fourth, Berkman worked the count to 3-2 (only the second three-ball count for Ely to that point). Undaunted, Ely offered a tantalizing 76-mph changeup that drew Berkman into swinging early, and he was done. His next time up, with the count 2-2, Ely froze Berkman on an 89-mph fastball.
It's not about the speed. It's about the fact that Ely has become a puppetmaster out there.
He struck out a career-high eight in his career-high seven innings – his longest outing ever complemented by his lowest pitch count ever, 97. Allowing two runs, he lowered his season ERA to 3.51 while raising his strikeout total to 25 in 25 2/3 innings, against 25 baserunners.
Not only has Ely not walked anyone in his past 23 innings, he hasn't allowed an extra-base hit in his past 23 innings.
Eric Stephen of True Blue L.A.
tweeted
that Ely is the first pitcher since Ross Grimsley 1971 to have three starts of at least six innings with no walks out of the first four in his career.
Remarkable.
Ely actually allowed a first-inning run, but the Dodgers came back with three in the bottom of the first off Wandy Rodriguez, aided by a close call at second base that could have been a forceout but instead loaded the bases. James Loney followed with a sacrifice fly to tie the game, and then slumping Casey Blake rapped a shallow double just inside the first-base line to score two more runs (including Matt Kemp, who saw the opportunity in front of him instead of third-base coach Larry Bowa's stop sign).
Blake DeWitt had two triples to right field tonight (besting Hunter Pence, who was shading him toward center), scoring once to give the Dodgers a 4-1 lead in the fourth, then driving in two with the other to boost the Dodgers' lead in the eighth to 6-2. It was the 19th time that a Los Angeles Dodger has
tripled twice in a game
. (I'm sure everyone remembers Eric Anthony
matching the feat
in a Dodger uniform.)
With Jonathan Broxton taking the night off, Jeff Weaver, George Sherrill and Ramon Troncoso combined for two shutout innings of relief, giving the Dodger bullpen a 0.90 ERA over 20 innings during the winning streak.
Ely, who went out for a pinch-hitter with the Dodgers leading 4-2 in the bottom of the seventh, will continue to be tested, by teams much more challenging than the 2010 Houston Astros, but so far in this riotous world, he's been like a dose of nature sounds. He's been as respendently good as Takashi Saito in his first season as a Dodger – only he does it for six innings or more at a time.
"He hasn't had a bad outing," Dodger manager Joe Torre said on Prime Ticket after the game. "The first one, the numbers didn't look very very good, but I thought he competed very well. Tonight, he looked terrific."
Said Ely: "I'm just going out there with the same game plan - trying to throw strikes and keep the ball down."
The kid must be on cloud nine.
Update
San Diego defeated San Francisco, which means that the Dodgers remain two games out of first place in the National League West but move within half a game of the second-place Giants.
Update 2:
Memories of Kevin Malone
is among the sites tracking the best of
Twitter-based Elymania
.
May, 2, 2010
5/02/10
3:47
PM PT
The magnificent Andre Ethier is the Dodger cover boy these days, a fact you'll see reflected in Monday's edition of
Dodger Cogs and Dogs
. Either homered in his third straight game – homered twice today, in fact – and has an OPS this year of 1.161. But in a quick post summing up today's
9-3 romp
over Pittsburgh, a big tip of the hat must go to two others.
Hiroki Kuroda cruised for eight innings, allowing one run on a walk, four singles and a double over 98 pitches to lower his 2010 ERA to 2.08. Meanwhile, Blake DeWitt had his first career four-hit game, capped by a two-run double that lifted his season on-base percentage over .400 and his OPS to .767.
Kuroda seemed well-positioned to give the Dodgers their first complete game of the season, but Joe Torre brought in George Sherrill to close it out – leading to the day's one sour moment. Sherrill allowed two runs on three hits and a walk and was bailed out by Ronald Belisario, who got the final out to end the game.
Either had an RBI single in addition to his two-run homer in the fifth and solo shot in the eighth. Matt Kemp singled, doubled, walked, scored three runs and made a diving catch in center. (He was also caught stealing for the sixth time this year on a close play). Ronnie Belliard made a great over-the-shoulder catch while playing third base. James Loney had a double and two singles to raise his home batting average to .500 (19 for 38), and reserves Xavier Paul and Jamey Carroll each had two hits.
The Dodgers are now 7-3 at home, 4-11 on the road.
April, 15, 2010
4/15/10
5:10
PM PT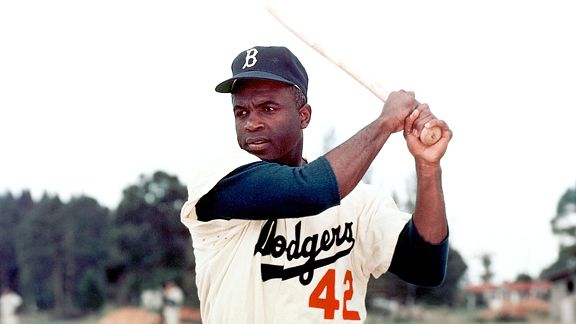 Getty Images
The Dodgers will lead Major League Baseball's celebration of Jackie Robinson — otherwise known as
Chapter 1
— tonight at Dodger Stadium.
The Dodgers have not made any personnel moves to address their struggling bullpen, Tony Jackson of
ESPNLosAngeles
said in his live chat today. But that doesn't mean Dodger manager Joe Torre isn't concerned.
"I think he is very worried," Jackson said, "and you can read between the lines of what he says after every game. Joe isn't the type to rip on his players or his team, but he has a way of expressing when he's not happy about something that leaves little doubt as to how he feels. Keep in mind that (Ronald) Belisario and (Hong-Chih) Kuo will be back soon, possibly by sometime next week. Once that happens, everybody can kind of settle into their usual roles. Until then, they have to try to stay afloat with these guys.
Joe Torre later told reporters that the pitching staff can't continue to not get the job done, but the Dodgers feel they're better than what they've done so far or else they wouldn't have left Spring Training with this group.
In this blogger's opinion, however, the Dodgers need to replace at least one of the white flags in their bullpen. They are being given more rope than the younger, more promising alternatives were, and it isn't deserved.
* * *
More Torre tidbits:
1) He hopes to avoid using Jonathan Broxton tonight, with Broxton having pitched in two consecutive games, and also hopes to continue resting Jeff Weaver.
2) I thought Jamey Carroll was starting for defensive reasons to support Hiroki Kuroda, whom the Dodgers need to really stay in the game for a long time tonight. But Torre said that Blake DeWitt was being given a day off to regroup for offensive reasons - saying that his swing is getting long and he is fouling balls off that he should put in play.
3) Torre expects Ronnie Belliard to get two starts this weekend, one of them at first base in place of James Loney against Barry Zito .
4) Andre Ethier's ankle is still bothering him, but he is ready to go tonight.
* * *
Arizona pitcher Dan Haren is making his third start of the season tonight. After allowing three baserunners and a run in seven innings against San Diego on Opening Day, Haren allowed five earned runs on 11 baserunners in 6 2/3 innings against Pittsburgh.
* * *
The Dodgers are last in the National League in first-pitch strikes, notes Eric Stephen of
True Blue L.A.
* * *
Dodgerama
has an interesting chart showing how long it took each Dodger to reach the majors.
* * *
John Lindsey Watch: A homer and three doubles in Albuquerque's
13-5 victory today
.
Lindsey
is now on-basing .611 and slugging .969. Lindsey, Jay Gibbons and Prentice Redman, batting fourth, fifth and sixth, each had four hits. Gibbons had his second consecutive four-hit game.
Josh Lindblom struck out five but allowed four earned runs in five innings of his second start of the year, lowering his ERA to 7.88. Brent Leach pitched two shutout innings.
April, 1, 2010
4/01/10
4:07
PM PT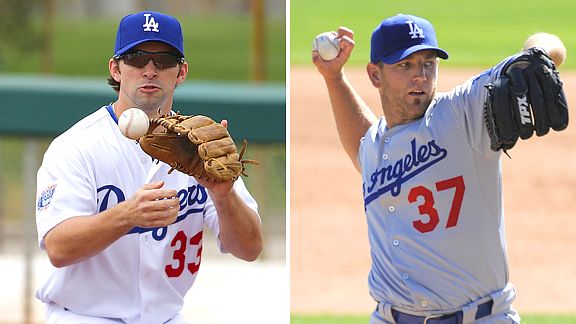 Mark Duncan/AP, Ron Vesely/MLB Photos via Getty Images
Blake DeWitt and Charlie Haeger combined to appear in 37 games for the 2009 Dodgers.
The Dodgers just broke bottles of champagne on the broadsides of Blake DeWitt and Charlie Haeger, with Joe Torre officially announcing they have been named the team's
starting second baseman
and
No. 5 starting pitcher
.
"Blake DeWitt is our second baseman," Torre told reporters before tonight's exhibition. "Over the long haul, DeWitt needs to play everyday. Belliard and Carroll can play against left-handers ... so we have flexibility. If someone gets hot, we'll find a spot for them.
"We initially pulled the April Fools' Day prank on Blake. We told him he was going down, but we didn't keep him there long. He was joyed, relieved. That's as emotional as I've seen him in a long time.
"Haeger will be our fifth starter. He can pitch out of the bullpen before that. His versatility is a plus. We'll give him a shot."
The Dodgers sent Josh Towers to Albuquerque, but as of this writing didn't confirm what the back of the bullpen will look like.
The question is, did Torre and the Dodgers wait until today to give DeWitt the job just so they could do the April Fools' Day gag? Maybe the Jamey Carroll and Ronnie Belliard signings were done just to beef up the joke!
March, 29, 2010
3/29/10
5:08
PM PT
Joe Torre told reporters today that the Dodgers would probably start the season with 11 pitchers and then go to 12. That would allow the team to keep Blake DeWitt as a starting second baseman and Nick Green as backup shortstop.
"I'll let you know the fifth starter in L.A.," Torre said. "It's not because I'm unsure, but because we've got work to do with the other guys. We're looking at 11 pitchers now to start. I think we're still determining who the 11 will be. I think 12 will be the number for most of the year. We're going to need a fifth starter four times in April."
As I've written before, I don't agree with the need to keep Green but I'm far from surprised by it, because the Dodgers essentially did the same thing last year in saving a spot for Juan Castro almost the entire season.
I also suspect that the decision to go with 11 pitchers is a response to the probability of both Ronald Belsiario and Hong-Chih Kuo missing Opening Day. The competition for the bullpen isn't quite as tight.
At this point, I would bet heavily on these 10 pitchers being on the Opening Day roster: Chad Billingsley, Clayton Kershaw, Hiroki Kuroda, Vicente Padilla, Charlie Haeger, Jonathan Broxton, George Sherrill, Ramon Troncoso, Carlos Monasterios and Ramon Ortiz. The remaining competition, I believe, is for the 11th spot.
* * *
Hiroki Kuroda had a breezy seven innings in a minor-league game today, allowing one run (a solo homer) on two hits with no walks and seven strikeouts in 91 pitches. Russell Martin, looking more and more like the Opening Day catcher, caught all seven innings.
Josh Lindblom won the 2010 Jim and Dearie Mulvey Award for being the top rookie at Spring Training.
It's a Dodger Divorce day, with Josh Fisher providing numerous updates on today's spousal support hearing.
Mike Petriello has a fun wrap-up of his trip to Camelback Ranch at Mike Scioscia's Tragic Illness.
Of the 19 pitchers in baseball last year who had RBIs after the seventh inning, according to Stat of the Day, four were Dodgers. Can you name them?
If you haven't already, be sure to make your 2010 Dodgers prediction in the thread below.

March, 27, 2010
3/27/10
9:23
PM PT
Tony Jackson
chronicles Ronald Belisario finally arriving at Camelback Ranch.
...Dodgers assistant general manager Kim Ng said Belisario can be kept on the restricted list for up to 30 days after being placed there on Friday, meaning he has to be either activated or waived -- he is out of minor league options -- by April 25.

Belisario is expected to dress in the major league clubhouse until the team breaks camp on Wednesday, but his activity will take place in minor league camp.

"We have to see what kind of shape he is in," Ng said. "After determining that, then he will probably be on the other side."

Other than saying hello to a couple of reporters in the parking lot, Belisario declined to speak with reporters until Sunday morning. ...

Colletti was asked minutes before Belisario's arrival whether the pitcher's strange behavior might signify a deeper problem.

"It certainly makes you wonder," he said. "But he is obviously a talent." ...
* * *
March, 18, 2010
3/18/10
11:49
AM PT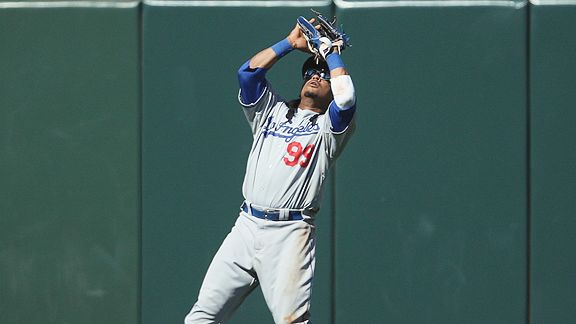 Brad Mangin/MLB Photos via Getty Images
Manny Ramirez catches a fly ball at San Francisco on Aug. 12.
Manny Ramirez gets his first start of 2010 in left field today. I hope he did more pregame stretching today
than I did Sunday
.
* * *
In his pregame chat with reporters, Dodger manager Joe Torre indicated he was comfortable with Jamey Carroll as the backup shortstop, which would free up the Chin-Lung Hu/Nick Green/whoever roster spot for someone else.
Torre also said the following about Blake DeWitt:
"He hasn't had the opportunity to turn a double play all spring. I'd like to see that happen. He seems to be fine, he's swinging the bat real well. He's not going to play second defensively as well as Hudson or Belliard, but he's not shy about going after the ball. He's a good kid and has a good feel for the game. "
Tony Jackson of
ESPNLosAngeles.com
predicts that Torre will soon name Clayton Kershaw the Dodgers' Opening Day starter. Jackson is doing a
live chat
at 12 noon.
March, 9, 2010
3/09/10
10:11
AM PT
The Dodgers plan to name their starting second baseman when the team reunites after the Taiwan trip, manager Joe Torre told reporters today — and Blake DeWitt is closer to winning the job.
Rockies at Dodgers, 12:05 p.m.
Today's Lineup
Rafael Furcal, SS
Matt Kemp, CF
Andre Ethier, RF
Manny Ramirez, DH
Ronnie Belliard, 3B
Blake DeWitt, 2B
Xavier Paul, LF
Brad Ausmus, C
(Hiroki Kuroda, P)
"Blake's doing a good job," Torre said. "I haven't seen enough defensively, offensively I see what you see. He's special, he played winter ball, he's done so much in a short time here. He's a big league player."
While in Taiwan, Torre will stay in communication with top lieutenant Don Mattingly and the other Dodger coaches for reports on what's happening Stateside.
Other notes:
Casey Blake is expected to return to action Wednesday.
The starting pitchers on the Taiwan trip will be Eric Stults, Josh Towers and Charlie Haeger.
Torre plans for relievers Jonathan Broxton, George Sherrill and Hong-Chih Kuo to get "eight or nine innings" of game work before the season.
Torre on James Loney: "He needs to be more familiar with what he can do offensively. He pretty much reinvented himself in the second half last year and it paid off. Eventually I think he can hit 20 home runs."
While Loney is in Taiwan, Garret Anderson will play some first base in Arizona.
March, 6, 2010
3/06/10
9:54
PM PT
Dodger manager Joe Torre says he is contemplating going without a left-handed hitter on the bench, according to Tony Jackson of
ESPNLosAngeles.com
. I can't believe it. I can't believe any manager would do it. It puts your team at such a disadvantage, by allowing opponents to throw their best right-handed relievers against you at will.
But it's true that the Dodgers have basically put themselves behind the right-handed 8-ball by signing non-southpaws Jamey Carroll, Nick Green, Ronnie Belliard and Reed Johnson this offseason. And with the latest news that Anderson won't be ready to face live pitching for at least a week, according to Ken Gurnick of
MLB.com
– along with ongoing health concerns about Brian Giles and Doug Mientkiewicz, and the team's reluctance to make the inexperienced Xavier Paul their lefty off the bench – the Dodgers have to at least plan for the possibility that come Opening Day, they will have no lefty options better than their righty ones.
Torre faces a problem because, as was noted
when the team was signing Johnson
, the Dodgers don't have room for 12 pitchers and a lefty bench player unless a) Blake DeWitt starts the season in Albuquerque or b) the team does something it went out of its way to avoid in 2009, by making a non-shortstop the backup to Rafael Furcal. (Remember, the Dodgers kept Juan Castro as a backup basically all of last season, and that was with Mark Loretta having more shortstop experience than Jamey Carroll has.)
Even though DeWitt is off to a nice start after two Spring Training games, he's still got a ways to go before the starting second base job is his. But if he wins it, the Dodgers would face such a roster crunch that the next most logical choice might be to cut Belliard, rather than go without a lefty pinch-hitter. After all, Belliard (whose contract isn't officially guaranteed yet) is really only with the team in case DeWitt needs more seasoning.
If Giles or Mientkiewicz were healthy, I'd recommend keeping them over Belliard. However, Belliard projects to be better against righties than the over-the-hill Anderson, so choosing Anderson over Belliard is a bit unsavory.
A different solution would be to go with 11 pitchers, but as I said all last year, the Dodgers really do have a pitching staff that benefits from a 12th man. Maybe someone should run the numbers, but I think the cushion the seventh reliever provides helps the team more than a sixth bench player would.
The Dodgers are going to have to bite one of these bullets, and after shooting through all the different options, the best one might be to go without a true backup shortstop. With Furcal
looking much healthier this year
, backup shortstop will be one of the team's lower priorities come Opening Day. If Furcal gets hurt, I'd much rather see Carroll at shortstop at the end of a close game than see a righty batter against a tough righty reliever. Neither Green nor Chin-Lung Hu would be likely to help the team more than even Anderson would.
The question is whether Green or Hu's defense makes either a better choice for the roster than Belliard. I do think, if DeWitt starts at second base, that's where the choice would be.
If the Dodgers do the heretofore unthinkable and keep an all-righty bench, I'd bet the house it doesn't last more than two weeks. A team should have more than one left-handed hitter on the bench. Having none, strategically, is just a nightmare.