Dodger Thoughts:

Brandon Webb
The clip above is brought to you by
Celebuzz
via
Franklin Avenue
.
The Dodgers rank 22nd among organizations in minor-league propsects, according to Keith Law of ESPN.com.
Tom Hawthorn of the Toronto Globe & Mail writes about Allan Simpson and the story of how Baseball America was founded.
True Blue L.A. offers a guide to visiting Camelback Ranch.
Teenage Angels outfielder Mike Trout was named the top minor-league prospect in baseball by MLB.com.
John Sickels looks back at the top 50 hitting prospects of 2006 at Minor League Ball. Shed a tear for Joel Guzman.
Pitcher and used-car salesman Brandon Webb will take that old clunker off your hands, he tells the Dallas Morning News (link via Baseball Musings).
Webb's former Arizona teammate, Micah Owings, has returned to the Diamondbacks, who might use him as a true two-way player, according to Nick Piecoro of the Arizona Republic.
Rob Neyer of ESPN.com questions whether, after decades, he is still a Royals fan.
April, 1, 2010
4/01/10
3:07
PM PT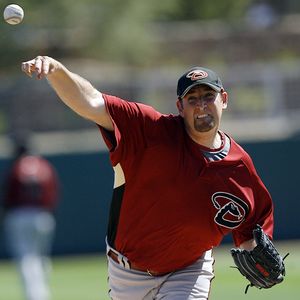 San Gabriel Valley News/Zuma Press/Icon SMI
The entire 2009 season for Brandon Webb (seen here at Camelback Ranch last March) consisted of four innings pitched and six runs allowed April 6.
Brandon Webb's 2010 is starting to look more and more like Jason Schmidt's 2008 or 2009.
Jack Magruder of
FoxSportsArizona.com
reports that Webb isn't expected back from his 2009 surgery until at least May, and that it wouldn't be surprising if he were still recovering into August.
Because they don't need a fifth starter
until April 17
, the Diamondbacks will open the season with four.
More National League injury woes: Joe Blanton, Brad Lidge and J.C. Romero will all begin the 2010 season
on the disabled list
.
* * *