Dodger Thoughts:

Bud Selig
July, 22, 2011
7/22/11
11:38
AM PT
Over at
Variety
, I posted about the overflow of reasons that MLB commissioner Bud Selig laid out for
rejecting a proposed 17-year television rights extension
between Fox and Frank McCourt. The 11-page June 20 letter Selig sent to McCourt was posted by the
Times
today.
"While any one of the factors identified below would alone give me serious pause," Selig wrote, "collectively ... they demonstrate overwhelmingly that the proposed transaction is neither in the long-term interests of the franchise nor consistent with the best interests of the game of baseball."
Here's more:
... Selig noted that McCourt was rushing into the Fox deal because of his "desperate need for immediate cash" to address his and the Dodgers' financial problems, without waiting for the period starting on November 30, 2012 when he could solicit other, potentially more lucrative offers through competitive bidding. Selig notes the mega-deal that the Los Angeles Lakers struck for their TV rights through such a process.

"In fact, as your chief financial offcer told representatives of my office on April 5, 2011," Selig said, "you would not even be considering a media rights transaction at ths time were it not for the club's 'financial duress.' "

Selig also stated that the $385 million up-front payment that McCourt would receive upon signing the deal "far exceeds any up-front payment previously received by any other club," adding that "no other owner has sacrificed so much of his team's future for an immediate payoff."

"I am concerned that at some point," Selig wrote, "(the Dodgers) will be unable to adapt to unexpected circumstances because you have accelerated such a substantial amount of its media revenues."

Selig's letter also quotes 2009 testimony from McCourt's divorce proceeding against Jamie McCourt, when current Dodgers vice chairman Jeff Ingram said that McCourt "noted that Fox has very tough negotiators, they're very smart and he's not convinced we would get a very good deal from Fox at this time to do a capital raise, and that we'd hamstring the business in the future by getting them to do something now."

Selig then delved into McCourt's plan to put the 35% equity interest in Fox Sports Net West 2 that the Dodgers would receive into a holding company separate from the franchise, as well as his plan to take at least 45% from the $385 million up-front payment to settle personal debts.

And, Selig took pains to note that the McCourt's proposed divorce settlement with Jamie McCourt had the potential of a court-supervised sale of the team beginning in August — yet the next owner would be stuck with the Fox deal without a dime of the $385 million. ...

It's a fairly eviscerating letter yet soundly argued. Whatever claim McCourt has to unfair treatment by Selig is undermined by how catastrophic the Dodgers' situation is, combined with McCourt's half-baked, short-sighted solutions.
"Your (June 18 letter) asserts, without explanation or support, that I should not take into account the Dodgers' current financial condition and operational state," Selig wrote. "Apparently you believe that I should make these decisions in a vacuum, without the context of the relevant facts and circumstances related to the Dodgers. To me, that makes no sense. It is not the manner in which I have approached decisions concerning matters involving other clubs, each of which has turned on the unique circumstances of the particular club."
McCourt took the Dodgers into bankruptcy
one week after Selig's letter was sent, hoping to take his fate out of Selig's hands.
May, 9, 2011
5/09/11
3:55
PM PT
The news comes up again because Bradley, who has generated a .649 OPS and lots of angst in his two seasons with Seattle, has been
designated for assignment by the Mariners
, possibly signaling the end of his major-league career.
My purpose is not to talk about Bradley, who has been discussed here at great length, but just point out how rare it has been that Colletti has ever tried to repeat the method of this trade — exchanging a veteran in his 20s, at or near his peak value, for prospects that could contribute down the road. (Bradley was 27 and coming off a .835 OPS season when Colletti traded him for Ethier in December 2005.)
Looking quickly at the Dodgers' transaction logs on
Baseball-Reference.com
, I can't find one similar deal in the Colletti era. The closest might be the trade of Juan Pierre for John Ely and Jon Link before the 2010 season, but Pierre was already 32 and into his decline phase when the trade occurred. If you want to make a case to include this, I won't stop you, but I'm not sure it qualifies.
It might come as no surprise that a team that regularly contends for the playoffs, like the Dodgers have under Colletti, has arguably not made a single boffo trade for a highly regarded prospect — even one who could have as much near-term impact as Ethier, who was in the majors months after the trade. But it's interesting. We used to wonder whether Colletti would use any of the Dodgers' exciting young players to get a proven veteran — will he ever again use a proven veteran to get any exciting young players? It did work for him before.
* * *
Bud Selig
spoke
to ESPN 1050 AM radio in New York about the Dodgers today:
... Selig was asked why he approved the deal that sold the Dodgers to McCourt in 2004 in the first place. Ironically, Fox had held controlling interest of the club beforehand.

"I'll tell you what happened. There's a lot of history here, which a lot of people don't seem to understand," Selig said. "There were two other bidders. Fox was anxious to get rid of the team. They were all really anxious. I'll tell you what happened. There were a couple of groups: A group led by Dave Checketts and another group. And for whatever reason, they weren't around at the end, so Fox sold the club to the McCourts and presented them to us. So this idea that we ought to examine ourselves, there was nobody else. We have a long relationship with Fox. There were no other bidders." ...
Selig said that MLB has added former Pittsburgh Pirates COO Richard Freeman to its team monitoring the Dodgers.
* * *
Dodger minor-leaguer Dee Gordon can be seen scoring from first base with Roadrunner speed on a sacrifice bunt and an error, in this video posted by Mike Petriello of
Mike Scioscia's Tragic Illness
. Albuquerque Isotopes play-by-play man Robert Portnoy has the call.
* * *
From the In Case You Missed It file: the torpedoes have been damned, and
back-to-back outings for Hong-Chih Kuo have been approved
. Hope for the best ...
The trade of Milton Bradley (and Antonio Perez) for Andre Ethier has often been cited as a great, maybe even the greatest, achievement by Ned Colletti as a Dodger general manager. What was impressive about the yield is that everyone knew that Colletti was under orders from up top (with the support of much of the Dodger fanbase, it should be said) to unload Bradley, after the outfielder reached the point of no return in his tumultuous two years with the Dodgers. It was the kind of trade that could easily have netted a prospect that would never sniff the majors.
May, 3, 2011
5/03/11
5:30
PM PT
this afternoon
.
I'm a journalist, and I've seen journalists get things wrong. It happens.
But let's keep this in mind ...
The McCourt ownership, particularly since Frank's separation from Jamie became public in 2009, has perhaps been the most doggedly reported off-the-field story in Los Angeles Dodger history — certainly in recent Los Angeles Dodger history.
It has been covered by a number of sources both local and national. It has been built not only upon first-hand interviews but documents filed in court by the principals themselves. It has been, in recent days, augmented by the words and actions of Major League Baseball's executive office and ownership group, which have sent in a rescue missionary in Tom Schieffer.
And McCourt continues to tell us that all these people from every side of the fence, West Coast and East Coast, print media and electronic, sports and business, inside the game and outside the game, have it wrong.
That includes many people who have absolutely no dog in this fight, people coming at the story, unlike McCourt, from an entirely neutral perspective. They have it wrong.
And he asks us to believe that they have it wrong even has he says one thing after another that is dubious on its face. Just today, he told us that all of the Dodgers'
current financial issues
are entirely the fault of MLB forestalling the Fox deal for
future
TV rights and have nothing to do with his own practices. That the assets Jamie might ultimately end up with are mere hypotheticals that we shouldn't be concerned about. That the Fox contract, negotiated with his back against the wall, is every bit as lucrative as the separate Dodger regional sports network he previously aspired to when everything was rosy. That Bud Selig, the man who paved the way for McCourt to own the team and more than anyone at MLB was convinced of his virtues, is second-guessing his own approval for no good reason. And so on ...
Neither the objective evidence nor common sense back up his assertions, but he asks us to simply believe him. His interpretation of the facts are supposed to be more trustworthy than the facts themselves.
In my view, McCourt is playing a shell game with the truth.
There's no doubt that some critics of McCourt have gotten carried away, exaggerating his mistakes, sometimes for effect, sometimes out of frustration. The exaggerations don't mean that the mistakes aren't there.
When you boil everything down, there is really only one pressing question to answer at this time: Is MLB justified in subjecting the Dodgers' major day-to-day operations to its approval?
McCourt's argument for "no" is this: Take my word for it.
"If the stuff that was written about me was true, I wouldn't trust me either," Frank McCourt said early in his conversation with Steve Mason, John Ireland and fans calling into ESPN AM 710
April, 27, 2011
4/27/11
10:36
PM PT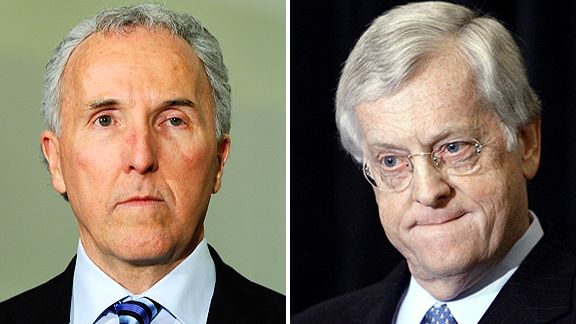 Getty Images/APFault lines: Frank McCourt and Tom Schieffer
As if one divorce involving Dodger ownership weren't enough, now we have another.
Jamie and Frank McCourt is so last year. Now it's Bud Selig and Frank McCourt
unjumping the broom
, and I tell you, next to the lousy fourth season of "Big Love," it's the biggest argument against plural marriage I've seen.
In his news conference today, McCourt expressed sincere surprise that he ended up a divorced husband – he never expected it to happen. And I'm guessing that when he rode the support of Major League Baseball's commissioner to the purchase of the Dodgers in 2004, McCourt never fathomed the kind of split that erupted with last week's MLB takeover of day-to-day operations of the Dodgers.
But a split it is – a regular San Andreas, to a fault.
The two parties can't even agree, at least publicly, on what is happening. McCourt
raged
against his property being seized unlawfully, while Selig's proxy, MLB executive vice president of labor relations Rob Manfred, said "there has been no seizure of the Los Angeles Dodgers." McCourt said that Selig vetoed the Dodgers' TV deal with Fox; Manfred countered that nothing of the kind occurred (yet).
Selig and McCourt are in sync on only one thing: The bad spouse is the other spouse. Where have we seen this before?
Today, McCourt directed to Dodger fans what for him was an unusual level of contrition, expressing regret over his behavior as Dodger owner and promising to do better if given a second chance. But McCourt once again showed that his amends only go until they run smack-dab into the wall of his self-interest.
He made a big show of pledging directly to the Dodgers the initial $300 million of his proposed Fox deal, as if this were some beyond-the-call gesture, while leaving unsaid what happens to the remaining revenue that could amount to as much as 90 percent of the total. He insisted that the contract extension with Fox will bring the Dodgers nirvana, ignoring the unmistakable reality that an owner who wasn't in hock to the network would assuredly be able to do better for the franchise.
McCourt swears he'll do better by Dodger fans, while in the next breath gearing up to do one thing guaranteed to make things worse: sue MLB over control of the team.
If it is McCourt's right to sue – a point that's debatable depending upon your interpretation of his ownership agreement with MLB – then let him sue away. But how dare he claim, yet again, that he has the interests of the fan base at heart. His ownership stands, more than ever, at direct odds with what the Dodger community wants and needs.
"Everyone deserves a second chance," McCourt said. This is not in fact true – some people don't deserve a second chance, depending on the circumstances – but even if it were true in McCourt's case, he doesn't deserve his second chance more than others deserve a first chance – starting with Tom Schieffer, the monitor sent to Los Angeles by MLB to get to the bottom of this mess at the top.
I don't know if Schieffer will be good, bad or somewhere in between, but if anyone gets the benefit of the doubt, it's the new boss. It's highly unlikely he's the same as the old boss.
As I listened via telephone to the audio of McCourt's press conference, I heard him refer to one of his four children being by his side and how hard this entire experience has been for them. I don't doubt it for a second. But it's not stretching things to suggest that McCourt has another set of children who have, relatively speaking, nursing their own wounds over the past two years. Those kids buy three million tickets a year to see the Dodgers, with millions more watching on TV, listening on the radio or following on the Internet and in the papers.
It would have been interesting if any one of those kids had been on the dais with McCourt as he couldn't resist making himself the biggest victim. As if, however this plays out, McCourt won't come away with more cash than he walked into Dodger Stadium with seven years ago.
Dad, we're all grown up now. And we're tired of your complaints over a fate you engineered and your hollow apologies. We're ready for new parents, and if it means being wards of the state for a while, so be it. Let it be. Otherwise, don't pretend that you've changed.