Dodger Thoughts:

Chin-Lung Hu
December, 27, 2010
12/27/10
2:47
PM PT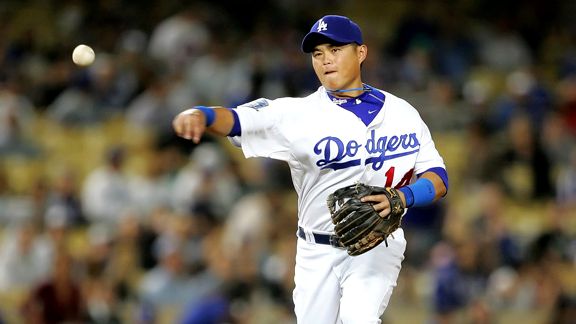 Gary A. Vasquez/US PresswireChin-Lung Hu
Chin-Lung Hu's days as a Dodger prospect are over. After eight years in the organization,
Hu (27 in February)
was
traded today
to the New York Mets for 25-year-old minor-league lefthander
Michael Antonini
.
Antonini has primarily been a starting pitcher in the minors and was exclusively so in 2010, posting a 4.32 ERA with 7.3 strikeouts per nine innings in 23 Double-A starts and a 5.11 ERA with 6.1 strikeouts per nine innings in six Triple-A starts. This does not compare favorably, for example, with the credentials John Ely had when he was acquired by the Dodgers a year ago, so I wouldn't count on Antonini being much of a factor in 2011. But you never know.
Hu hasn't shown any potential with the bat since 2007, when he had an on-base percentage of .364 and slugging percentage of .507 in Double-A and Triple-A combined. In his major-league career, Hu has a .241 OBP and .283 slugging over 191 plate appearances. Nonetheless, he could be Juan Castro for some team, and I always thought the Dodgers could be that team.
Ultimately, Hu was out of options and there were doubts he'd make the Opening Day roster, so this is a way of salvaging something for him, given the odds against him.
Hu leaves Los Angeles with the most plate appearances (191) of any
Taiwan-born player
in major-league history, ahead of Hong-Chih Kuo (36) and Chin-Feng Chen (25).
September, 6, 2010
9/06/10
8:36
AM PT
Let's start with Sunday's best story:
John Lindsey is finally a major leaguer
. From Ramona Shelburne of ESPNLosAngeles.com:
Lindsey, 33, the Los Angeles Dodgers' Triple-A first baseman who has played more seasons in the minors without earning a call-up to the majors than any current player, was among five players the Dodgers promoted Sunday afternoon.

Lindsey will be joined by third baseman Russ Mitchell, who is also making his major league debut, infielder Chin Lung Hu, and pitchers Jon Link and John Ely.

For Lindsey, set to join the team Monday, it was the realization of a lifelong dream. He's spent nearly half his adult life in the minor leagues, since the Colorado Rockies took him in the 13th round of the 1995 draft.

He's had a career season in 2010, batting .354 with 25 home runs for the Albuquerque Isotopes.

"Oh man, the second [Isotopes manager Tim Wallach] told me my whole brain kind of shut down. I was hearing what he was saying, but I couldn't even believe it," Lindsey said.

"He went to shake my hand and I had to hug him because my legs were so weak."

Lindsey said Wallach had initially tried to fool him by asking him to come into his office, then slamming the door.

"I think he was trying to mess with me, but [hitting coach] Johnny Moses was in the corner, trying to keep a straight face the whole time, but he couldn't stop smiling," Lindsey said.

"Wally told me it was the happiest day as a manager he's ever had. I walked out of that office and hugged all my teammates, called my wife, and I haven't stopped smiling or pacing around the clubhouse since.

"I probably won't sleep the next three or four days." ...
Sometimes, it's not whether you win or lose, it's that you get to play the game.
Says
Eric Stephen of True Blue L.A.
: Lindsey, who is 33 years, 219 days old today, will be the oldest non-Japanese Dodger to make his MLB debut since Pete Wojey (34 years, 213 days) on July 2, 1954.
* * *
As for Sunday's results – yes, the team looking to make a miracle comeback in the standings suffered a blow. Arizona fell to Houston, 3-2, missing a chance to close within 12 games of the fourth-place Dodgers,
who lost to San Francisco, 3-0
.
The Dodgers' magic number to clinch non-last place is 12. Los Angeles has clinched the tiebreaker against Arizona by winning the season series, so even though six of the Dodgers' final nine games are against the Diamondbacks, the odds remain in the Dodgers' favor.
Oh, as for the other races? Can't say the Dodgers are doing much there.
The Padres are the first team to stay in first place
despite a 10-game losing streak since the 1932 Pittsburgh Pirates
, and looking to be the first team to make the playoffs despite a 10-game losing streak since the 1982 Atlanta Braves, according to
Stat of the Day
. That was the year that the Dodgers took advantage of the Braves' slump to regain the National League West lead, only to run into a most bitter ending. This year is looking bitter in a different way.
Greg Zakwin wraps up Sunday's Ack-loss at
Memories of Kevin Malone
: "(Andre) Ethier, Jamey Carroll, and Matt Kemp struck out a combined eight times. Five baserunners. Thirteen strikeouts in total against just a single, solitary walk drawn. Just a single extra-base hit. No Dodger reached base more than once. Pitiful is a word that seems to perfectly describe the offensive side of things since the All-Star Break."
Hiroki Kuroda made his sixth straight start of at least seven innings, with a 2.47 ERA and .179 opponents batting average in that time, according to the Dodger press notes. Ken Gurnick of
MLB.com
notes that it was the sixth time this year that Kuroda has been on the wrong end of a shutout. As Tony Jackson of
ESPNLosAngeles.com
writes, opportunities to watch Kuroda in a Dodger uniform might be dwindling to a precious few.
* * *
Al Wolf of the Times (via Keith Thursby of the Daily Mirror) predicted in 1960 what the team's 1962 Dodger Stadium opener would be like. His conclusion: "As broadcaster Vince Scully said in his dulcet tones: 'Wotta show! Wotta show! Come on out tomorrow night, those of you who missed it. But if you can't be with us, plunk down a dollar in your pay TV set and watch it that way. Or better yet, put in two bucks and see it all in living color.'"
Fred Claire, who acquired Tim Wallach for the Dodgers on Christmas Eve 1992, puts his support at MLB.com for the Wallach for Manager campaign, though not with the Dodgers specifically. Claire, of course, was the Dodger general manager throughout Mike Scioscia's post-playing Dodger career. His departure preceded Scioscia's by about a year.
Four of the Dodgers in Sunday's game – Carroll, Ryan Theriot, Ethier and Reed Johnson – finished with a .289 batting average.
July, 2, 2010
7/02/10
8:11
AM PT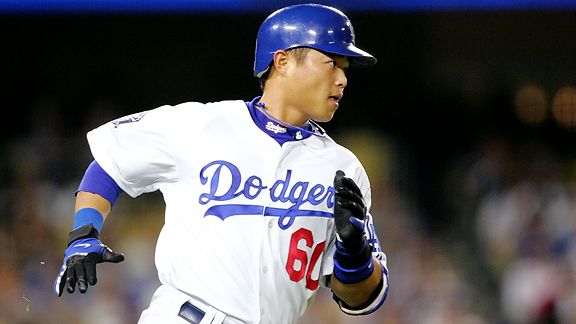 Gary A. Vasquez/US PresswireChin-Lung Hu (shown here in 2008) slugged .507 in June.
Chin-Lung Hu
is trying a bit too hard to be like
Chase Utley
.
Hu had surgery on an injured thumb and is expected to be out six to eight weeks, reports Christopher Jackson of
Albuquerque Baseball Examiner
.
James McDonald would have gone
past four innings
Thursday, but he was hit on the left knee by a comebacker and was taken out of the game for precautionary reasons.
Cory Wade, outrighted to Albuquerque on Thursday, pitched a scoreless fifth to get the win. Josh Lindblom and Travis Schlichting each allowed runs in their relief outings.
Tim Wallach talked to Jackson about the 53 transactions the Isotopes made in June, believed to be a team record: "It's kind of what Triple-A is," he said. "If we're not moving guys up then we're not doing our job, so that's a good thing. Certainly guys are trying to get to know each other, I'm trying to get to know them, but it's part of the deal. It's good experience for not only the players but for us as a staff, too. You've got different personalities coming in and out all the time no matter where you're at. I don't look at it as tough."
* * *
Dodger farm teams
Chattanooga
and
Ogden
each played 15-inning games Thursday.
The highlight for the Lookouts was Kenley Jansen striking out six batters in two innings. Chattanooga starting pitcher Aaron Miller allowed one run in five innings and had five of the Lookouts' 17 strikeouts. Chattanooga scored three in the 15th to win, 4-1. Dee Gordon was 0 for 6 with a walk, Jerry Sands was 0 for 6 with three strikeouts and Andrew Lambo was 0 for 7.
Ogden also won, 5-4, on an RBI single by Chris Henderson (3 for 7), driving in Jesse Bosnik (2 for 4 with three walks).
* * *
Great Lakes righty
Elisaul Pimentel
, who turns 22 a week from Saturday, allowed more earned runs Thursday (
five in six innings
) than he had in his previous eight starts combined, in which his ERA was 1.00. But the Loons won, 7-6.
Phil Gurnee of
True Blue L.A.
posted a lengthy interview with Great Lakes beat writer Hugh Bernreuter of the Saginaw News. And don't miss the latest Dodger prospect rankings from Chad Moriyama of
Memories of Kevin Malone
. Chris Withrow remains No. 1, but Jansen and Sands made huge leaps into the top five.
* * *
Dylan Hernandez of the
Times
has more details on the incident that apparently got Matt Kemp benched: a spat with coach Bob Schaefer. Kemp has reportedly not been backing up second base on basestealer throws by Russell Martin. Hernandez says Kemp has denied having "a confrontation" with the Dodger coaching staff, but I think that must be a semantics issue or just a cover.
Hernandez also today had
a very nice feature on Hiroki Kuroda
, who seems more haunted when he's not pitching by the line drive that hit him in the head last year.
* * *
Arizona Republic
writer Nick Piecoro on the Diamondbacks' new manager: "I'm curious to see how interim manager Kirk Gibson settles into this role. I find the public perception of him to be wildly different from the way he actually is. It seems like everyone expects some kind of drill sergeant to come in and whip everyone into shape, a guy who'll have smoke shooting from his ears on every bad call. Who knows, maybe that's what he'll be like, but that's not what he's been like in his time as the bench coach. He's more of a goofy guy, someone the players monkey around with in the clubhouse, a guy who's always keeping them loose. Maybe being the guy in charge will bring that drill sergeant out of him. We shall see."
May, 24, 2010
5/24/10
12:25
PM PT
Albuquerque infielder Chin-Lung Hu went on the AAA disabled list over the weekend
with a broken nose
, according to the Isotopes. (I was tipped to this by
New Mexico Fan
via
Sons of Steve Garvey
.)
No immediate word on how long Hu, who was OPSing .815 in May, will be out. This could conceivably affect the Dodgers' roster decisions with regard to Nick Green, though I don't expect it will.
Other notes from Albuquerque:
Tonight's Reno-Albuquerque matchup pits former Dodger teammates Brett Butler and Tim Wallach against each other as opposing managers.
Jamie Hoffmann needed a 10th inning Sunday to extend his hitting streak to 17 games. He's batting .417 during the streak.
John Lindsey went 4 for 5 to raise his batting average to .434.
May, 4, 2010
5/04/10
1:58
PM PT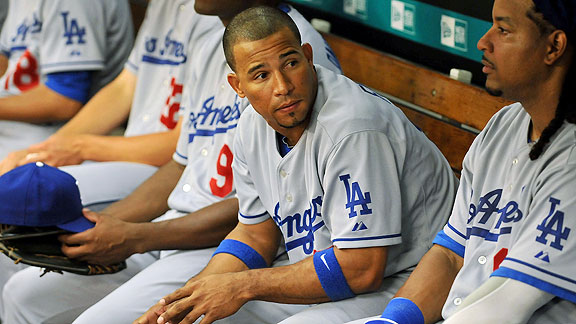 Steve Mitchell/US Presswire
Rafael Furcal
The Dodgers officially placed Rafael Furcal on the disabled list and chose to call up Nick Green instead of Chin-Lung Hu to take his place on the roster, according to their daily press notes. Furcal will be eligible to come off the DL on May 13. Cory Wade was moved to the 60-day disabled list to make room for Green on the 40-man roster.
Mike Scioscia's Tragic Illness
argues why Hu should have gotten the call.
March, 14, 2010
3/14/10
1:45
AM PT
With a latenight freelance assignment to work on and a link to an online feed from Taiwan, I was primed to watch my first full Dodger game of the year. And would that they could all be this much fun in 2010 ...
With Manny Ramirez, James Loney and prodigal son Chin-Lung Hu each getting three hits, the
Dodger Globetrotters
routed the Chinese Professional Baseball League All-Stars, 11-1.
The 22-year-old Trayvon Robinson scored three runs, the third on a towering ninth-inning homer to dead center field. Xavier Paul and Michael Restovich had two hits, and Lucas May and Angel Berroa each had booming doubles.
Jamey Carroll went 0 for 5, but more relevantly played error-free ball at shortstop and was the middleman on a 3-6-3 double play with Loney.
Josh Towers allowed one run over three innings, and was followed by Josh Lindblom, whose three shutout innings were highlighted by the best Spring Training curveball for strike three I've seen since Clayton Kershaw's
Public Enemy No. 1
.
We also got a glimpse of converted catcher Kenley Jansen on the mound; Jansen struck out one in a perfect eighth inning. Jon Link gave up two hits but closed out the game in the ninth, striking out two.
Happy trails, Taiwan ...
Update (from The Associated Press):
"Four players were sent down after the game in the Dodgers' first cuts of the spring. Non-roster players Brian Barton, Francisco Felix and Gabriel Gutierrez were reassigned to minor league camp. Pitcher Kenley Jansen was optioned from the major league roster."
March, 12, 2010
3/12/10
7:05
AM PT
Good morning, and welcome to the postgame show!
Yes, the Dodgers' first game in Taiwan is already over, and it sounds like the Tianmu Baseball Stadium crowd had a good time. Native son Chin-Lung Hu had a two-run single for the Dodgers, but Taiwan's Chinese Professional Baseball League All-Stars won, 5-2.
Sounds like it's been a good trip all around, though:
The Dodgers' mainland Spring Training game takes place against Aroldis Chapman and the Reds at 12:05 p.m., and then the second game of the Taiwan trip begins just after 10 p.m. Pacific time.
Update: Full game wrapup from Gurnick, plus box score. May told Gurnick he was fine.
Update 2: In the comments below, Wen_JK has posted some YouTube links to the game.