Dodger Thoughts:

Cliff Lee
September, 20, 2011
9/20/11
10:17
AM PT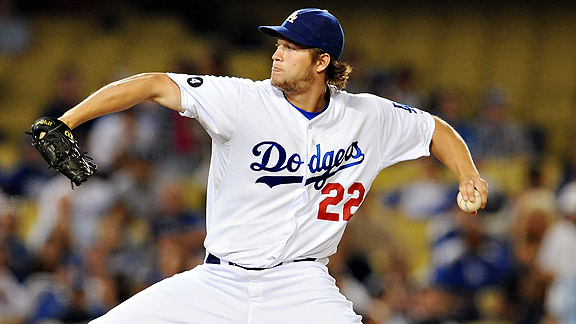 Jayne Kamin-Oncea/US Presswire
Clayton Kershaw
is set to finish his season with starts tonight and then Sunday in San Diego.
How heated is the National League Cy Young competition? The top four candidates — Roy Halladay, Ian Kennedy, Clayton Kershaw and Cliff Lee (in alphabetical order) — have a combined
September ERA
of 1.46.
Kennedy continued his late bid for recognition by pitching
eight innings of one-hit ball
with 12 strikeouts in a 1-0 victory for Arizona, which built its lead to 5 1/2 games in the NL West, while Halladay gave up a sliver of ground by
allowing four runs
in a 4-3 Phillies loss to St. Louis.
Kershaw and Lee — both red-hot of late, both scheduled to start tonight — have the opportunity to affirm themselves as the two top finalists for the award. In particular, if Kershaw bests Tim Lincecum for a fourth time in 2011 tonight, that's going to be memorable.
For the first time, I'm starting to think that Halladay and Lee being teammates could hurt the award chances of both. Up until very recently, I've felt that the award was Halladay's to lose, given that he pitches for the best team in the NL and that he's pitched so well — his numbers are virtually equal to Kershaw's (see chart below), with a slightly lower strikeout rate but better control, and higher wins above replacement.
However, Lee's amazing stretch run —
a 0.56 ERA in 64 2/3 innings since August 1
— has helped him catch up to the leaders and throw more confusion into the race. If you're a voter who wants to honor the Phillies in some way with this award (given that the MVP race doesn't really offer that opportunity), whom do you pick?
Now, if you watched "Modern Family" win bunches of Emmys on Sunday despite multiple nominations in those categories, you learned that teammates don't always bring each other down. Still, as much as Lee presents another rival to Kershaw, he could also aid the Dodger by stealing votes from Halladay.
Voters who treasure wins may lean toward Kennedy, who certainly has been no slouch. But if Kershaw ends up with 20 wins himself, I think you can remove that category as a path to Kennedy leapfrogging the Dodger lefty.
In fact, much has been made lately of Kershaw possibly winning the pitcher's triple crown: wins, ERA and strikeouts. My guess is that if he does, he will collect the Cy Young (though for me, the win totals are essentially irrelevant).
But let's put it this way: If Kershaw doesn't finish first in the balloting, there will be no crime. Halladay and Lee have been every bit as fierce as Kershaw. It's been a superb year for all of them.
Top National League Cy Young Award candidates
(bold text signifies leader among contenders)
| | IP | W-L | ERA | Sept. ERA | ERA+ | WAR (B-R.com) | WAR (Fangraphs) | WHIP | K/9 | K/BB |
| --- | --- | --- | --- | --- | --- | --- | --- | --- | --- | --- |
| Roy Halladay | 227 2/3 | 18-6 | 2.41 | 2.03 | 160 | 7.1 | 8.0 | 1.045 | 8.58 | 6.38 |
| Cole Hamels | 206 | 14-9 | 2.80 | 4.18 | 138 | 5.1 | 5.0 | 0.981 | 8.13 | 4.54 |
| Ian Kennedy | 216 | 20-4 | 2.88 | 1.88 | 137 | 5.3 | 4.9 | 1.083 | 8.08 | 3.66 |
| Clayton Kershaw | 218 2/3 | 19-5 | 2.30 | 0.90 | 161 | 6.4 | 6.8 | 0.983 | 9.71 | 4.63 |
| Cliff Lee | 219 2/3 | 16-7 | 2.38 | 0.72 | 162 | 6.7 | 6.5 | 1.015 | 9.14 | 5.31 |
* * *
December, 29, 2010
12/29/10
10:05
AM PT
The full value of this post is deferred until 2013 ...
Tim Dierkes of MLBTradeRumors took a look at backloaded deals around the majors. Here's a sample: Cliff Lee's new deal with the Phillies averages $24 million per year, but he'll receive only $11 million in 2011.

In 2015, when Lee is poised to turn 37, he will be guaranteed $25 million. In 2016, when Lee is poised to turn 38, he will be due $27.5 million in salary or receive a $12.5 million buyout just for breathing. And the $27.5 million becomes guaranteed if he pitches 200 innings in 2015 or 400 innings in 2014-15.

The Phillies are taking a risk on the future in order to increase their chances of winning in the present. Might work, might not. But as Dierkes shows, several teams are going the deferred route. Deferred payments are not inherently mistakes. Whom you are paying is much more important then when you are paying them.
At Fangraphs, Jesse Wolfersberger charts the offenses of the National League in terms of how well they got on base and how efficiently they drove those runners in last season. The Dodgers are in the bad quadrant — below average in both categories. Though they weren't far from being in the good quadrant, we know that in terms of on-base percentage, they'll be moving backward unless some holdovers post some significant improvement.
If you really think dating a celebrity was the problem, then how come so many ballplayers who don't date celebrities suck?
December, 13, 2010
12/13/10
10:53
PM PT
Looks like the real deal
. Some links before bedtime:
From Dave Cameron of Fangraphs ...


If there's a four-man rotation that has ever looked this dominant heading into a new year, I can't find it. It is almost certainly in the discussion for the greatest four-man rotation of all time.

There is one big asterisk on all this, though: as those great Braves teams show, a ridiculously great rotation is not enough to start planning a parade. The Phillies are certainly contenders, but they're going to need more than just their Big Four to win it all.

Matthew Pouliot of Hardball Talk ...


There's no doubt that the Phillies' rotation has a chance to be historically great, with two likely Cy Young candidates and two other starters that could rank among the NL's 10 best, but this is still a team with issues. ...

Keith Law of ESPN.com ...


Assuming the Phillies don't do what they did the last time they acquired another No. 1 starter -- turn around and trade one of their incumbent aces -- they now have a terrifyingly good rotation for the 2011 and 2012 seasons (after which Cole Hamels is a potential free agent) with the addition of Cliff Lee.

The benefit in October is slimmer -- but at least October conversations can already be entertained -- since Roy Oswalt suddenly becomes the seldom-used fourth starter, but the Phillies will prevent a lot of runs over the course of the regular season by replacing their fifth-starter mess with Lee.

As for the apparent size of the contract -- five years and $120 million with a vesting option for a sixth, according to ESPN.com's Jerry Crasnick -- Lee is 32 and had some minor back trouble in 2010, but the best free agent on the market almost never signs for just five years, and other than the back problem Lee is about as low-risk a starter as you'll find this side of Roy Halladay. It's actually very good value for the Phillies relative to what Lee-level starters have gotten in free agency, and I like Lee's chances as a plus-plus command guy to retain most of his value even if he loses one or two mph on his fastball. ...

Given his contract situation, Philly could look to move Hamels for a right-handed hitter for the middle of their lineup, as losing Jayson Werth takes away most of the gain from reacquiring Lee and leaves them very left-handed. Ryan Howard, Jimmy Rollins, Chase Utley, Placido Polanco, and Raul Ibanez are all on the wrong side of 30 and more likely to decline/get hurt than to improve. Rollins has been often hurt and in the midst of a four-year free fall, Utley has foght injuries, and Howard and Ibanez are just declining. Domonic Brown is an outstanding prospect, but won't match Werth's production, and Brown is also left-handed. Amaro has put together an enviable rotation, to say the least, but the Phils are oddly unbalanced now and it's strange (but not bad) to see them commit this money to Lee with an old, injury-prone lineup staring them in the face.
I know some Dodger fans will only be jealous and bitter. Me ... I'm jealous, but I won't be bitter. It won't be the first time I've been on the downside of an uphill battle.