Dodger Thoughts:

Cory Wade
November, 18, 2010
11/18/10
10:29
AM PT
Tony Jackson of ESPNLosAngeles.com has taken a journey down into the Dodger farm system, returning with a couple of stories: a feature on
Ivan De Jesus Jr.
, along with
updates on seven other minor-leaguers
. Here's the opening to the DeJesus story:
One look at Ivan De Jesus Jr.'s numbers in the Arizona Fall League, which concludes Thursday, could yield the reasonable conclusion that the longtime Los Angeles Dodgers infield prospect is ready for the major leagues. One look at what he did in the Pacific Coast League this season could make you wonder why he didn't receive a September call-up to a team that by September really didn't have much to lose. ...

In other news ...
July, 2, 2010
7/02/10
8:11
AM PT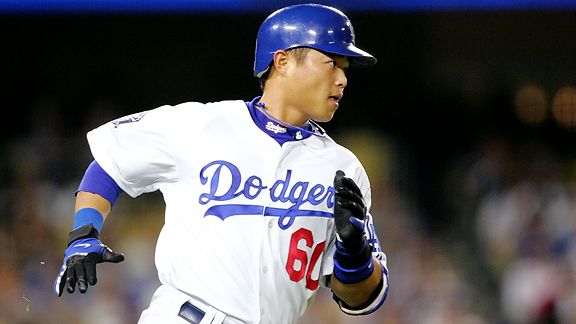 Gary A. Vasquez/US PresswireChin-Lung Hu (shown here in 2008) slugged .507 in June.
Chin-Lung Hu
is trying a bit too hard to be like
Chase Utley
.
Hu had surgery on an injured thumb and is expected to be out six to eight weeks, reports Christopher Jackson of
Albuquerque Baseball Examiner
.
James McDonald would have gone
past four innings
Thursday, but he was hit on the left knee by a comebacker and was taken out of the game for precautionary reasons.
Cory Wade, outrighted to Albuquerque on Thursday, pitched a scoreless fifth to get the win. Josh Lindblom and Travis Schlichting each allowed runs in their relief outings.
Tim Wallach talked to Jackson about the 53 transactions the Isotopes made in June, believed to be a team record: "It's kind of what Triple-A is," he said. "If we're not moving guys up then we're not doing our job, so that's a good thing. Certainly guys are trying to get to know each other, I'm trying to get to know them, but it's part of the deal. It's good experience for not only the players but for us as a staff, too. You've got different personalities coming in and out all the time no matter where you're at. I don't look at it as tough."
* * *
Dodger farm teams
Chattanooga
and
Ogden
each played 15-inning games Thursday.
The highlight for the Lookouts was Kenley Jansen striking out six batters in two innings. Chattanooga starting pitcher Aaron Miller allowed one run in five innings and had five of the Lookouts' 17 strikeouts. Chattanooga scored three in the 15th to win, 4-1. Dee Gordon was 0 for 6 with a walk, Jerry Sands was 0 for 6 with three strikeouts and Andrew Lambo was 0 for 7.
Ogden also won, 5-4, on an RBI single by Chris Henderson (3 for 7), driving in Jesse Bosnik (2 for 4 with three walks).
* * *
Great Lakes righty
Elisaul Pimentel
, who turns 22 a week from Saturday, allowed more earned runs Thursday (
five in six innings
) than he had in his previous eight starts combined, in which his ERA was 1.00. But the Loons won, 7-6.
Phil Gurnee of
True Blue L.A.
posted a lengthy interview with Great Lakes beat writer Hugh Bernreuter of the Saginaw News. And don't miss the latest Dodger prospect rankings from Chad Moriyama of
Memories of Kevin Malone
. Chris Withrow remains No. 1, but Jansen and Sands made huge leaps into the top five.
* * *
Dylan Hernandez of the
Times
has more details on the incident that apparently got Matt Kemp benched: a spat with coach Bob Schaefer. Kemp has reportedly not been backing up second base on basestealer throws by Russell Martin. Hernandez says Kemp has denied having "a confrontation" with the Dodger coaching staff, but I think that must be a semantics issue or just a cover.
Hernandez also today had
a very nice feature on Hiroki Kuroda
, who seems more haunted when he's not pitching by the line drive that hit him in the head last year.
* * *
Arizona Republic
writer Nick Piecoro on the Diamondbacks' new manager: "I'm curious to see how interim manager Kirk Gibson settles into this role. I find the public perception of him to be wildly different from the way he actually is. It seems like everyone expects some kind of drill sergeant to come in and whip everyone into shape, a guy who'll have smoke shooting from his ears on every bad call. Who knows, maybe that's what he'll be like, but that's not what he's been like in his time as the bench coach. He's more of a goofy guy, someone the players monkey around with in the clubhouse, a guy who's always keeping them loose. Maybe being the guy in charge will bring that drill sergeant out of him. We shall see."
June, 22, 2010
6/22/10
5:47
PM PT
confirmed this evening
that Charlie Haeger would come up from Albuquerque to give it another go for the big club Thursday.
I want you all to say it loud, and say it proud: "He's due!"
* * *
Dodger manager Joe Torre told reporters that Chad Billingsley had a good bullpen session and is on track to be activated from the disabled list in time to start Monday in San Francisco.
Rafael Furcal flies back to Los Angeles today, but might not play until Wednesday, Torre said.
* * *
Cory Wade pitched the first inning of
the Dodgers' Arizona League game Monday
. With one out, he hit a batter and gave up a triple and a single for two runs. He got the next two batters and was done.
The Dodgers
March, 16, 2010
3/16/10
1:20
PM PT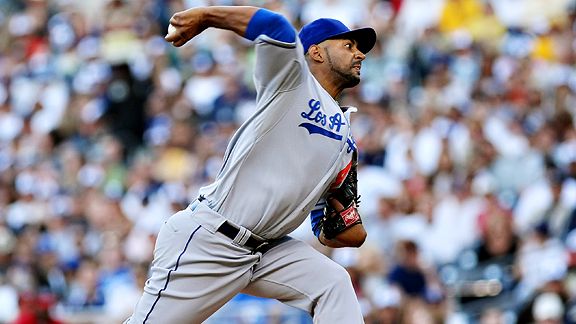 Stephen Dunn/Getty Images
Cory Wade's 2009 season still looked bright when he bailed Hiroki Kuroda out of a bases loaded jam in his first appearance of the year April 6, but things began going south soon after.
It says something about the disappearance of
Cory Wade
from the radar that I didn't rush to blog about his
impending shoulder surgery
. Okay, it also says something about my crazy schedule, but you get the idea.
Initial estimates are that Wade will be out for three months, though it's too soon to say whether that's too long or too short a guess. In any case, we're talking about a guy who's still only 26 years old. Hopefully they can solve whatever's bothering him and get him back closer to the form that made him such a critical part of the Dodger bullpen in 2008.
* * *
POTUS potables: Great reaction piece by Josh Fisher of Dodger Divorce to Jamie McCourt's Oval Office ambitions.
... My first instinct on this is that it's being blown out of proportion. This is probably just the daydream of a very wealthy woman. We all get carried away. It's just that most of us don't have the power to make people indulge us and create action plans for carrying out our whims. And, it's quite safe to say, our delusions of grandeur rarely reach as far as attaining the highest office in the world.

What bothers me more about the current situation is Jamie's attempt to spin all the negative publicity into a the-world-is-against-me stance. She's repeatedly talked about how she doesn't want the litigation playing out in the public arena. ...

... So, if you're following along at home: Jamie actively and intentionally put herself in the public eye as an owner of the Dodgers. You'll remember that among the perks she's seeking compensation for are professional makeup and table sponsorship funds for her many community and charity appearances. When the attention was positive and served her own ends--altruistic or otherwise--she sought the public eye.

Now that the attention is not so kind, she portrays her plight as the unfortunate acquisition of "unwanted celebrity." This is either naive or outright manipulative. Jamie has a habit of wanting things both ways; she wanted to be protected from creditors' claims in case the businesses failed, but now seeks half the businesses' worth. She desired attention--was paid to draw attention--when coverage was positive, but claims to be the victim of "unwanted celebrity" now that coverage isn't so rosy. ...
Casey Blake left today's game early because of back soreness, while bullpen candidate Cory Wade will be out for two weeks following a cortisone shot to treat his problematic right shoulder. Tony Jackson of
ESPNLosAngeles.com
has details.
Joe Torre had praise today for rookies Josh Lindblom and Carlos Monasterios. Torre said Monasterios "has a good changeup – he seems to keep the ball down."
* * *