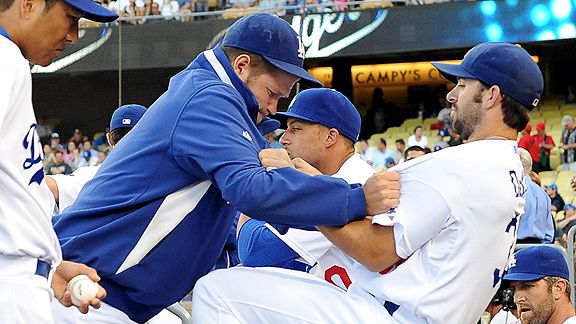 Courtesy Jon SooHoo/LA Dodgers 2010
Clayton Kershaw and Blake DeWitt hang on before Wednesday's game.
Rafael Furcal, SS

Jamey Carroll, LF

Andre Ethier, RF

Matt Kemp, CF

Casey Blake, 3B

James Loney, 1B

Ronnie Belliard, 2B

Russell Martin, C

Hiroki Kuroda, P
Carlos Monasterios will start Saturday, Joe Torre told reporters today. I'm not sure what makes Monasterios, who staggered through his last few starts, a better option than James McDonald, but I've decided not to fret over it for now.
Torre also said that Hong-Chih Kuo has been "lobbying" to pitch on back-to-back days, which helps explain why, for better or worse, he warmed up Wednesday. That being said, Kuo might be rested tonight, but Jonathan Broxton is available.
Reed Johnson's back has not improved enough for the Dodgers to say when he'll be activated from the disabled list.
* * *
Dodger Stadium organist Nancy Bea Hefley will have increased playing time Friday as part of the team's "55 since '55" promotion, and Dodgerfan.net will provide on-the-scene coverage. Looking forward to it!
* * *
Tonight, the Dodgers will play their 857th consecutive home game since their last rainout, on April 17, 2000, breaking their previous record of 856 set from April 26, 1988–April 10, 1999.
Also, tonight's matchup of Hiroki Kuroda and Hisanori Takahashi is the sixth between Japanese-born starting pitchers in MLB history.
* * *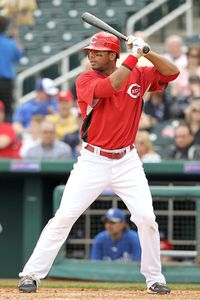 Christian Petersen/Getty Images
Chris Dickerson
Thought this was an interesting piece by Dave Campbell of The Associated Press (posted on Farther Off the Wall): Reds outfielder Chris Dickerson is trying to make baseball more green through an organization he co-founded with Jack Cassel, Players for the Planet.
... There is a certain insular, indulgent culture in the sports world that can create hurdles for social causes like this to take hold. Sometimes, they're masked as mere symbolic gestures and goodwill-generating promotions for teams. The sheer enormity of stadiums makes it difficult to keep carbon footprints small. Players can get caught up in the big-league lifestyle.

"It's hard to get just any athlete and even then, they're like, 'I love what you're doing, but I can't really endorse it because I'm driving a big truck and I have a huge house,'" Dickerson said. "So some of the things these athletes do aren't necessarily a green lifestyle. They like the idea, but they're not necessarily that green. I think that's why a lot of them are hesitant to be part of it."

Dickerson praised the use of solar power at Fenway Park in Boston and Progressive Field in Cleveland as progressive ideas he'd like to see replicated more throughout the majors. He pointed to supportive e-mails and letters he has received as examples of momentum. He also insisted real change can be accomplished in easy steps.

"That's the message we're trying to get across: It doesn't have to be a huge shift in your daily lifestyle," Dickerson said. "It's little things like getting a recycle bin, turning off all the lights when you leave your house, trying to cut down on your air conditioning, using compact fluorescent light bulbs."

Dickerson even has a sign above his locker that says, "Trees are for hugging." ...