Dodger Thoughts:

Delwyn Young
Initial bids for the Dodgers officially have been made. Tony Jackson covered it for
ESPNLosAngeles.com
, while Bill Shaikin was on it for the
Times
. Not much in the way of surprises in a process that still has some time to develop. From Jackson:
... Although the passing of the deadline represents a significant step in the sale process, it isn't necessarily a major one. For one thing, additional bids are still welcome even with the deadline having passed, according to multiple sources with knowledge of the situation. For another, even the groups that placed initial bids aren't set in stone, as there could be merging of groups, individual movement between groups and individual additions or subtractions within a specific group.

Two bidders said talks about possible group mergers were ongoing. They both spoke on condition of anonymity because Blackstone Group made them sign nondisclosure agreements.

"It would be a shock if they don't start talking merger," said Marc Ganis, president of the Chicago-based consulting firm Sportscorp, which is not involved. "I think we'll get a half-dozen parties that are actually in the bid, plus or minus one."

What the passing of the deadline does mean is that the weeding-out process can now officially begin. This initial phase will involve eliminating candidates whose bids simply aren't competitive. Once that process is complete, Blackstone will submit its list of remaining candidates to Major League Baseball for a vetting process that already is underway in a preliminary sense -- MLB already is looking at all candidates who were given bid books -- but at that point will intensify.

There is no deadline for the submitting of those candidates to MLB, although the April 30 deadline for completing the sale -- and the April 1 deadline for selecting the owner and ownership group that ultimately will get the team -- necessarily means the process will move comparatively quickly.

One source in the Dodgers camp said McCourt views the April 30 deadline as rigid, but baseball commissioner Bud Selig said two weeks ago at MLB's quarterly owners meetings that he feels confident the sale will be completed on time and that "I think we're on track," both characterizations that seemed to allow for some wiggle room. ...
* * *
January, 6, 2011
1/06/11
4:39
PM PT
In what figures to be a sterling matchup between Clayton Kershaw and Tim Lincecum, the Dodgers and Giants will play a rescheduled
Opening Day game at Dodger Stadium
on March 31 at 5 p.m.
Of course, Kershaw has to unseat incumbent Opening Day starter Vicente Padilla to make that matchup happen.
The new date is the result of discussions that apparently included the possibility of moving Opening Day to San Francisco for theatricality's sake (i.e., honoring the World Series champions at home). Happily, the Dodgers were not forced to oblige. ESPN will still televise the game nationally.
Roberto Baly of
Vin Scully Is My Homeboy
has been monitoring this situation like no other.
* * *
November, 19, 2010
11/19/10
11:02
PM PT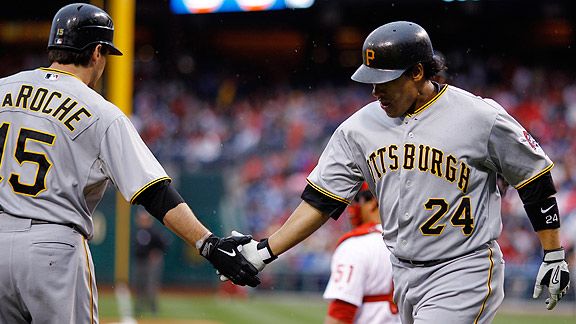 Matt Slocum/APAndy LaRoche congratluates Delwyn Young after Young's solo home run May 17 in Philadelphia.
Two seasons ago, the Dodgers gave away
Delwyn Young
, then sent
Andy LaRoche
away to get Manny Ramirez a few months later. Now, the Dodgers can have them back for nothing. Pittsburgh
designated Young and LaRoche for assignment today
.
Both players occasionally flashed ability but mostly have washed out. That's not as big a surprise for Young, who was never expected to be much more than a bench player, but the bigger disappointment was LaRoche, whose
fine minor-league career
seemed to have him poised for a starting role. Indeed, yours truly insisted in 2008 that the Dodgers didn't give LaRoche a fair chance to win the third-base job before deciding to trade Carlos Santana and Jon Meloan for Casey Blake, days before the Ramirez trade.
When LaRoche was sent away (along with minor-league pitcher Bryan Morris), I consoled myself with the fact that at least the Dodgers were getting a major talent back. And more than ever, there's no doubt the trade was a major win for the Dodgers, especially with injuries and stagnating development making LaRoche a discard.
Either player might be worth a flyer on a minor-league contract, especially considering the Dodgers' depth issues, but based on Ned Colletti's past actions, if there's any ex-Pirate he'd be taking a chance on for next season's major-league roster, it would be today's third DFA,
Zach Duke
. Duke is five years removed from the 1.81 ERA he posted in his rookie debut and hasn't averaged more than 5.5 strikeouts per nine innings since, but he did have a 4.06 ERA in 2009 and will still only be 28 in April. For a general manager who saw potential in every R. Ortiz under the sun, Duke certainly seems like someone whose tires would get kicked.
And believe it or not, there's a fourth ex-Pirate in the Dodger news today, though don't expect to see him in Los Angeles. The Dodgers purchased the contracts of two players and added them to their 40-man roster – one was 28-year-old catcher
Hector Gimenez
, who had a .916 OPS for the Pirates' Double-A team in Altoona – the first time in eight professional seasons he had broken the .800 mark.
The other was
Luis Vasquez
(25 in April), who had a nifty 2.68 ERA and with 39 strikeouts in 40 1/3 innings, but all the way down in Single-A. Vasquez allowed only 24 hits but walked 26.
No, this doesn't mean the Dodgers have solved their catching and bullpen issues. Nor, certainly, have they provided us an answer who will start in left field in 2011, though Colletti gave Jim Bowden of MLB Network Radio (news via
MLB Trade Rumors
) this conversation piece: Jay Gibbons, Xavier Paul and Jamie Hoffmann are all considered candidates to be the outfield's Opening Day third wheel.
* * *
Don Mattingly completed his managerial stint in the Arizona Fall League, and Tony Jackson of
ESPNLosAngeles.com
touched base with him.