Dodger Thoughts:

Derrick Hall
November, 11, 2011
11/11/11
8:57
AM PT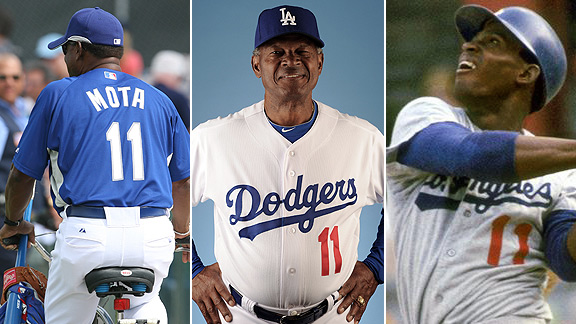 Getty ImagesManny Mota Mota Mota ...
There has still been
no contact
from the kidnappers of Washington catcher Wilson Ramos, more than a day
since he was abducted
. But Venezuelan authorities
have said they are confident
they will find him.
I can't tell that this story is getting the coverage it deserves, although it is mostly just a painful waiting game. I'm thinking my best thoughts.
* * *
Catching up on some Dodger ownership news and notes:
* * *
Elsewhere ...
September, 20, 2011
9/20/11
5:05
PM PT
has prostate cancer
. More from the
Diamondbacks' official site
:
... A date for surgery to remove the tumors has not yet been scheduled. Hall underwent a series of tests recently and had a prostate biopsy performed on Sept. 14.

"I was informed by my doctor while in San Diego with the team Saturday," Hall said. "I am fortunate the disease was caught in the early stages and expect a full recovery. I will use this news as an opportunity to educate and drive awareness, while hopefully saving more lives in the future. I am in great hands, and my family and I are confident we will get through this successfully. I notified all of my staff immediately and am eternally grateful for the overwhelming support, love and prayers."

Hall underwent a PSA (prostate-specific antigen) test, which resulted in elevated numbers and then underwent the prostate biopsy. That test was diagnosed as positive and revealed cancerous tumors.

D-backs managing general partner Ken Kendrick is a prostate cancer survivor. ...
* * *
Congrats to Mike Petriello of Mike Scioscia's Tragic Illness - he's engaged! To his girlfriend! She finally bagged her a Homer.
Matt Kemp won the Dodgers' Roy Campanella Award, "given to the Dodger player who best exemplifies the spirit and leadership of the late Hall of Fame catcher." Rafael Furcal, Russell Martin, James Loney, Juan Pierre and Jamey Carroll are previous winners of the six-year-old trophy.
Frank McCourt winning his hearing on TV rights, Tony Gwynn Jr.'s close friendship and James Loney's willingness to move to left field — all reasons to speculate about Prince Fielder coming to Los Angeles, according to Ken Gurnick of MLB.com.
Manny Ramirez plans to play winter ball in the Dominican Republic this year, reports The Associated Press.

Tommy Lasorda will be in uniform as an honorary coach for the Dodgers' home finale September 22, which happens to be the birthday of Lasorda, my daughter and Molly Knight.
From the Dodger press notes: Dee Gordon "is tied the for NL lead along with Florida's Emilio Bonifacio with 28 September hits and ranks fifth on the circuit with a .373 batting average this month (28-for-75). The 23-year-old also leads the Majors with nine stolen bases in 17 September games and overall ranks second among NL rookies with 21 steals in 27 attempts (77.8%). Gordon went 3-for-4 on Sunday to extend his career-long hitting streak to six games and is batting .423 (11-for-26) since the run began on Sept. 13. He is batting .337 (35-for-104) in the season's second half, which ranks sixth among NL qualifiers."
Tonight's matchup between Clayton Kershaw and Tim Lincecum reunites two pitchers who, as of now, are in the top 20 in major-league history in adjusted ERA for starting pitchers (minimum 700 innings), according to Baseball-Reference.com.
Tough news out of Arizona: Diamodbacks CEO and former Dodger executive Derrick Hall
September, 14, 2011
9/14/11
8:54
AM PT
Ready to put 2011 behind you? The Dodgers have released
their preliminary 2012 schedule
. After beginning this season on March 31, Opening Day 2012 comes on April 5 (a Thursday) at San Diego. Tony Jackson of ESPNLosAngeles.com has more:
The Los Angeles Dodgers will begin the 2012 regular season with a four-game series against the San Diego Padres at Petco Park April 5-8. Following an off-day, the team then will begin the home half of its schedule on April 10 against the Pittsburgh Pirates, kicking off a six-game homestand that also will include three more games against the Padres.

Major League Baseball released the 2012 regular-season schedule on Wednesday.

The interleague portion of the Dodgers' schedule includes the usual six-game, home-and-home series with the Los Angeles Angels, who will visit Dodger Stadium June 11-13. The Dodgers then will play at Angel Stadium in Anaheim June 22-24.

Additionally, the Dodgers will host the Chicago White Sox June 15-17 and visit the Seattle Mariners June 8-10 and the Oakland A's June 19-21.

The Dodgers will finish the first half with a four-game series against the Arizona Diamondbacks at Chase Field July 5-8, then return home immediately after the All-Star break to begin the second half against the Padres on July 13.

The Dodgers finish the season at home with a six-game stand against the Colorado Rockies Sept. 28-30 and San Francisco Giants Oct. 1-3.

The schedule remains subject to change, and certain specifics such as starting times and day games/night games have yet to be finalized.
* * *