Dodger Thoughts:

Doug Mientkiewicz
March, 28, 2010
3/28/10
4:54
PM PT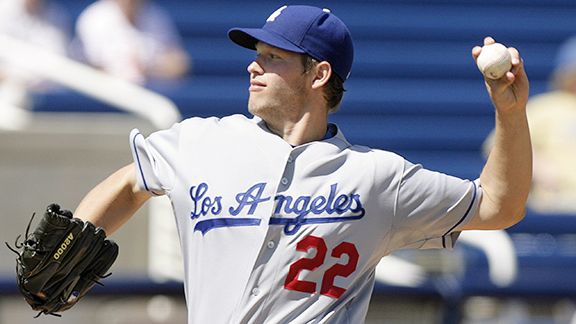 Paul Connors/AP
Clayton Kershaw
It was only two Marches ago that Clayton Kershaw emerged from the theoretical to the tangible with his
"Public Enemy No. 1"
to strike out Sean Casey in an otherwise forgettable Spring Training game. Just two years.
Now, Kershaw is a ripe old 22 years old, and most of the debate about him is whether he'll be great or merely good. And so today, as Kershaw cruises through six innings of his final March outing, striking out seven and walking just one while allowing one run on 99 pitches, Dodger fans don't need to marvel. They just nod and smile. "Yeah, we know."
In two blink-of-an-eye years, Spring Training is no longer a proving ground for Kershaw. It's merely a workout room, a waystation for bigger and hopefully better things.
Update:
The latest on Kershaw's improved repertoire, from Dylan Hernandez of the
Times
:
Clayton Kershaw couldn't throw his curveball for strikes in the first couple of innings Sunday, something that would have spelled trouble at an earlier stage of his career.

But his fastball was working. So was his slider. And changeup.

According to a chart kept by pitching coach Rick Honeycutt, Kershaw threw seven of eight changeups for strikes and recorded three outs with the pitch. Seven of his nine sliders were thrown for strikes.

Relying on the two relatively new weapons in his arsenal, Kershaw was able to bide time until his curveball started dropping into strike zone. He exited his final Cactus League start having held the Cincinnati Reds to one run, six hits and one walk over six innings. ...

* * *
There's a little tiff brewing, reports Ken Gurnick of MLB.com, between the Dodgers and Doug Mientkiewicz, who wants the team to release him before their Friday deadline so that he can have a better shot at getting a spot with another team. The Irony Committee has issued an approval on the fact that the reason the Dodgers want to hang on to Mientkiewicz as long as they can relates to the possibility of their first-choice lefty pinch hitter, Garret Anderson, suffering a major injury like Mientkiewicz incurred last April. He provided the example of the need to not grant his wish.
Working on his second consecutive day, Ramon Ortiz struck out two of the three batters he faced, passing probably the last test (other than waking up healthy Monday) for him to make the team.
Chad Gaudin signed with the A's, ending speculation the Dodgers might go for him.
Joe Torre quotes to reporters this morning:

"Blake and Ethier are going to Las Vegas. Ellis and DeWitt will both be there too. We'll make a statement on second base in a few days. DeWitt couldn't have done anymore that is within his control, he's done everything he possibly could have done and come through with high marks.

"Physically guys are ready, mentally it's tough to remind yourself these games are important. We still have decisions to make not just at second base but the pitching staff as well.

"Haeger could go five or six today, we're not concerned about building up his endurance. He's done a good job and handled everything we've thrown at him. He can dominate a game when that thing's working. He talked with Charlie Hough about how to pitch in certain environments. Florida should be fine, he said he enjoys pitching indoors too.

"We've got to figure out our starters and figure it out from there. You have Sherrill, Broxton, and Troncoso. Kuo is a question mark, he probably won't be ready for the season. We've got a lot of options. Sherrill is looking at some video for those who are wondering. They thought he was doing some mechanical stuff that he doesn't normally do.

"I had a talk with Doug Mientkiewicz yesterday and told him it doesn't look like he'll make the team with Anderson around. I told him I'd love to have him around, but he'll take a day to think about his options. He was understanding of the decision, he likes being here but he wants to be in the big leagues."
March, 13, 2010
3/13/10
7:38
AM PT
Hong-Chih Kuo won't pitch in the third game of the Dodgers' Taiwan series as planned. Right now, the move is being described as precautionary, though it's certainly worrisome. From Ken Gurnick of MLB.com:
Hong-Chih Kuo said he "almost cried" when he told the Dodgers training staff that his elbow was sore again, and the news didn't do manager Joe Torre any good, either.

Torre had to scratch Kuo from the start of his life Saturday night at 10 p.m. PT, a chance to pitch one inning in front of his mother against an All-Star team from his native Taiwan.

"It's nothing major -- he wants to pitch," Torre said of Kuo, whose elbow, operated on four times already, has no margin for error. "But if something happened in front of his home crowd ... We think it's normal Spring Training stuff, but can't take a chance." ...
It was
less than a week ago
that Torre had his most optimistic statement about Kuo since, perhaps, ever: "It's nice to have him where you're not giving him special care. That's a real good sign for me. He's maintained a level of health. There's not a person in the clubhouse ... not hoping everything goes well for him." It did feel a little too good to be true, but hopefully this latest malady is preseason soreness and nothing more.
Despite a lengthy wait, the Dodgers and the All-Stars from Taiwan
couldn't get their second game in
.
* * *
Doug Mientkiewicz tested his throwing arm successfully Friday by starting a 3-6-3 double play against the Reds, notes Dylan Hernandez of the
Times
.
* * *
Here's a link
to my interview Friday with KSPN AM 710.
March, 3, 2010
3/03/10
8:03
PM PT
In a move one can't help but interpret, at least in part, as a vote of no confidence in
the health of Brian Giles and Doug Mientkiewicz
, the Dodgers have signed local hero
Garret Anderson
to a minor-league deal, the team announced tonight.
Anderson, 38 this June, had a .705 OPS last season (86 OPS+) and was almost equally bad against right-handed pitchers as he was against lefties. But the team might just be determined to have a veteran at least start the season as the team's lead lefty pinch-hitter, rather than Xavier Paul, whose bat could certainly match what Anderson did last season.
Perhaps the thinking is also that Anderson might do better with more rest than he has ever had in his career – he has been a regular since 1995.
Previously on Dodger Thoughts
: Superman, Then and Now
* * *

Updates:
Arizona signed 22-year-old right fielder Justin Upton to a six-year, $51.25 million contract. Upton is nearly three years younger than Matt Kemp and has one fewer year of service time, and had a .301 EQA (or, as Baseball Prospectus now wants us to call it, True Average) compared to Kemp's .304.
The importance of Clayton Kershaw's slider is the subject of a Jay Jaffe post at ESPN.com's new pay-blog, TMI. "Kershaw's numbers, since he introduced the pitch in early-June, are eye-popping," Jaffe writes. "They stand with the elite hurlers in the majors, with the caveat that his age limited his workload."
Scheduled Dodger pitchers for Spring Training Opening Day on Friday: Vicente Padilla, Ramon Ortiz, Charlie Haeger, Luis Ayala, Scott Dohmann and Jon Link.
An all-encompassing MLB batted-ball location chart is now available at Katron.org (link via True Blue L.A. and Dodger Divorce).
Following their disappointing 2009 seasons, Dodger catcher Russell Martin put on chunks of weight, while Cubs catcher Geovany Soto took them off. Tim Brown of Yahoo! Sports explores their criss-cross paths.
Lefty reliever Brent Leach is trying to get through a sore groin muscle, Gurnick reports. Leach has been playing catch on flat ground but has stayed off the mound in recent days.
Minor leaguers had their per diem raised to $25 from $20, and Rob Neyer of ESPN.com is unimpressed by the largesse – and even less impressed with the efforts organizations make to encourage healthy eating among their prospects.
Forty years ago today, Ross Newhan of the Times began his feature (passed along by Keith Thursby at the Daily Mirror) on Bobby Valentine with this opening: "He might have become the second O.J. Simpson."
The Dodgers' annual open tryout for all unaffiliated men and women 18 and over takes place Thursday at Camelback Ranch. Hope your visa's in order!
Is the future of baseball bats knobless? Read and decide for yourself.
Manny Mota (via Gurnick) is trying to draw attention to the Haiti relief efforts of former major-leaguer Neifi Perez and his merengue-performing brother Rubby.
February, 25, 2010
2/25/10
3:07
PM PT
Considered leading contenders for the Dodger bench because of their previous major-league success, both Brian Giles and Doug Mientkiewicz have arrived at Spring Training with health concerns that aren't going to go away.
As Ken Gurnick of
MLB.com
reports:
He went on the disabled list on June 19 and never came off, diagnosed with what was called a bone contusion, which can be a nice way of saying it's bone rubbing on bone. In that case, all the rehab in the world is meaningless, as the pain will return as soon as he starts running.

"I feel healthy, but you don't know until you start pounding on it," he said of his knee, which underwent micro-fracture surgery in 2007. "I've always said, if it's too hard or I can't play well, I'll walk away myself. I did regular offseason workouts and they went well." ...

... Giles' most obvious rival for the bench role is Doug Mientkiewicz, who has physical problems of his own, with chronic pain in his throwing shoulder and, for the second year, must make the club on a Minor League contract. ...
Left-handed hitting Xavier Paul would be the most obvious potential beneficiary if Giles and Mientkiewicz can't make it for the long haul.
* * *