Dodger Thoughts:

Duke Snider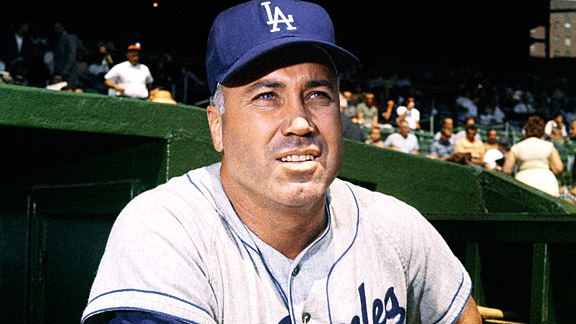 APDuke Snider
Tonight,
the Dodgers honor Duke Snider
, who passed away
in February
:
The Dodgers will celebrate the life and career of the late Hall of Famer Duke Snider with pregame ceremonies honoring the franchise's all-time leading home run hitter and special presentations throughout the game. In addition, fans at the game will receive a Duke Snider bobblehead, presented by State Farm, and will be able to pose for photos with Snider's Hall of Fame plaque (in Lot G Autograph Alley area from 5:10 p.m. to 6:30 p.m.), which is making a rare trip to Dodger Stadium from the National Baseball Hall of Fame and Museum in Cooperstown, New York for the event.

Snider's wife Bev, four children, Kevin, Kurt, Pam and Dawna, several grandchildren and other family members will all be at the game and will participate in the pregame ceremonies.
Also participating in the Kids Run onto the Field segment tonight will be Young Master Weisman. Running across the field in unpredictable directions was one of his favorite things to do at the end of coach-pitch practice, so it seems fitting. He's excited.
Joe Torre (22), April 6-28, 1972
Danny Bautista (21), April 7-30, 2004
Rico Carty (20), April 8-30, 1970
Andre Ethier (20), April 2-current, 2011
Steve Garvey (20), April 7-30, 1978
Seasons used to start later than they do today.
The longest hitting streak by a Dodger since 1988 is Paul Lo Duca's 25-game skein in 2003.
Here's the all-time Dodger top 10
:
31 Willie Davis, 1969
27 Joe Medwick, 1942
27 Duke Snider, 1953
25 Paul Lo Duca, 2003
25 Steve Sax, 1986
25 Willie Davis, 1971
25 Buzz Boyle, 1934
25 Harvey Hendrick, 1929
24 John Shelby, 1988
24 Zack Wheat, 1924
Longest consecutive-game streaks for a Dodger reaching base
:
58 Duke Snider, 1954
53 Shawn Green, 2000
47 Ron Cey, 1975
44 Len Koenecke, 1934
44 Zack Wheat, 1919
43 Augie Galan, 1945
41 Eric Karros, 1994
40 Babe Herman, 1926
39 Steve Saz, 1986
39 Billy Grabarkewitz, 1970
39 Duke Snider, 1953
39 Jim Gilliam, 1953
The Snider and Gilliam streaks intersected for 21 days in August.
Next roll for Andre Ethier – longest April hitting streak in major-league history. From the Dodgers via Elias Sports Bureau and Trent McCotter from the Society of American Baseball Research:
March, 5, 2011
3/05/11
7:23
PM PT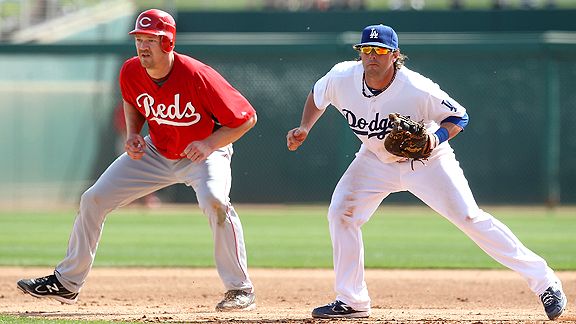 Christian Petersen/Getty ImagesScott Rolen and Russ Mitchell in "Crouching Tiger, Hidden Line Dancers"
Dodgers 2, Reds 0
Highlights:
Clayton Kershaw pitched four shutout innings, allowing two baserunners and striking out three.
Lance Cormier, Jon Huber, Roman Colon, Wilkin De La Rosa and Oscar Villarreal completed the shutout, allowing four hits, walking one and striking out one.
Matt Kemp doubled in Casey Blake in the fourth inning.
Dee Gordon singled, stole second and scored in the eighth inning after singles by Aaron Miles and Trent Oeltjen.
John Lindsey doubled in his first spring at-bat.
The Dodgers turned three double plays.
Lowlights:
We're going to give lowlights the evening off ...
Sidelights:
Ralph Branca shared his memories of Duke Snider in the New York Times.
The Dodgers were dead last in 2010 international spending with a mere $314,000, according to Baseball America. The efforts to step it up outside our borders are lagging, to say the least.
Minor-leaguer Luis Vasquez is a "clubhouse sensation" with his magic tricks, writes Ken Gurnick of MLB.com.
Pregame news and notes ...
Bus service from Union Station to Dodger Stadium for all home games will be back in 2011, thanks to a $450,000 grant awarded to MetroLink by the Mobile Source Air Pollution Reduction Review Committee. Service will begin 90 minutes before games and end 45 minutes after.
The Dodgers have signed a new deal for Spanish-language broadcasts with KTNQ 1020 AM.
The extra Spring Training game benefiting the Tucson Together Fund, in memory of the victims of the January shooting in Tucson and to raise money for their families, is officially set for March 25.
Don Mattingly told reporters today that outfielder Marcus Thames is nursing some heel discomfort. He has been given a new set of spikes and will rest Saturday.
Tony Jackson of ESPNLosAngeles.com thinks Mike MacDougal is a "clear favorite" to make the Opening Day roster. I'll admit I was a little taken aback ... taken aback to last year's March of the Ortizii.
Tim Brown of Yahoo! Sports took Russell Martin to task for his lack of personal accountability over his Dodger demise.
Rich Lederer of Baseball Analysts went through the archives to tell the story of Duke Snider attempting to throw a baseball out of the Coliseum.
Rubby De La Rosa is 22 today.
Giants at Dodgers, 6:05 p.m.
March, 2, 2011
3/02/11
6:01
PM PT
Royals 11, Dodgers 5
Highlights:
Tim Redding pitched three shutout innings, giving him five for the spring with three strikeouts.
James Loney went 2 for 2.
Relievers Ramon Troncoso and Carlos Monasterios pitched shutout ball.
Jamie Hoffmann (1 for 2) is now, like Loney, 4 for 8 this spring.
Juan Castro hit a three-run home run.
Lowlights:
Scott Elbert had a nightmare outing, walking four of the five batters he faced. From Eric Stephen of True Blue L.A.:


... With assistant GM of player development DeJon Watson in the broadcast booth with Charley Steiner, Elbert was missing the strike zone every which way. Elbert came in the game in relief of Jon Link in the fifth inning, then pitched into the sixth. Watson spoke of how Elbert got more consistent in his delivery over the winter, and was able to show two dominant pitches in the Arizona Fall League, but as those words were being spoken Elbert was missing the strike zone quite often. Elbert faced five batters, and walked four of them. He threw 21 pitches, only five of them for strikes.

On the broadcast, one could hear Watson rooting for Elbert, the Dodgers' 2009 minor league pitcher of the year, even as he was struggling. Watson said Elbert has great stuff that is "electric through the strike zone," and Watson seemed to take Elbert's outing in stride. "He's having a tough outing today, but I think you'll see better outings from Mr. Elbert in the future," Watson said. Elbert better hope so; he has faced 10 batters this spring, and walked six of them. He did strike out two, and the other two batters didn't hit the ball out of the infield, but Elbert needs to show some control before he even sniffs the 25-man roster. ...


Jon Link was charged with three runs while getting two outs; Luis Vasquez was charged with four runs while getting three outs.
Aaron Miles had a double but made his second error of the spring.
Xavier Paul struck out twice, dropping to 1 for 8 this exhibition season.
Juan Castro hit a three-run home run.
Sidelights:
Clayton Kershaw, not yet eligible for arbitration, signed his one-year 2011 contract for the expected figure of $500,000. Tony Jackson of ESPNLosAngeles.com has details. In fact, every man on the 40-man roster has now been signed for 2011, with Ronald Belisario having his contract renewed and then getting placed on the restricted list.
The adventures of Dee Gordon, again courtesy of Mr. Stephen:


There was a funny moment in the fifth inning, when Mike Moustakas lofted a foul pop near the photography well adjacent to the back of the Dodger dugout. Aaron Miles was in pursuit of the ball, but Dee Gordon, who was not in the game and sitting on the steps of the dugout, tried to evade Miles by moving out of the dugout. Instead, Gordon got the way of Miles, who was unable to make the catch. Watson, who was in the booth with Charley Steiner, could be heard saying something like, "Jesus criminey" or something to that effect.

Remarkable: Larry Granillo researched "Peanuts" comic strips for Baseball Prospectus and found Duke Snider was mentioned twice (once with Willie Mays, once with a host of players), compared to three mentions for Mickey Mantle and Mays combined, once for Mantle alone and four times for Mays alone (including the famous spelling bee episode).
James Loney fares a bit below average in David Pinto's defensive statistical rankings of first basemen from 2006-10 at Baseball Musings.
Ernest Reyes of Blue Heaven posted photos of the new grass being installed at Dodger Stadium.
Charlie Sheen meets Ron Swanson x John Wooden: The Sheen Pyramid of Greatness.
Juan Castro hit a three-run home run. From Ken Gurnick of MLB.com:


When he left the game after five innings and returned to the clubhouse, this note was posted on the bulletin board:

"Juan Castro: Please report to [Dodgers trainer] Stan Conte after the game for a mandatory steroid test."
Update:
Jackson
writes about Castro and Elbert.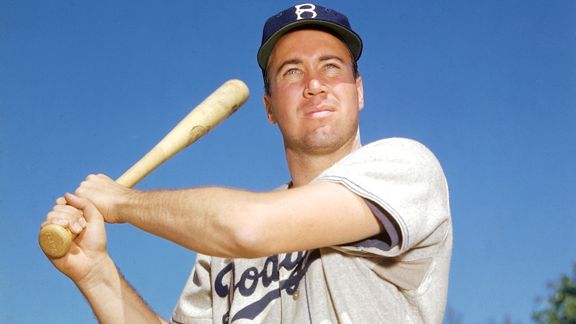 Hulton Archive/Getty ImagesThe Duke of Flatbush
My tribute to
Duke Snider
, who died this morning at the age of 84, from
"100 Things Dodgers Fans Should Know ..."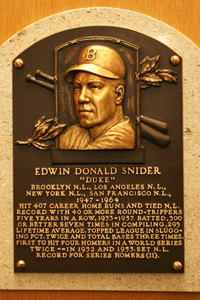 National Baseball Hall of Fame
Duke Snider joined the Hall of Fame in 1980.
"With two runners on base and the Dodgers leading, 5-4, in the 12th inning, Willie Jones drove a 405-footer up against the left-centerfield wall. Duke isn't a look-and-run outfielder, like Mays. He prefers to keep the ball in view all the time if possible, and he was judging this one every step of his long run to the wall. There it seemed he was climbing the concrete 'on his knees,' as awed Dodger coach Ted Lyons put it. Up and up he went like a human fly to spear the ball, give a confirming wave of his glove and fall backward to the turf. The wooden bracing on the wall showed spike marks almost as high as his head. It was such a catch that, although it saved the game for Brooklyn, admiring Philly fans swarmed the field by the dozens. Duke lost his cap and part of his shirt and almost lost his belt."
– Al Stump, Sport

Edwin Donald Snider gets third billing in the Terry Cashman song, "Willie, Mickey and the Duke" – a placement that seems to celebrate as well as diminish his legacy. Snider was one of the greatest center fielders of all time, up there with Willie Mays and Mickey Mantle, but he was forever proving himself, to the Dodgers and to baseball history.

"Duke was so talented, and he had a grace about him," said his Dodger roommate for 10 years, Carl Erskine. "They talk about (Joe) DiMaggio and how he carried himself on the field. … His outfield play and his running the bases and his trot for the home run, he just looked class, man.

"The thing that bothered Duke was, no matter how well he did, the coaches (and) managers always said, 'He can do better than that.' They always kind of made Duke feel no matter how hard he tried, he couldn't satisfy everybody. It was bothersome for him."

Snider, a Compton High School graduate from Los Angeles, even had a love-hate relationship with Ebbets Field fans, as Maury Allen writes in Brooklyn Remembered. "Snider always wore his emotions on his sleeve," Allen said. "A home run in a key spot would produce that Hollywood handsome grin. A strikeout with the bases loaded and the Brooklyn fans booing his very name announcement the next day would result in a week of sulkiness."



APTaking his cut, c. 1950.

Ultimately, like the way he climbed that Ebbets Field wall to save the game against the Phillies, Snider reached magnificent heights. He had eight full seasons and two partial seasons with EQAs of .300 or better, more than any other Dodger ever. He had at least 40 homers in the Dodgers' five final seasons in Brooklyn, and a career .295 batting average, .380 on-base percentage and .540 slugging percentage. He hit an all-time Dodger record 389 homers.

In a 1955 article, Sports Illustrated chose Snider over Willie Mays: "In every sense, the contemporary hero of Flatbush, prematurely gray at the temples in his 29th year, is a picture player with a classic stance that seldom develops a hitch. Next to (Ted) Williams, Snider probably has the best hitting form in the game. And, like Williams, he has amazing eyes — large, clear, calm and probing. With each oncoming pitch, Snider tenses and then throws his full 195 pounds into it, if he swings, with a smooth, lashing motion."

The Duke was much, much more than a name in a song.

This is a tectonic passing. The Duke is iconic, a legacy carved in granite. We will truly miss you.