Dodger Thoughts:

Ethan Martin
March, 3, 2011
3/03/11
2:05
PM PT
With Giants righty Matt Cain having to rest an inflamed elbow, Grant Brisbee of
McCovey Chronicles
uses the occasion to marvel at San Francisco's 2010:
... It's tough to explain now. The Giants won it all. It's hard to go back and rediscover that sense of urgency. What were we all worried about? The trick is to start the season with a garbage offense, and then a) hope that a journeyman minor league free agent turns into vintage Carlos Beltran, b) count on a rookie catcher to come up and propel the offense for a month, and c) scour the waiver wire in case there are teams in Florida giving away productive outfielders. It turns out we were just being paranoid.

But when you hear this…

"(Cain) has not thrown a baseball since he came down with elbow inflammation on Sunday, making it seem unlikely he will miss only one turn in the rotation. At the same time, he seems totally unconcerned about what he confessed is the first elbow issue of his career."

… you remember why there was urgency in the first place. The Giants were built around young pitching. Young pitching is beautiful, like, oh, a shiny idol made of solid gold. But while you stand there, mouth agape, marveling at the golden treasure, you hear the boulder. The boulder isn't evil. It's just obeying the laws of physics. And it's going to crush you. It's going to crush you real dead-like. ...

And when I hear that Matt Cain's elbow is barking, it makes me appreciate just how danged fortunate the Giants and their fans all were. The Giants made it through an entire season with four young starting pitchers, and there weren't any injury concerns. They didn't have to recall Todd Wellemeyer. They didn't have to shoehorn in Henry Sosa for a start or two. The young pitchers were good, and they were healthy. ...

It was special. Never take it for granted.

* * *
Alex Belth of
Bronx Banter
passes along Duke Snider stories from oldtime scribes Roger Angell and Dick Young.
* * *
There will be a
$1 Dodger Dog day
at Dodger Stadium on May 30 when the Rockies play.
* * *
This morning, the Dodgers played a 'B' game in which Ted Lilly made his first spring appearance, as Tony Jackson of
ESPNLosAngeles.com
notes. And as Ken Gurnick of
MLB.com
notes, Lilly's relief crew included three former No. 1 picks – Zach Lee, Ethan Martin and Aaron Miller – whose signing bonuses alone totaled nearly $8 million. Lee was the only one of the trio to allow a run.
Later on, the Dodgers have their first night game of Spring Training ...
Dodgers at Reds, 6:05 p.m.
May, 28, 2010
5/28/10
8:22
AM PT
Believe it or not, the Dodgers' two shutout losses over the past three games was not the worst offensive performance by a 2009 National League Championship Series participant. Philadelphia has been shut out for three straight games (by the Mets) and in four of their past five. Check out the linescores at Beerleaguer: In 46 of their past 47 innings, Philadelphia has come up empty.
If I'm being perfectly honest, with every day that passed since my release, two things became more and more clear to me:




The likelihood of a team taking a chance on me started low and diminished with time.
I wasn't missing the game as much as I had anticipated.


I definitely miss my teammates and I miss the camaraderie. But I think the best part about playing baseball was having that clearly defined goal in your sights and pursuing it relentlessly. The good news is, I started to realize that I can find that elsewhere. Any disappointment I'm feeling is not because I no longer get to play baseball, it's because I didn't achieve my goal of pitching in the Major Leagues. And since I have no regrets about the way I chased that goal, this disappointment has been a surprisingly easy pill to swallow.




April, 11, 2010
4/11/10
9:51
AM PT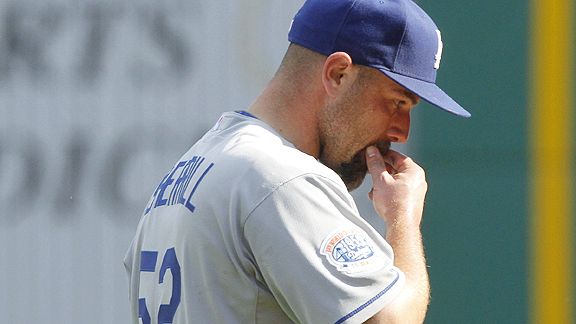 Keith Srakocic/AP
George Sherrill's bad outing against Pittsburgh on Opening Day was mere prelude to Saturday's Florida fright night.
George Sherrill should be able to get three outs before he gives up three runs. And inevitably, there was going to be a do-or-die situation this season when he would need to do that. Just as Vicente Padilla shouldn't give up
four runs on nine baserunners in 4 1/3 innings
, Sherrill needs to do better if the Dodgers are going avoid trouble.
But Padilla and Sherrill's failings are basically heat-of-the-battle failings, whereas Joe Torre's use of Jonathan Broxton this week is the equivalent of filling the bubbles in your SAT exam with Crayola burnt orange. (Assuming they still use bubbles.)
We've said it before and we hate to say it again – so this is going to be brief. If you can't afford to allow a run – as was the case when the Dodgers played extra innings in Pittsburgh on Wednesday – you use the pitcher least likely to allow a run. Only after that pitcher has been used do you turn to others. And certainly, you don't worry about saving your best pitcher for a situation in which you can allow a run and still win.
On one level, it was coincidental that Torre's use of Broxton this week led to us talking about his absence from Saturday's game. It required a specific flow of events from Opening Day on. On the other hand, we do see this from Dodger managers, including Torre's recent predecessors, all too often. If Sherrill had been used Saturday after a proper use of Broxton in previous days, people would have been talking about Sherrill overnight a lot more than Torre.
Do not save your best reliever for a save situation in an extra-inning game on the road.
One other oddity regarding Saturday and the bullpen: Torre told Ken Gurnick of MLB.com that Ramon Troncoso, who was pitched a perfect eighth inning but was pulled after giving up a leadoff single in the ninth, "is basically a one-inning guy." I realize that bullpen roles have changed with Hong-Chih Kuo and Ronald Belisario out, but especially when he hadn't pitched the day before and with Broxton out, since when is Troncoso a one-inning guy? The guy made his reputation with his ability to go multiple frames. Troncoso needed only seven pitches to get out of the eighth inning, then had thrown six pitches in the ninth when he came out of the game.
The botched squeeze in the second inning Saturday (that resulted in a bases-loaded, one-out situation imploding) was even crazier than it appeared. As many surmised, Vicente Padilla missed the suicide squeeze sign that resulted in Casey Blake getting tagged out between third and home. But from what Torre told reporters this morning, it appears that Torre himself wanted to take the squeeze off after having initially called for it – but that he gave the second sign too late for third-base coach Larry Bowa to see. So Bowa and Blake incorrectly, though understandably, thought the squeeze was still on – while Padilla, apparently, was oblivious to all of this. Torre indicated that he puts signs on and takes them off all the time.
Manny Ramirez had his 2,500th career hit Saturday, while Rafael Furcal had his 1,500th. Furcal has a .480 on-base percentage this season and is tied for the major-league lead in doubles.
Ian Kennedy is the scheduled starter for Arizona against Clayton Kershaw in Tuesday's home opener, followed by Rodrigo Lopez against Chad Billingsley on Wednesday and Dan Haren against Hiroki Kuroda on Thursday.
LeeAnn Rimes will sing the national anthem Tuesday.
Josh Lindblom was hit hard in his first 2010 start for Albuquerque – needing 77 pitches to get through three innings that saw him give up eight hits, two walks and three runs while striking out one.
John Lindsey, the 33-year-old minor-league lifer still looking for his first major-league action, is 7 for 13 with three doubles in his first three games for the Isotopes. Lindsey would need a few injuries to right-handed hitting Dodgers before he'd have a shot at a cup of coffee.
James Adkins, a 2007 first-round pick, allowed five runs in three innings of relief in his first 2010 outing for AA Chattanooga.
Ethan Martin's Inland Empire season debut was a different story: five innings, no runs, three singles, no walks, one hit batter, nine strikeouts.
Allen Webster allowed one run over five innings (six baserunners, four strikeouts) in his '10 Great Lakes debut.
Dixie Walker, the Brooklyn Dodger long remembered for starting a petition against Jackie Robinson joining the team, is revisited today by Harvey Araton of the New York Times (via Inside the Dodgers). The article's main point seems to be that Walker was remorseful and not the racist he's been accused of being:


... Though (Maury) Allen and Susan Walker suggest in the book that her father did not initiate the anti-Robinson petition, Roger Kahn, in his 2002 book, "The Era," wrote that Walker told him in 1976 that he had.

Kahn quoted Walker saying: "I organized that petition in 1947, not because I had anything against Robinson personally or against Negroes generally. I had a wholesale business in Birmingham and people told me I'd lose my business if I played ball with a black man."

In a telephone interview, Kahn said his conversation with Walker took place when Walker was the hitting coach for the Dodgers in Los Angeles.

"He invited me out for a glass of wine — somewhat shocking in that Budweiser world," Kahn said. "We talked for a while, and then he got to the point: the petition and his letter to Rickey. He called it the stupidest thing he'd ever done and if I ever had a chance to please write that he was very sorry."

Calling the Walker he met "a lovely, courtly man," Kahn said that the assumption should not be made that all early opposition to Robinson was based on core discrimination and not confusion or fear.

"Ballplayers depended on off-season work back then," he said. "When I was covering the Dodgers, Gil Hodges sold Buicks on Flatbush Avenue. Now, if you're Derek Jeter and you have a wholesale hardware business, you can say, 'So what?' "


Rachel Robinson's response in the same article: "If you're asking about forgiveness based on the context of the time, I can't say I worry about the view of them at this time. Maybe they learned better or changed, but at the time, they had a chance to move forward from segregation and chose the opposite. They had an impact."