Dodger Thoughts:

George Sherrill
December, 2, 2010
12/02/10
11:12
PM PT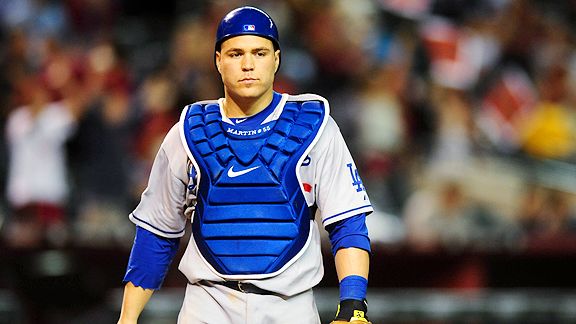 Mark J. Rebilas/US PresswireRussell Martin
He was something special. And then he wasn't.
It happens to the best of 'em, but I can't believe it happened this fast.
It is most certainly a non-tender night. The Dodgers have parted ways with 27-year-old Russell Martin, at least for now, by not offering him a 2011 contract. Again,
the reason
: They would have had to guarantee the slumping and injured catcher at least 80% of his 2010 salary, and risk paying him even more – easily over $6 million – if they lost an arbitration hearing.
If it were simply a case of Martin's offensive struggles, I think Dodger general manager Ned Colletti would have guaranteed his contract, as they have done today with James Loney. But the uncertainty over his recovery from his hip injury made Los Angeles that much more guarded about spending all those millions. Wrote Tony Jackson of
ESPNLosAngeles.com
:
... the Dodgers' first choice was to bring Martin back if an agreement could be reached on a contract that would have paid him a lower base salary than what he received in 2010. Colletti said that in the final minutes before the 9 p.m. PST deadline, Colleran lowered Martin's asking price to a simple $5 million guarantee, but the Dodgers weren't willing to go that high.

"We were willing to get to the same point with performance bonuses, but not with a guaranteed $5 million," Colletti said.
This isn't necessarily the end of Martin's Dodger career – he is free to negotiate with the Dodgers, as with all 29 other teams, for any contract, and Colletti told reporters that they would still talk. (Among other things, Jackson wrote that the Dodgers were interested in Martin in a utility role.)
But given that the parties couldn't come to terms by this point, it seems unlikely to me that they would at any other. And that was made even more the case when, as Jackson reported, the Dodgers moved closer to signing Rod Barajas to a one-year contract.
"I think we are on the cusp of getting something done in a different direction," Colletti said. "I wasn't going to go to sleep tonight without a big league catcher here besides [backup] A.J. [Ellis]. We're pretty far down the road with something, and it should come to fruition in a short period of time. This is somebody who, if the season were to start today, would take the lion's share of [playing time], with A.J. in a backup role."
The rest of the Dodgers' decisions today went according to form. George Sherrill, like Martin, was non-tendered (as was September call-up Trent Oeltjen), while Loney, Hong-Chih Kuo and Chad Billingsley all were guaranteed 2011 contracts.
December, 1, 2010
12/01/10
10:13
AM PT
Been pretty busy lately, no? And it only might get busier ...
September, 16, 2010
9/16/10
12:57
PM PT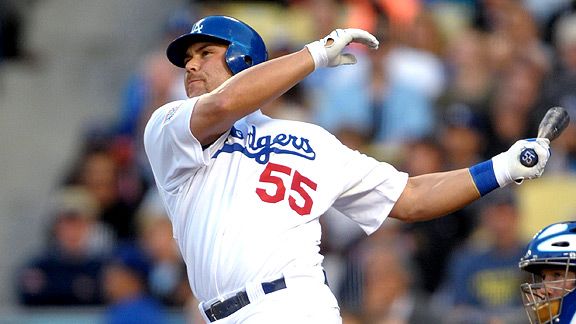 Kirby Lee/US PresswireRussell Martin: Just one of the many questions the Dodgers face this winter.
The Dodger roster heading into the 2010-11 offseason, and I don't say this lightly, is a mess.
It's not a hopeless mess. But it is a mess, and it's going to take some skill from the crew in charge to clean up. It's a goop of oil and water, an unsightly combination of having to fill holes while also figuring out which rising salaries to jettison and which to risk holding onto.
Oh, and when the 2010 season ends, the No. 5 starter on the 40-man roster, at least by major-league experience, will be someone who hasn't pitched in a professional game in four months: Scott Elbert.
The Dodgers have one absolute jewel on the team: Clayton Kershaw. The team's top player won't be arbitration eligible for one more year and only figures to earn approximately $500,000 in 2011.
Then, there are a few players whose higher salaries the Dodgers won't mind paying. Chad Billingsley, who will command somewhere in the neighborhood of $6 million, knocked down many of the questions others had about him with a resurgent 2010 season. Hong-Chih Kuo will draw low seven figures, and after the way he has persevered and performed, no one should begrudge him. Kenley Jansen will make people swoon, and only receive the major-league minimum pay and meal money in return.
So much for the good news. Now, the concerns:
Rafael Furcal surely remains talented, but the Dodgers have $12 million going to a player who has averaged fewer than 100 games per year since 2008.
Slumping reliever Jonathan Broxton's final season before free agency is tagged with a $7 million salary.
Coming off an injury that ended his second straight disappointing year, arbitration-eligible Russell Martin would also get as much as $7 million if the Dodgers don't non-tender him.
Andre Ethier looked like an MVP at the start of the year; by the end, his $9.25 million 2011 salary for an outfielder who struggles against lefties didn't seem like quite as much of a bargain.
Lightning Rod Award-winning outfielder Matt Kemp has $6.95 million coming next year.
Casey Blake, game but aging, gets $5.25 million in the final chapter of his three-year deal.
By now, James Loney should have developed enough that the $4.5 million he is projected to earn next year should have seemed closer to a bargain than a burden, but his second-half disappearance hasn't helped matters.
Incumbent second baseman Ryan Theriot and his sub-.700 OPS will bring home about $3.5 million if the Dodgers hang onto him.
In sum, that's about $55 million committed to a series of question marks, some small, some large. In addition, Los Angeles owes approximately $17 million of its 2011 budget to (swallow hard) Manny Ramirez, Juan Pierre, Andruw Jones and Jason Schmidt — the price for turning past mistakes into the playoff teams of the previous two years.
Overall, the Dodgers on paper have close to $100 million -- a figure that might well be at or above their budget limit -- committed before they make a single offseason move.
Now, all is not lost. The Dodgers can and probably will gain roughly $12 million in breathing room if and when they bid farewell to George Sherrill, Octavio Dotel, Scott Podsednik and Brad Ausmus (who has said he will retire). Meanwhile, free agents Jay Gibbons and Rod Barajas should start to help shore up the bench for under $2 million combined. And it should be noted that not all of the above question marks will have negative answers.
Nevertheless, that still leaves the Dodgers at about $90 million in payroll, with John Ely as their No. 3 starter and serious questions about most of their offense. As shaky as their lineup now looks, and however aggressive the Dodgers might want to be with the latest crop of prospects, the Dodgers absolutely have to add at least two more starters, whether through free agency or trade, whether Ted Lilly, Hiroki Kuroda or outsiders.
It's for this reason that unless the team salary budget goes up, the Dodgers
almost certainly will trade or non-tender a 2011 contract
to at least one from the group of Broxton, Kemp, Ethier, Loney and Martin. Loney, because he has the lowest salary, might be most likely to stay – he's finishing the year as a disappointment at first base, but he's not finishing the year alone as a disappointment. In any case, all of them have something to offer other teams that might be, as hard as it is for some to digest, more willing to spend than the Dodgers are.
An Ethier trade would be a shock, for example, much more than a Kemp trade, but who can say it's out of the question now?
However this plays out, the Dodgers may well bring back many of the same players next year who boosted them to National League Championship Series appearances in 2008-09 and sunk them in 2010. In one respect, nothing will have changed: You're always hoping players move forward, like Kershaw and Billingsley, and not backward, like Kemp and Loney and Broxton and Martin and so on. Good does sometimes follow bad, after all. But still, it's going to be a nervous offseason for a lot of us.
Sure, BP had it tougher. But as cleanup goes, this is as thick a goop as Chavez Ravine has seen in quite some time.
July, 24, 2010
7/24/10
5:57
PM PT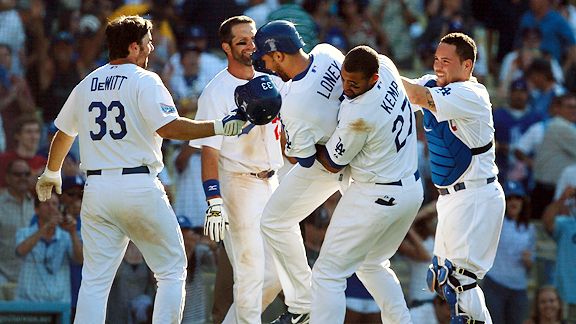 Jeff Gross/Getty ImagesMatt Kemp looks to win the Kendry Who? Award with his takedown of James Loney after Loney's walkoff homer gave the Dodgers
a 3-2 victory over the Mets
today in 13 innings. The 21st Dodger used in the game, George Sherrill, pitched a 1-2-3 inning for the victory. Carlos Monasterios pitched five shutout innings. and then after James McDonald disappointed in a two-run sixth, Kenley Jansen's two-strikeout major-league debut kicked off seven consecutive game-saving scoreless (and hitless) innings of relief for Los Angeles.
July, 1, 2010
7/01/10
5:40
PM PT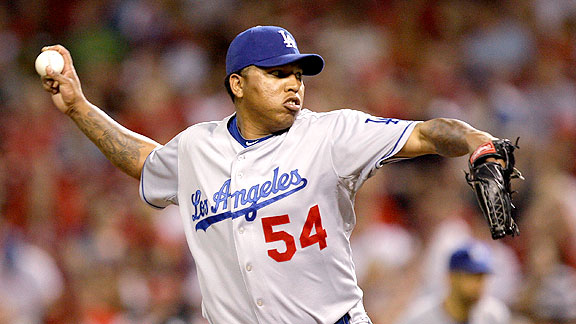 Al Behrman/APRonald Belisario
Remember all the indignation when Ronald Belisario put himself on the layaway plan when it came to Spring Training this year? Plenty of people wanted to wash their hands of the delayed arrival.
Given the current state of the Dodger middle relief, I'm not sure too many people want to cast off Belisario for his sins today.
The Dodger bullpen has shown some unexpected weakness, though circumstances aren't dire. Jonathan Broxton and Hong-Chih Kuo are brilliant short relievers, while Belisario and Jeff Weaver are satisfactory set-up men.
Carlos Monasterios will probably take the back end of the bullpen when he returns from the disabled list. Monasterios, while flaming out for the time being as a starting pitcher after a briefly glorious run, remains adequate for long relief. Assuming the Dodgers still have a long-term vision for the Rule 5 draft-day acquisition, that's where he'll be.
That covers five of seven spots in the bullpen.
Ramon Troncoso is a question mark right now. Right now, as Ken Gurnick of
MLB.com
reports, we're in the phase of Troncoso claiming that overwork isn't the issue, but execution is.
"I feel perfect, I feel brand new, like a baby with a new toy," Troncoso said. "My arm is good. I'm here to pitch every day. I'm going to pitch in 50 more games this year. Of course this year has been frustrating for me, but if we win, everything is OK. I don't care about my ERA, I just want to pitch good and help the team."

Bullpen coach Ken Howell said Troncoso's problems this year are part mechanical, which he's cautiously optimistic have been worked out, and partly pitch selection and execution.

"He's been throwing the curveball instead of the sinker in some situations, and the sinker is his money pitch," said Howell. "And he needs to be at the bottom of the [strike] zone. When he's thigh-high and up, he gets in trouble. His stuff is fine, but he's not pounding the bottom of the zone with the consistency of last year. But lately it's been better."
And then there's George Sherrill.
Sherrill looks hopeless, but his lefty-right splits indicate that he does retain some value if he were used only against left-handed batters. Ned Colletti has cut bait on his relief acquisitions before — Danys Baez didn't even last a season in Los Angeles — but something tells me that Sherrill won't be sent away.
However, either Troncoso or Sherrill might end up on the disabled list, for reasons legit or not — and for that matter, Troncoso still has minor-league options remaining. So the Dodgers are probably looking for a couple of relievers as contingencies.
The thing is, they probably have them already.
It would be ironic, if it weren't easy enough to foresee, that the reason the Dodgers might trade for middle relief this year is that last year's trade for middle relief has gone south. Right now the Dodgers' farewell to Josh Bell, the organization's top third-base prospect, for Sherrill isn't one to savor; Bell was
called up by the Baltimore Orioles
to play the hot corner tonight. It so happens that the Dodgers caught lightning in a bottle with Sherrill and his sub-1.00 ERA with the team, but Sherrill's rapid decline this year illustrates how fluky that was.
The Dodgers have Travis Schlichting, Jon Link, Kenley Jansen, Josh Lindblom, Kiko Calero and James McDonald, among others, that they can test out in middle relief. Each comes with a mitigating factor — for example, McDonald, who
returns from the minor-league disabled list tonight
, might be considered the No. 6 starter right now — but from that group of six alone, odds are that at least one can do the job. (Cory Wade, outrighted to Albuquerque today after a minor-league rehab assignment, is also in line for a try.) So if the Dodgers decide they need a break from Troncoso or Sherrill, they have people they can turn to at no cost at all.
They might be like Justin Miller, who was brilliant when he arrived but has since faltered. They might be worse. But a fresh arm that major-league hitters aren't familiar with — or heck, a fresh arm period — often works wonders coming out of the pen. And you only need to make it for two months until September, when rosters expand and it's all hands on deck.
Los Angeles needs to be very careful about any trade for middle relief. The species is too erratic. What you have might well be as good as it gets.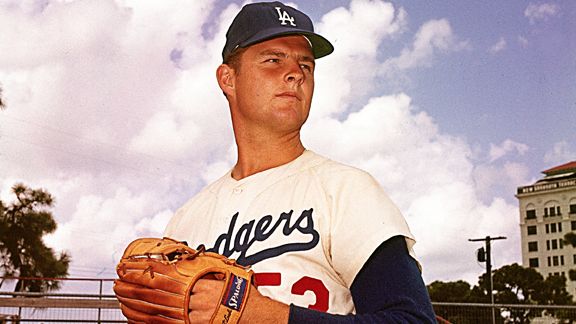 AP
Don Drysdale, March 1959
Fifty years ago, this was the hot trade rumor of the day, according to Keith Thursby of the
Daily Mirror
: Don Drysdale, Gil Hodges and Duke Snider to the Yankees for Tony Kubek, Elston Howard, Ryne Duren and Johnny James. Buzzie Bavasi shot it down. (The link also takes you to a feature on baseball stats godfather Allan Roth.)
Hodges and Snider were near the end of their careers, but Drysdale was only 23. He was coming off a 3.46 ERA in the 1959 title season, but
he ran into a slump
, posting a 7.11 ERA in 31 2/3 innings over seven appearances (six starts), only one of them a quality start.
Don Drysdale a Yankee. Gosh, it must've seemed like such a good idea to dump the kid at the time. All I need to find is one article calling him a head case or mental midget and my year will be complete.
Matt Kemp will return to the Dodger starting lineup tonight, Joe Torre told Tony Jackson of ESPNLosAngeles.com.
Testimonials for Don Mattingly come in this article by Gideon Rubin for the Daily News from former teammate Dave Righetti and current Dodger Jeff Weaver.

"There's one thing that he's about, and that's hard work," Weaver said. "He communicates well, and the guys respect him."

Ten managerial candidates to consider have been conveniently offered by John Perrotto of Baseball Prospectus. Mattingly is on the list, along with Alex Cora's brother Joey, former Dodger Ron Roenicke and one-time Dodger candidate (before Paul DePodesta was fired) Torey Luvullo.
Lucas May singled, doubled and homered twice for Albuquerque on Monday.
Carlos Monasterios has taken a walk on the rehab trail. He allowed five runs (four earned) on nine baserunners while striking out four in 3 2/3 innings. Three of the runs came on a first-inning homer. "I thought Monasterios threw the ball pretty well," Isotopes manager Tim Wallach told Christopher Jackson of Albuquerque Baseball Examiner. "The home run he gave up in the first was probably a bit of an Albuquerque home run."
James McDonald will return to the Albuquerque active roster Thursday, Jackson reports.
I make the case for Hong-Chih Kuo's inclusion on the National League All-Star Team at Rob Neyer's Sweet Spot blog at ESPN.com.
How do you solve a problem like George Sherrill? Ask Mike Petriello of Mike Scioscia's Tragic Illness.
Joe Posnanski is looking for your nominations for top sports books.

Update:
Adrian Beltre tells Alex Speier of
WEEI
the story of how he became an underage signee of the Dodgers, and the fallout that ensued. (via
MLB Trade Rumors
)
June, 8, 2010
6/08/10
2:50
PM PT
As expected, the Dodgers activated George Sherrill from the disabled list and vaulted Jon Link back to Albuquerque. Both have restored some credibility in recent days: Link threw two shutout innings Monday, while Sherrill had two shutout rehab outings
this weekend
.
The Dodgers also officially announced the promotion of minor leaguer
Kyle Russell
from Class A Inland Empire to AA Chattanooga.
In other minor league news, 21-year-old Great Lakes pitcher
Elisaul Pimentel
was named Midwest League Pitcher of the Week after his six shutout innings Wednesday (with nine strikeouts) extended his scoreless string to 18.
May, 25, 2010
5/25/10
1:26
PM PT
The Dodgers have announced that Rafael Furcal is starting at shortstop and batting leadoff tonight in Chicago. The team's public relations department told me that struggling reliever George Sherrill will be placed on the disabled list with "mid-back tightness."
April, 11, 2010
4/11/10
9:51
AM PT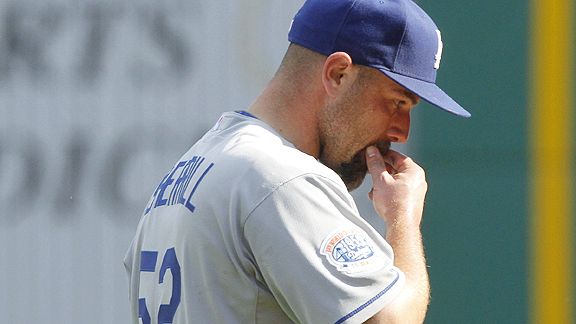 Keith Srakocic/AP
George Sherrill's bad outing against Pittsburgh on Opening Day was mere prelude to Saturday's Florida fright night.
George Sherrill should be able to get three outs before he gives up three runs. And inevitably, there was going to be a do-or-die situation this season when he would need to do that. Just as Vicente Padilla shouldn't give up
four runs on nine baserunners in 4 1/3 innings
, Sherrill needs to do better if the Dodgers are going avoid trouble.
But Padilla and Sherrill's failings are basically heat-of-the-battle failings, whereas Joe Torre's use of Jonathan Broxton this week is the equivalent of filling the bubbles in your SAT exam with Crayola burnt orange. (Assuming they still use bubbles.)
We've said it before and we hate to say it again – so this is going to be brief. If you can't afford to allow a run – as was the case when the Dodgers played extra innings in Pittsburgh on Wednesday – you use the pitcher least likely to allow a run. Only after that pitcher has been used do you turn to others. And certainly, you don't worry about saving your best pitcher for a situation in which you can allow a run and still win.
On one level, it was coincidental that Torre's use of Broxton this week led to us talking about his absence from Saturday's game. It required a specific flow of events from Opening Day on. On the other hand, we do see this from Dodger managers, including Torre's recent predecessors, all too often. If Sherrill had been used Saturday after a proper use of Broxton in previous days, people would have been talking about Sherrill overnight a lot more than Torre.
Do not save your best reliever for a save situation in an extra-inning game on the road.
One other oddity regarding Saturday and the bullpen: Torre told Ken Gurnick of MLB.com that Ramon Troncoso, who was pitched a perfect eighth inning but was pulled after giving up a leadoff single in the ninth, "is basically a one-inning guy." I realize that bullpen roles have changed with Hong-Chih Kuo and Ronald Belisario out, but especially when he hadn't pitched the day before and with Broxton out, since when is Troncoso a one-inning guy? The guy made his reputation with his ability to go multiple frames. Troncoso needed only seven pitches to get out of the eighth inning, then had thrown six pitches in the ninth when he came out of the game.
The botched squeeze in the second inning Saturday (that resulted in a bases-loaded, one-out situation imploding) was even crazier than it appeared. As many surmised, Vicente Padilla missed the suicide squeeze sign that resulted in Casey Blake getting tagged out between third and home. But from what Torre told reporters this morning, it appears that Torre himself wanted to take the squeeze off after having initially called for it – but that he gave the second sign too late for third-base coach Larry Bowa to see. So Bowa and Blake incorrectly, though understandably, thought the squeeze was still on – while Padilla, apparently, was oblivious to all of this. Torre indicated that he puts signs on and takes them off all the time.
Manny Ramirez had his 2,500th career hit Saturday, while Rafael Furcal had his 1,500th. Furcal has a .480 on-base percentage this season and is tied for the major-league lead in doubles.
Ian Kennedy is the scheduled starter for Arizona against Clayton Kershaw in Tuesday's home opener, followed by Rodrigo Lopez against Chad Billingsley on Wednesday and Dan Haren against Hiroki Kuroda on Thursday.
LeeAnn Rimes will sing the national anthem Tuesday.
Josh Lindblom was hit hard in his first 2010 start for Albuquerque – needing 77 pitches to get through three innings that saw him give up eight hits, two walks and three runs while striking out one.
John Lindsey, the 33-year-old minor-league lifer still looking for his first major-league action, is 7 for 13 with three doubles in his first three games for the Isotopes. Lindsey would need a few injuries to right-handed hitting Dodgers before he'd have a shot at a cup of coffee.
James Adkins, a 2007 first-round pick, allowed five runs in three innings of relief in his first 2010 outing for AA Chattanooga.
Ethan Martin's Inland Empire season debut was a different story: five innings, no runs, three singles, no walks, one hit batter, nine strikeouts.
Allen Webster allowed one run over five innings (six baserunners, four strikeouts) in his '10 Great Lakes debut.
Dixie Walker, the Brooklyn Dodger long remembered for starting a petition against Jackie Robinson joining the team, is revisited today by Harvey Araton of the New York Times (via Inside the Dodgers). The article's main point seems to be that Walker was remorseful and not the racist he's been accused of being:


... Though (Maury) Allen and Susan Walker suggest in the book that her father did not initiate the anti-Robinson petition, Roger Kahn, in his 2002 book, "The Era," wrote that Walker told him in 1976 that he had.

Kahn quoted Walker saying: "I organized that petition in 1947, not because I had anything against Robinson personally or against Negroes generally. I had a wholesale business in Birmingham and people told me I'd lose my business if I played ball with a black man."

In a telephone interview, Kahn said his conversation with Walker took place when Walker was the hitting coach for the Dodgers in Los Angeles.

"He invited me out for a glass of wine — somewhat shocking in that Budweiser world," Kahn said. "We talked for a while, and then he got to the point: the petition and his letter to Rickey. He called it the stupidest thing he'd ever done and if I ever had a chance to please write that he was very sorry."

Calling the Walker he met "a lovely, courtly man," Kahn said that the assumption should not be made that all early opposition to Robinson was based on core discrimination and not confusion or fear.

"Ballplayers depended on off-season work back then," he said. "When I was covering the Dodgers, Gil Hodges sold Buicks on Flatbush Avenue. Now, if you're Derek Jeter and you have a wholesale hardware business, you can say, 'So what?' "


Rachel Robinson's response in the same article: "If you're asking about forgiveness based on the context of the time, I can't say I worry about the view of them at this time. Maybe they learned better or changed, but at the time, they had a chance to move forward from segregation and chose the opposite. They had an impact."
March, 31, 2010
3/31/10
10:33
AM PT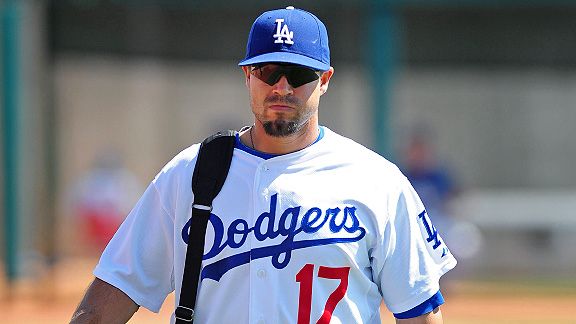 Mark J. Rebilas/US Presswire
Jason Repko
One of the highlights of the
Maple Street Press 2010 Dodgers Annual
was the feature by Albuquerque Isotopes broadcaster Robert Portnoy on cup-of-coffee men Jason Repko and Mitch Jones. In particular, you really come to understand how brutal the injuries were that Repko faced early in his professional career. They sapped his greatest potential away.
Just for starters in 2000: right hamstring blown out, two tendons torn away from the bone in his right leg, stress fracture in his back. As Portnoy writes:
... While the hamstring healed, the back did not. Repko wore a form-fitting brace for eight weeks, immobilizing him from his armpits to his hips. Still considered the number four Dodger prospect entering 2001, Repko played in constant pain and batted just .220 over 88 games at Low A Wilmington.

After the season, doctors told him the fracture remained in the L-5 vertebrae. Then they told him something shocking: Break the same vertebrae on the other side.

"They told me it was putting stress on the other side," Repko said. "They said, 'If you can handle playing with it, dive hard and slide hard and see if you can get it on the other side — it'll be easier to fix.'"

In the Instructional League that fall, Repko did just that, fracturing the other side rounding third base. The options were spinal fusion, which would hurt rotation and flexibility, or a return to the brade, with promise of better results. Opting for the brace, Repko healed well, and he has learned to manage a resulting condition known as spondylothesis.

"The vertebrae will slip forward and the back will go into spasm, because there is more flexibility in there," Repko said. "I can't lie on my stomach and I don't slide head first much anymore, but I've only had two or three spasms the last three years." ...
The guy didn't have what it took to stick in the majors for the Dodgers, but he truly battled. Today, more than 10 years after the Dodgers drafted him,
he heads off on waivers
.
* * *