Dodger Thoughts:

Giants-Dodgers
April, 11, 2011
4/11/11
7:40
PM PT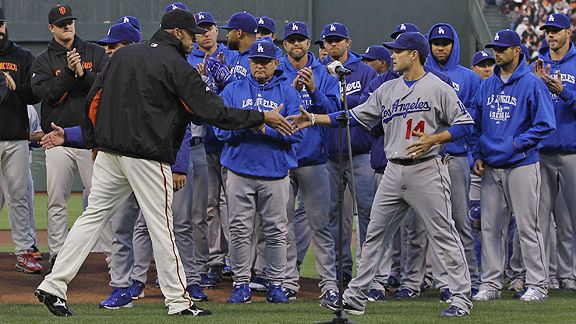 Eric Risberg/APJeremy Affeldt and Jamey Carroll conclude the on-field ceremony with a handshake.
Monday night's pregame ceremony by the San Francisco Giants and Los Angeles Dodgers against fan violence, part of a
concerted response
to the horrible beating of Giants fan Bryan Stow on March 31, was unprecedented but wonderfully rendered.
Coming after a warm presentation that saw former Giant and current Dodger Juan Uribe receive his World Series ring amid applause and smiles from both teams, the event illustrated how simple it is to embrace a rivalry without being overwhelmed by it.
Dodger and Giants players gathered on the field and paused for a moment of silence on behalf of Stow. Then, Giants pitcher Jeremy Affeldt took to the microphone and thanked fans of both teams for their support of Stow.
"I don't think I need to tell you guys about the Dodger-Giants rivalry," Affeldt said. "It's one of the most storied rivalries in the history of the game. But in honoring that rivalry, and honoring the Stow family, we ask that you respect the rivalry, and you respect each other as fans. You guys have rights as fans. You guys have the right to cheer. You have rights to wear the black and orange. You have rights to wear Dodger blue. You have rights to be frustrated when one team loses and excited when one team wins.
"We're fierce competitors, but when the last out is made, that rivalry ends upon the field. So please respect that, and in your excitement or in your frustration, don't take it out on another fan if you don't agree with who they cheer for."
Affeldt then introduced Dodgers infielder Jamey Carroll, whom he called a friend, an ex-teammate, a good husband, a good father and a good human being. Carroll reiterated Affeldt's gratitude for the support of Stow and his family, as well as the call for perspective.
"There's nothing better than rivalry in sports," Carroll said. "And as Jeremy said, this is one of the best that's out there. And as we do respect each other on the field, we do want you guys to have the same respect."
Carroll said "competitive banter and passion" were praiseworthy, "but there's no room in this game for hatred and violence."
"It is about respect," Carroll concluded. "It is about civility. This is America's national pastime, and let's keep it that way."
They shook hands.
March, 31, 2011
3/31/11
7:01
AM PT
Here's the difference between how Dodger fans and Giants fans feel about the rivalry between the two teams ...
When the Giants are in the Dodgers' rear-view mirror, they're forgotten. When the Dodgers are in San Francisco's rear-view mirror, Giants fans never seem to stop looking back.
Obviously this comes with the disclaimer that not all fans of a team are the same, but you get the sense from up north that, for a great many people, the most important thing about the Giants winning the World Series is that the Dodgers didn't. And I have to say, I just find it bizarre.
In my four decades of personally watching the Dodgers win division titles, National League pennants and World Series, I can assure you that once the Giants were out of it, I never gave them a single thought, not when I was 6 or 10, not when I was 20 or 40. And yes, I certainly consider them the Dodgers' No. 1 rival. But in Los Angeles, the winning alone has always brought complete satisfaction, and the Giants have nothing to do with it.
Up north, strangely, either winning isn't enough, unless the ones who are satisfied are having their voices drowned out. All winter long, I've seen taunts from Giant fans who, now that they're finally having their day in the sun, can't stop poking the guy in the next lounge chair instead of simply basking.
The latest evidence:
A group of Giants fans has apparently put together more than $8,000 to fly a banner over Dodger Stadium during three games this week, including Opening Day, to taunt Dodger fans over San Francisco winning the World Series last year.
My guess is, had the Dodgers won the World Series, no one would have thought the reverse was worth doing.
That doesn't mean that, as a Dodger fan, I've forgotten the past. The Miracle on Coogan's Bluff, the Marichal-Roseboro incident, the near riots at Candlestick Park during that 1988 doubleheader (
Chapter 50
). Morgan at the end of '82, Piazza at the end of '93, Finley at the end of '04. It doesn't get more intense. And so, when the Giants and Dodgers meet Thursday for Opening Day, I completely expect the stands will be as friendly as two airline passengers fighting over the same overhead bin. But there should be a limit.
The rivalry is a big part of Dodger baseball, but it's never been the biggest. I hope it stays that way. The Dodgers are winners, regardless of what's going on in the short term of the franchise's history, and I hope Dodger fans never let what's going on with San Francisco become their barometer.