Dodger Thoughts:

Hector Gimenez
Initial bids for the Dodgers officially have been made. Tony Jackson covered it for
ESPNLosAngeles.com
, while Bill Shaikin was on it for the
Times
. Not much in the way of surprises in a process that still has some time to develop. From Jackson:
... Although the passing of the deadline represents a significant step in the sale process, it isn't necessarily a major one. For one thing, additional bids are still welcome even with the deadline having passed, according to multiple sources with knowledge of the situation. For another, even the groups that placed initial bids aren't set in stone, as there could be merging of groups, individual movement between groups and individual additions or subtractions within a specific group.

Two bidders said talks about possible group mergers were ongoing. They both spoke on condition of anonymity because Blackstone Group made them sign nondisclosure agreements.

"It would be a shock if they don't start talking merger," said Marc Ganis, president of the Chicago-based consulting firm Sportscorp, which is not involved. "I think we'll get a half-dozen parties that are actually in the bid, plus or minus one."

What the passing of the deadline does mean is that the weeding-out process can now officially begin. This initial phase will involve eliminating candidates whose bids simply aren't competitive. Once that process is complete, Blackstone will submit its list of remaining candidates to Major League Baseball for a vetting process that already is underway in a preliminary sense -- MLB already is looking at all candidates who were given bid books -- but at that point will intensify.

There is no deadline for the submitting of those candidates to MLB, although the April 30 deadline for completing the sale -- and the April 1 deadline for selecting the owner and ownership group that ultimately will get the team -- necessarily means the process will move comparatively quickly.

One source in the Dodgers camp said McCourt views the April 30 deadline as rigid, but baseball commissioner Bud Selig said two weeks ago at MLB's quarterly owners meetings that he feels confident the sale will be completed on time and that "I think we're on track," both characterizations that seemed to allow for some wiggle room. ...
* * *
October, 12, 2011
10/12/11
12:39
PM PT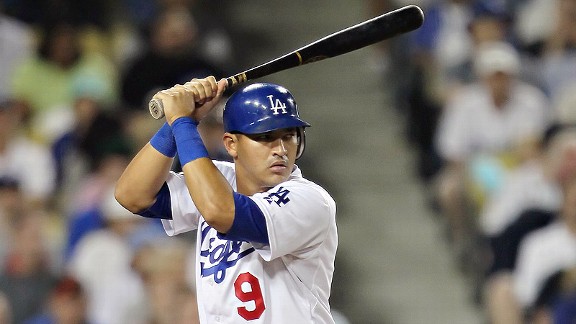 Jeff Gross/Getty Images
Hector Gimenez
(16)
The setup:
Though his major-league career at the time comprised of going 0 for 2 with the 2006 Houston Astros, Gimenez's .916 OPS in 2010 with Double-A Altoona and ability to play catcher attracted the Dodgers, who made Gimenez
a footnote acquisition in November
. He entered Spring Training with an outside chance to move ahead of Dioner Navarro and A.J. Ellis for the backup catcher role if those two faltered.
The closeup:
Remember that feel-good spring? A .565 slugging percentage in 46 at-bats did succeed in propelling Gimenez onto the Opening Day roster, though not so much as a catcher (the Dodgers also kept Ellis) as a semi-utility player with Navarro, Casey Blake and Jay Gibbons on the disabled list. Gimenez reached base on an error as a pinch-hitter in his Dodger debut in Game 2 — a key play in a three-run Dodger rally that gave them a 4-3 victory over the Giants — then got his first major league hit in his only start of the year the following day. After two subsequent pinch-hitting at-bats that lowered him to 1 for 7 on the year, Gimenez
went to the disabled list
with a knee injury that certain cynics thought was fortuitously timed for the Dodgers to make a needed callup of John Ely. But Gimenez did in fact
have surgery
at the end of April.
Once healthy, Gimenez was outrighted in June to Double-A Chattanooga, where he had an .866 OPS in 266 plate appearances. Despite having some issues with offense off the bench, the Dodgers showed no inclination to bring him back to Los Angeles.
Coming attractions:
Gimenez is a free agent and will look toward getting another shot at the majors elsewhere.
April, 23, 2011
4/23/11
1:44
PM PT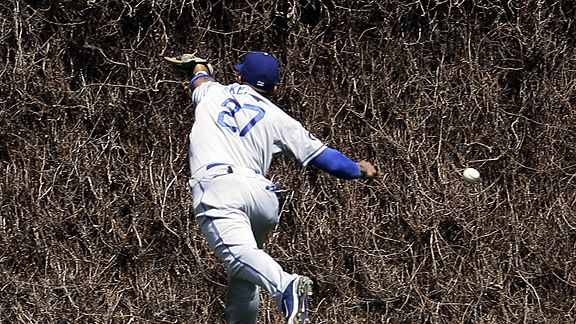 Nam Y. Huh/APMatt Kemp was ivy bait in the early going, before the seeds were planted for a Dodger comeback.
This looked like one of those balance-the-scales games – everything that went right for the Dodgers on Friday would go wrong today.
Then it looked like a testament to the Dodgers' resiliency over a tumultuous week.
In the end, it turned out to be one of those "Who knows, anything goes" contests we've seen time and again from the blue boys. The Dodgers stormed back from a 5-1 deficit to an 8-5 lead today in Chicago, before previously unscored-upon reliever Matt Guerrier allowed five smackers in the bottom of the eighth for a
10-8 Dodger loss
.
Despite starting pitcher Ted Lilly allowing 11 hits to 23 batters, despite Jerry Sands losing a fly ball in the sun, despite two outfield misplays by Matt Kemp, despite the Dodgers picking off two runners in the fourth inning and throwing out neither, Los Angeles looked like it would roll to a four-game winning streak after rallying for seven unanswered runs from the fifth inning to the seventh.
Homers by Casey Blake (2 for 3, two walks, .962 OPS this season) and Kemp off Chicago's Ryan Dempster accounted for three runs in the top of the fifth inning, cutting the Cubs' lead to one. Then came a noteworthy decision by Cubs manager Mike Quade.
Lilly exited after allowing a one-out single in the bottom of the fifth, and Mike MacDougal walked two of the next three batters to load the bases. That brought up Dempster, who was coming off his rough top of the fifth and was already in the neighborhood of 90 pitches. Quade let Dempster bat, and though he nearly got away with it when MacDougal's wildness sent the count to 2-0 and 3-2, Dempster struck out swinging.
Dempster's next batter, Rod Barajas, homered to tie the game to start the sixth.
Perhaps the most dramatic moment came later in the inning. After Tony Gwynn Jr.'s pinch-triple and Casey Blake's two-out walk, Quade finally pulled Dempster in favor of lefty reliever Sean Marshall. Marshall faced Andre Ethier, who was 5 for 23 against left-handers this season. With his 19-game hitting streak was on the line. On a 1-2 pitch, Ethier lined a double to right field, scoring both runners and giving the Dodgers the lead.
Sands later helped manufacture the Dodgers' eighth run when he singled, stole second, went to third on a throwing error and scored on a Barajas groundout even though the infield was in.

Jemaine Clement
-lookalike Vicente Padilla protected the lead in his season debut, retiring all three batters he faced in the sixth, and Guerrier sailed through the bottom of the seventh. But the Cubs pummeled Guerrier in the eighth.
Starlin Castro, the 21-year-old who went 4 for 5 to raise his season OPS to .947, drove in two, and then an RBI forceout by Darwin Barney tied the game. A bloop single by Aramis Ramirez extended the inning and knocked Guerrier out. Blake Hawkworth relieved, and gave up a two-run double to Baker to complete the eighth-inning disaster.
James Loney tried to tie the game in the ninth with a fly ball after Sands walked, but like his 2011 season, it fell far short. Carlos Marmol struck out Barajas, and the game was over.
Loney went 0 for 5, his on-base percentage falling to .191 and his slugging percentage to .212.
The Cubs continued their unprecedented run of early season .500 baseball. They have been 1-1, 2-2, 3-3, 4-4, 5-5, 6-6, 7-7, 8-8, 9-9 and now 10-10 this year. The Dodgers, meanwhile, fell to 11-11.
* * *
In case you weren't sure, Hector Gimenez's knee injury is legit. Gimenez, who was
placed on the disabled list April 10
to (conveniently, it seemed) make room for the callup of John Ely, will have arthroscopic surgery next week. Tony Jackson of
ESPNLosAngeles.com
has details in a story that also heralds a minor-league rehab assignment for Hong-Chih Kuo and tells us about leg-soreness for Juan Uribe.
* * *
Here's
Jackson's update
from Don Mattingly on the
controversial A.J. Ellis steal attempt
from Friday:
... Mattingly, in his first year as Dodgers manager, confirmed it was a mix-up but defended a running play in that situation.

"Long story short, we missed the sign," Mattingly said. "We weren't trying to run there. Definitely weren't going to run A.J. We weren't doing it but it is Wrigley and the other day we did give up eight runs in the ninth. We're trying to win a game, but we weren't running there." ...
With what happened today, I
suggested
Quade issue a retroactive approval of the steal attempt.
April, 10, 2011
4/10/11
12:16
PM PT
The Dodgers placed Hector Gimenez on the disabled list to make room on the roster for John Ely.
"It wasn't immediately known whether the pain in Gimenez's knee was of such severity that he would have been placed on the DL if the club didn't need a roster spot," wrote Tony Jackson of
ESPNLosAngeles.com
. "But the Dodgers have been carrying three catchers all season partly because Gimenez is out of minor league options, a situation that could come to a head when backup catcher Dioner Navarro comes off the 15-day disabled list sometime in the next few weeks."
If you were hoping Ramon Ortiz would take today's start, no such luck.
The Cubs signed him to a minor-league contract
.
March, 18, 2011
3/18/11
4:32
PM PT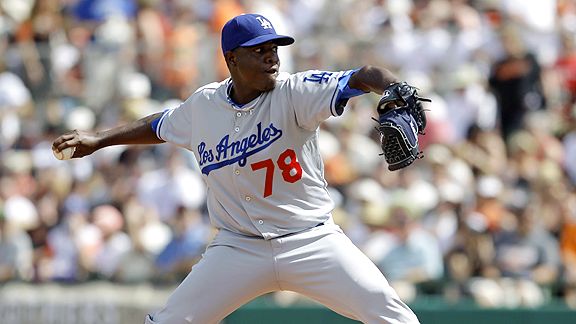 APRubby De La Rosa
Just as there's no denying how meaningless Spring Training performances generally are, there's also no denying how much fun it can be when you see a top prospect excel. Has there been a better March memory this century than
Clayton Kershaw's Public Enemy No. 1 from 2008
? (It helps when you have Vin Scully documenting it.)
Though it's hardly been the best of Dodger Spring Trainings in 2011 (albeit one devoid of controversy), the organization's reigning players of the year have far from disappointed. Jerry Sands was red hot at the plate in the early going, and now there's pitcher Rubby De La Rosa, who fired four no-hit innings in a start against San Francisco today.
De La Rosa walked three (his first free passes of the spring) and struck out two. In exhibition play, the player who will become the centerpiece of the Dodgers' 2013 "Rubby Tuesday" marketing campaign has thrown 10 innings and allowed seven baserunners while striking out seven and posting a 1.80 ERA.
De La Rosa will start the season in the minors, but will we have to
wait until 2012 for his arrival
? If he can pitch consistently into the summer, maybe not ...
However unrealistic (at least in the short term), it's fun sometimes to just tune out the noise and think about guys like Sands and De La Rosa as potential saviors.
* * *
Dodgers 6, Giants 3
Highlights:
Um, Hector Gimenez homered again, this time off Guillermo Mota. Gimenez is a combination of fun and scary. Dare I even consider falling in love with this guy? How about a no-strings-attached fling?
Matt Kemp was in the thick of things again, with a triple, walk and sacrifice fly.
Second base, the position that could open up if Casey Blake goes on the disabled list, looked nice to Ivan De Jesus,Jr., who started there and went 3 for 4 with a double.
Xavier Paul, who also homered off Mota, upped his spring OBP to .343 and slugging percentage to .625.
Rafael Furcal and James Loney had two-hit games.
Lowlights:
Blake Hawksworth allowed two runs in the fifth inning.
Kenley Jansen struck out two but allowed back-to-back extra-base hits in between.
Sidelights:
Batters retired by De La Rosa: Mike Fontenot, Miguel Tejada, Aubrey Huff, Nate Schierholtz, Aaron Rowand, Travis Ishikawa, Jeff Suppan, Tejada, Huff, Pablo Sandoval, Schierholtz.
In 31 plate appearances this spring, Loney has 10 singles, no extra-base hits and one walk.
In their past two games, the Dodgers have 25 hits and one walk.
Confession: While checking in on the game via MLB Gameday, I saw Eugenio Velez homered in the ninth inning, and I groaned. Then, I saw that he had added to the Dodger lead, and remembered he was on the team. Then I saw that Gameday had made a mistake, and it was really Paul who hit the homer.
March, 17, 2011
3/17/11
4:19
PM PT
Dodgers 6, Diamondbacks 4
Highlights:
Look out, 'cause the Hector Gimenez bandwagon is rollin'. The Dodgers trailed the entire game today and were down 4-2 in the eighth inning until Gimenez followed singles by Tony Gwynn Jr. and Juan Castro with a homer to left field off Rafael Rodriguez.
The next batter, Gabe Kapler, followed with another homer to left.
Matt Kemp narrowed the Dodgers' early 3-0 deficit with a two-run homer, his third of the spring, in the bottom of the fourth after Andre Ethier singled.
In his first at-bat since his return from the eye doctor, Jay Gibbons singled.
Pitching the sixth inning, Jonathan Broxton got his first two strikeouts of the spring.
Lowlights:
A two-run double by Miguel Montero in the top of the fourth helped saddle Chad Billingsley with a three-runs-in-five-innings day.
Mike MacDougal loaded the bases in the ninth on two walks and a hit batter, escaping when Adam Eaton (no, not that Adam Eaton) lined into a game-ending double play (Justin Sellers to Eugenio Velez).
Sidelights:
The Dodgers got 12 hits today from 12 different players, and no walks.
Kim Ng gets the headlines, but Alex Remington of Fangraphs thinks we should be seeing even more women in prominent roles in major-league baseball.
Steve Dilbeck of the Times talks about how St. Patrick's Day used to be the highlight of Spring Training at Dodgertown in Vero Beach and laments its passing.
At Baseball Savvy, Howard Cole's latest interview subject is ... well, there's no other way to put this ... me.
March, 16, 2011
3/16/11
8:22
AM PT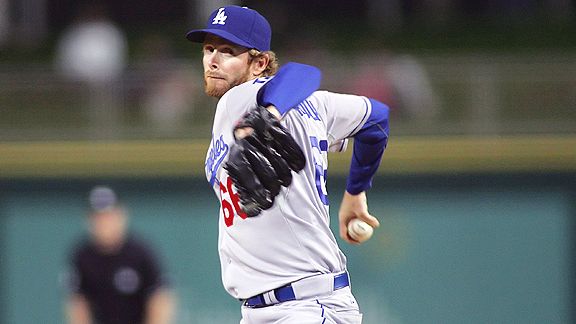 Jake Roth/US PresswireDespite a 7.23 ERA last year with St. Louis, Mike MacDougal has taken advantage of Dodger injuries to carve out a chance at a roster spot.
On the last off day before the start of the season, this seems like a good time to check in on how the Dodger 25-man Opening Day roster is shaping up.
On track (18):
Starting pitchers (4):
Clayton Kershaw, Chad Billingsley, Hiroki Kuroda, Ted Lilly
Relief pitchers (5):
Jonathan Broxton, Hong-Chih Kuo, Matt Guerrier, Blake Hawksworth, Kenley Jansen
Catchers (1):
Rod Barajas
Infielders (4):
James Loney, Juan Uribe, Rafael Furcal, Jamey Carroll
Outfielders (4):
Andre Ethier, Matt Kemp, Tony Gwynn Jr., Marcus Thames
Likely (3):
1) Casey Blake, 3B:
The
latest news on Blake
sounds about as good as one might have expected – inflammation with no evidence of a muscle strain. So while anything could happen, we won't assume that he'll be on the disabled list March 31.
2) Mike MacDougal, RP:
A 0.00 spring ERA, veteran's moxie and all the positive things people are saying about him in the press make MacDougal this year's most likely prize off the scrap heap.
3) Dioner Navarro, C:
A.J. Ellis can still be optioned to the minors, so we'll put him aside. Though Hector Gimenez presents an alternative, Navarro seems safe.
Roster spot battles (4):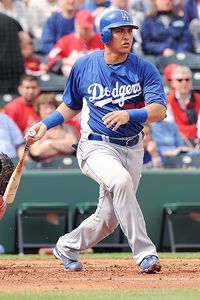 Norm Hall/Getty ImagesAn .847 spring OPS has helped make Hector Gimenez a longshot as opposed to a no-shot.
1) Jay Gibbons vs. Xavier Paul vs. Trent Oeltjen, OF, vs. Hector Gimenez, C/1B:
Gibbons' spring has been a nightmare, to the extent that Tony Gwynn Jr. might already have passed him in the pecking order for playing time. Xavier Paul, seemingly healthy and performing better as the month goes on, is now adding to the pressure while the eyesight-plagued Gibbons tries to solve his vision problems. A third-party candidate is Trent Oeltjen, who has been hitting all spring – and we'll even leave open the possibility that Gimenez could take this spot instead of a sixth outfielder.
Chances: Gibbons 45%, Paul 35%, Oeltjen 10%, Gimenez 10%.
2) Aaron Miles vs. Ivan De Jesus Jr. vs. Justin Sellers vs. Juan Castro, IF:
A veteran has the automatic edge when you're talking backup infielder, so it seems safe to knock out De Jesus and Sellers, neither of whom have seized the day. Miles has had a better spring than Castro and is also centuries younger. Castro has that Brad Ausmus-like zen quality that Ned Colletti admires, but Miles has sufficient experience to fill the role.
Chances: Miles 80%, Castro 10%, De Jesus 5%, Sellers 5%.
3) + 4) Ron Mahay vs. Scott Elbert vs. Ramon Troncoso vs. Lance Cormier, RP, vs. John Ely vs. Tim Redding, SP, vs. position player:
These two final spots seem very much up for grabs at this point, compounded by the uncertainty over whether the Dodgers will start the year with four or five starting pitchers, and whether they'll start with 11 pitchers overall or 12.
If they keep a fifth starter, it's still an open battle. Both Redding and Ely can be sent to the minors, though the difference is if Redding is placed on the major-league roster, he would then have to clear waivers before he could go to Albuquerque (once, say, Vicente Padilla or Jon Garland was healthy). The Dodgers can yank Ely up and down this year at will.
Both Ely and Redding started the spring excellently, then faltered (like every other Dodger starter in the past week). Ely is on the upside of his career but with something to prove; Redding is on the downside of his career with something to prove. My guess is that even if Ely wins the job, the Dodgers won't want him to lose his rhythm by pitching in long relief during the opening days of the season – meaning he would start the season in the minors and then come up April 12 when he is needed. I'm not sure they'd have those reservations with Redding.
Among the lefthanders, Mahay finally had a decent inning Tuesday, though the four batters he faced had 19 career major-league homers. Still, it's hard to imagine that, short of a 180-degree turnaround, the Dodgers are ready to rely on Elbert, who has walked nine of 20 batters he has faced this spring.
Troncoso has outpitched both lefties, though I'm not sure the Dodgers are convinced he's all the way back from his 2010 struggles. If he were, he and MacDougal would exchange places. Lance Cormier has gotten little attention while throwing four innings and allowing seven hits while striking out one, but he remains in the running.
And then there's the chance the Dodgers go with an 11-man staff and keep six guys on the bench. Gimenez, anyone?
If the Dodgers were making their final cuts today, I'd predict they keep two relievers at the outset and fly Ely to San Francisco on April 12.
Chances: Troncoso 45%, Mahay 45%, Cormier 30%, Ely 30%, Redding 25%, position player 20%, Elbert 5%.
November, 19, 2010
11/19/10
11:02
PM PT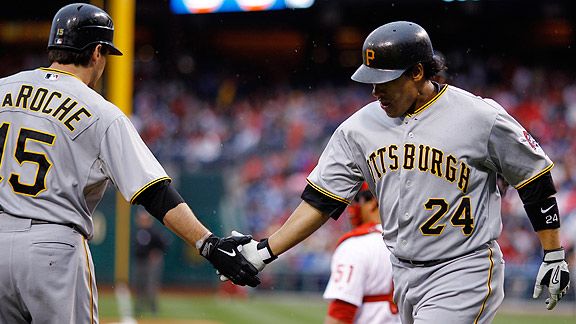 Matt Slocum/APAndy LaRoche congratluates Delwyn Young after Young's solo home run May 17 in Philadelphia.
Two seasons ago, the Dodgers gave away
Delwyn Young
, then sent
Andy LaRoche
away to get Manny Ramirez a few months later. Now, the Dodgers can have them back for nothing. Pittsburgh
designated Young and LaRoche for assignment today
.
Both players occasionally flashed ability but mostly have washed out. That's not as big a surprise for Young, who was never expected to be much more than a bench player, but the bigger disappointment was LaRoche, whose
fine minor-league career
seemed to have him poised for a starting role. Indeed, yours truly insisted in 2008 that the Dodgers didn't give LaRoche a fair chance to win the third-base job before deciding to trade Carlos Santana and Jon Meloan for Casey Blake, days before the Ramirez trade.
When LaRoche was sent away (along with minor-league pitcher Bryan Morris), I consoled myself with the fact that at least the Dodgers were getting a major talent back. And more than ever, there's no doubt the trade was a major win for the Dodgers, especially with injuries and stagnating development making LaRoche a discard.
Either player might be worth a flyer on a minor-league contract, especially considering the Dodgers' depth issues, but based on Ned Colletti's past actions, if there's any ex-Pirate he'd be taking a chance on for next season's major-league roster, it would be today's third DFA,
Zach Duke
. Duke is five years removed from the 1.81 ERA he posted in his rookie debut and hasn't averaged more than 5.5 strikeouts per nine innings since, but he did have a 4.06 ERA in 2009 and will still only be 28 in April. For a general manager who saw potential in every R. Ortiz under the sun, Duke certainly seems like someone whose tires would get kicked.
And believe it or not, there's a fourth ex-Pirate in the Dodger news today, though don't expect to see him in Los Angeles. The Dodgers purchased the contracts of two players and added them to their 40-man roster – one was 28-year-old catcher
Hector Gimenez
, who had a .916 OPS for the Pirates' Double-A team in Altoona – the first time in eight professional seasons he had broken the .800 mark.
The other was
Luis Vasquez
(25 in April), who had a nifty 2.68 ERA and with 39 strikeouts in 40 1/3 innings, but all the way down in Single-A. Vasquez allowed only 24 hits but walked 26.
No, this doesn't mean the Dodgers have solved their catching and bullpen issues. Nor, certainly, have they provided us an answer who will start in left field in 2011, though Colletti gave Jim Bowden of MLB Network Radio (news via
MLB Trade Rumors
) this conversation piece: Jay Gibbons, Xavier Paul and Jamie Hoffmann are all considered candidates to be the outfield's Opening Day third wheel.
* * *
Don Mattingly completed his managerial stint in the Arizona Fall League, and Tony Jackson of
ESPNLosAngeles.com
touched base with him.