Dodger Thoughts:

Jamie Hoffmann
December, 5, 2011
12/05/11
1:05
PM PT
October, 28, 2011
10/28/11
7:11
AM PT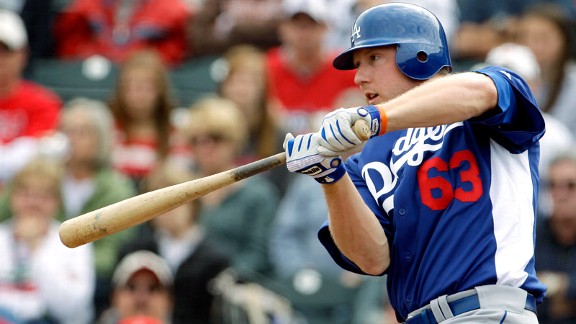 Charlie Riedel/AP
Jamie Hoffmann
(30)
The setup:
After playing in 14 games for the Dodgers in 2009, Hoffmann went to the Yankees via the Rule 5 route, ended up returning to the Dodger organization and spent all of 2010 with Albuquerque, leading the team in hits with 169 while OPSing .800. A strong defender, Hoffmann has seemed worthy of a backup spot on a major-league roster to me, though professional opinions tend to differ.
The closeup:
Hoffmann turned out to be the second position player called up by the Dodgers this year, coming up
April 11
essentially to replace the latest Dodger injury victim, Hector Gimenez. Hoffmann pinch-hit that night and grounded out, then started three nights later and went 0 for 3 with a strikeout. The following day, Hoffmann was sent back to Albuquerque in another domino-effect series of moves, and did not make it back to Los Angeles the remainder of the year despite having his best year with the Isotopes: .356 on-base percentage, .497 slugging percentage and 22 home runs. He set
a Pacific Coast League record
for consecutive errorless games by an outfielder that is still going strong at 188, and was ultimately named the
Isotopes' 2011 Most Valuable Player
.
Coming attractions:
Hoffmann remains on a
Dodger 40-man roster
that, once free agency begins, will have only five outfielders on it. The chances of him holding that same spot next April seem slim.
April, 11, 2011
4/11/11
5:56
PM PT
In baseball news: Rafael Furcal is back in the lineup after a couple of days off because of wrist issues. But after resting Sunday, Casey Blake
is also sitting out tonight's game
against San Francisco lefty Madison Bumgarner. Tony Jackson of ESPNLosAngeles.com said that Blake's left leg has been bothering him since Saturday's game-ending collision with the Padres' Chase Headley.
Additionally, the Dodgers have sent John Ely back to Albuquerque, paving the way for Jon Garland's activation before Friday's game. In the meantime, Jamie Hoffmann gets a callup.
Here's Jackson's story
.
I have several different thoughts percolating about the fan and security issues surrounding tonight's Dodgers-Giants game, as well as today's Dodger Stadium fundraiser for Bryan Stow. I know it's my job to get them from percolation to full boil, but I didn't quite get there. For now, let's just keep it simple: I am thinking good thoughts for tonight.
January, 17, 2011
1/17/11
5:47
PM PT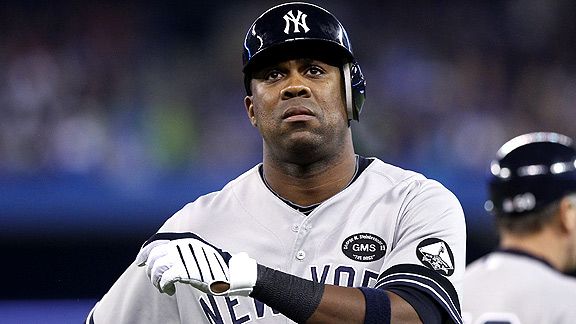 Tom Szczerbowski/US PresswireMarcus Thames
Adding to their collection of poor-defending but slugging outfielders, the Dodgers are poised to sign the guy who might be Jay Gibbons' brother from another mother:
Marcus Thames
. Tony Jackson of
ESPNLosAngeles.com
has details.
Thames, 34 in March and four days younger than Gibbons, had a .350 on-base percentage and .491 slugging percentage against lefties
last season
, making him a potential platoon partner with Gibbons or Xavier Paul (only if the latter has a knockout Spring Training, it appears). Overall, Thames has an OPS of .802 in a career spent entirely in the American League. But Thames carries with him the baggage of being yet another left fielder that Dodger pitchers might be afraid of.
The Thames signing reduces the chances of the Dodgers resorting to games with Casey Blake or Jamey Carroll in the outfield. Whether the Tony Gwynn, Jr. plan B to realign the outfield is dead remains to be seen. Jamie Hoffmann has no chance of making the Opening Day roster now unless someone gets hurt.
Thames and Gibbons represent appealing bats off the bench — whether we want to see them each play 500 innings in the field this year is another story. But this definitely beats re-signing Scott Podsednik.
* * *
The Dodgers are taking negotiations with Chad Billingsley, Hong-Chih Kuo and James Loney down to the wire, Jackson writes
in a separate story
.
With major league teams and arbitration-eligible players set to officially file salary figures on Tuesday, the Los Angeles Dodgers still haven't reached agreement with any of their affected players -- pitcher Chad Billingsley, reliever Hong-Chih Kuo and first baseman James Loney -- but based on recent history, it appears highly unlikely that the club will end up going to a hearing with any of those players in early February.

In the decade that assistant general manager Kim Ng has been handling all the team's arbitration cases, only two players have taken the Dodgers to a hearing. The club won both of those cases against pitchers Eric Gagne in 2004 and Joe Beimel in 2007, the victory over Gagne coming the winter after he won the National League Cy Young Award.

For now, Ng isn't making any predictions.

"We will have a much better idea in the next 24 hours [after numbers are filed on Tuesday]," Ng said. "It's moving. We're progressing, but nothing is final yet."

Ng did confirm that the club isn't discussing a multiyear contract with either Billingsley, Kuo or Loney. All three are "four-plus" players, meaning they have between four and five years of major league service time, are arbitration-eligible for the second time and -- barring a multiyear deal -- will be arbitration-eligible again next winter. ...
* * *
Trayvon Robinson is the subject of a really nice feature by Ramona Shelburne of
ESPNLosAngeles.com
.
As far back as any of his baseball coaches can remember, people noticed Trayvon Robinson. He had the skills, but not the polish; the raw tools, but not the savvy.

Anyone with a little vision could see what kind of player he could become. The question was whether that potential would develop and bloom one day.

Andre Green had coached baseball at Crenshaw High School in Los Angeles long enough to recognize a talent such as Robinson's early on. He'd also been around long enough to know all the things that could keep Robinson from developing into what he's since become: one of the Los Angeles Dodgers' top prospects.

Like many of Crenshaw's top athletes in recent years, Robinson also played football before high school.

"He wanted to play football, and I just told him 'No,'" Green said. "I said, 'You're a baseball man and you're going to put Crenshaw on the map.'" ...
December, 17, 2010
12/17/10
6:12
PM PT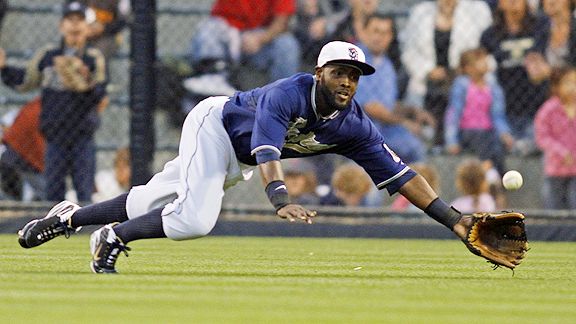 Denis Poroy/AP
Tony Gwynn Jr.
As I walk through the valley of the shadow of no frontline left fielder, with yea but another candidate
abandoning us
to aimless wanderings, my thoughts seek a place to turn.
I believe that Xavier Paul, Jay Gibbons and Jamie Hoffmann can make positive contributions, but as I started to make a case for each of them in left field, I couldn't finish the job. The offensive ceilings for Paul and Hoffmann just seem too low, and the defensive limitations of Gibbons too pronounced. I'm content to see them get a chance, but I just don't have confidence it would go all that well.
The problem with turning to a 35-year-old
Scott Podsednik
is that
his defense is pretty poor itself
. Podsednik would probably post a better on-base percentage than any in-house Dodger candidate, but not so much better that he'd be worth more millions spent by Ned Colletti.
Minor-leaguers Jerry Sands and Trayvon Robinson? Despite their relative promise, only once in five seasons has Ned Colletti promoted a AA player into a major-league starting role in April, and that happened to Blake DeWitt only because
injuries had left Chin-Lung Hu and Ramon Martinez as the only alternatives
. Paul, Hoffmann and Gibbons don't fall to that level. And I'm not convinced that Colletti should break that policy right now, because unlike with Paul and Hoffmann, I imagine Sands and Robinson still have more to learn in the minors.
There's a guy out there who would represent a pretty nice part-time addition to the roster, by the name of Manny Ramirez, but I know the Dodgers don't want to go down that road.
That doesn't exhaust all the possibilities, but there really isn't much else to talk about in terms of difference-makers. And that's why, more and more, I find myself ready to throw my lot with Tony Gwynn Jr. — if,
as was discussed last week
, he plays center field.
Of everyone discussed here, Gwynn offers the most elite skill, if not the only one — his defense. He's something of the polar opposite of Ramirez, and it seems to me that he is the one person left in the conversation who can truly transform the Dodger lineup. By placing him in center and moving Matt Kemp to right field and Andre Ethier to left, Gwynn would turn the Dodger outfield defense from a weakness to a strength.
At a minimum, it would be a low-risk way to buy some time until Sands or Robinson proves more ready to make the leap to the majors, possibly at midseason. Or, until the Dodgers decide to make their annual midseason trade.
I don't think Colletti or Don Mattingly would be opposed to asking Kemp or Ethier to switch positions. Would either player rebel? Perhaps, although if they are that selfish, we've got other problems.
Here's a Dodger lineup with Gwynn in center:
Rafael Furcal, SS
James Loney, 1B
Andre Ethier, LF
Matt Kemp, RF
Juan Uribe, 2B
Casey Blake, 3B
Rod Barajas, C
Tony Gwynn Jr., CF
Offensively, it's shaky, but it's not as if any of the other outfield options would save the day. But defensively, there's actually hope.
I've looked at the Dodgers' outfield dilemma many different ways — coming at the problem, in fact, with a bias against Gwynn signing with the team to begin with. There might be no more surprising event to me than making an argument for Gwynn to be in the Dodger starting lineup. But I just don't see a better way to go right now. Tony Gwynn Jr. has a first-rate skill that no other Dodger has, and the Dodgers absolutely must consider taking advantage of it.
December, 5, 2010
12/05/10
10:25
PM PT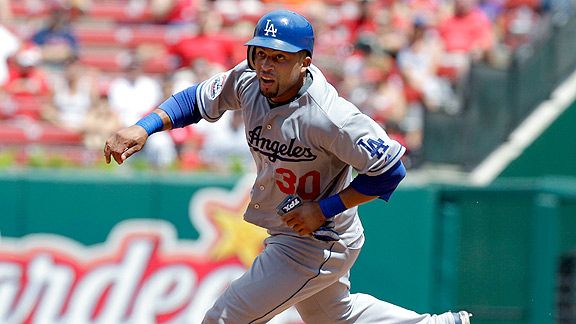 Jeff Roberson/APAre the Dodgers sincere when they say Xavier Paul is a contender to start next season?
Overall, I'm satisfied - even impressed – with how Ned Colletti has pulled together the 2011 Dodger starting rotation over the past month.
I was worried about how the Dodgers would fill their three offseason vacancies in the rotation. Then, thanks in part to Hiroki Kuroda's agreeability, the Dodgers got their front four. As in the past, I would have been prepared for the team to enter Spring Training with a combination of youngsters and journeymen battling for the No. 5 spot. But the Dodgers didn't even make us wait until December before filling that spot with a solid (though not spectacular) starter in Jon Garland.
There was another shoe to drop: Garland admitted to
AM 710
that there are concerns about his health. Whether this means shades of Jason Schmidt remains to be seen, but it's hard to get too worked up when the salary commitment to Garland is about 90% less than what the Dodgers paid Schmidt (are still paying, in fact). Garland figures to give the Dodgers something, and perhaps more than something.
There have been rumors that the Dodgers aren't done with the pitching, that they are contemplating also
bringing back adding Vicente Padilla as a swingman
, a super-utility pitcher. The addition would further increase the Dodgers' chances of presenting a smothering pitching staff next season, led by Clayton Kershaw in the role of Tim Lincecum, only wholesomer. Yes, my friends, the Dodgers have their ace – or rather, their king and his court.
All that being said ...
The left-field situation resembles what we expected the No. 5 spot in the starting rotation to look like. Journeymen, kids and babies. Jay Gibbons is Jeff Weaver, Xavier Paul is John Ely, Jamie Hoffmann is Carlos Monasterios, Trayvon Robinson and Jerry Sands are Chris Withrow and Rubby de la Rosa. I'm not losing sleep over it – certainly not in December. Should it remain this way until April, I'll admit I'll be surprised. But also fascinated.
If the Dodgers don't make any big additions in the outfield – and it could be months before we know – they will be doing exactly what they did when they handed four April starts to Charlie Haeger. That they did so once means they could do it again, but I have trouble believing the Dodgers have invested all this money in catcher, second base and the starting rotation, just to let left field twist in the wind.
On the other hand, they might sign Scott Podsednik and think they've done something useful, and simply be wrong.
* * *
Following the news that former Dodger outfielder Jayson Werth had signed a remarkable
seven-year, $126 million contract
with Washington, I
tweeted
the following:
At Matt Kemp's current age (26), Jayson Werth hit .235/.338/.374 before sitting out his age-27 season because of injury.

Through 2009: Matt Kemp career 116 OPS+, Jayson Werth career 115 OPS+. Kemp is 5 1/2 years younger.
The point, I hope is clear, is not to say that Matt Kemp is better than Jayson Werth (though he might be, sooner than people think). Rather, it's to remind people that it's a wee bit early to be giving up on Kemp because he had a disappointing season at age 25.
If we stipulate that Kemp has some issues to address going forward, let's remember that they are not insurmountable.
* * *
I was very satisfied with the season finale of "Boardwalk Empire," both in how it wrapped up this season's threads and set up Season 2. We haven't had any formal TV chat here in a while, so if anyone wants to share their thoughts, please feel free.
Some quick notes ...
The Dodgers added Jamie Hoffmann to the 40-man roster, protecting him from the Rule 5 draft. You might recall that Hoffmann was the top pick in the Rule 5 draft a year ago, but didn't stick with the Yankees. Hoffman is well-regarded defensively as a corner outfielder and led the Pacific Coast League in hits, while also stealing 17 bases in 24 attempts, but I don't think people believe he has enough plate discipline or power to start for the Dodgers. Still, until the Dodgers find a left fielder, he'll be in the mix.
Kevin Goldstein of Baseball Prospectus runs down what might have happened if nine teams, including the Dodgers, hadn't passed on Tim Lincecum in the 2006 draft. The Rockies are probably kicking themselves the most. Lincecum, of course, would have made a difference for the Dodgers in the 2008-09 playoffs, but going forward the Dodgers might have the better pitcher in Clayton Kershaw.
Trade speculation has reignited around Padres star first baseman Adrian Gonzalez. The Dodgers will probably bid, but the premium for an in-division trade might again be too high. Gonzalez will be a free agent in 12 months.
March, 22, 2010
3/22/10
10:48
AM PT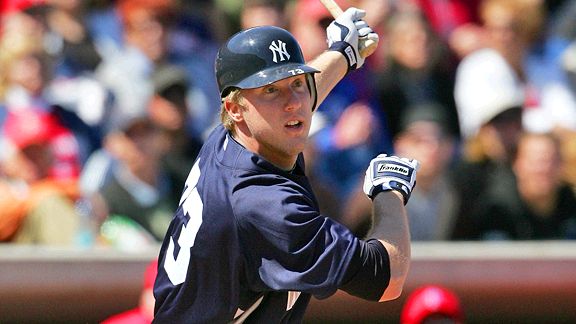 Cliff Welch/Icon SMI
Jamie Hoffmann was 3 for 23 with three walks for the Yankees this spring.
The Dodgers are like the island on "Lost" for Jamie Hoffmann, who can't seem to stay away no matter how often he leaves or how far he goes.
Designated for assignment last summer only to return, then taken by the Yankees in the Rule 5 draft in the winter, Hoffmann once again is a Dodger, according to multiple news reports, after failing to make the Yankee Opening Day roster and clearing waivers. Hoffmann figures now to start the season in the Dodger minor leagues, competing with Jason Repko for a midseason callup if neither is traded.
In other Dodger news, Russell Martin was hit by a Tim Corcoran pitch at practice this morning. Dodger manager Joe Torre said Martin's back and wrist were casualties, but there was "no damage."
Torre continued to show support for Charlie Haeger, among others — to the point where it almost seems a roster spot is being preserved for him. "I have high regard for him," Torre said. "We probably wouldn't pitch him in Colorado, but I don't think anybody wants to pitch there. Arizona is different since it's indoors."
I'm a little surprised by Torre's affection for Haeger only because of how quickly he was buried last summer after that one bad inning in Cincinnati. Haeger allowed runs in only three of the 20 innings he commenced for the Dodgers last season.
Update:
Ken Gurnick of MLB.com clarifies that Martin was hit not by one pitch
but by three
. "It got a little too simulated," Torre said. "There was no damage. He was lucky on the one on the wrist. It was a little too uncomfortable to continue."
Gurnick also notes that the Dodgers
released shortstop Angel Berroa
.