Dodger Thoughts:

Jamie Moyer
This post is dedicated to a real '49er ...
October, 24, 2011
10/24/11
4:21
PM PT
Tony Jackson of
ESPNLosAngeles.com
has more on this morning's news that the Dodgers were cutting season-ticket prices almost across the board. The price-cutting is an implicit acknowledgment of the flight from Dodger Stadium this year, and what's potentially ironic is that it comes just as the owner who inspired much of that flight, Frank McCourt, continues to see his hold on the team fraying.
The official creditors committee in the Dodgers' bankruptcy case has formally asked Judge Kevin Gross not to approve a premature auction of the team's TV rights, reports Bill Shaikin of the
Times
, labeling it a "risky proposition" and calling for a sale of the team instead. The committee did ask, however, for a 30-day period before Judge Gross rules, to increase the possibility of a sale strategy that MLB and McCourt could agree upon.
McCourt has become an underdog in the objective sense, he's up against a huge power play at this point. That doesn't mean he can't score, but more than ever, he is facing a situation where in order to retain any ownership, he might have to sell a significant portion of the franchise to potential teammates. And even the viability of that scenario is fading.
In any case, the landscape might change rapidly enough that fans who reduced or eliminated their Dodger ticket purchases in 2011 might have double the reason to amp up their ticket-buying for 2012. You can find
a full chart of the price-saving here
.
* * *
Matt Kemp has been officially announced as the winner of the fan-voted National League Hank Aaron Award for top hitter. From MLB.com:


... Kemp made one of the best Triple Crown bids in recent years, falling just short. In addition to leading the NL in homers and RBIs (126), he finished third in batting behind Jose Reyes and Ryan Braun, at .324. Kemp also led the NL in runs (115) and total bases (353). The 2011 NL All-Star also finished among league leaders in multihit games (57, tied for first), hits (195, second), slugging percentage (.586, second), extra-base hits (76, second), stolen bases (40, tied for second), on-base percentage (.399, fourth) and walks (74, tied for eighth).

Kemp became the seventh player in Major League history to finish the season ranked in the top three in homers, batting average, RBIs and stolen bases in their respective league, joining Hall of Famers Ty Cobb (1907, '09-11), Honus Wagner (1908), George Sisler ('20), Chuck Klein ('32), Willie Mays ('55) and Aaron ('63). In addition, the sixth-round selection in the 2003 First-Year Player Draft was the first Dodger to lead the NL in home runs and RBIs since Dolph Camilli in 1941, and the first Dodger in history to lead the NL in homers, RBIs and runs scored....

I meant to do some research on World Series that were tied after four games, but Cliff Corcoran of SI.com beat me to it. "Remarkably, though a tie-breaking win in the fifth game of a best-of-seven series puts the victor just one out away from a series win, just two-thirds of the teams that have won a tie-breaking Game 5 in a best-of-seven World Series (26 of 39) have gone on to win the series, and just three of the last nine teams to break a Series tie with a Game 5 win went on to win the championship," Corcoran found.
I found this anecdote from Joe Strauss of the St. Louis Post-Dispatch about former Cardinals closer Ryan Franklin poignant:


... Franklin attended Sunday's game as a guest of general manager John Mozeliak. "He made quite a commitment to our organization," Mozeliak said. "It was very important to him to remain part of this club. And I think that was reflected in the way we worked with each other." Mozeliak frequently sought Franklin's input on rival personnel during the pitcher's 4 1/2 seasons with the club. The two have remained in contact since Franklin's release June 30 and Mozeliak has broached the possibility of Franklin rejoining the organization in another capacity. "It's definitely something I would think about if I decide I'm done" playing, Franklin said. As for watching the team he was a part of compete for the World Series championship, Franklin admitted, "I feel connected in a way, especially to guys like (Jason) Motte and (Mitch) Boggs. It's fun to watch but it's also tough to watch." Franklin hasn't shut the door on playing again but admits he is leaning toward retirement. "I know if it started tomorrow I'd be leaning toward staying around the house," Franklin said. "It was pretty neat to be able to take my kids on their first day of school. My wife thought so, too."

Roy Oswalt and Brad Lidge will become free agents with the Phillies buying out their 2012 options, but if you're looking for the most fun ex-Phillie pitcher to consider, consider one Jamie Moyer, who turns 49 next month. Moyer will be more than a year removed from Tommy John surgery when Spring Training starts in 2012.
December, 2, 2010
12/02/10
10:40
AM PT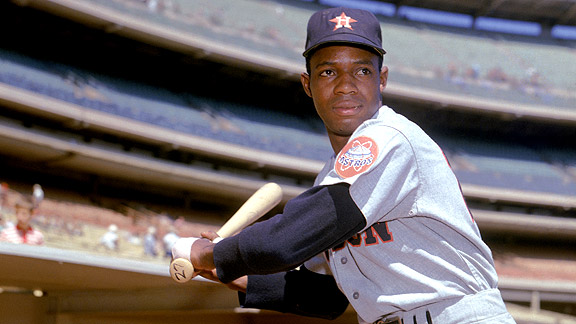 Louis Requena/MLB Photos/Getty ImagesJimmy Wynn played 11 seasons in Houston before coming to the Dodgers.
Former Dodger
Jimmy Wynn
recently came out with his
autobiography
. David Laurila of
Baseball Prospectus
has a good interview with him. Some excerpts:
DL: In the book, you talk about how the South wasn't yet fully integrated when you were in the minor leagues.

JW: That's so true. There were certain areas in Florida and the Florida State League where I played my first professional season [in 1962]… there were certain places in Florida that didn't cotton to a black ballplayer playing in a white sport. Of course at that time, you know, I was called all kinds of names. I'm just fortunate that I wasn't prejudiced at that time—and I'm not prejudiced now—and I was very fortunate that my father taught me the etiquette of being who you are and staying with that concept. I've lived with that concept for years and years now, and I've never deviated from that.

One of the things about the different name-callings that happened in Florida was that I had two great managers. One was Hershell Freeman, who did everything possible to make sure that I wasn't hurt from the name-calling. He defended me a great deal. The other was Johnny Vander Meer, who everybody knows about because of the two no-hitters back-to-back. I had two great guys who I respected a great deal, and they were more or less like father figures to me. ...

DL: In the book, you say that you lost the 1967 home-run crown to "the greatest legitimate career home-run hitter of all time."

JW: Yeah, so to speak. I lost it and Hank [Aaron] and I became really good friends, mainly because of what he said to me. He called me and told me that he was going to sit out the last game of the season, and him and I would be the co-home-run champions of the National League. I said that I would love that, but that something was going to happen. And it did. I think the commissioner of baseball found out that Hank was going to sit out the last game and he didn't want him to, and he called Hank and told him he had to play. Consequently, Hank played and hit two home runs, and I didn't, and he became the home-run champion. He said that Jimmy Wynn should be the home-run hitting champion, because of the Astrodome. That made me feel good. It was nice for me to be No. 2, because of all the great home-run hitters at that particular time. ...

DL: How did a man your size hit a baseball so far?

JW: I drank a lot of milk.
* * *
Jamie Moyer
is 20 years younger than Jimmy Wynn, though you could be forgiven for thinking they once played against each other. Moyer
recently had Tommy John surgery
, with the hope of returning to the majors in 2012 and pitching at age 49. I made a joke the other day that his fastball might clock in with the same two digits, but truth be told, I'm past the point of doubting Moyer's longevity. I'd love to see him pitch at 50.
* * *
Baseball-Reference.com is hosting a vote on the expansion committee candidates for the Hall of Fame. Cast your ballot.
The Dodgers would have made the playoffs in 2000 and 2002 if MLB had instituted a second wild-card team sooner, writes David Brown of Big League Stew. The 1997 Dodgers, in theory, would have needed a tiebreaker game with the Mets.