Dodger Thoughts:

Jason Repko
June, 25, 2010
6/25/10
1:02
PM PT
Prentice Redman
, a 31-year-old career minor leaguer who has a .401 on-base percentage and .551 slugging percentage for Albuquerque this season, will sit out the next 50 games after testing positive
for amphetamine usage
.
Redman's only major-league appearances came
in 2003 with the Mets
. The Dodgers announced that Matt Kemp will be sent to Albuquerque to replace Redman. Just kidding.
Xavier Paul (.392/.594), Jamie Hoffmann (.358/.441) and Michael Restovich (.367/.556) are the other primary outfielders on the Isotopes, with Timo Perez and Jay Gibbons also seeing time on the grass.
The news of Redman's suspension comes on the day that Dodger prospect Andrew Lambo
returns to the field for AA Chattanooga
after serving
his own 50-gamer
.
Lambo is joined by the recently promoted
Jerry Sands
and
Aaron Miller
.
Meanwhile,
the Minnesota Twins called up Jason Repko
. Repko has a .780 OPS in AAA this season,
batting mostly against righties
. His numbers are better against righties for a change, but BABIP (batting average on balls in play) explains that.
April, 7, 2010
4/07/10
2:21
PM PT
In case you missed it, check out Tony Jackson's feature on tonight's starter, Clayton Kershaw, for
ESPNLosAngeles.com
.
After Chad Billingsley starts Thursday morning in Pittsburgh (with Manny Ramirez and Casey Blake likely on the bench,
according to Dodger manager Joe Torre
), the Dodgers will go with Hiroki Kuroda, Vicente Padilla and Charlie Haeger (in that order) over the weekend in Florida.
Torre also told reporters that Matt Kemp will generally bat second against right-handed pitchers, that Blake DeWitt would continue to start against some lefties (depending on their type), that Ronald Belisario will practice game pitching on back-to-back days next week, and that Hong-Chih Kuo is on track to go out on a rehab assignment "soon."
Other notes ...
March, 31, 2010
3/31/10
10:33
AM PT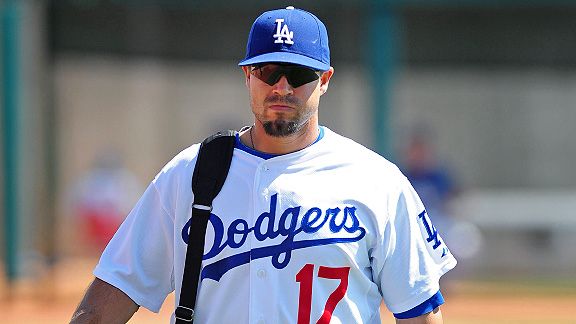 Mark J. Rebilas/US Presswire
Jason Repko
One of the highlights of the
Maple Street Press 2010 Dodgers Annual
was the feature by Albuquerque Isotopes broadcaster Robert Portnoy on cup-of-coffee men Jason Repko and Mitch Jones. In particular, you really come to understand how brutal the injuries were that Repko faced early in his professional career. They sapped his greatest potential away.
Just for starters in 2000: right hamstring blown out, two tendons torn away from the bone in his right leg, stress fracture in his back. As Portnoy writes:
... While the hamstring healed, the back did not. Repko wore a form-fitting brace for eight weeks, immobilizing him from his armpits to his hips. Still considered the number four Dodger prospect entering 2001, Repko played in constant pain and batted just .220 over 88 games at Low A Wilmington.

After the season, doctors told him the fracture remained in the L-5 vertebrae. Then they told him something shocking: Break the same vertebrae on the other side.

"They told me it was putting stress on the other side," Repko said. "They said, 'If you can handle playing with it, dive hard and slide hard and see if you can get it on the other side — it'll be easier to fix.'"

In the Instructional League that fall, Repko did just that, fracturing the other side rounding third base. The options were spinal fusion, which would hurt rotation and flexibility, or a return to the brade, with promise of better results. Opting for the brace, Repko healed well, and he has learned to manage a resulting condition known as spondylothesis.

"The vertebrae will slip forward and the back will go into spasm, because there is more flexibility in there," Repko said. "I can't lie on my stomach and I don't slide head first much anymore, but I've only had two or three spasms the last three years." ...
The guy didn't have what it took to stick in the majors for the Dodgers, but he truly battled. Today, more than 10 years after the Dodgers drafted him,
he heads off on waivers
.
* * *