Dodger Thoughts:

Javy Guerra
October, 7, 2011
10/07/11
8:21
AM PT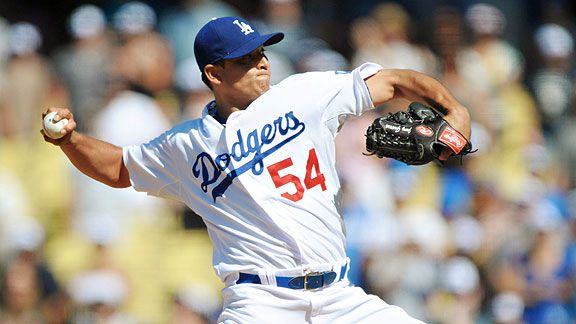 Kirby Lee/US Presswire
Javy Guerra
The setup:
Guerra pitched most of 2010 at Double-A Chattanooga, finishing with a 2.33 ERA and 27 strikeouts in 27 innings, so it wasn't out of the realm of possibility that he could see some major-league action this year. But he certainly wasn't counted on to be a deluxe topping on the Dodger pizza, especially considering he walked 22 in that same period and his offseason work slowed
by a deep gash in his right hand
. However, the Dodger bullpen-that-was-supposed-to-be quickly fell by the wayside to visa problems and injuries. With Guerra rocking a 1.06 ERA in Chattanooga with 15 strikeouts in 17 innings and only eight hits and five walks allowed,
his ticket to Los Angeles was punched
.
The closeup:
Five games into his major-league career, Don Mattingly turned to Guerra (after Rubby De La Rosa made his major-league debut in the eighth inning)
to close a 5-4 victory
over Houston on May 24. With as little fanfare as one could have imagined, Guerra remained in the traditional closer's role for the remainder of the season, and simply excelled, saving 20 games in 22 opportunities with a 2.31 ERA. His strikeouts weren't sky-high, especially for a closer – 7.3 per nine innings – and he could occasionally get in trouble, such as the
July 8 game against the Padres
when he loaded the bases with none out and a 1-0 lead on a double and two hit batters. But he escaped that game and for the season really was superb, soothingly so for a rattled Dodger fan base.
From June 15 through August 12, he pitched 17 1/3 innings, struck out 17, allowed one run (0.52 ERA) on a .404 opponents' OPS and stranded all five inherited baserunners. Though he usually came in at the start of an inning, he entered a
July 25 game against Colorado
with the bases loaded and one out, the Dodger lead having been reduced from 8-1 to 8-5, and retired Troy Tulowitzki and Seth Smith on a popout and a groundout. Only the home run he allowed in the Dodgers'
September 27 collapse against Arizona
, in his final game of the year, pushed his season ERA above 2. One reason for Guerra's success as a closer? He actually performed
better against left-handed batters
than against righties, which kept opposing managers from overwhelming him with opposite-side batters.
Coming attractions:
Guerra, who turns 26 on Halloween, is the incumbent closer,
a role I hope he retains even
if Kenley Jansen continues to overshadow him as a strikeout god. But to hang onto the job, he will probably need to make sure his strikeout-walk ratio doesn't fall much below this year's 2.1.
September, 21, 2011
9/21/11
4:48
PM PT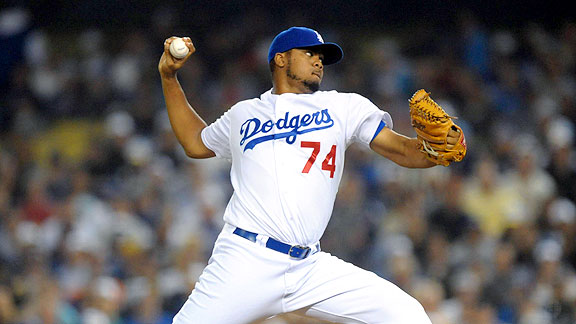 Kirby Lee/US PresswireKenley Jansen has allowed two runs since June, while stranding all nine runners he has inherited.
Keeping this as concise as possible in the interest of time:
Kenley Jansen has struck out 25 of his past 40 batters.
Kenley Jansen has gotten 25 of his past 31 outs via the strikeout.
Kenley Jansen is so overwhelming right now, a Giants blog, Bay City Ball, rhapsodized about him.
Kenley Jansen has a WHIP of 0.671 since coming off the disabled list in June, allowing eight singles, a double and 10 walks in 28 1/3 innings.
Kenley Jansen has allowed a .098 batting average, .192 on-base percentage and .109 slugging percentage in that time.
Kenley Jansen is the Dodgers' most dominant reliever, the reliever you'd most trust to get an out when you need it.
It is for these reasons that I hope the Dodgers
do not
make Kenley Jansen a closer next season.
Tuesday's victory illustrated why. If Jansen were the closer, Dodger manager Don Mattingly would have held him back until the ninth inning, rather than having him come put out the fire when Clayton Kershaw gave up a home run and two walks in the eighth inning.
It's far better that Jansen be available at the game's biggest crisis point, whatever inning that comes.
My hope is that if Mattingly feels he must have a regular closer in 2012, he is seduced by Guerra's 19 saves in 20 opportunities and keeps him in that slot. Nothing against Guerra, who has been one of the season's most pleasant surprises, but he is not a smokejumper like Jansen, who looks more capable of putting out the toughest fires than any other Dodger reliever.
* * *
With Colorado's loss to San Diego today, the Dodgers' clinched no worse than a third-place finish in the National League West.
Matt Kemp could be the first NL player to finish in the top two in home runs and steals since Hank Aaron in 1963, according to Eric Stephen of True Blue L.A.
From the Dodger press notes: "Since Aug. 1, James Loney leads the National League with a .359 batting average (51-for-142) and ranks among the league leaders in doubles (15, T-1st), on-base percentage (.425, 4th) and slugging percentage (.627, 2nd)."

Kenny Shulsen of Lasorda's Lair predicted Jerry Sands' home run off Tim Lincecum on Tuesday — a home run, I believe that will be remembered when debating Sands' potential this offseason.
Tuesday was the 50th anniversary of the Dodgers' final regular season game at the Los Angeles Memorial Coliseum, notes Keith Thursby at the Daily Mirror, which also features a Jim Murray column commemorating the event. Sandy Koufax struck out 15 in a 13-inning complete-game victory. If Baseball-Reference.com is accurate, Koufax threw 213 pitches in the game.
July, 25, 2011
7/25/11
10:53
AM PT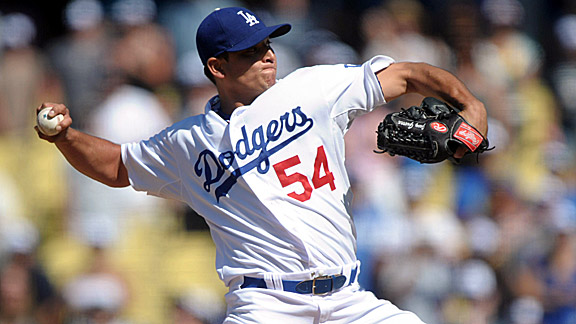 Kirby Lee/Image of Sport-US PresswireJavy Guerra
All praise is due to Dodger reliever
Javy Guerra
, who had never pitched above Double-A before 2011 but has posted a standout rookie season.
The 25-year-old has a 1.99 ERA and 18 strikeouts in 22 2/3 innings against 31 baserunners and has yet to blow a save opportunity. His perceived calm on the mound — perhaps marked by how he pitched out of a bases-loaded, none-out jam of his own making
July 8 against San Diego
— has led many to wonder if the Dodgers have found their replacement at closer for Jonathan Broxton, who surely will not be back in a Dodger uniform in 2012, if at all.
On one level, I take issue with the question itself — the goal is always simply to find the best relievers you can and not worry about their roles. Part of the beauty of what happened with Guerra this year is how he wasn't assigned the closer job, but just began pitching in the ninth inning because he happened to be the guy who was available. You shouldn't doubt, for example, that Kenley Jansen, who has been absolutely unhittable since coming off the disabled list, could close games.
But as far as whether Guerra is the real deal, I'm of two minds. He certainly showed his potential after striking out 8.8 batters per nine innings in his 65 games with Chattanooga from 2009-11. But he has also always allowed a fair number of baserunners: his career WHIP in Double-A is nearly 1.5. That's not all that good. Jansen's WHIP at Chattanooga, by comparison, was below 1.1. It's reasonable to suggest that Guerra might be pitching over his head.
People are talking about Guerra's precocious performance, but we've done that about many other young relievers who made strong debuts only to falter a year later. People are talking about Guerra's fearlessness and attack mentality on the mound ... just like they did for John Ely. Seriously, there were experts that not only thought Ely was the real deal a year ago, they were crediting him for showing other Dodgers how to pitch. A year later, he's a pitcher of last resort.
Guerra is on a particular roll of late, having retired his past 10 batters over four appearances - striking out five and earning saves in each game. It's wonderful. I'm just not ready to declare him a natural closer, partly because I'm skeptical about the use of such a definition, partly because we still haven't seen enough of him to know how effective he'll be over the long haul.
We shouldn't be surprised if Guerra hits a rough patch. We also shouldn't be alarmed. The guy hasn't even faced 100 batters yet in his career - I'd recommend being patiently optimistic. I'm just saying, it really is still early.
In any case, the Dodgers do appear to have the potential for a nice, mostly home-grown bullpen brewing for 2012, with Guerra, Jansen, Scott Elbert and minor-leaguers including Josh Lindblom, Steven Ames, Shawn Tolleson and Cole St. Clair in the mix. That's seven names right there before you even talk about veteran holdovers like Matt Guerrier, Blake Hawksworth and Mike MacDougal. Broxton and Hong-Chih Kuo might be gone next season because of performance, salary and injury concerns, in much the same manner that Russell Martin departed last winter, but at least in this area, Los Angeles looks ready to move on without them.
Update:
More on Guerra here
from Jason Grey of ESPN.com.
July, 8, 2011
7/08/11
10:42
PM PT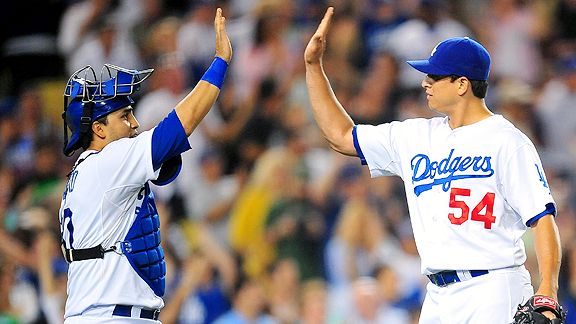 Gary A. Vasquez/US PresswireCelebrating survival.
The last Dodger save was
June 19
, when Javy Guerra pitched a final shutout inning after the Dodgers scored the game's only run in the bottom of the eighth.
That was a romp in the park compared to what happened tonight.
Guerra again pitched a final shutout inning after the Dodgers scored the game's only run in the bottom of the eighth, but not until after he allowed a leadoff double and hit two consecutive batters – one bunting – to load the bases with none out.
As panic, bitterness and despair reigned and rained, Guerra pulled himself together and struck out the next two batters, before Matt Kemp chased down a sinking liner by Jason Bartlett to preserve
the Dodgers' 1-0 victory
.
Rafael Furcal's RBI single drove in the go-ahead run (after A.J. Ellis and Tony Gwynn Jr. each reached base for the second time in the game), boosting Chad Billingsley to victory in his second consecutive eight-inning performance and the Dodgers' second shutout in two nights. Billingsley lowered his ERA in his past four starts to 1.32.
June, 4, 2011
6/04/11
5:11
PM PT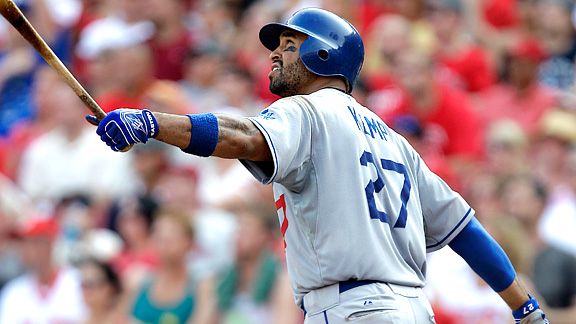 Al Behrman/APFly away, ball. Fly away.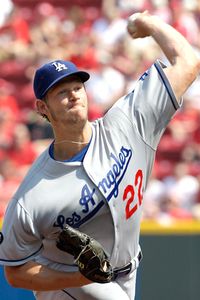 Al Behrman/APClayton Kershaw struck out nine of the first 15 batters he faced, but then the game got crazy.
Clayton Kershaw worked the Reds over for the first five innings today like Ali worked the ring. The fifth inning in particular was just athletic poetry, Kershaw striking out the side, and I was in thrall.
Leading 1-0, Kershaw had faced the minimum number of batters in taking a one-hitter heading into the sixth inning, and then things just went haywire. Ramon Hernandez singled, and two outs later, Drew Stubbs walked. Brandon Phillips then fisted a 1-1 pitch to right field, just over the head of second baseman Aaron Miles, a them's-the-breaks hit to tie the game.
And then Joey Votto blasted a three-run home run.
And before he was out of the game in the seventh, Kershaw had given up six runs, and Mike MacDougal had allowed another, and I was bereft.
So of course, you know what happened next. No, not that. No, not that either. No, keep going down the list.
First, Matt Kemp went bananas. Bananas, I say! A solo homer and a grand slam in back-to-back innings to tie the game at 7.
The slam followed an out-of-the-blue rally started with one out in the top of the eighth on a pinch-hit single by Tony Gwynn, Jr., his first hit to the outfield in a full month. Jamey Carroll and Aaron Miles followed with singles to make the score 7-3, and then Andre Ethier (who threw a runner out at home minutes before) drew a walk off Reds lefty reliever Bill Bray. The Bison came up, and on a 1-0 pitch from Logan Ondrusek, who had allowed two homers in 32 innings this season, sent one over the left-center-field fence to tie the game.
The home runs, Kemp's 14th and 15th of the season, gave him more home runs than steals for the first time this year and put him on a pace for 41 homers and 38 steals this season. According to the Dodgers, he is the team's first player to hit 15 homers in his first 59 games since Shawn Green in 2001. Green finished that season with a club-record 49.
That put the Dodgers in position for quite an event. According to Fox, the Dodgers' last win after trailing by 5+ in the eighth inning was
May 9, 1994
, and Los Angeles has won only three such games since 1958. (Of course, Reds manager Dusty Baker has
seen a five-run lead disappear painfully in the past
.)
But there was still the matter of pushing across the winning run. Scott Elbert held off the Reds with a 1-2-3 eighth, and Matt Guerrier pitched a shutout ninth. Javy Guerra retired Scott Rolen and Jay Bruce with two on to survive the 10th.
Finally, in the 11th, the Dodgers busted through with Scrub-ball, scoring two runs on singles by ... Juan Castro ... Gwynn ... Carroll (4 for 5) ... and Miles (3 for 5, 3 RBI). Reds pitcher Carlos Fisher, the losing pitcher in Cincinnati's 19-inning epic against the Phillies on May 25, then threw away an Ethier double-play grounder, opening the door for the Dodgers to score two more runs, Kemp getting his sixth RBI of the game on a fielder's choice.
In only 27 of their previous 58 games had the Dodgers scored more runs than they scored in today's 11th inning.
Guerra, who last pitched two innings May 4 in Chattanooga, was left to start the bottom of the 11th despite his hard-working 23 pitches in the 10th. (He actually walked in his first major-league plate appearance.) He gave up a leadoff single to Ryan Hanigan and one out later was replaced by Ramon Troncoso. A groundout by Paul Janish drove in a run charged to Guerra (his first since May 22), but the Dodgers were one out away.
Then, Chris Heisey singled. Then, Stubbs singled. That meant that the Reds would in fact get the tying run to the plate in Phillips, with Votto on deck and Rolen in the hole.
Strike. Ball. Strike. Ball.
Just as he did to drive in the first run against Kershaw hours before, Phillips went to right field. It looked very much like a potential hit off his bat. But this one went a little deeper, and Ethier was able to come in and catch it.
Dodgers 11, Reds 8
. Wow, and whew.
June, 1, 2011
6/01/11
9:55
PM PT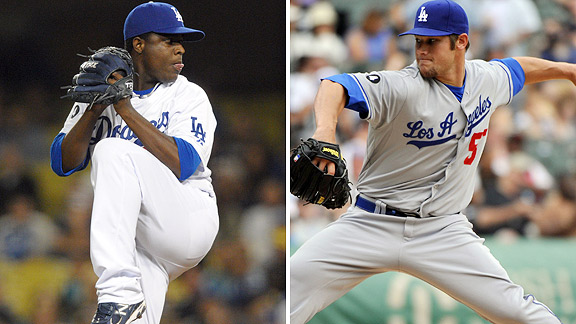 Icon SMI/US PresswireRubby De La Rosa and Scott Elbert brought relief from the minors.
The kids have come to the rescue of the Dodger bullpen, and not nearly enough has been said about it.
Jonathan Broxton went on the disabled list May 6, followed within 10 days by Hong-Chih Kuo, Vicente Padilla and Blake Hawksworth. To replace them, the Dodgers brought up Kenley Jansen (who had temporarily gone down to Chattanooga), Scott Elbert, Javy Guerra and Ramon Troncoso.
Another week later, the Dodgers dispatched mop-up man Lance Cormier and replaced him with Rubby De La Rosa. Then in the past week, Jansen went on the disabled list and was replaced by Josh Lindblom, who made his major-league debut with an inning in the finale of the Colorado series Wednesday.
Of the replacements, Troncoso was the veteran with all of 177 1/3 career innings. The
combined
career experience of Jansen, Elbert, Guerra, De La Rosa and Lindblom was 39 2/3 innings. Their average age: 23 1/2. Think about it – more than half of the bullpen handed over to runts.
Here's how they've done, including the
3-0 Dodger loss to Colorado
, in which the bullpen followed Jon Garland's six-inning, three-run start with shutout ball:
Jansen: 7 2/3 innings, 13 baserunners, four earned runs (4.69 ERA), 13 strikeouts, 0 of 5 inherited runners scored
Troncoso: six innings, six baserunners, no earned runs (0.00 ERA), two strikeouts, 2 of 5 inherited runners scored
Guerra: seven innings, nine baserunners, two earned runs (2.57 ERA), five strikeouts, 0 of 0 inherited runners scored
De La Rosa: five innings, four baserunners, one earned run (1.80 ERA), five strikeouts, 0 of 0 inherited runners scored
Elbert: 4 2/3 innings, six baserunners, no earned runs (0.00 ERA), seven strikeouts, 1 of 6 inherited runners scored
Lindblom: one inning, two baserunners, no earned runs (0.00 ERA), no strikeouts, 0 of 0 inherited runners scored
Total: 31 1/3 innings, 40 baserunners, seven earned runs, 32 strikeouts, 2.01 ERA, 3 of 16 inherited runners scored
That's remarkable, especially considering we can assume that we can possibly attribute three of the seven runs allowed to the shoulder inflammation that sent Jansen to the disabled list.
The news that
Padilla is expected to return to active duty Friday
will, barring injury, start pushing the runts back to the minor leagues, but each has made the case to stay with the big club. Considered a weakness less than a month ago, the Dodger bullpen will in less than 48 hours have eight effective relievers to choose from, with more to come as Broxton, Kuo, Hawksworth and Jansen get back on their feet.
The other noteworthy thing is that with all the injuries, Dodger manager Don Mattingly has basically been forced to throw the idea of a designated closer out the window, instead bringing in pitchers simply based on the situation rather than their title or status. Unshackled from a pecking order, the Dodger kids haven't suffered – they've thrived. Jansen, Guerra and De La Rosa have all finished close games, while Elbert and now even Lindblom have pitched in situations where giving up a single run could be a killer. De La Rosa, whose destiny remains starting pitcher, could be a circa-1992 Pedro Martinez-like smokejumper, giving you a couple innings at a time as long as there's sufficient rest in between.
Message to Mattingly: Do yourself a favor. As the veterans return to the pen, don't get caught up in who your closer is. Just keep doing what you're doing. Manage according to the situation, not according to resume.
May, 24, 2011
5/24/11
7:12
PM PT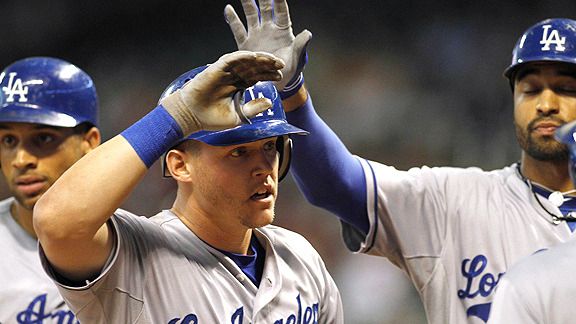 Brett Davis/US PresswireWith the third inning extended by a Houston error, Jerry Sands hit a no-doubter blast to center field for his first career grand slam. Rubby De La Rosa struck out two of three batters in a perfect eighth-inning major league debut, and fellow rookie Javy Guerra weathered a long foul ball by Bill Hall to close in the ninth for his first career save and
a 5-4 Dodger victory
.
May, 15, 2011
5/15/11
7:44
PM PT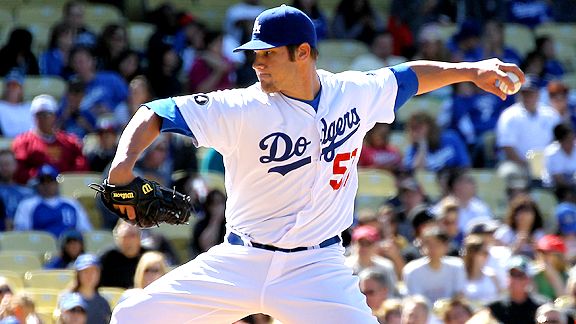 Stephen Dunn/Getty ImagesScott Elbert threw 19 pitches, 12 for strikes.
Although there was another sad performance from the offense (including the end of Andre Ethier's on-base streak) and another disappointing inning from Ted Lilly, a four-run second in
today's 4-1 Dodger loss
, let's take some time to cheer for Scott Elbert. The lefty, whose season went so awry a year ago, got off to a great 2011 start for the Dodgers by striking out the side in the eighth inning.
Javy Guerra made his major-league debut in the next inning and allowed a one-out single and nothing else.
* * *
Update:
Contrary to initial reports, Rafael Furcal did not
bat right-handed
Saturday for Albuquerque, according to Tony Jackson of
ESPNLosAngeles.com
. Sunday, Furcal doubled leading off the game on the way to a
1-for-4 day
. He also made an error.
May, 15, 2011
5/15/11
8:36
AM PT
In a rehabilitation appearance with Albuquerque on Saturday, shortstop Rafael Furcal
went 2 for 3 with a walk
, drove in three runs and – most importantly – batted right-handed for most of the game.
Hitting from the right side
had been said to be the final hurdle
to Furcal's return to the Dodgers' active roster from a broken left thumb.
Furcal has been out since April 11 and has missed 33 of the Dodgers' 40 games this season.
On Saturday
, he walked in the first as a left-handed batter, then turned around to bat right and had RBI singles in the second and fourth innings, as well as a sixth-inning RBI groundout. No issues were reported about his performance in the field.
My hunch is that if he makes it through
today
unscathed, we'll see Furcal in Los Angeles on Monday.
When he returns, Jamey Carroll will likely move over to second base, pushing Aaron Miles to the bench and Russ Mitchell to the minors. One question that will have to be answered when Casey Blake returns is whether the Dodgers will reduce the playing time of Juan Uribe or James Loney to preserve playing time for Carroll,
who has the highest on-base percentage in the National League among shortstops
. Certainly, Blake will get his share of rest. And might an occasional start in left field become part of the equation for Carroll?
In other roster talk, Dodger reliever Blake Hawksworth may go on the disabled list today after failing to show progress Saturday, according to Tony Jackson of
ESPNLosAngeles.com
. Los Angeles is expected to promote
Javy Guerra
, who has a 1.06 ERA and 15 strikeouts in 17 innings (against 13 baserunners) with Double-A Chattanooga. Guerra had pitched 11 straight shutout innings over his last nine outings until giving up a home run Monday. He's been idle since then.
Guerra did
a tiny bit of blogging in 2009
. Eric Stephen of
True Blue L.A.
, in his Saturday posting "Dodgers Lose Battle, Win Guerra," noted that the pitcher said on his Facebook page that he had gotten the call.
* * *
Some more notes on Chad Billingsley's Saturday performance, from ESPN Stats and Information:
- The Diamondbacks missed on 11 swings against Billingsley's fastball, the most against the Dodgers' right-hander in exactly two years (May 14, 2009).

- Billingsley's fastball was particularly effective on the first pitch. He threw 21 fastballs on the first pitch of a plate appearance. Seventeen of those fastballs went for strikes, tied for his most in a start in the last three seasons. More remarkable is that the Diamondbacks put none of Billingsley's first-pitch fastballs in play. They swung at eight, missing three and fouling off five.

- By throwing first-pitch strikes that didn't end up in play, Billingsley started 18 of 27 hitters with an 0-1 count, his second-most 0-1 counts in a start since 2009. All eight of Billingsley's strikeouts were in at-bats he started with a first-pitch strike. It also enabled him to rack up his strikeouts efficiently, as six of his eight were in at-bats lasting three or four pitches, tied for his most in the last three seasons.
January, 16, 2011
1/16/11
11:18
PM PT
And miles to link before I sleep ...
Update: