Dodger Thoughts:

Jody Reed
February, 16, 2011
2/16/11
3:19
PM PT
When the Dodgers
picked up their half of Scott Podsednik's option
, that seemed like a shaky choice ... but not half as shaky as when the 34-year-old said
thanks but no thanks
to the guaranteed $2 million and chose free agency. Months went by, and it was not until today that Podsednik
signed a 2011 contract
.
It's a minor-league deal, for which we haven't seen the terms — it's entirely possible that Podsednik will make the major-league roster and end up with the kind of money he had envisioned, but I can't imagine this offseason went the way he imagined.
Here's some comment on Podsednik's Blue Jays future from Josh Alper at
Fanhouse
:
... Podsednik will have a pretty good shot at winning a spot on the roster. The Jays could use a leadoff man and Podsednik fits the offensive criteria a bit better than Rajai Davis. They also could be looking at a time share at the designated hitter position where Podsednik could split duties with Travis Snider and Juan Rivera as the Jays look to avoid too much of a defensive disaster in left field. There's also the possibility that the Jays will be forced to use Jose Bautista at third base, although that seems like a last resort.

So there's room for Podsednik to earn a job. Assuming he can repeat last year's production, he could even play quite a bit, although one imagines they'd rather see Rivera and Snider win regular roles with Podsednik and Davis splitting time and providing doses of speed to a lineup that's short on it.
The Dodgers traded Elisaul Pimentel and Lucas May for Podsednik on July 28.
December, 10, 2010
12/10/10
9:18
PM PT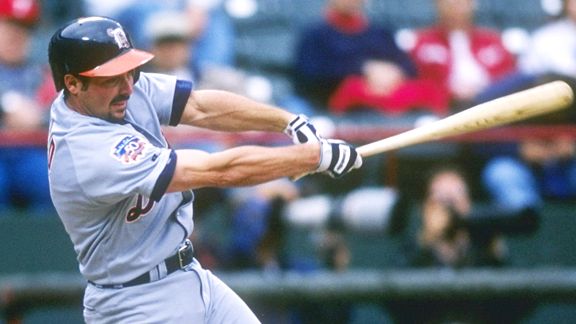 Getty ImagesJody Reed finished his 11-season major-league career with Detroit in 1997.
Jody Reed
, famous in Dodger history for his domino role in the
Pedro Martinez "Buttercup" trade of 1993
, is returning to the organization as
manager of the franchise's Arizona League rookie team
and Camelback Ranch – Glendale Coordinator of Instruction.
Reed served as the Yankees' minor league defensive coordinator for the past two seasons. No doubt, come Spring Training, he'll field a question or two revisiting what happened in his contract negotiations following the 1993 season.
Former Dodger (and everywhere) reliever Matt Herges will be Reed's pitching coach.
Lorenzo Bundy, meanwhile, will replace Tim Wallach and manage at Albuquerque. Bundy managed the Dodgers' Triple-A team in Las Vegas from 2007-08.
Here's the full list of assignments:
Field Coordinator: Bruce Hines
Senior Advisor, Player Development: P.J. Carey, Gene Clines, Charlie Hough
Hitting Coordinator: Eric Owens
Pitching Coordinator: Rafael Chaves
Outfield/Baserunning Coordinator: Rodney McCray
Infield Coordinator: Matt Martin
Catching Coordinator: Travis Barbary
Campo Las Palmas Coordinator: Henry Cruz
Field Coordinator, Campo Las Palmas: Antonio Bautista

Triple-A Albuquerque:
Manager: Lorenzo Bundy
Hitting Coach: John Valentin
Pitching Coach: Glenn Dishman

Double-A Chattanooga:
Manager: Carlos Subero
Hitting Coach: Franklin Stubbs
Pitching Coach: Chuck Crim

Single-A Rancho Cucamonga:
Manager: Juan Bustabad
Hitting Coach: Michael Boughton
Pitching Coach: Hector Berrios

Single-A Great Lakes:
Manager: John Shoemaker
Hitting Coach: Lenny Harris
Pitching Coach: Kremlin Martinez

Rookie-advanced Ogden:
Manager: Damon Berryhill
Hitting Coach: Johnny Washington
Pitching Coach: Bill Simas

Rookie-level Arizona League Dodgers:
Manager/Camelback Ranch – Glendale Coordinator of Instruction: Jody Reed
Hitting Coach: Leo Garcia
Pitching Coach: Matt Herges

Rookie-level Dominican Summer League Dodgers:
Manager: Pedro Mega
Hitting Coach: Esteban Lopez
Pitching Coach: Alejandro Pena
Roving Guest Instructor: Ramon Martinez
Catching Coach: Jose D. Hernandez
Assistant Coach: Rafael Ozuna

Camelback Ranch – Glendale:
Camelback Ranch Pitching Coach: Jim Slaton
Coach/Exchange Program Instructor: Daisuke Yamashita