Dodger Thoughts:

Jon Garland
December, 3, 2011
12/03/11
9:25
AM PT
Chris Carlson/AP
Jon Garland
(45)
The setup:
After starting six games down the stretch for the Dodgers in 2009 (but then going unused that postseason), Garland ambled down to San Diego for 2010, pitching exactly 200 innings with 136 strikeouts and a 3.47 ERA (106 ERA+). The Dodgers then signed him as a free agent
in November
to a one-year contract with a $5 million base and $3 million in potential incentives. Durability was one of Garland's claims to fame, though even Garland noted that the MRI associated with his physical
raised concerns
.
The closeup:
March 9
. That's how quickly the injury bug bit Garland, leaving the mark of a left-oblique injury. That delayed his regular-season debut until April 15, a rather predictably shaky four-inning outing against St. Louis.
But in his follow-up, Garland threw a complete-game, four-hit, 6-1 victory over Atlanta, and he was off to the races. It was the first of five consecutive quality starts in which he had a 2.65 ERA over 34 innings (though only one was a victory, thanks to the Dodger offense averaging 2.6 runs per game behind him). Garland's original team, the White Sox, hammered him May 21, but then two more quality starts followed. By June 1, Garland had made nine appearances and seven of them were quality starts – not bad for the team's No. 5 starter.
Oh, and then
his season ended
. A right-shoulder injury that required arthroscopic surgery put Garland on the disabled list, and he never came off.
Coming attractions:
On October 4, the Dodgers said they would pay $500,000 to exercise the buyout of Garland's $8 million option for 2012, bidding farewell to the
Granada Hills Robert Frost Middle School graduate
for the second time in 24 months and helping pave the way for
Friday's Chris Capuano signing
. In two stints with Los Angeles, Garland made a total of 15 starts with a 3.69 ERA and 54 strikeouts in 90 1/3 innings.
Ken Gurnick of
MLB.com
wrote in October that in September, Garland said "his recovery was ahead of schedule, and that he intended to begin throwing in November ... (and) be healthy by Spring Training." He should earn interest from some team willing to bet on his rebound.
October, 4, 2011
10/04/11
1:02
PM PT
As expected, the Dodgers have paid $1.25 million to buy out Casey Blake's $6 million contract option for 2012, while also declining Jon Garland's $8 million option for next season (at a cost of $500,000). Tony Jackson of
ESPNLosAngeles.com
has more.
Both players become free agents and are eligible to sign with any team after the World Series ends, and with the Dodgers at any time. In fact, each has past experience of returning to the Dodgers as a free agent: Blake three years ago, Garland last year.
We've gotten mixed signals on Blake, from possible retirement to a potential willingness to come back as a reserve to the Dodgers on a cheaper contract. However, I'd be surprised if the Dodgers bid very enthusiastically on either Blake or Garland, both of whom spent much of 2011 injured, unless their salary quotes came way, way down.
Some might consider this the top story: The Dodgers also removed
Eugenio Velez
from their 40-man roster by outrighting him to Albuquerque. That takes him out of the team's 2012 plans, but it doesn't mean we won't see him at Camelback Ranch for Spring Training next year.
* * *
Federal bankruptcy judge Kevin Gross has appointed a mediator to try to bridge the chasm between the Dodgers and Major League Baseball out of court. Good luck on that one.
Suspended list star Ronald Belisario is looking to rebuild his career, even if it's not with the Dodgers or even in the U.S., according to this story on the Bravos de Margarita website (Google translation here) passed along by Roberto Baly of Vin Scully Is My Homeboy.
Baly also has links to radio interviews with Vin Scully, Tommy Lasorda, Ned Colletti and Charley Steiner.
June, 3, 2011
6/03/11
3:06
PM PT
ESPNLosAngeles.com
is reporting that Jon Garland will be placed on the disabled list (for the second time this season) with a right shoulder problem.
The immediate roster replacement would be Vicente Padilla, who will be activated from the disabled list, but more significantly, it could mean Rubby De La Rosa will make his first major-league start Tuesday in Philadelphia.
Update:
Whatever's going to happen is apparently not happening before today's game, according to
this note from the Dodgers
.
We're still waiting for the official word, but Tony Jackson of
May, 21, 2011
5/21/11
4:53
PM PT
To get the formalities out of the way, Jon Garland got pounded for 11 hits in 3 2/3 innings of a
9-2 Dodger loss
to the White Sox, a game that found Garland and catcher Rod Barajas not on the same page, according to Tony Jackson of
ESPNLosAngeles.com
. The bright side of the game was the first major-league home run for Jerry Sands.
And now, to the speculation: The Dodgers might get Rafael Furcal back as soon as Sunday, but it doesn't appear that the team has ruled out placing Juan Uribe or Aaron Miles on the disabled list, if not both. If both of them go, that could mean Juan Castro and Russ Mitchell sharing time at third base until Casey Blake is ready to return.
March, 10, 2011
3/10/11
9:31
AM PT
An MRI confirmed that Jon Garland has a strained left oblique muscle, reports Tony Jackson of
ESPNLosAngeles.com
, all but confirming that he will start the season on the disabled list.
Wednesday, Jackson was among those who
noted
that the Dodgers "really don't have to use a fifth starter until their 11th game of the season, April 12 at San Francisco, the first time they are scheduled to play a game on a fifth consecutive day."
Going with only four starters in early April could allow someone like Xavier Paul to extend his Dodger stay past Spring Training.
Other late items from Jackson: The weird, thank-goodness-it-didn't-happen-to-Matt Kemp explanation of why Andre Ethier didn't end up starting Wednesday's game, and a note that John Lindsey has reinjured his calf.
More at MLB.com from Ken Gurnick: Rubby De La Rosa is recovering from minor shoulder inflammation, and this update on Josh Lindblom ...


... Two springs ago, he came out of nowhere to nearly make the Opening Day roster after only 34 professional innings, but it's been a roller coaster ever since. He's been bounced between starting and relieving and passed by the likes of Rubby De La Rosa on the prospect depth chart. He had a 6.54 ERA at Triple-A Albuquerque last year. ...

Lindblom, a closer at Purdue and second-round Draft pick in 2008, said he's determined to get back on track now that management has told him he's exclusively a reliever again."I got to the point where I lost who I was as a pitcher," said the 23-year-old. "Instructional league helped me get back my delivery. It was tough going back and forth [between starting and relieving], but what happened I have to take ownership of. Most important, I let myself down. Now I'm settling into a role." ...


Brewers pitcher Zack Greinke's basketball injury reminded Roberto Baly of Vin Scully Is My Homeboy of the time Matt Kemp went all out at a charity hoops game at Westchester High.
Duke Snider, Jimmy Wynn and Willie Davis rank sixth, eighth and 11th all-time among MLB center fielders using a statistical measure called Weighted Wins Above Replacement (wWAR), according to Beyond the Box Score.
* * *
Padres at Dodgers, 12:05 p.m.
(Prime Ticket)
March, 9, 2011
3/09/11
1:22
PM PT
Here's Tony Jackson's initial report for
ESPNLosAngeles.com
:
Jon Garland left Wednesday's Cactus League game with two outs in the top of the second inning because of a left-oblique injury. There was no immediate diagnosis or prognosis, but Garland said he would meet with a team doctor either later in the day or early Thursday morning.

Garland said no actual tests have been scheduled, but that, "I'm sure they are going to want to do that."

Garland, whom the Dodgers signed in November to a one-year, $5 million contract with an $8 million club option for 2012 to be their fifth starter, was making just his second start of the spring. After throwing the first pitch to Seattle Mariners shortstop Josh Wilson, his 30th pitch of the game, Garland knelt down on the front of the mound, stood back up and immediately made a gesture toward the dugout to summon trainer Stan Conte.

Garland then walked around the mound for a minute or two while clutching his left side before ultimately walking off the field with Conte. ...
Bill Shaikin of the
Times
wrote that "although the Dodgers have not identified the problems, his actions were consistent with an oblique injury, which can require a month or more of recovery."
With Vicente Padilla out, the leading candidates to replace Garland if he's out of the rotation for the start of the season would be Tim Redding and John Ely.
February, 17, 2011
2/17/11
3:38
PM PT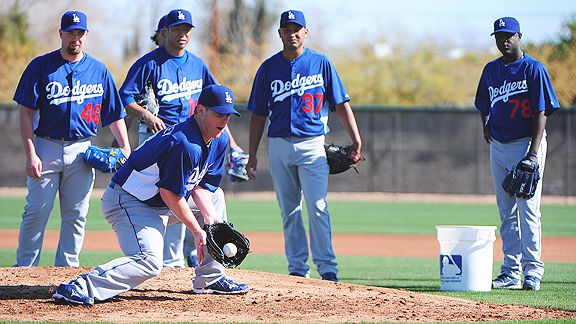 Kyle Terada/US PresswireChad Billingsley is digging fielding practice today at Camelback Ranch.
Friend this ...
January, 26, 2011
1/26/11
7:28
AM PT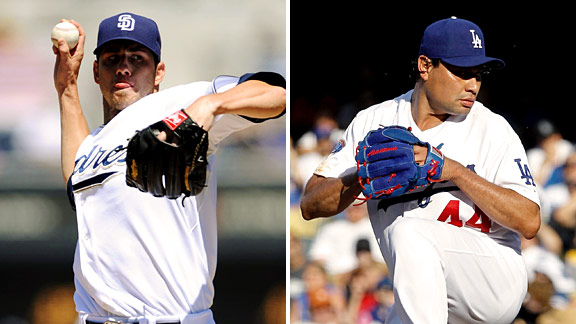 US Presswire/Icon SMIJon Garland had a 2.72 ERA in six late-season starts with the Dodgers in 2009, but Vicente Padilla took his spot in the postseason.
Ever since Jon Garland and Vicente Padilla signed/re-signed with the Dodgers, nothing has been said to indicate that Garland's spot in the Dodger starting rotation is anything but guaranteed, or that Padilla will have a shot at the starting rotation unless there's an injury.
I know why this is – I just wonder why this is.
The first "why" is a combination of theories that Padilla is a) better suited for relief work – in fact, might even excel in the role, b) has health issues that would benefit from being in the bullpen and c) simply isn't as good as Garland.
But the second "why" offers this: Padilla was one of the best Dodger starting pitchers of 2010 when healthy, and his health issues aren't as career-threatening as, say, Hong-Chih Kuo's, but rather closer to those of someone like Hiroki Kuroda. Padilla might simply be a better starting pitcher than Garland – certainly, the Dodgers came to think so in 2009, when Padilla ousted Garland from the Los Angeles starting rotation and then shined for most of the playoffs.
Ultimately, this question might be moot – sadly, odds are at some point in the season that an injury to another Dodger starting pitcher will put Garland and Padilla in the Dodger rotation at the same time. And the Dodgers seem to be pretty clear about the pecking order for when all the starting pitchers are healthy. But I still think it's interesting that Garland is considered an automatic. They tried these guys together once before, and Garland was the one who was pushed aside.
December, 5, 2010
12/05/10
10:25
PM PT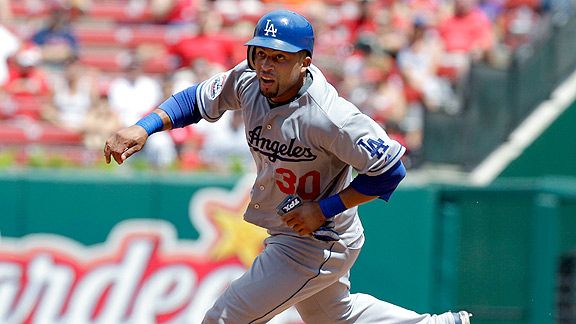 Jeff Roberson/APAre the Dodgers sincere when they say Xavier Paul is a contender to start next season?
Overall, I'm satisfied - even impressed – with how Ned Colletti has pulled together the 2011 Dodger starting rotation over the past month.
I was worried about how the Dodgers would fill their three offseason vacancies in the rotation. Then, thanks in part to Hiroki Kuroda's agreeability, the Dodgers got their front four. As in the past, I would have been prepared for the team to enter Spring Training with a combination of youngsters and journeymen battling for the No. 5 spot. But the Dodgers didn't even make us wait until December before filling that spot with a solid (though not spectacular) starter in Jon Garland.
There was another shoe to drop: Garland admitted to
AM 710
that there are concerns about his health. Whether this means shades of Jason Schmidt remains to be seen, but it's hard to get too worked up when the salary commitment to Garland is about 90% less than what the Dodgers paid Schmidt (are still paying, in fact). Garland figures to give the Dodgers something, and perhaps more than something.
There have been rumors that the Dodgers aren't done with the pitching, that they are contemplating also
bringing back adding Vicente Padilla as a swingman
, a super-utility pitcher. The addition would further increase the Dodgers' chances of presenting a smothering pitching staff next season, led by Clayton Kershaw in the role of Tim Lincecum, only wholesomer. Yes, my friends, the Dodgers have their ace – or rather, their king and his court.
All that being said ...
The left-field situation resembles what we expected the No. 5 spot in the starting rotation to look like. Journeymen, kids and babies. Jay Gibbons is Jeff Weaver, Xavier Paul is John Ely, Jamie Hoffmann is Carlos Monasterios, Trayvon Robinson and Jerry Sands are Chris Withrow and Rubby de la Rosa. I'm not losing sleep over it – certainly not in December. Should it remain this way until April, I'll admit I'll be surprised. But also fascinated.
If the Dodgers don't make any big additions in the outfield – and it could be months before we know – they will be doing exactly what they did when they handed four April starts to Charlie Haeger. That they did so once means they could do it again, but I have trouble believing the Dodgers have invested all this money in catcher, second base and the starting rotation, just to let left field twist in the wind.
On the other hand, they might sign Scott Podsednik and think they've done something useful, and simply be wrong.
* * *
Following the news that former Dodger outfielder Jayson Werth had signed a remarkable
seven-year, $126 million contract
with Washington, I
tweeted
the following:
At Matt Kemp's current age (26), Jayson Werth hit .235/.338/.374 before sitting out his age-27 season because of injury.

Through 2009: Matt Kemp career 116 OPS+, Jayson Werth career 115 OPS+. Kemp is 5 1/2 years younger.
The point, I hope is clear, is not to say that Matt Kemp is better than Jayson Werth (though he might be, sooner than people think). Rather, it's to remind people that it's a wee bit early to be giving up on Kemp because he had a disappointing season at age 25.
If we stipulate that Kemp has some issues to address going forward, let's remember that they are not insurmountable.
* * *
I was very satisfied with the season finale of "Boardwalk Empire," both in how it wrapped up this season's threads and set up Season 2. We haven't had any formal TV chat here in a while, so if anyone wants to share their thoughts, please feel free.
November, 28, 2010
11/28/10
8:50
AM PT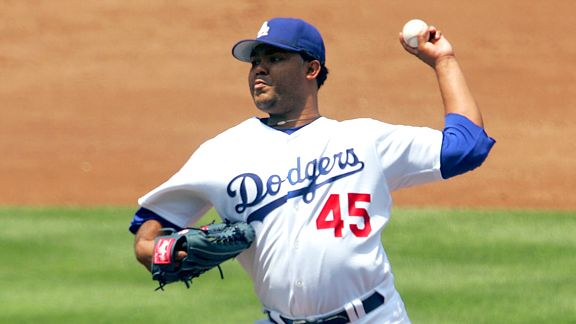 Jeff Gross/Getty ImagesFor 4 1/2 seasons, the Dodgers never knew what they were going to get in Odalis Perez.
In the wake of the
Jon Garland signing
, Eric Stephen of
True Blue L.A.
looked at the most commonly used starting pitchers by the Dodgers since 2000, and in the process found that the Dodgers "have had five pitchers each start 30 games in a season just twice in their 127-year franchise history (1977 and 1993), and they have only had four pitchers start 30 games eight other times."
Good stuff, but I was interested in something else, too. Given my surprise to find our starting rotation settled on paper before the end of November, I was curious how often in recent years the Dodgers had appeared to
enter the season
in better shape in their starting five than they're in right now – and how they fared in those seasons.
Looking back at the 2000s (playoff teams in bold):
2010: Charlie Haeger won a beleaguered fifth starter competition. The current 2011 rotation, with Garland as the fifth starter behind Clayton Kershaw, Chad Billingsley, Hiroki Kuroda and Ted Lilly, looks better.
2009: Rookies Kershaw and James McDonald looked promising on paper, but most people would probably take the 2011 quintet, with Kershaw two years older.
2008: Brad Penny was coming off a 3.03 ERA in 2007, Chad Billingsley was rising and Derek Lowe in the final year of his contract, while Kuroda was untested in the U.S. and Kershaw hadn't arrived. In fact, it was the rotating arms in the No. 5 spot (a shaky Esteban Loaiza, a green Hong-Chih Kuo) that helped hasten Kershaw's debut. The Dodger rotation heading into 2008 was probably better than the 2011 group – until Friday.
2007: This was the year newcomers Jason Schmidt and Randy Wolf (the first time around) were supposed to anchor the Dodger staff, joining Lowe, Penny and Billingsley. This was an exciting group – until Schmidt and Wolf combined for 24 starts and a 5.05 ERA.
2006: Lowe, Penny ... Odalis Perez (coming off a poor 2005) ... Brett Tomko and Jae Seo. A little bit of wishful thinking, here.
2005: New free agent Lowe, Perez (coming off a strong 2004) and Jeff Weaver for the front three. The Dodgers knew they'd be dealing with filler at the No. 5 spot, and with Penny coming back late from his 2004 injury, they were duct-taping No. 4 as well, ultimately starting April with the likes of Elmer Dessens and Scott Erickson.
2004: The Dodgers' first playoff trip of the century began with Hideo Nomo, Perez, Weaver and Kaz Ishii – not a bad front four if you thought the 25-year-old Perez would regain his 2002 form. The other three had ERAs below 4.00 the year before. The fifth starter left in TBD status until the job was seized by Jose Lima, who had a memorable year through and into the playoffs (after having thrown 503 2/3 innings with a 6.18 ERA since 2000), while Ishii ended up struggling and Nomo fell apart.
2003: Kevin Brown was coming off an injury-plagued 2002, but there was still hope for him (rightfully so) to lead a staff that also included a resurgent Nomo, Ishii and Perez (3.00 ERA in 2002). Darren Dreifort, attempting a comeback after going more than 20 months between games, got the first chance at the No. 5 start, but the Dodgers also had Andy Ashby (3.91 ERA in '02) as a No. 6 starter. So there was depth, but also an understanding that the depth could be needed immediately.
2002: Lots of new blood to join Brown and Ashby: Nomo (returning as a free agent from Boston), Perez (acquired with Brian Jordan in January's Gary Sheffield trade) and Ishii (signing his first U.S. contract on February 28) – not to mention Omar Daal, another returning former Dodger who came in an offseason trade from Philadelphia but began the year in the bullpen. By the time Spring Training started, the staff was deep – one of the reasons second-year manager Jim Tracy experimented with converting a guy who had made 24 starts in 2001 into a reliever: Eric Gagne.
2001: In his last year before becoming a free agent, Chan Ho Park was the Opening Day starter for the Dodgers, followed by Gagne, Dreifort, Ashby and – in place of Brown, who was limited by injuries – Luke Prokopec. Either Gagne or Prokopec were to be the No. 5 starters on paper, after making some waves in 2000. You might laugh now, but there was reason to think this could be a pretty decent starting rotation.
2000: You had Brown, Park and Dreifort, all coming off solid 2000 seasons. Then you had Carlos Perez, who had a 7.43 ERA in 1999. And rounding out the fivesome, you had the last gasp of Orel Hershiser, who had a 4.58 ERA with the Mets at age 40 the year before. It did not go well for this rotation.
In terms of Dodger starting rotations that had proven talent in all five slots since 2000, you'd have to look at 2007 and 2002 as the leading lights, with honorable mention to 2003. Neither of these teams, of course, reached the playoffs (though the '02 team won 92 games), while the Dodgers' past four playoff teams all had question marks in at least one spot in the starting rotation entering the season.
November, 26, 2010
11/26/10
1:56
PM PT
In a move that's mainly surprising for not having happened a year ago, the Dodgers have reacquired pitcher
Jon Garland
, signing him as a free agent for a one-year deal at a fairly svelte $5 million plus up to $3 million more in potential incentives, according to Ramona Shelburne of
ESPNLosAngeles.com
. There is an $8 million club option for 2012 (which automatically vests if he pitches at least 190 innings in 2011).
Garland, 31, gives up his share of home runs and doesn't strike out a whole bunch, but he has made a career out of durability and adequacy. The Dodgers have gone with him over Vicente Padilla, which many people thought would have been a logical move last offseason.
If you look at the
primary starting pitchers for the Dodgers year-by-year
, the Dodger rotation of Clayton Kershaw, Chad Billingsley, Hiroki Kuroda, Ted Lilly and Garland is one of the best they've had heading into a season in recent years. Last year, as the Dodgers noted in a press release, the quintet combined for a 3.39 ERA (not adjusted for park effects), which would have led all major-league rotations. Three of these guys are on the wrong side of the age curve, but it's still a strong foundation to say the least. Pretty strong strides for November.
Now, about that offense ...
Update:
Some quotes from Garland and Ned Colletti:
"I know there's a lot of people out there that don't think I'm any good," Garland said with a sardonic laugh after being told he was a trending topic on Twitter and reaction had been largely positive to his signing.
"I'm excited for the opportunity to come back to L.A.," he then said. "It's a ballpark that plays to my style of pitching.
"I'm not one to like jumping teams and year to year be in different places, so coming back to a clubhouse I've been in is exciting to me. ... In the last (few) years, I've probably had 10 different catchers."
Said Colletti: "We're very happy to have Jon back with us. His ability to pitch a lot of innings was certainly attractive to us, and he's won his fair share of games.
"Every year is different, and the composition of our club was different in some ways a year ago than it is right now. ... We felt that we needed to shore up our pitching as best we could, and do it with five starters.
"If we could get five starters that were all accomplished, that would be a good start. ... We prioritized it as a need. That doesn't mean we were always going to get five starters."
Remaining top priorities: "I think we need another bat and another relief pitcher, and figure out the catching situation," Colletti said.
May, 14, 2010
5/14/10
9:47
AM PT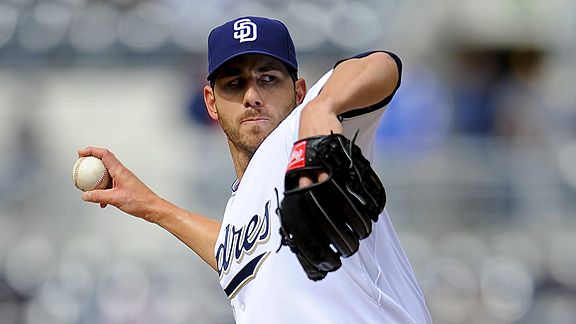 Andy Hayt/Getty Images
Jon Garland and the Padres are out to prove they're the real deal.
And moving now to the Nobody Knows Anything portion of the show, let us turn to the San Diego Padres.
A popular pick to finish last in everything in 2010 but trade deadline rumors, San Diego is a National League-best 22-12, with a 3 1/2-game lead over San Francisco and five games ahead than the Dodgers. And that's even with their best-known player (their only known player?), Adrian Gonzalez, having what's for him a subpar season. Gonzalez's .836 OPS this season (.319 EQA per
Baseball Prospectus
) barely puts him ahead of his Los Angeles counterpart James Loney's .826 (.306).
But Gonzalez is so far a footnote to the Padres' Cinderfella story, which has been written by their incredible pitching. Petco Park provides a boost to almost any hurler, but that doesn't entirely account for a
San Diego team ERA
that currently sits at 2.67. The home ERA is 2.13, but the road ERA is still a pretty nifty 3.16. And all this in the Padres' first full season without Jake Peavy in years.
Jon Garland, who has gotten the most attention in these parts because of his erstwhile Dodger status, brings a 1.71 ERA to tonight's start against the Dodgers despite having nearly as many walks (21) as strikeouts (25) in 42 innings over seven starts. Garland exemplifies the uncertainty that surrounds the Padres – can he stay this good? Signs, including a seemingly luck-filled batting average allowed on balls in play of .225, point to no. On the other hand, early indications (underscore "early") are that the Padres have one of the best team defenses in baseball, according to
Fangraphs
. So if that holds up, that could help sustain pitchers like Garland.
Meanwhile, the Padre pitching success hardly stops with Garland; there's also 29-year-old Kevin Correia (3.97), 26-year-old Clayton Richard (3.21), 25-year-old Wade LeBlanc (1.61!) and 22-year-old Mat Latos (3.32). Latos came within an infield single of a perfect game Thursday as San Diego completed its road sweep of San Francisco – and
in his past two starts
, Latos has faced 54 batters and retired 51, giving up three singles and walking none. According to
Stat of the Day
, he is just the fifth pitcher since 1952 to have consecutive starts of no more than two hits allowed with no walks.
Thursday's 1-0 victory was the Padres'
eighth shutout of the year
. In their past 13 games, San Diego has held its opponent below three runs 10 times.
As for the bullpen
, opponents have a .580 OPS against it in 434 plate appearances. With few exceptions, the Padre offense certainly hasn't been anything impressive (again, even accounting for park effects). So far, that hasn't mattered.
In a sense, the Padres are like one big bowl of John Ely – dazzling at the outset but still leaving open questions about whether they can sustain it for the long haul. Most feel the Padres are a fluke, but for now it's been left up to the Dodgers to begin to prove that. The high-powered Dodger offense and suspect pitching (at least in tonight's starting relief pitcher, Ramon Ortiz), playing in a park that hasn't always been kind to Los Angeles even in the best of years, have much more of a challenge this weekend than anyone would have thought a month ago.
* * *