Dodger Thoughts:

Josh Rawitch
September, 15, 2011
9/15/11
9:47
AM PT
The more I think about
the slow pace of the McCourt proceedings
, the more bothered I get. I'm sure there are reasons, but man, we really need to wait another 6-to-12 months before this thing is going to go to trial? How hard are they even trying?
Anyway, since we have the time and then some, take a listen to this interview that outgoing Dodger exec Josh Rawitch gave Wednesday to Mason & Ireland on
ESPN AM 710
. Should give you some insight into the thoughtful approach Rawitch brought to his job, difficult as it was.
September, 12, 2011
9/12/11
10:44
PM PT
The Arizona Diamondbacks took a big one from the Dodgers tonight, and I'm not talking about their
7-2 victory on the field
.
Dodger communications vice president Josh Rawitch is
leaving the Dodgers after this season
to become senior VP of communications for the Diamondbacks, whose organization and fans are sure to benefit from his presence.
It may seem strange to praise someone entrusted with helping craft public relations for Dodger fans' Public Enemy No. 1 (with apologies to Clayton Kershaw's curveball). But despite working at the behest of Frank McCourt (whose merits would often be touted to my skeptical eyes), Rawitch was a major asset for the franchise. He worked tirelessly not only to put the Dodgers' best foot forward but to make the fans' experience the best he possibly could, often going well beyond the call of duty.
Diamondbacks CEO Derrick Hall certainly knows this well – he was a Dodger predecessor of Rawitch as head of communications.
There is no shortage of bias toward Rawitch on my end, but it was well-earned. To this site, Rawitch was an early friend, one of the first in all of professional sports to accept that a place outside the mainstream media might still be worthy of being treated with respect. Professionally and personally, he treated me as well as anyone ever has.
I'm going to miss him, but despite how he might spin it in his final days on the job, I couldn't be happier for him to get a fresh start – with the 2011 National League West champions, no less.
* * *
Matt Kemp (2 for 4) hit his 33rd homer in the first inning tonight and Ted Lilly took a no-hitter into the fifth, but things fell apart for the Dodgers in the sixth with Arizona tallying five runs. Lilly failed to complete six innings for the 14th time in 30 starts this season.
Unfortunately for Kemp's pursuit of the NL Triple Crown, Albert Pujols hit his league-leading 35th homer tonight.
Jerry Sands went 3 for 4 with an RBI in his best major-league performance since going 4 for 4 on May 22.
Nathan Eovaldi, making his first career relief appearance, retired the side in order in the ninth inning.
Kirk Gibson used three relievers in the ninth inning to protect Arizona's five-run lead from the Dodgers, who loaded the bases but didn't score. Dee Gordon, in a 1-for-18 slump, made the final out.
San Francisco beat San Diego, meaning that the Giants are 4 1/2 games ahead of the 72-74 Dodgers.
Manny Ramirez "was arrested and charged with battery Monday after a domestic dispute at his South Florida home, police said."
Jonathan Broxton has officially been ruled out from returning this season, reports Tony Jackson of ESPNLosAngeles.com, meaning that he has most likely pitched his last game for the Dodgers. Nothing but best wishes, Jonathan.
February, 19, 2011
2/19/11
7:11
PM PT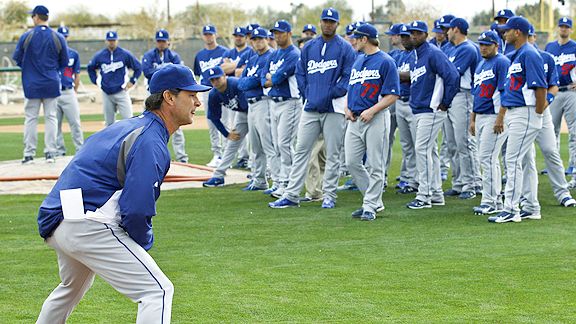 Morry Gash/APDon Mattingly: Five-tool manager?
The most fun and interesting detail to come out of Camelback Ranch today was the tidbit that Dodger manager Don Mattingly will stand in the batters box during bullpen sessions for his pitchers. From Tony Jackson of
ESPNLosAngeles.com
:
In Mattingly's first spring as the team's manager, he already has employed at least one unconventional tactic. Often, when a pitcher is throwing in the bullpen, Mattingly will grab a bat, step into the left-handed batter's box and get into the familiar stance he employed for so many years as a six-time All-Star first baseman for the New York Yankees.

"It gives me a better look at a guy's stuff," Mattingly said. "[By standing there], I can tell if what a guy is throwing can get somebody out or it can't."

Mattingly conceded that some of his pitchers -- especially those who will spend the spring fighting for a roster spot -- might be a bit unnerved by firing a baseball in the general direction of the boss's body. In deference to that, he said he steps out of the box when it comes time for a pitcher to throw to the inside part of the plate.
Ken Gurnick of
MLB.com
has more.
... Mattingly's participation in the bullpen sessions had the players talking.

"First time I ever saw that," said catcher Dioner Navarro. "Caught me off guard. I did a double take. You know, you don't want to drill him. But you can see he wants to be involved in everything, to know everything. It's like he's back to being a player. He knows what it takes. It brings confidence to the team to see that. It's exciting."

Mattingly, 49, said he no longer gets the urge to actually hit, having retired after the 1995 season. And he only steps in to his natural left-handed side, because he said he might not know how to get out of the way from the right-hander's box.

Among the pitchers he "faced" Saturday were veterans Hiroki Kuroda and Vicente Padilla. Mattingly said he'd think twice if he saw a pitcher was having control problems.

"Managers do that in Japan and it's considered an honor," said Kuroda. "They do it for top young prospects and established veterans. And in the middle of Spring Training you have a session when you throw 200 to 300 pitches to establish endurance, and the manager steps in then, so you don't slack off." ...
* * *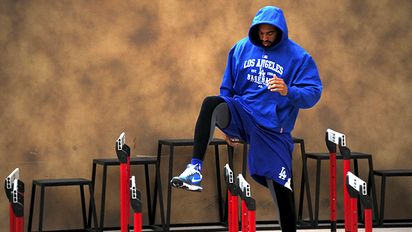 Jon SooHoo/Los Angeles DodgersMatt Kemp works out at Camelback Ranch today.
Davey Lopes baserunning tutorials are in full swing. From Jackson:
... Lopes has been giving these tutorials every morning this spring, and after a few minutes on Saturday, (Matt) Kemp was joined by outfielder Tony Gwynn Jr., shortstop Rafael Furcal, highly touted prospects Dee Gordon and Trayvon Robinson and non-roster outfielder Trent Oeltjen. Not one of those players is required to be in camp until Monday, but several of the team's position players chose to report early.

Lopes' group spent the entire session taking leads off first, crouching and breaking toward second base, though they weren't running at anything close to full speed and they stopped about halfway there.

"Right now, I'm just trying to get an idea of what they do and what they attempt to do and see if there is something we can try to adjust to make it a little better fit for them," Lopes said. "Basically, we're just breaking down their movements." ...
* * *
Hiroki Kuroda is working on adding a curveball to his repertoire. Dylan Hernandez of the
Times
has more:
Last spring, Kuroda tried to add a changeup to his arsenal, but the project was abandoned early in camp. Kuroda said he's more optimistic about his curveball.

"I'll throw it during the exhibition season and see how it feels," he said.

Kuroda said he has received tips from Clayton Kershaw, but that he learned the curveball grip over the winter by watching videos.
* * *
Steve Henson of
Yahoo! Sports
writes about the importance to Rafael Furcal of the fire truck recently donated to his hometown in the Dominican Republic:
"I'll sleep better knowing people will be safe," Furcal said. "I'm the only guy who made it. It's like a responsibility to me."

His love of firefighting was noticed by Dodgers public relations director Josh Rawitch, who mentioned it to general manager Ned Colletti during Furcal's contract negotiations after the 2008 season. Colletti included the truck in discussions with Furcal's agent, Paul Kinzer. Furcal was torn between signing with the Braves – the team that first signed him in 1996 and for whom he played his first six years in the majors – or returning to the Dodgers.

The fire truck was the ideal perk. It spoke to something close to his heart. And it convinced him the Dodgers cared about him as a person, and about his hometown.
* * *
Farewell, Ollie Matson
.
February, 17, 2011
2/17/11
3:38
PM PT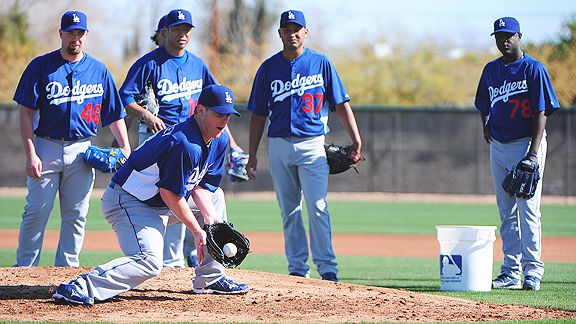 Kyle Terada/US PresswireChad Billingsley is digging fielding practice today at Camelback Ranch.
Friend this ...