Dodger Thoughts:

Josh Wilker
August, 3, 2011
8/03/11
4:39
PM PT
The day began when Young Master Weisman came out of his bedroom at 6:30 a.m. on this, his seventh birthday. I called him over to me, and he gave me, well, he gave me a hug that was the biggest, longest hug any of my children has ever given me.
I would say that roughly 75 percent of that hug was pure excitement about his birthday, but you know, I think maybe a quarter of it had something to do with me. And I'll take that combination. It felt really, really good. Just the fact that he was that purely happy ... I'll take it.
Then I learned that Josh Wilker of Cardboard Gods
became a father
. It was on July 30, the same birthday as baseball's youngiest youngster, Joe Nuxhall. How absolutely great.
That brings me to Grant Brisbee's piece
for Baseball Nation today
. Brisbee, some of you know, runs San Francisco Giants blog
McCovey Chronicles
. He happens to be one of the best, funniest and most imaginative and insightful baseball writers around, in any medium. And today, he wrote a very nice column entitled, "The Los Angeles Dodgers Are Not Having A Good Season."
As a Giants fan growing up in the '80s, I went to baseball games in a concrete abomination known as Candlestick Park. The Dodgers had a quaint and airy ballpark. I stuffed tauntaun blubber down my jacket to stay warm during the day games. Dodgers fans wore short-sleeve shirts to the ballpark at night. I watched a team lose year after year. The Dodgers won every year. When the Giants did win something, it would be immediately followed by a sharp, piercing playoff exit. When the Dodgers made the playoffs, they'd skip through and win the World Series.

So the dislike is true and pure, forged in the fires of youthful resentment and envy. Not a fan of the Dodgers. And I figured if they ever became the 1899 Cleveland Spiders -- earning every bit of a 20-134 record -- it would be delightful. When the McCourt madness started happening, it was somewhat amusing. When Selig took financial control of the Dodgers, it was hilarious. And then there were allllll those losses. The German word for taking pleasure in the suffering of others is schadenfreude, and this season has been the freudiest.

At this point, though: enough. We get it.

The tipping point was Rubby De La Rosa needing Tommy John surgery. Fans of under-.500 teams are people too. They have certain rights -- things you can't take away. And the most important, inalienable right of the fan of a bad team is the right to watch a top prospect's rookie season. The Royals, for example, have stunned the world by not contending, but every Royals fan in the world can turn on a TV and watch Eric Hosmer and Danny Duffy and Mike Moustakas play. The performances are up and down, but that's not the point. The point is that they can watch a bad team and project how the prospects will be responsible for the eventual turnaround.

De La Rosa came up and featured a right-handed repertoire that the Dodgers hadn't seen from one of their young pitchers since the days of Eric Gagne. And then as quickly as he was up, he was gone in a puff of smoke.

That's not right. I know I'm supposed to be a partisan fan of a team in a historic rivalry ... but, come on ... really, when Rubby went down ... that's too much.
The reaction some would say I should have to this is horror. A Giants fan taking pity on us — can things sink any lower?
But that's not me. I'm glad when someone understands, when someone extends me a hand instead of kicking me when I'm down. That's the way the world should be.
Giants fans want to win. Dodger fans want to win. Those are two missions forever in conflict. But there are moments, such as when Giants and Dodger fans joined forces to condemn the Bryan Stow violence, when our shared humanity — not to mention some "There but for the grace" knowledge — transcends our differences. And I don't care how trite that sounds — I'm a flat-out sucker for it.
Happy birthday, my boy.
June, 8, 2011
6/08/11
7:45
AM PT
"The Bad News Bears" is my favorite baseball movie. "The Bad News Bears in Breaking Training" is ... not.
Nevertheless, my interest in the sequel has shot through the roof thanks to the fact that
Cardboard Gods
author Josh Wilker has a new book out about it:
"The Bad News Bears in Breaking Training (Deep Focus)."
From the product description at Amazon:
In 1977, The Bad News Bears in Breaking Training had a moment in the sun. A glowing junk sculpture of American genres—sports flick, coming-of-age story, family melodrama, after-school special, road narrative—the film cashed in on the previous year's success of its predecessor, The Bad News Bears. Arguing against the sequel's dismissal as a cultural afterthought, Josh Wilker lovingly rescues from the oblivion of cinema history a quintessential expression of American resilience and joy.

Rushed into theaters by Paramount when the beleaguered film industry was suffering from "acute sequelitis," the (undeniably flawed) movie miraculously transcended its limitations to become a gathering point for heroic imagery drawn from American mythology. Considered in context, the film's unreasonable optimism, rooted in its characters' sincere desire to keep playing, is a powerful response to the political, economic, and social stresses of the late 1970s.

To Wilker's surprise, despite repeated viewings, The Bad News Bears in Breaking Training continues to move him. Its huge heart makes it not only the ultimate fantasy of the baseball-obsessed American boy, but a memorable iteration of that barbed vision of pure sunshine itself, the American dream.
For an example of what Wilker can do with this subject, just take a read of
this piece at his website on Rudi Stein
. And while you're there, make sure you don't miss the Chico's Bears with
Charlie's Angels
.
May, 25, 2011
5/25/11
10:47
AM PT
ESPNLosAngeles.com
has an update on Hong-Chih Kuo:
... (Kuo) appears to have regained his command while throwing off a mound at the team's spring-training facility in Glendale, Ariz.

"He has been throwing a lot," Dodgers manager Ned Colletti said. "He is at about 90 percent intensity and having no problems with his command. We'll see where we go from here."

Colletti said Kuo eventually will face hitters in extended spring-training games, but that there is no target date for that to happen, nor is there a target date for Kuo to begin a minor league rehabilitation assignment, which would be a necessary precursor to him coming off the disabled list and rejoining the Dodgers bullpen. ...
Elsewhere ...
Tony Jackson of
April, 23, 2011
4/23/11
11:31
PM PT
You didn't see him mentioned
in my last post
because he hasn't gotten into a game yet, but Brett Tomko is back in the majors, with Texas. Richard Durrett of
ESPNDallas.com
has the story.
Here are some other links from the past week ...
June, 9, 2010
6/09/10
8:36
AM PT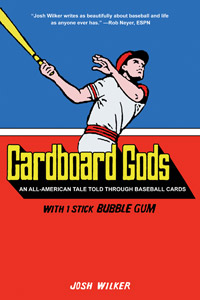 Readers of this site will know of my evangelism for Josh Wilker's website,
Cardboard Gods
. That appreciation redoubled when I read his book,
Cardboard Gods: An All-American Tale Told Through Baseball Cards
, which I couldn't recommend more highly to you all. It is at once entertaining and deeply affecting – kind of magical, really.
Wilker's book tour reaches Southern California on Thursday with his
7 p.m. appearance at the South Pasadena Library
, co-hosted by the Baseball Reliquary. (This takes place in conjunction with the Reliquary's exhibit, "Son of Cardboard Fetish.") This seemed like a perfect time to talk with Wilker about a few of the many things that make his writing so compelling:
A big part of Cardboard Gods that migrated from the site to the book is the importance of what you think a player's pose or expression on the card is telling you. Obviously, these are guesses on your part, but do you think the photos on the cards are nevertheless windows to the gods' souls – a veritable truth you wouldn't necessarily get any other way? Or are they more just windows to our own souls?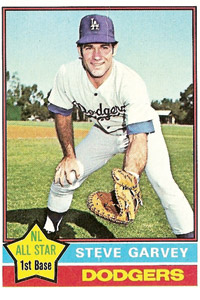 Lookin' sharp, Steve
I don't know if they get me to any truths, but they definitely have always been able to get me to start wondering. The moments captured in my cards from the '70s would seem to most people to be flat and trivial, the kind of thing that no one, not the player, not the photographer, not the great majority of people who would ever look at the card, could ever care much about. But because I cared about them as a kid, the stiff poses and enigmatic expressions continue to have a hold on me now, especially because many of them seem to include the same element of aimlessness and absurdity that has threaded through my post-childhood years. So they exist in two worlds for me, the adult world and the child world, and so it's no wonder I'm drawn to them, since I'm an adult who has been kind of perpetually haunted and fascinated by his own childhood.
Aimlessness is an important theme in the book, especially after your brother put up boundaries between the two of you as he got older. But one thing about your family is that it seemed passionate about intellectual pursuits – your dad, your mom, Tom, even Ian with all the reading he seemingly did. And even in your aimless days, you were thoughtful and imaginative to say the least. How come that didn't translate for you into more interest or dedication to schoolwork as a kid? Was life just too painful to allow you to focus on school, to allow that to be an outlet?
April, 13, 2010
4/13/10
10:21
AM PT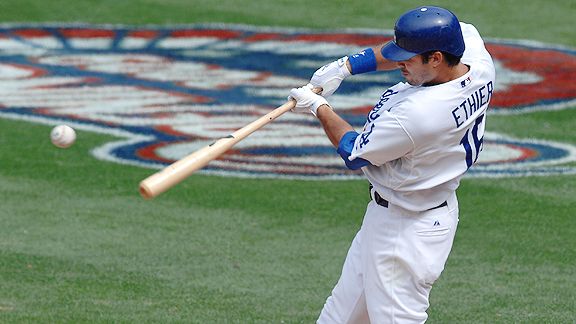 John Cordes/Icon SMI
Andre Ethier blasted two homers and drove in four runs in the Dodgers' home opener a year ago today.
They were overshadowed by Orlando Hudson producing the first Dodger cycle in 39 years, but there were plenty of heroes that made
last year's Dodger opener
a laugher in the best kind of way for the fans. Every Dodger starter had at least one hit, Andre Ethier homered twice, Chad Billingsley scattered four singles and a double over seven innings while striking out 11 – heck, even Will Ohman pitched a shutout inning. All against the Giants. The good times rolled on through April's record streak of consecutive home victories to start a season.
Things are a bit cloudier a year later, with the Dodgers 3 1/2 games behind the Giants in the National League West before the home crowd has even seen a regular-season pitch. But Monday's gray skies have cleared up, just as
Albert Peterson predicted
. Let's go have some fun!
* * *
Joe Torre-managed teams have won 12 consecutive home openers, notes Eric Stephen of True Blue L.A. Stephen has more Dodger home opener details here.
In the comments of that thread, BHSportsGuy lists the 15 Dodger pitchers credited with a win since Clayton Kershaw's last on July 18.
Via Twitter, Stephen points to a nice feature by Tom Krasovic on Dick Enberg, reborn as a Padres play-by-play announcer. Related: Rob Neyer of ESPN.com heard Enberg say that he tried to write a screenplay about legendary spy/catcher Moe Berg.
Memories of Kevin Malone took a close look at the Dodger defense.
Padres pitcher Chris Young went on the disabled list, where he'll find Arizona catcher Miguel Montero and might soon be joined by Phillies shortstop Jimmy Rollins. Juan Castro is the Phillies' current replacement for Rollins.
Josh Wilker of Cardboard Gods gets some nice Huffington Post exposure in writing about the anniversary of Mark Fidrych's death and the connection with his childhood.
Blue Heaven passes along a March 6, 1948 letter from Branch Rickey to Walter O'Malley (written from Spring Training at Ciudad Trujillo, Dominican Republic) calling for a trade of Eddie Stanky "even if we were getting nothing for him at all," to create

an opening in the Brooklyn infield. According to Baseball-Reference.com, Stanky was traded within 24 hours with a player to be named later to the Boston Braves for a player to be named later, Bama Rowell, Ray Sanders and $40,000. (A month later, the Dodgers completed the trade by selling Sanders back to Boston for $60,000.)
Four-hit nights for Dodger minor leaguers on Monday: Xavier Paul had three singles and a homer for Albuquerque, Dee Gordon had three doubles, a single and an error for Chattanooga and Jerry Sands had two doubles and two singles for Great Lakes. Kevin Goldstein of Baseball Prospectus writes that after an 0-for-6 start in AA, Gordon has six hits (including four doubles) in his past seven at-bats.
Isotopes reliever Brent Leach is having a Sherrill of a time in his first two games of the year.
Matt Hiserman, son of Times assistant sports editor Mike Hiserman and a college pitcher for the University of San Francisco, has come back inside of two months from a liner to the head that landed him in intensive care for four days, writes Eric Sondheimer of the Times.
The crackdown on Dodger Stadium pregame tailgating was scheduled to begin at dawn in Elysian Park, according to Zach Behrens of LAist (via L.A. Observed, which also points to a David Kipen piece talking about the origins of the Dodgers' "LA" logo.).
How much of a difference does payroll make in baseball? Tom Tango writes at TMI: "If you spend at the league average (Payroll Index = 100 percent), your chance of making the playoffs is 27 percent. If you spend at double the league average (Payroll Index = 200 percent), your chances are 77 percent. And if you spend at half the league average, your chances dwindle to almost 0."
Bob Timmermann wrote movingly about his grandmother, Ella Kimberling, for L.A. Observed's Native Intelligence.
Quick entertainment notes from my day job: 1) Definitive details on Conan O'Brien's move to TBS, 2) DirecTV will broadcast all five seasons of "The Wire" commercial-free, 3) Three major new hits ("The Good Wife," "Modern Family" and "NCIS: Los Angeles" premiered within 25 hours of each other.
Leaving you with this: Brian Akin of Dear (Tommy) John Letters is thinking of hanging up his blog if he has to hang up his spikes. While I certainly hope he signs with another team, reading his latest post will serve as a reminder that no matter what, he should keep writing.