Dodger Thoughts:

Juan Rivera
November, 2, 2011
11/02/11
8:15
AM PT
In a move reminiscent of Rod Barajas 2010-2011, the Dodgers are close to a one-year contract with Dodger second-half helper Juan Rivera for 2012, according to Tony Jackson of
ESPNLosAngeles.com
. The contract would have a 2013 club option.
Rivera will get $4 million next season, according to Ken Gurnick of
MLB.com
. You can evaluate the worth of the signing by reading
more about Rivera here
in his Remembering 2011 piece.
October, 11, 2011
10/11/11
8:30
PM PT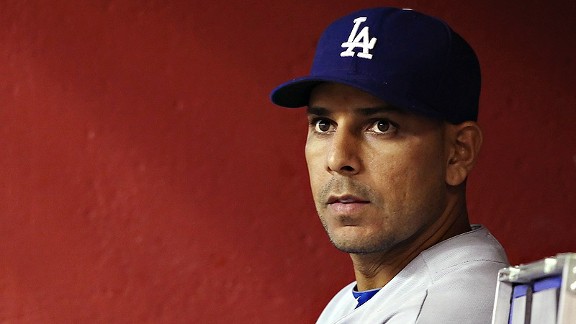 Christian Petersen/Getty Images
Juan Rivera
(15)
The setup:
Rivera was sent to Toronto by the Angels on January 21 in their infamous Vernon Wells deal, after OPSing .721 in 2010 with 15 homers in 124 games. As a Blue Jay, Rivera turned in a career-low .666 OPS (79 OPS+) in 70 games. On July 4, a day after he turned 33, Toronto designated Rivera for assignment. Eight days later,
the Dodgers acquired Rivera
in exchange for future considerations, cutting bait on Marcus Thames in the process. In one of my less prescient analyses of the year,
I was almost completely dismissive of the pickup
.
The closeup:
In 2006, Marlon Anderson. In 2009, Ronnie Belliard. In 2010, Rod Barajas. In 2011, Rivera. Once again, Ned Colletti found one of his greatest successes of the year in giving up next to nothing to acquire a potent bat for the final two-plus months of the season – although Rivera wasn't so much potent as he was a solid improvement over what preceded him. In 62 games with the Dodgers (45 starts in the outfield, 13 at first base), he had a .333 on-base percentage and .406 slugging percentage with five home runs in 246 plate appearances. Sometimes, as Mike Scioscia's Tragic Illness points out, it helps
just to stop playing terrible players
.
What happened with Rivera is that, after OPSing .863 with four homers in his first 34 games as a Dodger, through August 24, he fell to .604 with one homer in his final 28 games and .527 in his final 15, including a 3-for-27 finish. You could say he was gassed, or regressed to the mean, but it took some of the rust coat off his Los Angeles detail.
Coming attractions:
Rivera is a free agent, having played out the three-year, $12.75 million contract that he signed with the Angels before the 2009 season. He earned $5.25 million this year, but any chance that he could match that figure for 2012 evaporated with his late-season slump (assuming the powers that be noticed it). Furthermore, his chances of returning to the Dodgers diminished with James Loney's late-season hot streak, which could push the first baseman back into the Dodgers' future, Jerry Sands to left field and Rivera out of town.
However, if Rivera gives ground on salary, or if it's decided that Loney is too expensive to tender a contract, Colletti would probably jump at the chance of having him back, just as he did (in mostly ill-fated fashion) with Anderson, Belliard and Barajas. The presence of Rivera would take some of the pressure off Sands to perform immediately, and one could certainly argue that Loney (who will get at least $6 million if the Dodgers don't farewell him) isn't worth millions more than Rivera for 2012. Colletti is high on Sands, but it's hard to believe he'd be more comfortable with Sands batting behind Matt Kemp in April than Rivera. Moreover, the Dodger bench definitely has room for him at the right price.
Assuming that a signing of a super-slugging free agent by the Dodgers is mythical, Rivera might well be a Dodger next year, but the more he's looking for in salary, the longer he might be kept on hold.
September, 12, 2011
9/12/11
6:52
AM PT
Sometimes it's really curious what happens after you say something out loud.
Sunday, after
Dee Gordon
struck out in his first at-bat of the Dodgers'
8-1 loss
to San Francisco, I
mentioned the fact
that (in addition to having only two career walks), Gordon
had only seen ball three a total of 10 times
in 156 career plate appearances.
Lo and behold, in his final times at bat Sunday, Gordon walked on a 3-2 pitch in the fifth inning and grounded out on a 3-2 pitch in the seventh.
As bad as Gordon's walk totals are – and make no mistake, even though they increased 50 percent in his last game, they're just awful – I'm not ready to pronounce them a career-killer. Gordon's still only 23, he's in the big leagues before he was supposed to be and his ungodly speed has definite value that helps compensate. If he can hold down the shortstop position, and if he can continue to develop as a hitter, he might be a Dodger regular for years to come.
It sure would be nice if he showed some walking ability, though – and his lack of power doesn't excuse him completely. For example,
Brett Butler
in his first two seasons in the majors (1981-82) had seven extra-base hits and no home runs in 413 plate appearances, but still managed to walk 44 times while striking out 52. Gordon, in 159 plate appearances, is at three walks, 24 strikeouts.
Except for the walks, Butler's rookie season was not that unlike Gordon's – 145 plate appearances, .254 batting average, .317 slugging percentage, nine steals in 10 attempts. Butler then had a huge learning curve in his second year, hitting .217 and slugging .225 in 268 plate appearances while stealing 21 bases in 29 attempts, in a year that included a midseason demotion to Triple-A for six weeks. Be prepared ...
Butler was considered one of the fastest young players in baseball in his day and went on to steal 558 bases in his career. It shows you the kind of skills that Gordon will have in his bid to overcome his walk issues that he already has twice as many steals as Butler, while also offering the (admittedly error-prone) ability to play a more important defense position.
The Dodgers and their fans might need as much patience with Gordon as the kid himself needs to show at the plate. Hopefully, the sheer excitement he brings to the game will help with that.
* * *
One more remembrance from a forgettable game: If you missed Juan Rivera's circus play Sunday,
here's your chance to rectify that
.
August, 6, 2011
8/06/11
5:01
PM PT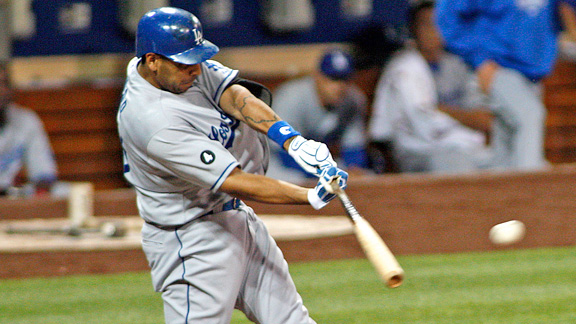 Jake Roth/US PresswireJuan Rivera
Here's a tip of the hat to
Juan Rivera
, who has performed above my expectations (but not above those of the guy who hounded me on Twitter last month saying he was a great pickup).
Rivera has a .359 on-base percentage and .416 slugging percentage in 64 plate appearances since coming to Los Angeles, which is superb by 2011 Dodger standards. He has effectively become an everyday player with starts in 17 of 20 games, counting tonight, when he makes his eighth start at first base.
The Dodgers begin play tonight 9 1/2 games behind San Francisco and Atlanta, their narrowest deficit since June 27. The same team that has enabled them to get over the double-digit hump, Philadelphia, will travel from San Francisco to Los Angeles to be the Dodgers' opponent Monday, Tuesday and Wednesday, while the Giants travel to Pittsburgh and the Diamondbacks to Houston. If that somehow doesn't provide a reality check, it will mean that someone has gone into the garage to try to jump-start their Miracle Machine. In the meantime, we'll see what
youngun Nathan Eovaldi
can do.
Juan Rivera homered on his first pitch as a Dodger, Matt Kemp threw out a runner at the plate, hit his 23rd homer and drove in four runs, and Clayton Kershaw allowed no earned runs over seven innings.
Yet thanks to a Juan Uribe error that paved the way for four unearned runs off Kershaw in the bottom of the seventh (including a three-run homer to deep center by Xavier Nady), the Dodgers had to sweat out
a 6-4 victory
.
The error effectively cost the Dodgers their fourth shutout in their past five games.
Hong-Chih Kuo started the ninth and was in position to become the eighth Dodger to get a save this year, but the final out ended up going to Javy Guerra (with the tying run on first base) on a called strike three. By the way, the Dodger team record is
11 pitchers with a save in a single season
, last achieved in 1979.
The Dodgers have won five in a row, but all that's done is get them to 11 games out of first place in the National League West, with a half-game drop imminent because San Francisco is romping over San Diego.
July, 12, 2011
7/12/11
11:46
AM PT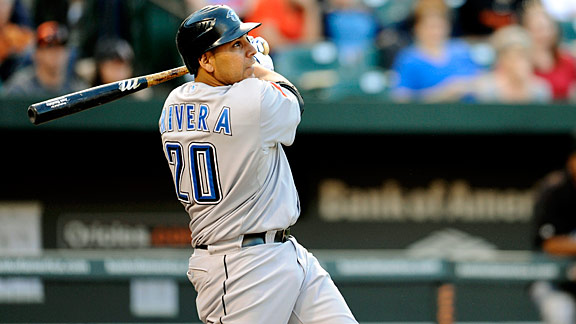 Mark Goldman/Icon SMIJuan Rivera has a .700 OPS in 730 plate appearances over this season and last, but he's been better against lefties.
In a less-than-inspirational exchange, the Dodgers
have acquired outfielder Juan Rivera from Toronto
, plus cash, in exchange for a player to be named later
or
cash (presumably if the organizations can't agree on the player).
In a separate but related move, the Dodgers designated Marcus Thames for assignment. Here's more from my news story:
Rivera, who turned 33 last week, was batting .243 with six homers and 28 RBIs in 275 plate appearances this season. He had a .305 on-base percentage and .360 slugging percentage for the Blue Jays after coming to Toronto from the Los Angeles Angels in the January trade that sent Vernon Wells west. The year before, Rivera had a .312 OBP and .409 slugging for the Angels in 455 plate appearances.

He is in the final year of a three-year, $12.75 million deal, making $5.25 million this year.

The 34-year-old Thames, who signed a one-year, $1 million deal with the Dodgers the same week as Rivera went to Toronto, was hitting .197 with two homers and seven RBIs with the Dodgers over 70 plate appearances in an injury-marred season that showed him ill-suited to play in the field. He had a .243 OBP and .333 slugging after posting .350/.491 numbers with the New York Yankees in 2010, playing the majority of the time as a designated hitter.

Rivera will join a left-field mix with the struggling Dodgers that includes Tony Gwynn Jr., Trent Oeltjen and Eugenio Velez, with Jerry Sands and Trayvon Robinson in the minors.

Dodger left fielders have two home runs and a .618 OPS this season, the worst in the National League.
There will be a lot of panic in some parts about whom the player to be named later might be, though I don't have much fear on this front that it will be a significant prospect. And the cash from Toronto should cover a good part of what Rivera is owed this season.
So, this seems mostly to be a concession that Thames can't hack it as a National League, non-designated hitter, whereas Rivera might fill the Thames' role and contribute in the field a little.
At the same time, Rivera is pretty clearly a player in decline offensively — much more than Thames was going into this season — so I get no joy out of seeing him taking up space on the roster on the odd chance that he'll bash a homer against a lefty once in a while. (Rivera has two home runs and a .909 OPS in 65 plate appearances against lefties this season.)
Of course, the Dodgers are still carrying Eugenio Velez, but that's another story.
Clearly, Ned Colletti hasn't quite given up on the divisional race, though this hardly means he's gone all in.