Dodger Thoughts:

Justin Miller
November, 18, 2010
11/18/10
10:29
AM PT
Tony Jackson of ESPNLosAngeles.com has taken a journey down into the Dodger farm system, returning with a couple of stories: a feature on
Ivan De Jesus Jr.
, along with
updates on seven other minor-leaguers
. Here's the opening to the DeJesus story:
One look at Ivan De Jesus Jr.'s numbers in the Arizona Fall League, which concludes Thursday, could yield the reasonable conclusion that the longtime Los Angeles Dodgers infield prospect is ready for the major leagues. One look at what he did in the Pacific Coast League this season could make you wonder why he didn't receive a September call-up to a team that by September really didn't have much to lose. ...

In other news ...
July, 23, 2010
7/23/10
2:53
PM PT
The Dodgers announced they have designated Justin Miller for assignment and recalled the tantalizing
Kenley Jansen
.
Jansen has struck out 50 in 27 innings since his promotion to AA Chattanooga this season. He was converted from catcher to pitcher in 2009, when he caught 34 games and pitched in 12.
Miller had a 4.44 ERA with 33 baserunners allowed in 24 1/3 innings and 30 strikeouts. He allowed 12 runs and seven inherited runs in his last 18 innings.
June, 29, 2010
6/29/10
10:29
PM PT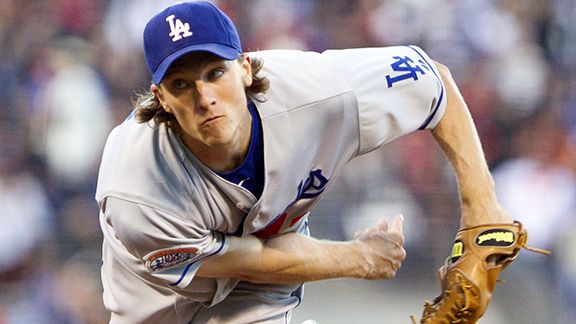 Jason O. Watson/US PresswireRemember me? I'm still getting it done
John Ely walks the occasional batter now, and Elymania has died down, but with everyone's attention elsewhere, he is back to doing the job.
After a 30-pitch first inning in which he walked two and gave up a double and a run, the rookie righthander stymied the Giants in pitching the Dodgers to a
4-2 victory Tuesday
. He went six more innings, allowing only five more baserunners and no runs, giving the Dodgers a much-needed lift. Ely pitched his second consecutive game of seven innings and one earned run, lowering his season ERA to 3.62.
James Loney was another hero, twice giving the Dodgers the lead with an RBI single in the first and a two-run single in the fifth. Rafael Furcal (3 for 5 with a triple) and Russell Martin (2 for 5 with two steals) were the main tablesetters for the Dodgers, and Casey Blake had the other RBI.
With Jonathan Broxton, Hong-Chih Kuo and Ronald Belisario all designated for rest after heavy workloads in recent days, the Dodgers had to regret some missed opportunities to put the game away. They stranded Furcal at third base with two out in the sixth and left the bases loaded in the seventh.
But in the eighth, Ramon Troncoso got two outs, gave up a single, and then George Sherrill came in and had what had to be his best sequence of the season, going 1-0 on Aubrey Huff and then striking him out on three perfect breaking pitches –
Sherrill's first strikeout since May 17
.
Justin Miller, who began the season in AAA, had a chance for his first career save in his 176th career major-league appearance, but gave up a leadoff homer in the ninth to Pat Burrell and a two-out single to Edgar Renteria that fell just in front of Reed Johnson in left field. Belisario, who began warming up after the Burrell homer, came in for the third consecutive game after having thrown 12 and 13 pitches the previous two nights. Rookie pinch-hitter Buster Posey lined Belisario's first pitch to Furcal, who reached to snare it for the final out. That gave Belisario his first career save in his 103rd appearance. (Bob Timmermann adds that it was the first one-pitch save by a Dodger since
Duaner Sanchez in 2005.
)
San Diego lost again, allowing the Dodgers to close to within three games of first place in the National League West.
Matt Kemp, who came off the bench in the first inning
after Manny Ramirez's injury
, fouled out, struck out and singled twice in four at-bats, while making two more long running catches in center field. Both catches came on full sprints after slow reactions, but that's basically how Kemp did the job in center all last year.
Johnson went 0 for 4, striking out three times for the second consecutive game, matching Kemp's feat from Thursday and Friday last week.
Tony Jackson of
ESPNLosAngeles.com
has more on the Kemp drama.
June, 14, 2010
6/14/10
8:46
AM PT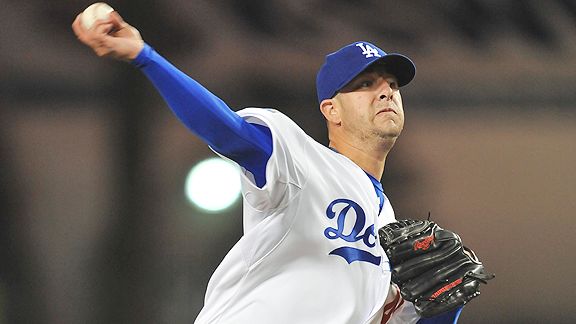 Jayne Oncea/Icon SMI
Justin Miller is on the Dodger roster bubble despite a 3.48 ERA.
Vicente Padilla isn't a 100 percent lock to rejoin the Dodger starting rotation this weekend, but you can pretty much count on it. Though he gave up
four earned runs in 5 2/3 innings for Albuquerque on Sunday
, he threw 81 pitches and didn't walk a batter. Assuming he feels fine physically today, he should be on the Fenway Park mound Friday or Saturday, with John Ely starting the other day and Hiroki Kuroda going on Sunday. (It would make more sense to have Padilla wait until Saturday, thereby giving the Dodgers an extra day with an extra relief pitcher, unless that upset Padilla's rhythm somehow.)
Padilla's return means someone on the Dodger pitching staff must get displaced.
Justin Miller
presents yet another case of a pitcher whom the Dodgers would like to retain but is out of options. Miller, who gave up what turned out to be a critical eighth-inning home run Sunday, hasn't pitched badly for the Dodgers, allowing 13 baserunners in 10 1/3 innings while striking out 10, but he is the least important person on the staff at this point. Jon Link, among others, provides insurance for the Dodgers if Miller ends up in another organization.
Risking the loss of Miller is the only viable move the Dodgers have besides finding a person to go on the disabled list. There has been some talk that John Ely would go back to Albuquerque on Saturday morning precisely because he does have options remaining, but I think it's safe to dismiss that possibility. Ely hasn't pitched badly enough to warrant the demotion, and Joe Torre seems eager to get Carlos Monasterios back into the bullpen. So even though the Dodgers' June 21 off day would allow them to go with a four-man rotation through June 26, expect Ely to stick around. (If Ely were demoted, then Monasterios would be starting the middle game against the Yankees unless the Dodgers performed some more roster shenanigans).
As far as the disabled list goes, well, there's always a recurrence of George Sherrill's back injury, not to mention "elbow soreness" for someone like Ramon Troncoso.
At this point, this problem feels like a good one to have. Not everyone was excited about Padilla's impending return, but they're probably a little less unexcited after seeing Monasterios struggle Sunday. I don't expect Padilla to be the pitcher he was at the end of 2009 – though in any short spurt he might be – but if he's even the average pitcher he was before he came to the Dodgers, that'll probably be fine. Let's face it, the Red Sox are a challenge for any Dodger pitcher.
May, 27, 2010
5/27/10
10:04
AM PT
The Dodgers did a little bait and switch: After telling us 18 hours ago that Ramon Ortiz would back up Carlos Monasterios in the latter's start Friday, they designated Ortiz for assignment., according to manager Joe Torre (via the Dodgers' public relations department).
Los Angeles has brought up
Justin Miller
from Albuquerque, just in time for Vin Scully to talk about the ex-Giant's many tattoos on this weekend's telecasts from Colorado. Miller has a 2.22 ERA for the Isotopes in 24 1/3 innings with 25 baserunners allowed against 25 strikeouts.
Miller had a 3.18 ERA with 36 strikeouts in 56 2/3 innings
for San Francisco in 2009
, a year that ended with arm trouble.
Torre told reporters that the Dodgers have offered Ortiz a minor-league assignment and that Ortiz is discussing it with his agent. Torre also said that Charlie Haeger will rejoin the Dodgers sometime soon.
Finally, Andre Ethier will play in minor-league rehab games for Albuquerque at Memphis on Friday and Saturday.