Dodger Thoughts:

Justin Sellers
October, 7, 2011
10/07/11
2:56
PM PT
Dodger general manager Ned Colletti gave a long interview to Jim Bowden for
ESPNLosAngeles.com
. Some highlights:
...Matt Kemp is a priority, and I plan on getting with his agent, Dave Stewart, and will work diligently in trying to work out a long-term deal with Matt. There is some urgency because he'll be a free agent at the end of the 2012 season if they don't sign him long term now. Clayton Kershaw's situation is not as urgent because he's only first-time arbitration eligible and won't be a free agent until after the 2014 season. That doesn't mean we won't have conversations and listen, and if we can make a deal that makes sense, we will be open to it -- but not with the same urgency as Kemp.

... We will entertain signing (Andre Ethier) as well, but he's coming off an injury and a subpar season. ... I am not inclined to trade any player that is a key player to our major league club right now, and he fits that category.

... We really need a middle-of-the-lineup impact bat, which would be a very key component to us winning next year. We need to figure out second base. Carroll and Miles are free agents. Right now we have the two young players in Sellers and Ivan DeJesus that we might let compete for that job next year. We need to figure out left field as well, but we're leaning towards Jerry Sands, especially after the way he finished this season with us. Behind the plate, we'll probably let Tim Federowicz and A.J. Ellis handle the duties. They are both good catch-and-throw receivers. If Federowicz can hit .240 with some power, he can be an everyday catcher.

... And finally, although we're pleased with our deep young bullpen, we'd still be open to signing another veteran reliever, but that would be a low priority based on our other team needs.

... We have a need in the middle of our lineup, and if we could do the right deal with a player in terms of duration and money, we would be willing to do it. We have flexibility if we keep catcher, second base, shortstop and left field as non-arbitration eligible players like we have now, then it is definitely possible that we could afford to spend the money on a significant middle-of-the-order bat.

... Kuroda has bought a house in Los Angeles and both of his daughters go to school here. He is an extremely loyal person to both the Dodgers and the city of Los Angeles and really doesn't want to play anywhere else. We hope he decides to stay here because he's a very important part of our rotation and clubhouse.

... Our best prospects in our system right now are mostly pitching prospects, led by Zach Lee, who pitched at the Midwest league this past season but has a chance to be special. Allen Webster and Shawn Tolleson are two other top pitching prospects. Tolleson was our minor league pitcher of the year and a close friend of Clayton Kershaw. Steve Ames is another bullpen arm that we could see as early as next season. Chris Lee, our first round pick from Stanford, of course, is also special, and we're going to try to develop him as a starter.

... We're a lot closer to winning than people realize. If we had gotten just the typical offensive contributions this year from James Loney, Andre Ethier and Juan Uribe, who knows how many games we could have won. But injuries and subpar seasons are just part of the game. If we can make a few key moves this offseason and solve some of the question marks on this team that we've just been talking about, I really believe this club can finish in first in 2012.
There's more, so be sure to read the whole interview, as well as Tony Jackson's
five key offseason questions
and Ramona Shelburne's
own interview with Colletti
.
Also, don't miss the
Kamenetzky Brothers' podcast
with "Breaking Bad" star and longtime Dodger fan Bryan Cranston.
October, 2, 2011
10/02/11
3:01
PM PT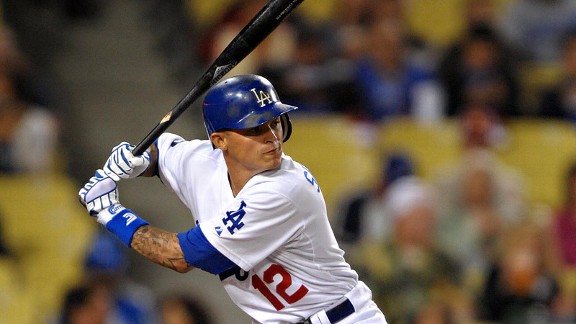 Kirby Lee/US Presswire
Justin Sellers
The setup:
With the Dodgers, his third organization as a minor-leaguer, Sellers began working his way onto the radar in 2010, when the shortstop hit 14 home runs in 288 at-bats with Albuquerque. He performed similarly in 2011, knocking 14 homers in 270 at-bats for the Isotopes while increasing his on-base percentage to .400. When Rafael Furcal's replacement, 23-year-old homegrown prospect Dee Gordon,
went on the disabled list
on August 11, the 25-year-old Sellers got the proverbial break he was looking for.
The closeup:
Sellers made an impression quickly, not just with his everywhere-you-look tattoos but
with a home run in his third major-league game
, after which he gave a memorable postgame TV interview while holding his 2-year-old daughter in his arms. During Gordon's three-week absence, Sellers started 16 games at shortstop with a .714 OPS, while looking reliable and occasionally acrobatic in the field. Rather quickly, support began to build for the idea that Sellers could become the Dodgers' starting second baseman next to Gordon in 2012, or at least a replacement for utility infielder extraordinaire Jamey Carroll.
Unlike several other Dodger rookies, however, Sellers
suffered through a miserable September
. He went 9 for 60 with a .227 on-base percentage and a .217 slugging percentage, and needed to go
2 for 4 in the season finale
just to reach those heights. He finished 2011 with a .283 on-base percentage and .301 slugging percentage in 139 plate appearances.
Coming attractions:
The Dodger infield is in flux, with Gordon arguably the only current member of the 40-man roster assured of a starting job. Casey Blake is likely gone, no one's quite sure of what will happen with James Loney, and Don Mattingly has indicated that even Juan Uribe needs to prove himself. Carroll and Aaron Miles are free agents, but even if both returned, a bench role could be Sellers' market. But thanks to his final-month performance, he would appear to be more of a fallback option than one at the forefront, and certainly an unlikely choice to be a starter Opening Day.
August, 14, 2011
8/14/11
3:58
PM PT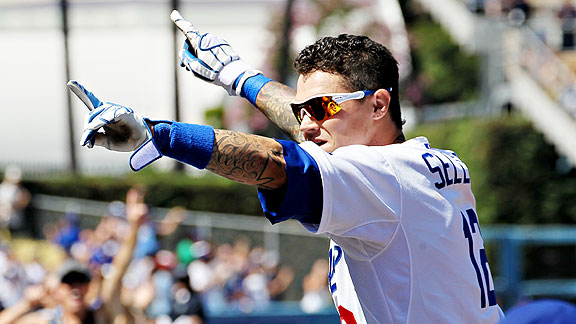 Stephen Dunn/Getty ImagesThe crowd encouraged Justin Sellers to take a curtain call today after his first career home run.
Those involved in the study of contrasts got their Ph. Ds this week if they were following the Dodgers, who followed being swept by the team with the best record in baseball (Philadelphia) with an easy stomping of the team with the worst, Houston.
Today's
7-0 victory
meant the Dodgers held the Astros scoreless in 27 of 28 innings, outscoring them 14-1 and almost matching the three consecutive shutouts Los Angeles threw July 7-9.
Hiroki Kuroda pitched seven shutout innings, striking out six against seven baserunners, three of whom were eliminated by double plays. The highlight was James Loney's leaping catch of a Carlos Lee line drive, which Loney turned into an unassisted twin-killing. The third double-play came on Kuroda's 106th pitch of the game and lowered his ERA to 2.88.
Matt Kemp homered for the second game in a row to tie his career high of 28, while Justin Sellers hit his first major-league homer in his third game, a three-run shot in the sixth. Dioner Navarro also homered, as the Dodgers hit a season-high three home runs
for the fifth time this season
.
Loney singled twice and walked, while Kemp, Navarro and Aaron Miles each reached base twice. Sellers had a nice moment on the Prime Ticket postgame show, taking a shaving-cream pie with grace, then holding his 2-year-old daughter as he completed his interview.
August, 12, 2011
8/12/11
4:59
PM PT
Justin Sellers
has
officially become
the 46th member of the 2011 Los Angeles Dodgers, replacing the disabled Dee Gordon. Sellers is making his major-league debut tonight.
Sellers, 25, has a .400 on-base percentage and .537 slugging percentage for Triple-A Albuquerque this season, after going ..371/.497 in 2010. His road OPS this season, however, is .668.
Elsewhere:
April, 11, 2011
4/11/11
10:34
PM PT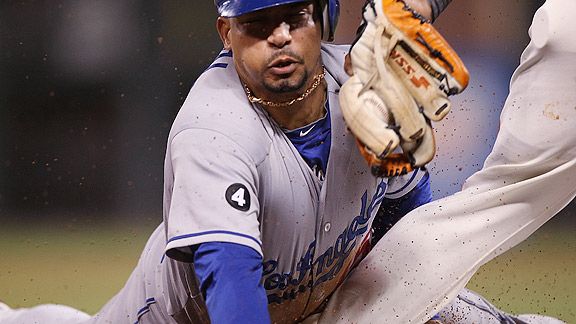 Jed Jacobsohn/Getty ImagesRafael Furcal hurt his thumb on this fifth-inning slide.
As noted below
and reported by Tony Jackson of
ESPNLosAngeles.com
, Rafael Furcal hurt his thumb tonight sliding hand-first into third base. Following the game, it was revealed that the thumb is broken, and that Furcal will be out a minimum of four weeks and as many as six.
Dylan Hernandez of the
Times
said that Furcal was despondent enough to be "pondering retirement," though we'll assume for the time being that the depression was talking then. Here's what Jackson wrote:
Furcal actually hinted at retirement, but that seemed to be nothing more than an emotional reaction to having received the bad news.

"I'm thinking about retiring if I can't get back to being healthy," said Furcal, who has a history of back injuries and missed a month each last season with injuries to his lower back and right thigh. "I was feeling so good with my back, and now I break my finger."
With Furcal out for a lengthy period, Jamey Carroll would see the most time at shortstop, though the Dodgers have to be careful with the 37-year-old. With Casey Blake
also ailing
, that also means more playing time for Aaron Miles. An infielder will no doubt be called up if Furcal goes on the disabled list, but I'd guess Ivan De Jesus Jr. (who is on the 40-man roster). As alternatives, Justin Sellers or Juan Castro would get the call before the still-green Dee Gordon would. (
Tonight
, as Jerry Sands homered for the third-straight game and Jay Gibbons had three hits and a game-winning RBI, Gordon stole his fourth base of the season but also made his fourth error and struck out four times.)
March, 16, 2011
3/16/11
8:22
AM PT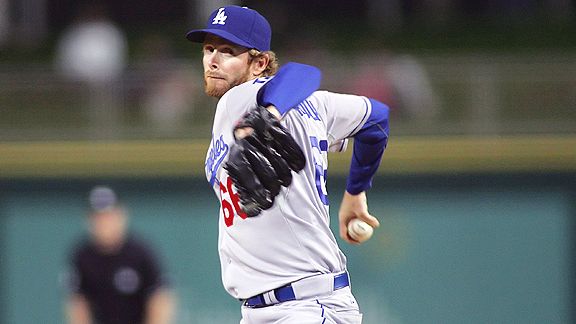 Jake Roth/US PresswireDespite a 7.23 ERA last year with St. Louis, Mike MacDougal has taken advantage of Dodger injuries to carve out a chance at a roster spot.
On the last off day before the start of the season, this seems like a good time to check in on how the Dodger 25-man Opening Day roster is shaping up.
On track (18):
Starting pitchers (4):
Clayton Kershaw, Chad Billingsley, Hiroki Kuroda, Ted Lilly
Relief pitchers (5):
Jonathan Broxton, Hong-Chih Kuo, Matt Guerrier, Blake Hawksworth, Kenley Jansen
Catchers (1):
Rod Barajas
Infielders (4):
James Loney, Juan Uribe, Rafael Furcal, Jamey Carroll
Outfielders (4):
Andre Ethier, Matt Kemp, Tony Gwynn Jr., Marcus Thames
Likely (3):
1) Casey Blake, 3B:
The
latest news on Blake
sounds about as good as one might have expected – inflammation with no evidence of a muscle strain. So while anything could happen, we won't assume that he'll be on the disabled list March 31.
2) Mike MacDougal, RP:
A 0.00 spring ERA, veteran's moxie and all the positive things people are saying about him in the press make MacDougal this year's most likely prize off the scrap heap.
3) Dioner Navarro, C:
A.J. Ellis can still be optioned to the minors, so we'll put him aside. Though Hector Gimenez presents an alternative, Navarro seems safe.
Roster spot battles (4):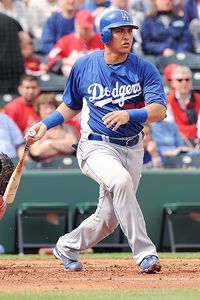 Norm Hall/Getty ImagesAn .847 spring OPS has helped make Hector Gimenez a longshot as opposed to a no-shot.
1) Jay Gibbons vs. Xavier Paul vs. Trent Oeltjen, OF, vs. Hector Gimenez, C/1B:
Gibbons' spring has been a nightmare, to the extent that Tony Gwynn Jr. might already have passed him in the pecking order for playing time. Xavier Paul, seemingly healthy and performing better as the month goes on, is now adding to the pressure while the eyesight-plagued Gibbons tries to solve his vision problems. A third-party candidate is Trent Oeltjen, who has been hitting all spring – and we'll even leave open the possibility that Gimenez could take this spot instead of a sixth outfielder.
Chances: Gibbons 45%, Paul 35%, Oeltjen 10%, Gimenez 10%.
2) Aaron Miles vs. Ivan De Jesus Jr. vs. Justin Sellers vs. Juan Castro, IF:
A veteran has the automatic edge when you're talking backup infielder, so it seems safe to knock out De Jesus and Sellers, neither of whom have seized the day. Miles has had a better spring than Castro and is also centuries younger. Castro has that Brad Ausmus-like zen quality that Ned Colletti admires, but Miles has sufficient experience to fill the role.
Chances: Miles 80%, Castro 10%, De Jesus 5%, Sellers 5%.
3) + 4) Ron Mahay vs. Scott Elbert vs. Ramon Troncoso vs. Lance Cormier, RP, vs. John Ely vs. Tim Redding, SP, vs. position player:
These two final spots seem very much up for grabs at this point, compounded by the uncertainty over whether the Dodgers will start the year with four or five starting pitchers, and whether they'll start with 11 pitchers overall or 12.
If they keep a fifth starter, it's still an open battle. Both Redding and Ely can be sent to the minors, though the difference is if Redding is placed on the major-league roster, he would then have to clear waivers before he could go to Albuquerque (once, say, Vicente Padilla or Jon Garland was healthy). The Dodgers can yank Ely up and down this year at will.
Both Ely and Redding started the spring excellently, then faltered (like every other Dodger starter in the past week). Ely is on the upside of his career but with something to prove; Redding is on the downside of his career with something to prove. My guess is that even if Ely wins the job, the Dodgers won't want him to lose his rhythm by pitching in long relief during the opening days of the season – meaning he would start the season in the minors and then come up April 12 when he is needed. I'm not sure they'd have those reservations with Redding.
Among the lefthanders, Mahay finally had a decent inning Tuesday, though the four batters he faced had 19 career major-league homers. Still, it's hard to imagine that, short of a 180-degree turnaround, the Dodgers are ready to rely on Elbert, who has walked nine of 20 batters he has faced this spring.
Troncoso has outpitched both lefties, though I'm not sure the Dodgers are convinced he's all the way back from his 2010 struggles. If he were, he and MacDougal would exchange places. Lance Cormier has gotten little attention while throwing four innings and allowing seven hits while striking out one, but he remains in the running.
And then there's the chance the Dodgers go with an 11-man staff and keep six guys on the bench. Gimenez, anyone?
If the Dodgers were making their final cuts today, I'd predict they keep two relievers at the outset and fly Ely to San Francisco on April 12.
Chances: Troncoso 45%, Mahay 45%, Cormier 30%, Ely 30%, Redding 25%, position player 20%, Elbert 5%.