Dodger Thoughts:

Justine Siegel
Slow news day? Not for these folks ...
April, 1, 2011
4/01/11
1:18
PM PT
ESPN's Dan Shulman, Orel Hershiser and Bobby Valentine recap the Dodgers' win over the Giants. Note in the video that Matt Kemp is already standing on third base in the sixth inning when Buster Posey's throw is just coming into the picture.
A final thought about airplanes flying banners. When I see them high above the Pacific Ocean at the beach, advertising this or that, they pretty much have no impact on me. It's hard for me to believe it was any different with the banners (as pictured on
Vin Scully Is My Homeboy
) flew over Dodger Stadium on Thursday.
Elsewhere ...
February, 22, 2011
2/22/11
5:27
PM PT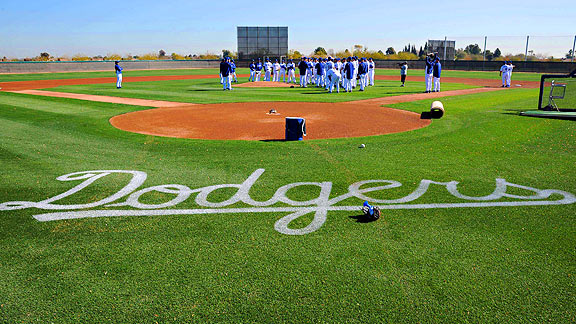 Kirby Lee/US PresswireYou've come to the right place.
Tony Jackson's Spring Training update today for
ESPNLosAngeles.com
focuses on Davey Lopes' tutoring the Dodgers. Some good stuff therein:
... The 45-minute session dealt mostly with the basics. But Lopes delivered his message in a charismatic, entertaining way, with a lot of the no-nonsense language one might expect from a 65-year-old baseball lifer who believes in doing things the right way, mixed with a little bit of humor.

The audience appeared to include every non-pitcher the Dodgers have in camp, and that audience burst into laughter on a few occasions, usually when Lopes would get especially animated while demonstrating the wrong way to do something.

For those who were paying attention, though, there were a lot of lessons.

For one, Lopes isn't a fan of the headfirst slide. He also isn't a fan of the slide into first base.

"There are two reasons why you slide," Lopes told the assembly. "First, to slow your body down. … Second, to avoid a tag."

And thus, Lopes said, the only time a slide into first base is justified is to avoid a tag if the player covering has to come off the bag to take an off-line throw. ...
Elsewhere ...