Dodger Thoughts:

Kirk Gibson
December, 17, 2011
12/17/11
2:35
PM PT
Catching up today on some news new and old. Many of these items were tweeted by me over the past several days –
don't hesitate to follow
.
Bill Shaikin of the Times explains why Frank McCourt won't renege on selling the Dodgers.
Here's a great piece by Chad Moriyama on the lazy comparisons baseball folk have been making between potential big-leaguer Yu Darvish and other pitchers from Asia.
Roughly 40 percent of the 2012 Dodger roster will be at least 33 years old next year, writes Mike Petriello of Mike Scioscia's Tragic Illness.
Vance Lovelace and Rick Ragazzo will have greater influence in the Dodger front office, reports Ken Gurnick of MLB.com.


... Lovelace, previously a special assistant to the GM and director of player scouting, is now director of professional personnel. Ragazzo, previously a special assistant to the GM, is now director of pro scouting. ...

... Logan White remains assistant GM in charge for amateur (Draft) and international scouting and DeJon Watson remains assistant GM for player development (Minor Leagues). Tony Howell and Ken Bracey remain as special assistants to Colletti. ...

More than five years ago, I wrote about the legal action over payment of former Dodger Paul Shuey's 2004 salary. Amazingly, as Shaikin notes at the Times, the battle is still going on.
Sandy Koufax, Maury Wills, Don Drysdale, Orel Hershiser, Steve Garvey, Davey Lopes, Bill Russell, Ron Cey, Mike Scioscia, Tommy Lasorda, Walter Alston and Fernando Valenzuela will all be featured in one way or another among the Dodgers' 2012 bobbleheads.
Rubby De La Rosa's injury was costly to the Dodgers in more ways than one, notes Mike Newman of Fangraphs.
Edwin Jackson is a better sign than C.J. Wilson, writes Joe Sheehan at SI.com.
Dodger hitting guru Dave Hansen is holding a baseball camp for kids ages 7-15 beginning December 19, according to Roberto Baly at Vin Scully Is My Homeboy.
From Steve Dilbeck at the Times' Dodgers Blog: "INK BLUE."
Change in the National League West: San Diego traded Mat Latos to Cincinnati for Edinson Volquez, Yonder Alonso, Yasmani Grandal and Brad Boxberger, while Colorado signed Michael Cuddyer for three years and $30 million. John Sickels has more on the Padres' pickups at Minor League Ball, and there's more reaction compiled at MLB Trade Rumors.
The Arizona Diamondbacks are going to recoup millions through a buyback of stadium construction bonds, reports Daniel Kaplan of Sports Business Journal.
Kirk Gibson: The NL's most untraditional manager? Maybe so, says Jacob Peterson of Beyond the Boxscore.
USC grad Jason Lane, 35 this month, is returning to his pitching roots to try to keep his baseball career alive.
Dwight Evans was one of my favorite non-Dodgers of my younger years. Here's a nice piece on him by David Laurila at Fangraphs.
Harrison Ford has been cast as Branch Rickey and newcomer Chadwick Boseman as Jackie Robinson in the film "42," reports Justin Kroll of Variety.
"Moneyball" received four Golden Globe nominations from the decidedly unsporty Hollywood Foreign Press Association, the latest sign of appreciation for the film from a non-baseball audience.
A post at Variety's On the Air blog by me extolls the virtues of "Bosom Buddies."
After two 7-1 victories to start the week, the past few days have had a little something for everyone ... meltdowns by the defense, the offense, Jonathan Broxton and Chad Billingsley. Health concerns. Mental mistakes. A feeding frenzy for the pessimistic (or realistic, if you wish).
I believe we call these teaching opportunities for the boys in blue.
Athletics 9, Dodgers 2
Highlights:
Aaron Miles and Matt Kemp continued their battle for the team home run lead, each hitting their second of the spring to tie Rod Barajas and Jerry Sands.
Blake Hawksworth pitched a near-fllawless 1 2/3 relief innings, though he hit one batter with a pitch.
Kenley Jansen pitched a perfect sixth inning with a strikeout.
Tony Gwynn Jr. reached base twice and has a .360 spring on-base percentage.
Lowlights:
Billingsley had only allowed seven baserunners in 6 2/3 innings in March before an all-over-the-place performance today: four hits, four walks, four runs allowed in 3 1/3 innings.
Jay Gibbons went 0 for 3 to fall to 1 for 17.
Infielders Ivan DeJesus Jr., Justin Sellers and Christian Lara made errors.
Javy Guerra allowed four runs (two earned) and walked three in two-thirds of an inning.
Sidelights:
Kirk Gibson's wife left Game 1 of the 1988 World Series early. Eric Stephen passes along the story at SB Nation.
Juan Castro and his wife Yadira became parents for the second time Thursday night.
Pitcher Luis Vasquez was optioned to the minors.
Former Dodger Andy LaRoche, playing shortstop today for Oakland, drove in two runs.
All members of Takashi Saito's family in Japan are now accounted for, writes Adam McCalvy of MLB.com.
October, 19, 2010
10/19/10
10:04
PM PT
The Dodgers held a mini-press opportunity tonight related to the Ted Lilly signing, and general manager Ned Colletti told Tony Jackson of
ESPNLosAngeles.com
and other reporters that the Dodger player payroll budget would rise for 2011, though he didn't say by how much. So the news value here is: It's not going down.
Elsewhere ...
Some nice and arguably thrilling pictures of the Kirk Gibson auction items were posted by Roberto Baly at Vin Scully Is My Homeboy. Gibson is raising money for his foundation, which supports "Michigan State athletics and to help fund partial scholarships at the two Michigan high schools where his parents taught," according to The Associated Press. Tom Hoffarth of the Daily News explores the question of why this stuff hasn't gone to the Baseball Hall of Fame.
Ivan DeJesus, Jr., who had a single, double and homer today in Arizona Fall League action, is profiled by Danny Wild of MLB.com.
Former Dodger Takashi Saito is officially a free agent. Per a clause in his contract, Atlanta could not offer Saito arbitration.
And now, this ...
Video: Homeless Man Lipdubs Under Pressure
July, 2, 2010
7/02/10
8:11
AM PT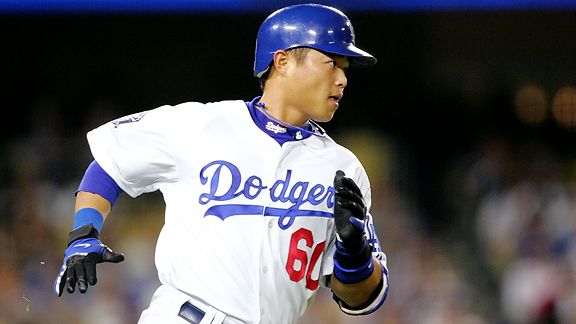 Gary A. Vasquez/US PresswireChin-Lung Hu (shown here in 2008) slugged .507 in June.
Chin-Lung Hu
is trying a bit too hard to be like
Chase Utley
.
Hu had surgery on an injured thumb and is expected to be out six to eight weeks, reports Christopher Jackson of
Albuquerque Baseball Examiner
.
James McDonald would have gone
past four innings
Thursday, but he was hit on the left knee by a comebacker and was taken out of the game for precautionary reasons.
Cory Wade, outrighted to Albuquerque on Thursday, pitched a scoreless fifth to get the win. Josh Lindblom and Travis Schlichting each allowed runs in their relief outings.
Tim Wallach talked to Jackson about the 53 transactions the Isotopes made in June, believed to be a team record: "It's kind of what Triple-A is," he said. "If we're not moving guys up then we're not doing our job, so that's a good thing. Certainly guys are trying to get to know each other, I'm trying to get to know them, but it's part of the deal. It's good experience for not only the players but for us as a staff, too. You've got different personalities coming in and out all the time no matter where you're at. I don't look at it as tough."
* * *
Dodger farm teams
Chattanooga
and
Ogden
each played 15-inning games Thursday.
The highlight for the Lookouts was Kenley Jansen striking out six batters in two innings. Chattanooga starting pitcher Aaron Miller allowed one run in five innings and had five of the Lookouts' 17 strikeouts. Chattanooga scored three in the 15th to win, 4-1. Dee Gordon was 0 for 6 with a walk, Jerry Sands was 0 for 6 with three strikeouts and Andrew Lambo was 0 for 7.
Ogden also won, 5-4, on an RBI single by Chris Henderson (3 for 7), driving in Jesse Bosnik (2 for 4 with three walks).
* * *
Great Lakes righty
Elisaul Pimentel
, who turns 22 a week from Saturday, allowed more earned runs Thursday (
five in six innings
) than he had in his previous eight starts combined, in which his ERA was 1.00. But the Loons won, 7-6.
Phil Gurnee of
True Blue L.A.
posted a lengthy interview with Great Lakes beat writer Hugh Bernreuter of the Saginaw News. And don't miss the latest Dodger prospect rankings from Chad Moriyama of
Memories of Kevin Malone
. Chris Withrow remains No. 1, but Jansen and Sands made huge leaps into the top five.
* * *
Dylan Hernandez of the
Times
has more details on the incident that apparently got Matt Kemp benched: a spat with coach Bob Schaefer. Kemp has reportedly not been backing up second base on basestealer throws by Russell Martin. Hernandez says Kemp has denied having "a confrontation" with the Dodger coaching staff, but I think that must be a semantics issue or just a cover.
Hernandez also today had
a very nice feature on Hiroki Kuroda
, who seems more haunted when he's not pitching by the line drive that hit him in the head last year.
* * *
Arizona Republic
writer Nick Piecoro on the Diamondbacks' new manager: "I'm curious to see how interim manager Kirk Gibson settles into this role. I find the public perception of him to be wildly different from the way he actually is. It seems like everyone expects some kind of drill sergeant to come in and whip everyone into shape, a guy who'll have smoke shooting from his ears on every bad call. Who knows, maybe that's what he'll be like, but that's not what he's been like in his time as the bench coach. He's more of a goofy guy, someone the players monkey around with in the clubhouse, a guy who's always keeping them loose. Maybe being the guy in charge will bring that drill sergeant out of him. We shall see."
July, 1, 2010
7/01/10
9:56
PM PT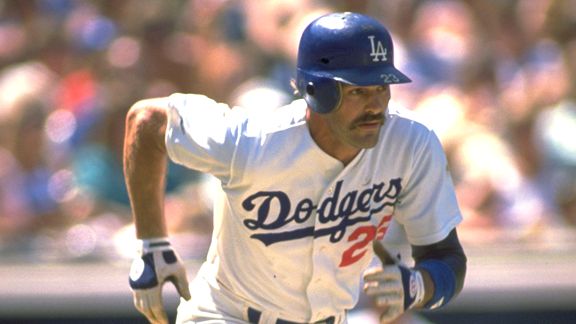 Mike Powell/Getty ImagesThis guy
Friday in Arizona, the Dodgers will meet their (history) maker.
Kirk Gibson
has been named
interim manager of the Arizona Diamondbacks, replacing the man from my alma mater, A.J. Hinch, who lasted only 212 games before getting the axe, the axe, the axe.
The guy who hired Hinch was fired as well. Josh Byrnes was replaced as general manager of Arizona on an interim basis by Jerry Dipoto.
Stories galore inside of the next 24 hours: Ex-Dodger Edwin Jackson goes for his second no-no in a row, ex-Dodger Gibson goes for his first managerial win, and we wonder if Logan White or Kim Ng might become ex-Dodger executives before next season.