Dodger Thoughts:

Kyle Russell
Catching up on some news ...
Kenley Jansen has been activated from the disabled list. Josh Lindblom was sent to Double-A Chattanooga, where he will bide his time until he can return, in 10 days when rosters expand or sooner if there's another Dodger injury.
Dee Gordon was scheduled to begin a minor-league rehabilitation assignment, according to Ken Gurnick of MLB.com, but Gordon did not play Thursday. It does not appear that the Dodgers will wait until when rosters expand September 1 to activate Gordon, which would mean that Eugenio Velez might not remain on the 25-man roster for long (though would no doubt clear waivers).
Ted Lilly is responding well to acupuncture treatment, he told Gurnick.
Don Drysdale's daughter Drew is scheduled to sing National Anthem and God Bless America at Dodger Stadium on Monday.
While much talk about the Cubs' general manager vacancy has centered on Ned Colletti, it's former Dodger general manager Dan Evans who might be a more likely choice, according to Gordon Wittenmeyer of the Chicago Sun-Times.
Dodger prospect Jerry Sands is breaking some eggs - that is, making some significant adjustments with the hopes of deriving long-term benefit. From Christopher Jackson at Albuquerque Baseball Examiner:


... "It's been real tough, cause I came back down and I knew I needed to change some things, but it's tough to totally overhaul in the middle of the season and be productive," Sands said. "I want to get back up there, but I want to look like I learned something.

"It was tough having to change things I'd done for years and then change them right over. The hot and the cold stretches have been a part of me learning, just a process of what I have to do to be more consistent." ...

Clayton Kershaw "stands to become just the fourth Dodger in the 128-year history of the franchise to post three straight seasons with an ERA+ of 130 or higher," writes Eric Stephen of True Blue L.A. Jeff Pfeffer, Sandy Koufax and Orel Hershiser are the others.
Stephen also passes along the news that outfielder Kyle Russell has gotten a late-season promotion from Chattanooga to Albuquerque.
Sons of Steve Garvey caps its visit to St. Louis with a long, thoughtful piece about sportswriting.
The man himself, Bob Eubanks, talked to Dodger historian Mark Langill about the Beatles, setting up this weekend's commemoration of the 45th anniversary of the Beatles playing Dodger Stadium (via Blue Heaven).
The friendly folks at Bronx Banter passed along "10 Things John Sterling would say in a hurricane" from IT IS HIGH! IT IS FAR! IT IS... caught.
On target as always, Joe Posnanski about "the myth of pressure."


... This line — that it's easier to put up numbers without pennant pressure — is a lot like that. Nobody can possibly believe this. First of all, there's the obvious flaw: If it were easier to put up numbers in non-pressure situations, then players would consistently and obviously have better years on lousy teams than they do on good ones. Does this ring even the slightest bell of truth? Does anyone believe that Derek Jeter would have put up better numbers had he played for Kansas City? Does anyone believe that Albert Pujols would be so much better if he had spent his career playing in the carefree world of the Pittsburgh Pirates? Roy Halladay was great for mediocre Blue Jays teams and is great for outstanding Phillies teams. Hank Aaron was the same great player with the same great numbers when Milwaukee won, when Milwaukee almost won, and when Milwaukee wasn't very good at all. ...

If you've read this blog at all you know: I've covered a lot of bad teams in my life. I've been around some good ones, too. And as far as "pressure" goes, well, from my observation, it's not even close. There is infinitely more pressure on players on lousy teams than on good ones. Obviously, this depends on how you define pressure, but if the textbook definition of pressure is "the feeling of stressful urgency cause by the necessity of achieving something," well, absolutely, there's way more pressure on the lousy teams.

... Think about it: What pressure is there on players in pennant races? The pressure to win? Sure. But players come to the ballpark energized. Everyone on the team is into it. The crowd is alive and hopeful. The afternoon crackles. Anticipation. Excitement. There's nothing in sports quite like the energy in a baseball clubhouse during a pennant race. Players arrive early to prepare. Teammates help each other. Everyone's in a good mood. There's a feeling swirling around: This is exactly the childhood dream. The added importance of the moment could, in theory I suppose, create extra stress. But the reality I've seen is precisely the opposite. The importance sharpens the senses, feeds the enthusiasm, makes the day brighter. Baseball is a long season. Anything to give a day a little gravity, to separate it from yesterday, to make it all more interesting — anything like that, I think, is much more likely to make it EASIER to play closer to one's peak.

A losing clubhouse? Exactly the opposite. The downward pressure is enormous and overwhelming — after all, who cares? The town has moved on. A Hawaiian vacation awaits. Teammates are fighting to keep their jobs or fighting to impress someone on another team or just plain fighting. The manager might be worried about his job. The reporters are few, and they're negative. Smaller crowds make it easier to hear the drunken critics. Support is much harder to come by, and there is constant, intense force demanding that you just stop trying so hard. After all: Why take that extra BP? You've got the swing down. Why study a few extra minutes of film? You've faced that hitter before. Why take that extra base? Why challenge him on that 3-1 pitch? Why? You're down 9-3 anyway.

It's absolutely AMAZING to me when a player puts up a fantastic year even when the team around him stinks. ...
June, 8, 2010
6/08/10
2:50
PM PT
As expected, the Dodgers activated George Sherrill from the disabled list and vaulted Jon Link back to Albuquerque. Both have restored some credibility in recent days: Link threw two shutout innings Monday, while Sherrill had two shutout rehab outings
this weekend
.
The Dodgers also officially announced the promotion of minor leaguer
Kyle Russell
from Class A Inland Empire to AA Chattanooga.
In other minor league news, 21-year-old Great Lakes pitcher
Elisaul Pimentel
was named Midwest League Pitcher of the Week after his six shutout innings Wednesday (with nine strikeouts) extended his scoreless string to 18.
May, 25, 2010
5/25/10
3:06
PM PT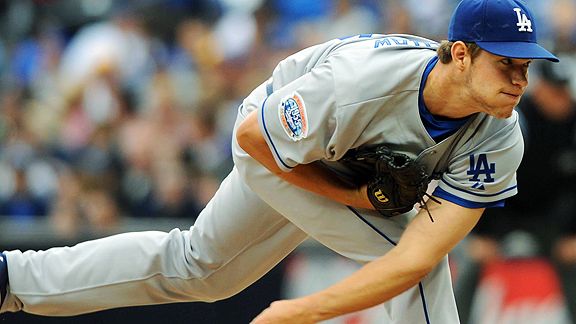 Christopher Hanewinckel/US Presswire
Clayton Kershaw is averaging 105 pitches per game in nine starts this season. Chad Billingsley averaged 110 in his first nine starts of 2009.
Clayton Kershaw, 22, threw 3,020 pitches last season and, with 942 under his belt in 2010, is on pace for approximately 3,600 this season. In fact, he has an extremely viable chance of throwing the
most pitches of anyone in the majors age 23 or under since 2000
.
The top 10 names on the list are Felix Hernandez, Scott Kazmir, Matt Cain, Ryan Dempster (tonight's Cubs starter), Dontrelle Willis, Barry Zito, Randy Wolf, Ben Sheets, Mark Buehrle and Carlos Zambrano. Mark Prior is 13th on the list, and Chad Billingsley's 2008 season is 17th.
It doesn't necessarily mean anything, because trouble comes to pitchers with all kinds of histories. But FYI ...
| Name | Pitches | Year | Trouble? |
| --- | --- | --- | --- |
| Hernandez | 3633 | 2009 | |
| Kazmir | 3608 | 2007 | 2009 |
| Cain | 3606 | 2008 | |
| Dempster | 3606 | 2000 | 2001 |
| Willis | 3555 | 2005 | 2007 |
| Zito | 3538 | 2001 | 2004 or 2007? |
| Wolf | 3528 | 2000 | mid-2004 |
| Sheets | 3510 | 2002 | mid-2003 |
| Buehrle | 3510 | 2002 | |
| Zambrano | 3471 | 2004 | 2010 |
* * *
Watch what happens when Dempster throws a changeup tonight. Opponents are 1 for 27 against his changeup this season, but the Dodgers are batting .305 against them, according to John Fisher of ESPN Stats and Information.
Including his 2008 playoff grand slam, James Loney has hit five consecutive fly balls
off Dempster
. The other four were caught. Loney's last regular-season hit off Dempster was in 2007.
* * *
Kyle Russell
has been on a tear for Class A Inland Empire, with six homers in his past six games. For the season, the 6-foot-5 outfielder has an on-base percentage of .431 and slugging percentage of .652. Writes Kevin Goldstein of
Baseball Prospectus
: "Drafted as a college senior, he turns 24 in June so it's time to move him up, and scouts still aren't convinced that he can hit enough at the upper levels, as evidenced by his 53 whiffs in 164 at-bats. One way or another, it's time to find out." A move could be tied into a promotion for the endlessly hot
Jerry Sands
, who is at .457/.758 for Low A Great Lakes.