Dodger Thoughts:

Logan White
October, 12, 2010
10/12/10
10:52
AM PT
The Arizona Fall League throws out its first pitch of 2010 today, and Dodger fans might pay it a little more mind than usual. Not only is this Don Mattingly's first official gig at the helm of a baseball team, the
Phoenix Desert Dogs
, but there are a couple of key players to watch:
1) The Dodgers' minor-league hitter of the year, Jerry Sands, will be tested out at third base.
2) The Dodgers' minor-league mystery of the year, Scott Elbert, will be tested out on the mound.
Other organization members on the Desert Dogs of Phoenix (or is it the Dogs of Phoenix Desert) are Javy Guerra, Jon Link, Justin Miller the Younger, Matt Wallach, Ivan DeJesus, Jr. and Trayvon Robinson. A few of these guys will be competing for major-league jobs in 2011.
Phoenix has its
first game against Mesa
at 12:35 p.m.
* * *
Logan White will interview for the Mets' vacant general manager slot, according to Tony Jackson of ESPNLosAngeles.com. Jackson adds the following about surprising rumors in recent days that the Dodgers were pushing White out the door.


... As recently as 10 days ago, rumors surfaced that White, whose current contract is set to expire at the end of this month, was on the verge of being fired by the Dodgers. White told ESPNLosAngeles.com on Oct. 1 that he was aware of those rumors but hadn't been told anything official and that he planned to continue working as usual until he was told not to.

"I'm still working," White said at the time. "I haven't been told anything [different]. There is a lot of innuendo and rumor out there, and I hate to even address some of those because they are so ridiculous."

Those rumors appear to have been the result of confusing White with another Southern California amateur-scouting chief. The Los Angeles Angels had fired their scouting director, Eddie Bane, along with three of his scouts, on Sept. 29. Multiple sources said Monday the Dodgers have every intention of re-signing White and keeping him around in his present role if he isn't hired as a GM by another club. ...

Vin Scully Is My Homeboy passes along these interviews by reporter Maria Serrao with Scully himself.
Friend of the Dodger Thoughts family Daniel Paul has passed along this link to some Dodger caps his son Harry designed. Click the link and rate the cap.
September, 20, 2010
9/20/10
7:17
PM PT
His loss is our gain: Dodgers assistant general manager of amateur and international scouting Logan White and assistant general manager for player development DeJon Watson are no longer being considered for the Arizona general manager position,
Tony Jackson of ESPNLosAngeles.com reports
.
For all the talk about Joe Torre and Don Mattingly, keeping the hope alive in the farm system is probably more important for the Dodgers' future.
September, 2, 2010
9/02/10
7:55
AM PT
White lies, little and giant, have always been part of baseball -- even the creation of the game is rooted in myth. But I can't remember a year since I've been following the Dodgers that seems as defined by misinformation as 2010.

The tone was set last fall by Frank and Jamie McCourt as they prepared to do battle for ownership of the franchise, with the he said/she said battle positions flowering during numerous public revelations this year, leaving us with the bouquet of stinkweed at the trial that began this week. I'm not saying that someone's been trying to pull a lot of wool over someone's eyes, but lambs across the country are shivering in 90-degree heat.

It hasn't only been the McCourts. Matt Kemp is held out of the starting lineup for days at a time, and the explanations richochet like bumper cars. He's tired, he needs to get his head together, he's in a battle with a coach, he needs to go talk to Joe Torre, Joe Torre needs to talk to him.

Manny Ramirez is finally ready to play after a painfully long absence, and yet he's not playing. It's matchups against the pitcher, it's the square footage of the opposing outfield, it's Torre playing a hunch, it's to protect Ramirez for his waiver sendoff to the American League, it's Ramirez's own pigheadedness.

And then there are the media columnists who will bend and even break the truth to suit the stories they are determined to write, heedless of the facts.

This all comes on top of the game's typical lies, such as a player hiding an injury (often to the detriment of the team), that are so familiar and yet so tedious.

It has bred a cynicism so rampant in many of us that even when a Dodger executive of unimpugned integrity like Logan White said in June with complete honesty that he drafted Zach Lee with the full intention of trying to sign him, few believed him -- and most of the few who did simply believed he was lying to himself.

Baseball in general, and the Dodgers in particular, don't necessarily owe us the truth, and I understand little white lies will always be part of the game. Baseball is a business, a culture and a family, and in all three fib to protect themselves. But this year, the cumulative effect of the lying has had a punishing effect. Last week, when Ramirez missed his final four chances to start after reaching base in his final four plate appearances as a starter, I rolled my eyes so much that they bowled a 270. It would be a bit much to pull the "have you no decency" card, but surely there doesn't need to be such contempt for the truth to operate a baseball team in Los Angeles.

The grievances of Dodger fans are many, perhaps too many and perhaps sometimes too petty. But the feeling is almost unshakable that the Dodger organization has gone too far in insulting the intelligence of the fans. If our expectations are sometimes too high, that doesn't mean the Dodger players, coaches, manager, executives and ownership don't need to aim higher. In the end, winning is all that matters, but integrity goes a long way toward soothing the spirit when you're losing.

Let's put it this way: If you as an organization choose to espouse the heart and hustle and grit and gristle of players like Scott Podsednik and Jamey Carroll, then maybe you need to apply those values to your own, you know, values. Character in a baseball team is defined by more than how fast you run down the line. You're telling me character matters, yet you're not acting like it.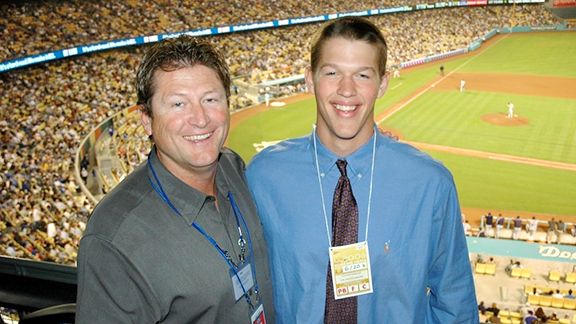 Ben Platt/Los Angeles DodgersLogan White and Clayton Kershaw, June 2006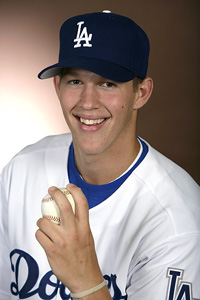 Jon SooHoo/Los Angeles Dodgers
Kershaw's first Dodger mugshot
As mentioned on Dodger Thoughts
on Tuesday
, first-round draft pick Zach Lee will make his first appearance at Dodger Stadium before tonight's game. Here are some photos from the day 18-year-old Clayton Kershaw made his Dodger Stadium debut, in June 2006.
Also,
here's a link
to what Dodger Thoughts had to say about Kershaw the day he was drafted.
August, 18, 2010
8/18/10
9:47
AM PT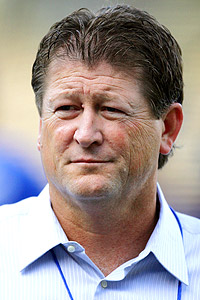 Larry Goren/Icon SMI
Logan White has supervised Dodger drafts since 2002.
Pretty nice 28 hours that
Logan White
just had.
Monday evening, White 2003 draftee Chad Billingsley finished his sixth consecutive quality start, with an ERA of 1.33
in that span
.
Tuesday evening, White 2006 draftee Clayton Kershaw threw seven shutout innings in the Dodgers'
6-0 victory over Colorado
and moved up to third in the National League in strikeouts.
And in between, White converted his bold first-round selection of Zach Lee into what might be the coup of the 2010 draft.
Lee's reported $5.25 million deal was more than twice the size of Kershaw's draft-year signing, in part because of the leverage that college football provided Lee, but it also reflects the belief that Lee could make the kind of remarkable impact for the Dodgers that Kershaw already has.
We might not get to see all three of these pitchers in the same Dodger rotation -- Billingsley becomes eligible for free agency after the 2012 season, while it might be a rush to get the teenage Lee to the bigs by then -- but there is that tantalizing possibility. And even if it doesn't happen, you can be pretty sure the past two nights haven't gone unnoticed inside baseball.
Put another way, even if there comes a weekend series in the September 2012 stretch run with Kershaw, Billingsley and Lee on the mound for the Dodgers, will White be around to see it?
White has long been an attractive candidate for other front offices in baseball, certainly from a scouting viewpoint but also in terms of general manager openings. Getting Lee to the Dodgers -- convincing both parties to get on board -- when almost no one thought he could, adds a new layer of appeal.
The signing arguably turned around a year in which, aside from Kershaw and Billingsley, things went a little south for White's other prodigies. There was Blake DeWitt's and James Loney's lack of home-run power, Russell Martin's ongoing fade and Matt Kemp's backward steps. There was James McDonald once more not seizing the day (though he seems to be thriving in Pittsburgh), and Scott Elbert's disappearing act. And there was a mixed bag of results on the development front in the low minors -- some remarkable advances like that of Jerry Sands, some retreats by others.
But Kershaw, Billingsley and Lee serve as a reminder that betting on White is about as safe a gamble as you can make in -- this can't be over-emphasized -- an inherently risky field. I have no idea what specific interest other teams will show in White, but as the Dodgers make their lengthy to-do list for the 2010-11 offseason, one item that needs to be on it is "Keep Logan White happy." Unless you subscribe to the philosophy of, "If you love someone, set him free."
July, 1, 2010
7/01/10
9:56
PM PT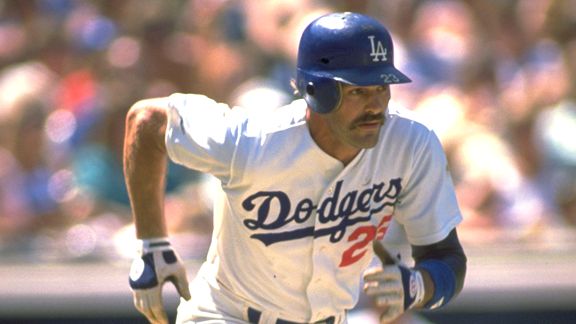 Mike Powell/Getty ImagesThis guy
Friday in Arizona, the Dodgers will meet their (history) maker.
Kirk Gibson
has been named
interim manager of the Arizona Diamondbacks, replacing the man from my alma mater, A.J. Hinch, who lasted only 212 games before getting the axe, the axe, the axe.
The guy who hired Hinch was fired as well. Josh Byrnes was replaced as general manager of Arizona on an interim basis by Jerry Dipoto.
Stories galore inside of the next 24 hours: Ex-Dodger Edwin Jackson goes for his second no-no in a row, ex-Dodger Gibson goes for his first managerial win, and we wonder if Logan White or Kim Ng might become ex-Dodger executives before next season.
June, 9, 2010
6/09/10
7:37
AM PT
The controversy over the
Dodgers' top draft choice
continued Tuesday.
Dodger assistant general manager Logan White insists that the Dodgers think they can sign Zach Lee, writes Tony Jackson of
ESPNLosAngeles.com
, despite speculation that the Dodgers purposely chose a player whose salary demands would be unreachable, in order to save money.
Louisiana State football coach Les Miles said Tuesday that he met with Lee and his parents and that Lee intends to go to college to play football and baseball. White addressed that statement directly.
"He might go to school,'' White said. "That is always a possibility. We certainly knew that was a possibility when we drafted him.''

Even so, White adamantly denied that the Dodgers would ever draft a player knowing they couldn't sign him.

"I can understand why people might think that,'' he said. "But that is one of those things where people create what they want to create, and it is just so far from the truth. I certainly want to sign Zach Lee, as much as any player I have ever drafted.''

White also dismissed a suggestion that he was under orders from McCourt to tank this year's first-round pick.
A similar (though perhaps less intense) drama brewed around the Dodgers' sixth-round pick, pitcher Kevin Gausman, who is also an LSU recruit. Writes Evan Drellich of
MLB.com
:
Gausman told The Denver Post he too was leaning toward going to college.

"Because of the amount of money that I want, they are going to follow me and see if I'm actually worth that," Gausman told The Post.

"Being drafted in the sixth round, I think I have a chance to next year come out and really be a big influence at LSU and maybe even be their No. 1 guy on the mound," Gausman said. "As of right now, I'm set on [LSU]."

White called Gausman's statement "a normal part of the process."

"He would've been a potential late first-round sandwich pick, but he's got significant signing demands as well," White said. "And he may not sign. We'll see what happens."
If Lee doesn't sign with the Dodgers, the team will get a compensatory pick in the 2011 draft. Some believe this might be a smart move, because that draft is expected to be deeper in talent – so that even if the Dodgers acknowledge (to themselves, if no one else) that Lee isn't coming, it doesn't mean that they are avoiding paying amateur talent. We'll see.
On a brighter note,
Drellich writes
that second-round pick Ralston Cash said he is interested in signing with the Dodgers despite having a scholarship to Georgia. Cash flew out last weekend for a last-minute workout with the Dodgers, and he and White bonded.
* * *
Vicente Padilla went 4 2/3 innings with one run allowed in a rehab start for Inland Empire on Tuesday. Padilla gave up three hits, walked one and struck out four.
Kyle Russell singled and tripled in his AA debut for Chattanooga on Tuesday, while Chris Withrow threw seven innings without allowing an earned run, striking out six.
Elisaul Pimentel allowed one run over six innings in Great Lakes' victory. Brian Cavazos-Galvez had three hits.
* * *
Stat of the Day
has a fun list of pitchers who have thrown at least five consecutive starts of eight innings or more, without allowing more than one run – fun because the list of course includes the Orel Hershiser and Don Drysdale scoreless inning streaks, as well as Fernando Valenzuela's beginning to the 1981 season. You'll also find Don Sutton and Don Newcombe there.
March, 31, 2010
3/31/10
10:33
AM PT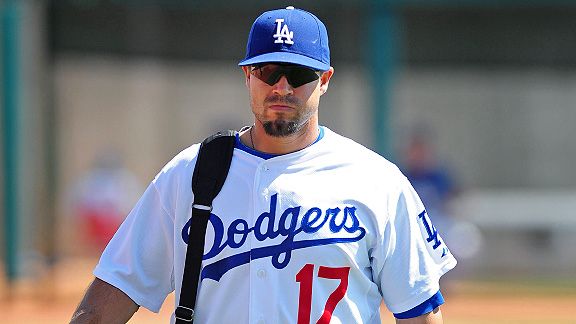 Mark J. Rebilas/US Presswire
Jason Repko
One of the highlights of the
Maple Street Press 2010 Dodgers Annual
was the feature by Albuquerque Isotopes broadcaster Robert Portnoy on cup-of-coffee men Jason Repko and Mitch Jones. In particular, you really come to understand how brutal the injuries were that Repko faced early in his professional career. They sapped his greatest potential away.
Just for starters in 2000: right hamstring blown out, two tendons torn away from the bone in his right leg, stress fracture in his back. As Portnoy writes:
... While the hamstring healed, the back did not. Repko wore a form-fitting brace for eight weeks, immobilizing him from his armpits to his hips. Still considered the number four Dodger prospect entering 2001, Repko played in constant pain and batted just .220 over 88 games at Low A Wilmington.

After the season, doctors told him the fracture remained in the L-5 vertebrae. Then they told him something shocking: Break the same vertebrae on the other side.

"They told me it was putting stress on the other side," Repko said. "They said, 'If you can handle playing with it, dive hard and slide hard and see if you can get it on the other side — it'll be easier to fix.'"

In the Instructional League that fall, Repko did just that, fracturing the other side rounding third base. The options were spinal fusion, which would hurt rotation and flexibility, or a return to the brade, with promise of better results. Opting for the brace, Repko healed well, and he has learned to manage a resulting condition known as spondylothesis.

"The vertebrae will slip forward and the back will go into spasm, because there is more flexibility in there," Repko said. "I can't lie on my stomach and I don't slide head first much anymore, but I've only had two or three spasms the last three years." ...
The guy didn't have what it took to stick in the majors for the Dodgers, but he truly battled. Today, more than 10 years after the Dodgers drafted him,
he heads off on waivers
.
* * *
Ronald Belisario said he did nothing wrong to cause his visa delays, reports Tony Jackson of ESPNLosAngeles.com. Dubious – and even if it's true, his communication with the Dodgers still should have been better. I still wonder if something more was going on. Anyway, expect the Dodgers to activate him by April 25 at the latest.
Russell Martin is scheduled to catch seven innings and bat seven times against the Indians' AAA team today, according to the Dodger press notes.
Vincent Bonsignore of the Daily News has a nice piece today describing the dog days of Spring Training.
The first of a two-part interview with Logan White has been posted by David Laurila of Baseball Prospectus. Some really good stuff in there. Sample:


"Another thing I do is keep a private log of certain types of arm actions – the success rates of them. Certain types of deliveries – their success and failure rates. The same with hitters. There are certain things that we will either like or stay away from based on our own statistics of how those have been working over the past 10 or 15 years. I've kept these since I was an area scout. Let's say for example that a guy is a slinger or he has a bad wrist wrap. How many guys have that who have been drafted and signed, that I've seen, and have actually made it? And how far? Things like that. I've kept pretty good records and I haven't publicized them, not even to my own staff, but I do utilize that kind of stuff."

How much playing time do you think each Dodger will get this year? Submit your predictions with Tangotiger.
February, 19, 2010
2/19/10
5:17
PM PT
Dodger scouting guru Logan White told general manager Ned Colletti that he thought Eric Gagne would be "competitive" after watching Gagne throw this month, writes Ken Gurnick of
MLB.com
. Colletti added other thoughts about Gagne's unlikely candidacy to make the Dodgers.
... Colletti said Gagne's inclusion in the Mitchell Report was not a factor.

"He's not the first player to sign a contract after being in the Mitchell Report and this also isn't his first team since," he said. ...

Now, can Gagne go from Indy ball to make the cut for the Dodgers' bullpen, one of the deepest in the league? Jonathan Broxton is the All-Star closer, former Orioles closer George Sherrill sets up, Ronald Belisario and Hong-Chih Kuo follow them with Ramon Troncoso now established in middle relief and Jeff Weaver the most likely swingman. That leaves maybe one spot up for grabs and about a dozen arms against which Gagne will compete. What are the chances?

"It's too early to tell," said Colletti. "But you don't walk away from the opportunity to have somebody who has been really successful see where they're at. It would be shortsighted if you don't give people like that a chance. The bullpen is one of our stronger areas, but you have no idea what can happen over the next seven weeks, who gets hurt, who has lost it somewhere along the line. I'd rather have choices to make."
* * *
Update:
Russell Martin, "who focused on improving his flexibility last off-season, went back to his old strength-based training program this winter," writes Dylan Hernandez of the
Times
.