Dodger Thoughts:

Marcus Thames
October, 29, 2011
10/29/11
10:52
AM PT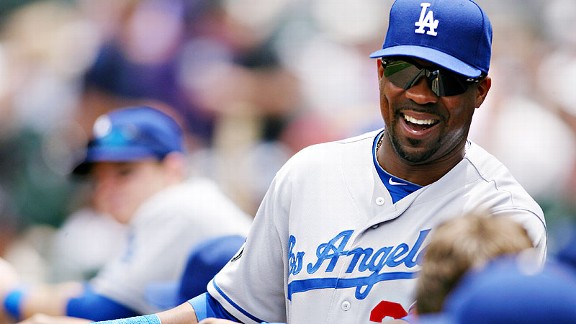 Chris Humphreys/US Presswire
Marcus Thames
(32)
The setup:
Seeking to build a left fielder in Mr. Potato Head fashion, the Dodgers signed Thames
in January
to be the right hand of the tuber, based on the fact that he had a .350 on-base percentage and .491 slugging percentage against lefties in 2010. He was going to be 34 and had a terrible defensive reputation, but for $1 million, there was hope he could be useful at least as a bench player.
The closeup:
In April, Thames hit two pinch-hit home runs. That's about it for positives. As a left fielder, Thames went 8 for 42 with four walks, no home runs and a .523 OPS in a season that was crippled in May by a
right quad strain
that knocked him out for five weeks. Overall, Thames had a .243 on-base percentage and .333 slugging percentage when the Dodgers
cut him loose
to make room for Juan Rivera, who provided everything the Dodgers wanted from Thames and more.
After clearing waivers, Thames
signed a minor-league contract
with the Yankees. He was assigned to the Yankees' minor-league complex and was supposed to eventually report to Triple-A Scranton, but he did not play in a professional game the remainder of the year. The only news I could find about him was this recent
Winston-County Journal
piece describing his appearance as a guest speaker at the local Boys & Girls Club – something,
based on his background
, that is not surprising at all.
Coming attractions:
Only one season removed from being a productive part-timer, Thames could easily reappear in a major-league uniform next season if he is healthy and hasn't in fact quietly retired, but you can bet if he does make another go of it, it will be in the American League.
July, 12, 2011
7/12/11
11:46
AM PT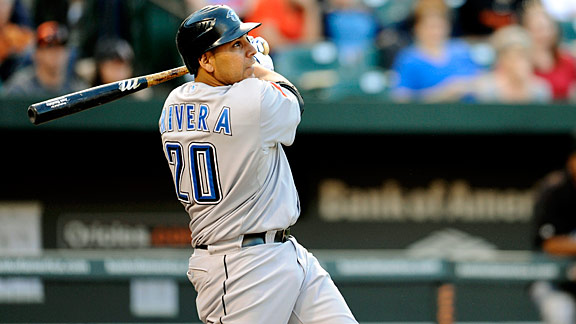 Mark Goldman/Icon SMIJuan Rivera has a .700 OPS in 730 plate appearances over this season and last, but he's been better against lefties.
In a less-than-inspirational exchange, the Dodgers
have acquired outfielder Juan Rivera from Toronto
, plus cash, in exchange for a player to be named later
or
cash (presumably if the organizations can't agree on the player).
In a separate but related move, the Dodgers designated Marcus Thames for assignment. Here's more from my news story:
Rivera, who turned 33 last week, was batting .243 with six homers and 28 RBIs in 275 plate appearances this season. He had a .305 on-base percentage and .360 slugging percentage for the Blue Jays after coming to Toronto from the Los Angeles Angels in the January trade that sent Vernon Wells west. The year before, Rivera had a .312 OBP and .409 slugging for the Angels in 455 plate appearances.

He is in the final year of a three-year, $12.75 million deal, making $5.25 million this year.

The 34-year-old Thames, who signed a one-year, $1 million deal with the Dodgers the same week as Rivera went to Toronto, was hitting .197 with two homers and seven RBIs with the Dodgers over 70 plate appearances in an injury-marred season that showed him ill-suited to play in the field. He had a .243 OBP and .333 slugging after posting .350/.491 numbers with the New York Yankees in 2010, playing the majority of the time as a designated hitter.

Rivera will join a left-field mix with the struggling Dodgers that includes Tony Gwynn Jr., Trent Oeltjen and Eugenio Velez, with Jerry Sands and Trayvon Robinson in the minors.

Dodger left fielders have two home runs and a .618 OPS this season, the worst in the National League.
There will be a lot of panic in some parts about whom the player to be named later might be, though I don't have much fear on this front that it will be a significant prospect. And the cash from Toronto should cover a good part of what Rivera is owed this season.
So, this seems mostly to be a concession that Thames can't hack it as a National League, non-designated hitter, whereas Rivera might fill the Thames' role and contribute in the field a little.
At the same time, Rivera is pretty clearly a player in decline offensively — much more than Thames was going into this season — so I get no joy out of seeing him taking up space on the roster on the odd chance that he'll bash a homer against a lefty once in a while. (Rivera has two home runs and a .909 OPS in 65 plate appearances against lefties this season.)
Of course, the Dodgers are still carrying Eugenio Velez, but that's another story.
Clearly, Ned Colletti hasn't quite given up on the divisional race, though this hardly means he's gone all in.
June, 24, 2011
6/24/11
9:37
PM PT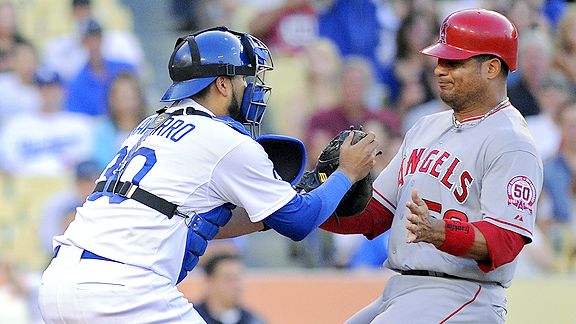 Mark J. Terrill/APThe defensive stylings of Dioner Navarro, here tagging out Bobby Abreu, were not enough to keep the Dodgers in the lead.
In the first inning tonight, the Angels' Maicer Izturis was caught stealing and Bobby Abreu was thrown out at home. In the second inning, Mark Trumbo was picked off first by Navarro and Jeff Mathis was thrown out at third. In the third inning, Erick Aybar was picked off first by Navarro. In the sixth inning, Vernon Wells was caught stealing.
Dioner Navarro became the first catcher to be officially recorded with two pickoff throws and two caught stealings in the same game, according to Vin Scully on the Prime Ticket broadcast. And still the Dodgers were down 5-3 heading into the eighth inning.
That's because Rubby De La Rosa, while throwing heat, allowed four walks, six hits, a double and two home runs. And that's because, while Matt Kemp was hitting a two-run homer and Andre Ethier was going 3 for 4, the Dodgers were 2 for their first 12 with runners in scoring position.
Meanwhile, Marcus Thames left tonight's game in the second inning with a
strained left calf
, raising the possibility that the Dodgers will soon see the return of
Jerry Sands
(.941 OPS in Albuquerque in June) or the debut of
Trayvon Robinson
(1.173 OPS in June) in left field if Thames goes on the disabled list.
There's also talk that
Rafael Furcal could move to second base
when he returns from the disabled list so that Dee Gordon can stay at short, but I'm not convinced that Gordon doesn't have a trip to Triple-A left in him.
Update:
It got no better for the Dodgers, who gave up three runs (one unearned) in the final two innings of an 8-3 defeat. The Angels retired the final 11 batters for the Dodgers, who went hitless after the fifth inning.
June, 8, 2011
6/08/11
10:10
PM PT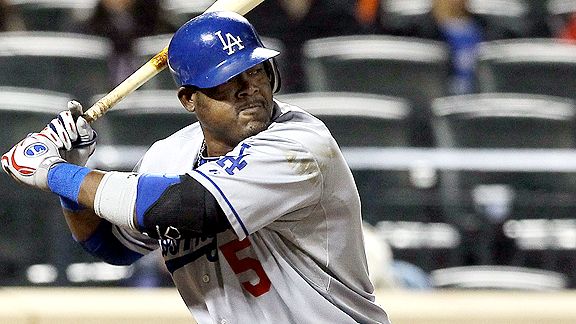 Jim McIsaac/Getty Images (file)Juan Uribe has three doubles and zero home runs in his past 75 at-bats.
There was no mistaking the foreboding, the fear threatening to smother the excitement.
Andre Ethier doubled, and Matt Kemp singled him to third with none out in the seventh inning and the Dodgers trailing Cole Hamels, 1-0 ... but the next three batters were Juan Uribe, Marcus Thames and Rod Barajas.
All three are hitters who have produced in the past. But these guys against Hamels at the top of his game, that was going to be an uphill climb, with full packs, in the heat, on a muddy trail, with the sun in their eyes, with aliens firing lasers all around, while having to listen to Wham! – just to even get a sacrifice fly or RBI groundout.
They failed – Uribe spectacularly so, popping up on the first pitch before Thames struck out and Barajas also popped out. And that was followed by wasted baserunners in the eighth and ninth innings of what became
a 2-0 loss to Philadelphia
.
* * *
This was not a loss that I think twice about. The Dodgers fell to one of their toughest opponents, on the road and with an offense that, despite its occasional spurts of greatness, is mostly, objectively awful. That's not news.
If Los Angeles had won,
that
would have made me think twice about this team. A victory would have given the Dodgers' four straight series wins, two of those series on the road against division champions from last year, including one series against the best starting pitching east of Yosemite. An 8-4 record in their last 12 games, against mostly good competition.
In a 162-game season, a road loss to Phillies means next to nothing. Hiroki Kuroda vs. Hamels in Philadelphia is not a game that the Dodgers would have been favored to win even if they were in first place. But at the same time, if something's going to change my opinion that this team doesn't have the strength to seriously compete this year, then it's going to have to be something not just dramatic, but kind of epic. It's going to have to be more than 7-5 in their past 12, no matter the competition. It's going to have to be more than a massive comeback from down five runs in the eighth inning against the Reds. There has to be more than a mere flashes of greatness. There has to be something sustained. Even then, there would be doubt, but there'd be more than just blips.
If even the losers get lucky sometimes, then you can't decide on a moment's notice that a loser has become a winner.
And believe me, I know the division looks weak. Frankly, the entire National League doesn't strike me as all that wonderful. I know everyone's unhappy about tonight's game, but let's look at it another way – if Hamels gives up a hit to a guy hitting about .220, the Phillies are poised to drop two of three to a sub-.500, offensively challenged NL West team.
The weaker the league, the easier it is you to compete – but also, the easier it is for other mediocre teams. Nearly every Tom, Dick, Harry, Orson and Mary Beth has a right to think they can win this year. So this isn't really about worrying that the Dodgers would sneak into the playoffs only to be swept in the first round. This is about worrying that, just like in 2005, there's a land of opportunity out there, but this covered wagon still doesn't have the horses even to make it past the Appalachians.
* * *
My theme for this year has been that the Dodgers need everything they can to go right. No margin for error. Despite some of the season's most exciting moments coming in the past two weeks, it's still not happening. First base and left field are still nightmares, catcher is close to it, third base is heading in that direction. We're faced, for example, with the burning (not in a good way) question of whether Aaron Miles is actually better than Uribe.
The young replacements in the bullpen have been practically spectacular, as has Matt Kemp. The starting pitching remains as good as advertised, and Andre Ethier, though his home-run power has gone AWOL, is still productive. The defense has been better than expected.
It's still not enough. We're now in the third month of the season. Where's the extra help going to come from?
Will James Loney, Uribe, Thames (6 for 42 with two walks in 2011), Barajas (7 for his last 49 with a walk and two doubles) and Jerry Sands (3 for his last 35 with two walks) pull out of their slumps?
Will Dee Gordon be a game-changer, at least until Rafael Furcal comes back? Will Furcal come back?
That's a lot of guys who can help – if they can help. But what I find is that we're asking mostly the same questions we've been asking for some time now. Those questions will not go away overnight.
Years ago, I wrote that if you're asking "Does this win mean the Dodgers have turned the corner?" then you know the team hasn't done so. If you have to ask, it hasn't happened. It means the losing is still too fresh. You'll know subconsciously your team has turned the corner when it doesn't occur to you to wonder.
The Dodgers have had a decent road trip, a decent past couple of weeks. But they are still on the other side of the street.
June, 6, 2011
6/06/11
1:31
PM PT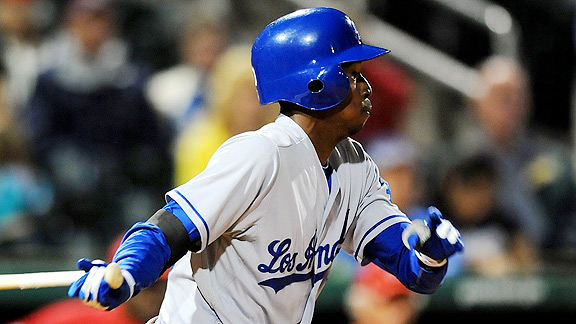 Norm Hall/Getty ImagesUnderneath that helmet is newest Dodger major-leaguer Dee Gordon.
Jerry Sands getting an early promotion to the bigs didn't surprise me much. Nor did Rubby De La Rosa.
But
Dee Gordon
getting the call — now that's a commitment to youth.
With Rafael Furcal once again relegated to the disabled list for weeks, the Dodgers have called up the 23-year-old Gordon from Albuquerque, where he had a .361 on-base percentage and 22 steals in 25 attempts, but also only 14 walks and nine extra-base hits (.370 slugging) in 50 games. (Tony Jackson of
ESPNLosAngeles.com
has the news story.)
Gordon has also had many questions about his fielding, particularly his ability to make the ordinary play (as opposed to the extraordinary one). On the bright side, his surge of errors in April has slowed considerably.
Additionally, it's worth noting that while everyone has always raved about Gordon's blinding speed, that .880 stolen-base percentage is a new bright spot. No one's expecting power from Gordon, so if he can just get on base and stay out of his own way defensively, he could be a thrill to watch.
Gordon is not in tonight's starting lineup, but unlike with someone such as Ivan De Jesus, Jr., you don't call someone like Gordon up to ride the bench. Cynics might wonder if Gordon is being showcased for a trade, but I've never gotten the sense he's someone the Dodgers want to part with.
To make room for Gordon and Marcus Thames, who was activated from the disabled list, the Dodgers designated Juan Castro and Jay Gibbons for assignment. This is also something of a surprise, given the Dodgers' proclivity to protect depth — and by 2011 Dodger standards, the .668 OPS for Gibbons and .619 OPS for Castro aren't the worst you could imagine. Sands could easily have been sent to the minors. But clearly, general manager Ned Colletti buys into the reality that they're not going to miss much by losing Castro and Gibbons. (There's also the not-slim possibility that the pair could end up back in Albuquerque if they clear waivers.)
Perhaps the way the young Dodger bullpen replacements have risen to the occasion has influenced Colletti.
Finally, the Dodgers optioned John Ely and De Jesus to make room for the return of Blake Hawksworth and Juan Uribe from the DL.
On the current 25-man active roster, 15 are below the age of 30.
* * *
Three years ago, I transcribed a Vin Scully excerpt
on the anniversary of D-Day
. This rubbed some people the wrong way, and a long discussion ensued in the comments of that thread. Just want to link to it to say I hadn't forgotten what Scully said, nor the response that followed. It was a learning experience for me.
May, 3, 2011
5/03/11
10:26
PM PT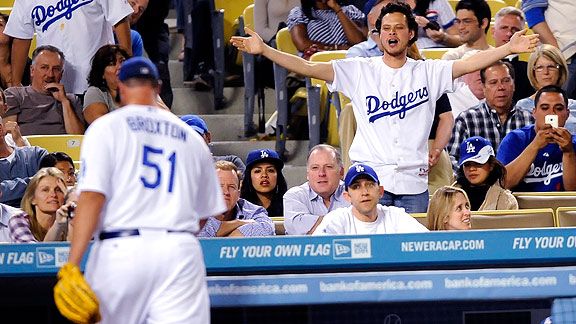 Gus Ruelas/APJonathan Broxton leaves the game after walking two of three batters.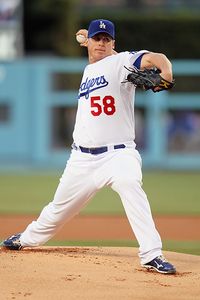 Jeff Gross/Getty ImagesChad Billingsley allowed only one run in seven innings, all for naught.
Jonathan Broxton has given Dodger fans a lot of heartache this year, but tonight he looked as sickly as he ever has in my memory.
Broxton entered tonight's game in the ninth inning of a 1-1 tie. After retiring Aramis Ramirez on two fouls and a popout, Broxton walked the next two batters on eight pitches, and few of them were close to the strike zone. According to MLB Gameday, the pitches were all fastballs, one reaching 93 miles per hour and the average at 91. That's just not the Broxton of 12 months ago, and I'm not convinced it's even the Broxton of 12 weeks ago.
People have been strangely fascinated with Broxton's facial expressions and posture, but here's a suggestion: Someone needs to look at his arm. Even if they've looked at it before, look at it again.
After the first walk, Blake Hawksworth began warming up in the bullpen, and after the second, Don Mattingly came to the mound. He talked to Broxton and the other assembled Dodgers, clearly stalling for time as Hawksworth raced to get ready, before finally telling home-plate umpire CB Bucknor to call for a rare mid-inning hook of the Dodger reliever.
Though I've always suspected Broxton's been off physically since his serious struggles began in late June, this was possibly the first time I watched him and said to myself, "There's a guy that's headed straight for the disabled list." Of course, what I observe from my seat far from the pitcher's mound has no real relevance, but I just offer it as an impression.
It is, I will say, a little peculiar to me that it doesn't occur to the people who are calling for Broxton's head and questioning his mental makeup that Broxton is possibly pitching hurt, and maybe has been for some time. If he has been concealing an injury, I sure hope he comes clean. (
Update:
From KABC 790 AM via
True Blue L.A.
: "After the game, Don Mattingly told reporters that Broxton was still his closer, but didn't sound convincing. "When guys tell you they're fine, you believe that. The inconsistency in velocity concerns me. You don't know if you're getting the whole story. We need to figure this thing out.")
Hawksworth looked like he would bail the Dodgers out after he got Alfonso Soriano on a can of corn to Matt Kemp, but the next batter, Geovany Soto, drove one to right-center that split Kemp and Andre Ethier for a double, driving in two runs. Blake DeWitt followed with his second pinch-hit single in two nights,
capping the Cubs' 4-1 victory over Los Angeles
.
On the bright side, Ethier got the business of taking his 28-game hitting streak to 29 out of the way in the fourth inning with a single over leaping second baseman Darwin Barney, tying Ethier with Zack Wheat's 1916 skein for the second-longest in Dodger history. For anyone complaining about Ethier getting a couple cheap hits this week, he got robbed of one by a diving Barney in the eighth inning.
Two innings later, after a single by Jamey Carroll, a sacrifice by Jerry Sands and a groundout by Ethier, Kemp gave the Dodgers a 1-0 lead with a single to center – the only run the Dodgers got against Ryan Dempster, who entered the game having allowed 33 earned runs in 31 innings this season.
Another struggling Cub, Carlos Pena (.171 slugging percentage), got well with one out in the top of the seventh. Pena tied the game with a high fly over the short fence down the right-field line for his first homer of the season, this coming off Chad Billingsley, who only allowed three other hits and two walks all night while striking out eight. And that took us to the ninth.
Elsewhere ...
Emo Juan Uribe is an instant Hall-of-Fame website. (Thanks, Mike Scioscia's Tragic Illness.)
Marcus Thames is likely to be out at least four weeks, Don Mattingly told reporters today.
No combo of two players has ever contributed a higher percentage of a team's offense than Ethier and Kemp, writes Jonah Keri for ESPNLosAngeles.com.
Francisco Liriano walked six but threw the first no-hitter for the Twins since ex-Dodger Eric Milton in 1999. By the score of 1-0, he beat former Dodger Edwin Jackson, who threw an even wilder no-hitter in 2010.
As David Schoenfield of ESPN.com's Sweet Spot notes, this was the first two-strikeout no-hitter since the Dodgers' Jerry Reuss in 1980.
From KABC 790 AM's Joe Block on Twitter: "How rare is a 30-game hitting streak? There have been 43 since 1900. Liriano's no-hitter was the 228th in MLB since 1900."
How do major-league cities rank if you go strictly by the value of sitcoms that were set there? Grant Bisbee of McCovey Chronicles answers the question at SB Nation. Fun list – now quibble away!
The soon-to-be Pacific 12 Conference on Wednesday will officially announce a 12-year TV deal with Fox and ESPN networks that is going to bring in approximately $3 billion to member schools over a 12-year period. You can get a hand on some of the details in my Variety story.
Alex Belth's Bronx Banter has a cool new redesign, co-produced by Baseball Toaster's Ken Arneson.
May, 3, 2011
5/03/11
3:02
PM PT
Marcus Thames has been battling some leg issues for some time now, and the powers that be have finally decided that he needs some extended rest. So he's off to the disabled list thanks to what's listed as a right quad strain, with the Dodgers activating Jay Gibbons in his stead.
Gibbons, of course, had been battling vision issues for months now, but he's been playing consistently
for the past week or so
, including a recent stretch in which he went 9 for 25 with a homer and three walks. The rub is that he bats left-handed, so that means Jerry Sands has one less right-handed bat to compete with for playing time.
Thames is only
6 for 34 this season
with two homers (both as a pinch-hitter), two walks and 11 strikeouts — a .634 OPS. In his most recent 12 games, he had a home run and a walk in 16 plate appearances.
Sorry I haven't done any Spring Training game wraps the past two days. I took Sunday off for my son's birthday, and then just felt I had nothing much to say after Monday's rainout/
shutout
doubleheader.
Anyway, please check out Tony Jackson's
ESPNLosAngeles.com
piece from Monday for a recap of the day, which begins with a short feature on left fielder Marcus Thames.
Or, read the best story of the past 24 hours: Barry Svrluga's tender feature in the
Washington Post
on Chad Cordero, the pitcher trying to make a comeback after losing his daughter to SIDS.
Or read Jayson Stark's nuanced feature for
ESPN.com
on Rays manager Joe Maddon's optimistic but uncertain relationship with new designated hitter Manny Ramirez.
Or check out Baseball Prospectus'
online chat
with Paul DePodesta.
Or stop by Bob Timmermann's latest piece for
Native Intelligence
, on the NCAA tournament.
Or enjoy Marcia C. Smith's appreciation in the
Register
of Bobby Grich's efforts to celebrate Angels history as president of the team's alumni association, inspired by an experience he had as a child:
... Grich was an 8-year-old, sandy-haired boy from Long Beach, taking in his first baseball game with his father at Wrigley Field the year before the Dodgers moved to Los Angeles. All he wanted was an up-close look at "my hero," Steve Bilko, a slugging first baseman for the Los Angeles Angels of the competitive, Triple-A Pacific Coast League.

"When the game was over, I ran down to the dugout," said Grich, his voice rising like a kite catching wind. "All the other kids were around him and I was in the back."

So he tore an empty popcorn box into a long strip, stuck a stubby pencil at its end, stretched it over the crowd and into the strike zone of Bilko and screamed, "Steve Bilko, please sign my autograph!"

"He saw how adamant I was," Grich recalled. "In pencil, he autographed "Steve Bilko" on this little piece of cardboard box. I was so thrilled and so excited that I grabbed it and ran all the way up the aisle, waving to my father, shouting, 'I got Steve Bilko's autograph! I got Steve Bilko's autograph!'"

Grich went home, taped the autograph into his scrapbook on a page with the game's ticket stub and the box score he clipped for the next morning's newspaper. Now, 54 years later, he still keeps that souvenir.

"So when I got to the big leagues, any time a kid asks me for an autograph, it's a rare that I turn down an autograph because of what a thrill it was for me to get his autograph," said Grich, who was in uniform Sunday as a spring training guest instructor and signed autographs for 30 minutes before the game. ...

* * *
Cubs at Dodgers, 1:05 p.m.
February, 7, 2011
2/07/11
1:20
PM PT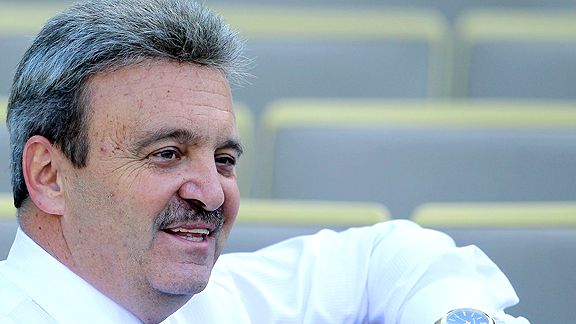 Jeff Gross/Getty ImagesNed Colletti is beginning his sixth season as Dodgers general manager. The team has averaged 86 regular-season victories during his tenure.
Ten days.
The Dodgers rose from the basement of the National League West in May to the best record in the league in June, then sat only two games out of first place in the division at the All-Star Break.
Yet as far as Dodgers general manager Ned Colletti was concerned, it was almost a mirage. During an interview at his Dodger Stadium office last week, Colletti fully acknowledged that the Dodgers' second-half fade, as much as he and everyone else tried to reverse it, came as disturbingly little surprise to him.
Ten days. In Colletti's view, that's how long the Dodgers played championship-quality baseball in 2010.
"I think the second half, in a lot of ways, was the result of the first half and the spring," Colletti said. "I can't say I had more than a 10-day period where I thought we were truly playing as well as we could play. In '09, we had a pretty good defense, and we executed, played well in clutch situations, found a way to win games. We really hadn't done that very much in the first half of the season. And I think it caught up with us in the second half.
"And what I did last year wasn't acceptable. How I prepared for last year didn't meet the results that I have for myself."
The Dodgers will arrive to spring training later this month, in many ways, a different team than a year ago, starting with a greater emphasis on starting pitching that represents Colletti's most visceral response to his roster concerns from 2010. At the same time, Colletti said the experience the returning core gained from last year's disappointment has the potential to play a significant, positive role in 2011.
"They're professional, and this is their livelihood," he said. "And you believe there's enough pride and adjustment and education from this past year. A lot of guys haven't gone through what they've gone through in the past year. That will put them in the right place coming in to know it's got to be better and it's got to be more focused.
"Because they've (succeeded) before, I'm confident. But then, last year was what it was. I'm cautious by nature. I take nothing for granted, at any point in my life at any stage. So I don't take it for granted that it's just gonna happen. I think it has to be prepared in order to happen.
Translated, Colletti believes the talent is there but the effort, focus and confidence need to return. He said the offseason preparation "is done to some point, and when you get to camp now it's going to be up to Don [Mattingly] and his staff to have certain procedures in place and certain accountability set forth. And I obviously have to support that, and they have to buy into it."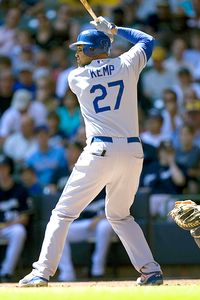 Jeff Hanisch/US Presswire
Matt Kemp had homered once in 31 games prior to hitting one out in each of his final five games of 2010.
Comeback kids?
Despite leading Dodgers regulars on offense, Andre Ethier never fully seemed to recover from the pinky injury he suffered in May and fed doubts about his long-term ability to hit left-handed pitchers (.625 OPS against them in 2010, .681 for his career). James Loney went from decent before the All-Star Break (.803) to disastrous after (.616). Jonathan Broxton's second-half collapse is as well-documented as anyone's, and Matt Kemp ... well, let's just say his season could have been the inspiration for what made Linda Blair's head spin in "The Exorcist."
The question, Colletti agreed, is which of the players will hit a hurdle in their development in 2010, and which have hit a wall. And it's a question that's due for an answer. Mulligans that were handed out last year won't be found so easily or at all in 2011.
"In the past, I've been more patient than open-minded," Colletti said. "I think that one of the toughest characteristics you have to have in these jobs is patience because everybody expects everything to turn overnight. … It doesn't work that way. Everybody's human; these guys are all human. They take maturation, physical maturation, all kinds of processes.
"I won't be able to be just completely patient with it [this year]. We're not an old team, but we're not a team overwhelmed with rookies, either. We have experience, and a lot of our players have been to the postseason at least twice and sometimes three times in the last five years. So it's there, it's really kind of going back to that point and being focused about it and passionate about it and tough-minded about it."
It might surprise people to learn that Colletti seems particularly bullish about Kemp, the target of a radio critique by Colletti in April.
"I think probably from middle of August on, things became a little bit more focused for him," Colletti said. "He and I had a conversation, probably in August, that was really a man-to-man, heart-to-heart, one-on-one conversation. And I was trying to take some of the weight off. I think he understands it; I think he understands what transpired last year. I think from my conversations this winter, from the last month of the season and this winter, I think he understands more than he did a year ago about himself and about the game, about preparation. So I think he's got a chance to really have a great year."
It's possible Colletti might have said the same thing about Russell Martin, except Martin is no longer around. The circumstances of the Dodgers' decision to let Martin go rather than offer him salary arbitration weren't discussed, but Martin's
recent offseason comments
about "distractions" that affected him led to a broader comment from Colletti about the difficulty of playing in Los Angeles.
"Sometimes, it's commitment, prioritization and commitment," Colletti said. "I read what Russell said, but I don't know what the true context was or what his underlying thoughts were as to why he said it. ... There are a lot of distractions in this city. There's a lot of different things to be doing, a lot of places your mind can wander off to, but if you're a professional baseball player, if you're a Dodger, you've got to figure out life. ... And it's not easy to do it."
Without going into many specifics, Colletti indicated that the ability to play in Los Angeles is a factor in some trades of young players he has made. He called Carlos Santana the prospect he regrets parting with "probably more than anybody" before he added that there were a couple of other guys he would have to wait and see on.
"Again, Los Angeles isn't for everybody," Colletti said. "Sometimes we make a move on a player because we know in this environment here, they're not going to be very good in it."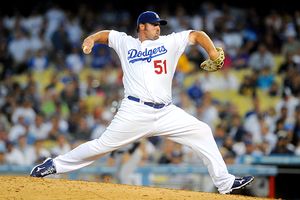 Chris Williams/Icon SMI
Jonathan Broxton issued 25 of his 28 walks last season after June 23.
Pitching paradoxes
As for Broxton, count Colletti among those who see his second-half crumble as an issue of confidence, rather than health problems that might have been caused by his 48-pitch tar-and-feathering against the Yankees last June.
"He never complained," Colletti said. "And at the end, he wasn't thrilled with it, but I said, 'Jonathan, I need you to take a complete physical -- your arm, your shoulder, your elbow.' A week to go in the season. And he said, 'I feel great. I don't need to do it.' And I said, 'I need you to do it.' So he said, 'I'll do it,' and everything came back clean."
Colletti is aware of the volatility of relief pitchers, comparing them to great goaltenders who can go through "a month or two where they can't stop anything." But this awareness cuts both ways. It leads Colletti to give relievers who have performed in the past long leashes, and it compels him to have as many alternatives on hand as he can, as seen through the acquisitions of set-up men Matt Guerrier and Blake Hawksworth and oblique references to No. 6 starter Vicente Padilla's potential to close games.
Again, however, Colletti believes that at rock bottom you can often find a trampoline. Look no further than Chad Billingsley, banished from the Dodgers' starting rotation by the end of 2009 before rising anew last season.
"Most of our young players did not experience a lot of failure as young players, minor leagues [or] early in the big leagues," Colletti said. "They really didn't struggle. And when it finally hits you, and you do struggle for whatever reason and you're doing it in front of 45,000 people in Los Angeles all the time, on television every day, that's a tough time to struggle for the first time, for the really first time, and be able to come out of it."
Interestingly, Colletti's faith in failure recovery played a partial role in what many believe is the Dodgers' greatest weakness heading into this season: the lack of a bona fide left fielder.
Angst in the outfield
This winter, the Dodgers didn't bid on the two marquee outfield free agents, Carl Crawford and Jayson Werth, and you can safely conclude that was a reflection of their overall contract demands and the Dodgers' budget. But when it came to alternatives, Colletti was wary of blocking two Dodgers outfield prospects who could each be major league ready a year from now, Trayvon Robinson and Jerry Sands, especially
after the experience
Robinson had in Jacksonville last summer.
"Robinson last year started off slow in Double-A, and we stayed with him and he figured it out," Colletti said. "That to me was huge. Because he's gonna have to figure that out. Because everybody struggles up here."
There is the caveat that it's not as if the current Dodgers never struggled in the majors or minors before 2010 -- one could easily make the case that they did, but that their subsequent triumphs blotted out the memory. In any event, if he had found a signable veteran outfielder worthy of a multiyear deal, Colletti no doubt would have pulled the trigger. But he does feel optimistic over the long term about what he has.
"If I would have signed a left fielder for three years, who was again not one of those robust guys -- I'm not sure there was a guy out there -- then I'm really kind of blocking one of those two kids, and I've got faith in both of them," he said. "Hopefully, not this year. Hopefully, it's a year from now, but I have faith in both that they'll be able to play and contribute. And actually I told them both that, too, in the fall -- I told Trayvon way back in the summertime, 'It's important for me to know who you are and how you play. Because you know what, Manny's not gonna be back next year. And I've got to make a decision whether I'm gonna go and tie up his spot for three or four years, or be patient and mix and match for a year and wait for you.'"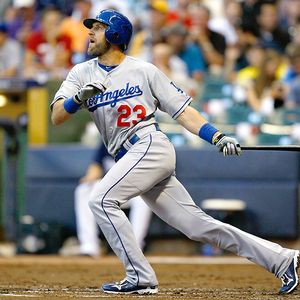 Scott Boehm/Getty ImagesCasey Blake had an .895 OPS against lefties last year, .663 against righties.
In the interim, Colletti is under no illusion that he has gold in the third outfield slot, so the Dodgers will essentially play it by ear in the outfield, with Mattingly looking at matchup opportunities for Tony Gwynn Jr., Marcus Thames, Jay Gibbons and Xavier Paul (if he makes the squad), and on an infrequent basis, Casey Blake or Jamey Carroll.
"Right now Matty's the center fielder," Colletti said. "Andre's the right fielder. I want to see what Tony can do offensively. He'll play as much as the offense allows him, I think ... using the whole field, bunting more, figuring out ways to get on base, because his on-base percentage isn't high even when he hits .270. See if he can become more disciplined at the plate, use his speed more to get on. I don't expect power out of him. I don't expect gap power out of him, but I would like to see him get on base a lot more, because if he does it perhaps changes the dynamics in the outfield.
"And in the meantime, I've got two guys that can hit, one from the left side and one from the right side -- actually two from the left side with X. Paul and Gibbons, and then Thames. ... And perhaps they're five- or six-inning guys, and then you go defense later. But you've got two guys that might be able to hit 20 homers between them."
Third base offers a secondary question for the Dodgers because, while Blake is sure to start against lefties and some righties, no one seems to be beating the drum for him to play 146 games like he did last season. With the Dodgers' minor leagues fairly thin at second and third base, this time Colletti took the plunge on a multiyear stopgap in Juan Uribe.
"Our system's produced a lot of guys," Colletti said. "But except for really [Ivan] DeJesus, we don't really have a second baseman that's on the verge of being here. We have a shortstop coming probably in Dee Gordon and after him [Jake] Lemmerman, and right now third base is a bit of an open spot too -- we had [Pedro] Baez in the Cal League last year. So Uribe, while the on-base percentage isn't Moneyball-ish or whatever, the run production is still pretty good, in that he can play second, short or third, and we don't have anybody that's going to press him at third for a while, and really De Jesus is trying to transition to play second. I needed somebody I can run out there who's a big league guy."
Because of what he sees as a potential benefit to have Uribe play some at the hot corner, Colletti emphasized that De Jesus has a legitimate chance to make the Opening Day roster as a backup infielder. Obviously, someone like Carroll could also make several starts to allow Blake to rest.
In any case, Colletti is aware of how much a juggling act the Dodgers' everyday lineup has become. Though he has in one sense traded last year's lack of a fifth starter for this year's lack of an everyday left fielder or third baseman, Colletti sees the two situations as apples and oranges.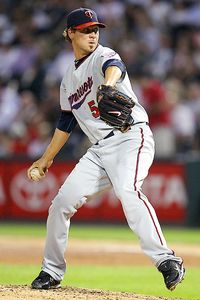 Jonathan Daniel/Getty Images
Matt Guerrier, 31, has allowed 11.5 baserunners per nine innings in his career.
Never enough
"You really didn't have in my mind many choices that were going to be able to play every day," Colletti said. "We had to fix the pitching first, and we had to upgrade the bullpen if we could.
"You can't finesse pitching. Maybe a day here or there, but you need to have it. And the list [of available pitchers], we were kind of picking near the top of the list, even though it isn't sexy to say you signed Ted [Lilly] or Hiroki [Kuroda], it's not necessarily 'wow,' but it's solid. It gave us a little bit of depth. So we had to start there. The kid from Minnesota, Guerrier, is gonna be a good add for us. He's pitched in a lot of big games; he's always had positive results.
"It's the most volatile group, but once [Joaquin] Benoit got three years and [$16.5 million], that's what people expect to get ... and if you really need a guy, sometimes you have to go the extra distance to go and get him."
Add together the total commitments the Dodgers made to their free-agent signees of this past offseason, and you barely pass the total value of Adrian Beltre's deal by itself, while falling short of the Crawford or Werth contracts. And like it or not, Colletti was not going to enter another season shy on pitching or dependent on unproven rookies such as James McDonald or Scott Elbert.
"I was apprehensive all winter long last year" Colletti said of the starting pitching. "I knew we were short going in; I knew we weren't going to be able to rally it. In the spring, J-Mac and Scotty both struggled. We may have sent them both out early, in fact, because they couldn't throw strikes; they were all over the board. So right from the beginning, I knew we were going to be short. I didn't know how we were gonna mix and match, and we couldn't afford an injury certainly."
If there's an ongoing concern on everyone's minds, it's how the Frank McCourt ownership crisis is affecting spending on the team on the field. You can argue that different owners might have allowed Colletti to sign one big-ticket free agent in addition to shoring up the pitching, but Colletti doesn't contend that the divorce itself is having an impact on personnel.
He also makes the case,
as McCourt did a year ago
, that the Dodgers are aiming to spend more money to deepen their prospect population.
Farm aid
"We've had basically the same [major-league] payroll," Colletti said. "Though we dipped a little bit last year, we're coming back this year. It's not really how much you have, it's where you spend it. We do have to get better at international signings; we have to reinvest there. I think we've let Venezuela slip for a few years, and we've made some changes in the staffing.
"We've done a decent job in the D.R. [Dominican Republic] -- not what we did 25 years ago, but with all due respect, 25 years ago there wasn't 30 teams down there, either. So, it's not like we could just cherry-pick the players we want like we probably did at the outset of the country opening up to having players signed. But we do have to get better at that to support our player development system. It's been fruitful. Obviously, a lot of players are in the big leagues now that we drafted, but we have to keep flowing, and they have to keep getting better. I know we've hit a touchable lull right now and I think we're probably a year or two away from having another group come forward."
[+] Enlarge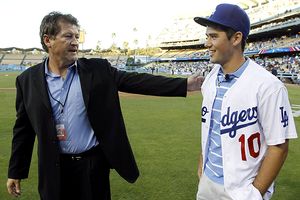 Chris Carlson/APLogan White escorts newly signed Zach Lee in his Dodger Stadium visit in August.
Colletti didn't rule out the Dodgers' top draft choice of 2010, Zach Lee -- whose signing shocked most baseball observers -- being part of the Dodgers' graduating class of 2012. Amid the height of McCourt tensions, Lee received a $5.25 million signing bonus, a record for a Dodgers' draft pick. The previous record-holder, Clayton Kershaw, reached the majors less than two calendar years after he was picked, and Lee could do the same.
"We really liked this kid," Colletti said. "We really liked his makeup, his demeanor, his abilities, athleticism, his toughness. ... Not only are the physical skills different than most kids you see, but the way his mind works is different ... probably from playing at the highest levels at a couple of sports, including going to LSU for a summer and having that experience, which as long as he didn't get hurt it didn't bother me."
Colletti's hope is that the Dodgers' minor league pitchers drafted in previous years allow Lee as much time as he needs to develop. There was an epidemic of setbacks among the farm system's arms in 2010 -- so many that if Colletti wants to see who can overcome hurdles, wish granted.
"It's concerning to me," he said. "Probably a lot of the guys that we could both probably name should be a year farther along than they are. They've all struggled with command. … Some are converted players, some weren't pitchers necessarily in high school or college. So they're still learning that.
Curing the epidemic
And to circle back to the beginning of our piece, in some ways, older players never stop learning and developing. Witness Colletti's additional assessment of the contagion that struck the Dodgers' offense in 2010:
"I think hitters sometimes without results start to get impatient, so they start to chase out of the zone," he said. "They're trying to build more offensive numbers in a quicker period of time and so they're not as diligent to work the count, and all that stuff starts to compound through the course of it. ... When people are starting to slump, sometimes it produces more guys that go in that direction than less. And that's what started to happen. It started to spiral where one guy struggled and then two. And then the third guy saw the other two and then he struggled, and it continued to mount."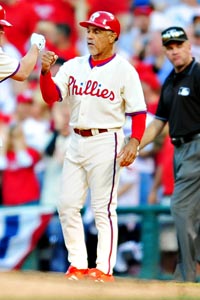 Alex Gallardo/APDavey Lopes will switch to a Dodgers' uniform for the first time since Game 6 of the 1981 World Series.
When you take Colletti's view of what went wrong with the Dodgers last year and what's needed to make it right, it makes sense that he sees one of the most promising offseason moves as one that even some jaded Dodgers fans embraced: the hiring of Davey Lopes as a coach.
"I've known him a long time and I've admired him," Colletti said. "You know, I was with him in Chicago when he was still a player and I've certainly watched him from the other side of the field when he managed and when he was coaching. And I think what he brings here is -- you're talking about first -- someone who was an iconic Dodger who understands Los Angeles and understands the Dodgers and was here during one of the greatest periods in our franchise's history. That's important.
"What he did in Philly with baserunning and defense and fine-tuning that position, the first-base coaching position, to make it a far more valuable position to the organization, is something we noticed. And I think he's going to have a great impact on our club. I think there are some players that could turn their game up a notch with his instruction, with his thought process. I think, while it's a coaching position, I think it's a huge addition for this franchise."
Will a new manager, new coaches, new players and new spirits be enough to right the Dodgers' ship? It's too soon to say, but if the Dodgers are to play more than 10 days of great baseball in 2011, Colletti will expect to see strong signs of it before Opening Day arrives.
January, 19, 2011
1/19/11
4:03
PM PT
As we all know, replacing a legendary broadcaster isn't easy — and certainly won't be for the Dodgers on that sad, hopefully far-off day after Vin Scully has called his last game for the team.
Craig Calcaterra of
Hardball Talk
subscribes to the theory that maybe a rotating set of broadcasters is better in the immediate aftermath of a legend's departure, rather than asking one person to bear the burden of walking in his microphonesteps.
So do
the Seattle Mariners,
who will rotate five men through their radio booth at various times
in 2011, their first year without the late Dave Niehaus.
One of those men will be KABC AM 790 Dodger Talk co-host Ken Levine
, who returns to Seattle, where he did play-by-play in the 1990s. Levine says that it's not clear whether his new part of the rotation means he is bidding a complete farewell to the Dodgers, so we'll see what happens there. But congrats nonetheless.
Former Dodger Ron Fairly is also among the radio crew. And on the TV side, former Dodger Mike Blowers returns as a color commentator.
* * *
Former Dodger coaches Roy Hartsfield and Carroll Barringer have passed away in recent days, writes Ken Gurnick of MLB.com.
Matt Klaassen of Fangraphs has a dim view of any sort of platoon between Jay Gibbons and Marcus Thames, mainly because of Gibbons.
Though it's primarily a story involving the Padres, Geoff Young's piece at the Hardball Times about how collusion in the 1986-87 offseason affected Tim Raines includes the tidbit that the Dodgers didn't sign a 27-year-old Raines to a three-year deal worth a total of $4.5 million because they were "satisfied with Ken Landreaux." Landreaux then got 37 more hits in his major-league career.
File this site for future reference: MLB Trade Trees. (link via Beyond the Box Score).
At 9 a.m. Sunday, CBS Sports Spectacular is scheduled to air a tape-delayed broadcast of Saturday's supercross event at Dodger Stadium.
January, 17, 2011
1/17/11
5:47
PM PT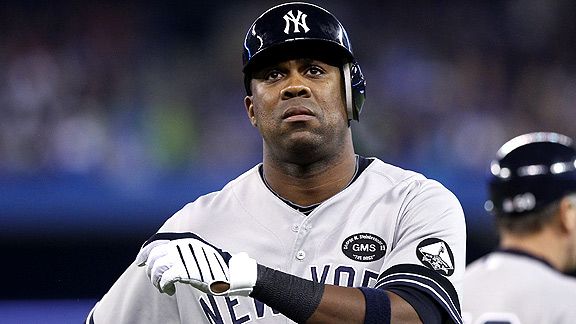 Tom Szczerbowski/US PresswireMarcus Thames
Adding to their collection of poor-defending but slugging outfielders, the Dodgers are poised to sign the guy who might be Jay Gibbons' brother from another mother:
Marcus Thames
. Tony Jackson of
ESPNLosAngeles.com
has details.
Thames, 34 in March and four days younger than Gibbons, had a .350 on-base percentage and .491 slugging percentage against lefties
last season
, making him a potential platoon partner with Gibbons or Xavier Paul (only if the latter has a knockout Spring Training, it appears). Overall, Thames has an OPS of .802 in a career spent entirely in the American League. But Thames carries with him the baggage of being yet another left fielder that Dodger pitchers might be afraid of.
The Thames signing reduces the chances of the Dodgers resorting to games with Casey Blake or Jamey Carroll in the outfield. Whether the Tony Gwynn, Jr. plan B to realign the outfield is dead remains to be seen. Jamie Hoffmann has no chance of making the Opening Day roster now unless someone gets hurt.
Thames and Gibbons represent appealing bats off the bench — whether we want to see them each play 500 innings in the field this year is another story. But this definitely beats re-signing Scott Podsednik.
* * *
The Dodgers are taking negotiations with Chad Billingsley, Hong-Chih Kuo and James Loney down to the wire, Jackson writes
in a separate story
.
With major league teams and arbitration-eligible players set to officially file salary figures on Tuesday, the Los Angeles Dodgers still haven't reached agreement with any of their affected players -- pitcher Chad Billingsley, reliever Hong-Chih Kuo and first baseman James Loney -- but based on recent history, it appears highly unlikely that the club will end up going to a hearing with any of those players in early February.

In the decade that assistant general manager Kim Ng has been handling all the team's arbitration cases, only two players have taken the Dodgers to a hearing. The club won both of those cases against pitchers Eric Gagne in 2004 and Joe Beimel in 2007, the victory over Gagne coming the winter after he won the National League Cy Young Award.

For now, Ng isn't making any predictions.

"We will have a much better idea in the next 24 hours [after numbers are filed on Tuesday]," Ng said. "It's moving. We're progressing, but nothing is final yet."

Ng did confirm that the club isn't discussing a multiyear contract with either Billingsley, Kuo or Loney. All three are "four-plus" players, meaning they have between four and five years of major league service time, are arbitration-eligible for the second time and -- barring a multiyear deal -- will be arbitration-eligible again next winter. ...
* * *
Trayvon Robinson is the subject of a really nice feature by Ramona Shelburne of
ESPNLosAngeles.com
.
As far back as any of his baseball coaches can remember, people noticed Trayvon Robinson. He had the skills, but not the polish; the raw tools, but not the savvy.

Anyone with a little vision could see what kind of player he could become. The question was whether that potential would develop and bloom one day.

Andre Green had coached baseball at Crenshaw High School in Los Angeles long enough to recognize a talent such as Robinson's early on. He'd also been around long enough to know all the things that could keep Robinson from developing into what he's since become: one of the Los Angeles Dodgers' top prospects.

Like many of Crenshaw's top athletes in recent years, Robinson also played football before high school.

"He wanted to play football, and I just told him 'No,'" Green said. "I said, 'You're a baseball man and you're going to put Crenshaw on the map.'" ...