Dodger Thoughts:

Maury Wills
October, 26, 2011
10/26/11
9:50
PM PT
The rumors were flying today that the one-month postponement of the winner-take-all bankruptcy court hearing on Frank McCourt's ability to prematurely sell the Dodgers' post-2013 TV rights (what a mouthful that was) was actually a sign that a deal was being forged that would facilitate McCourt selling the franchise. (See
ESPNLosAngeles.com
and Bill Shaikin of the
Times
for more.)
What's clear is that talks have been taking place, what's unclear is whether there was any real momentum behind the talks. And so, there's no way of knowing whether the next month might see the happy revelation of closure, or whether it will just be 30 more days tacked onto our painful waiting game.
Elsewhere ...
Hong-Chih Kuo is going to have arthroscopic surgery to remove a loose body (no, this isn't a Halloween joke) in his left elbow. Tony Jackson of ESPNLosAngeles.com talked to Dodger training chief Stan Conte about the situation. Kuo is planning to try to pitch in 2012, but while he is certain to be made a free agent by the Dodgers, they're still as good a bet as anyone to try to re-sign him to a discounted contract.
Maury Wills is the subject of a story in the Times that illustrates what a longshot he was to make the majors with this anecdote: In 1959, Topps chose not to pay Wills the grand total of $5 for the rights to have him on a baseball card.
How overdue are the Dodgers for a World Series compared to other teams? Check the list at Cy Morong's Cybermetrics.
September, 4, 2011
9/04/11
9:13
AM PT
As recently as a week ago, Kershaw trailed Cincinnati's Johnny Cueto by about half a run, 2.51 to 2.05. Today, however, Kershaw takes the mound
trailing Cueto by only 0.16
, 2.45 to 2.29.
Since Independence Day
, Kershaw has an ERA of 1.18 with 74 strikeouts in 76 innings and an opponents' OPS of .533.
* * *
The Dodgers, who have needed nine reliever innings in the past two days, added Ramon Troncoso to their roster for today's game. More help will be on the way after the Albuquerque season ends Monday. Reinforcements from Chattanooga, if any, will take longer because the Lookouts are headed to the Southern League playoffs, running through at least September 10.
In the New York Times on Friday, Richard Sandomir wrote about how much the Dodgers are being billed by their bankruptcy lawyers.
Thanks to Ernest Reyes of Blue Heaven for the link to Vin Scully's 1963 description of "What Is a Dodger?" Suitable for a bedtime story ...

There's more – all on the album "Jackie Barnett Presents The Sound of the Dodgers" – from noted stage and singing stars Stubby Kaye, Jimmy Durante, Maury Wills and Willie Davis. And to wrap things up, one more piece from Vin: "The Story of the Dodgers." Note his pronunciation of "Chavez."
Amid all of Clayton Kershaw's accomplishments this season, one feat has been seemingly out of reach – an ERA title.
May, 4, 2011
5/04/11
8:45
PM PT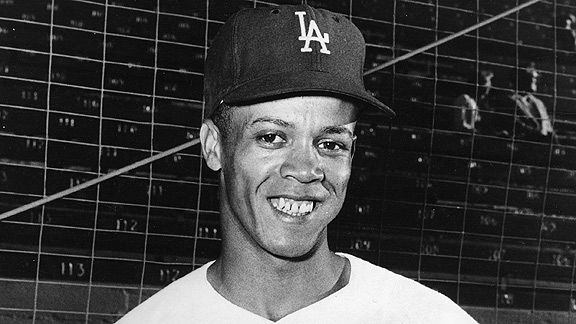 Mark Rucker/Transcendental Graphics/Getty ImagesMaury Wills, 1959
Dodger speedster Maury Wills has been elected to the
Baseball Reliquary's Shrine of the Eternals
, along with World War II-era ballplayer Pete Gray and Ted Giannoulas, aka the San Diego Chicken.
Wills' candidacy rested on his role in popularizing the stolen base as well as his lifelong devotion to the game, while Giannoulas earned his popularity in a much different way, strutting through Padres games in his Chicken costume.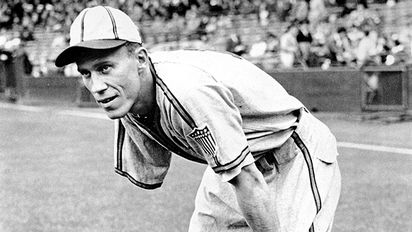 Bruce Bennett Studios/Getty ImagesPete Gray
Gray, who lost his right arm in a childhood accident, began in professional baseball in 1942 at age 27 and gained national attention two years later when he batted .333 for the Memphis Chicks with a league record-tying 68 stolen bases. Entering the majors with the St. Louis Browns during the wartime player shortage, Gray had a .259 on-base percentage and .261 slugging percentage, but still wowed fans with his ability to catch a fly ball, roll the ball across his chest as he tucked his glove under his right shoulder and then throw in one motion. Gray continued to barmstorm for years in the minors. He passed away in 2002 at age 87.
The trio join the previously elected Eternals: Jim Abbott, Dick Allen, Roger Angell, Emmett Ashford, Moe Berg, Yogi Berra, Ila Borders, Jim Bouton, Jim Brosnan, Bill Buckner, Roberto Clemente, Steve Dalkowski, Rod Dedeaux, Jim Eisenreich, Dock Ellis, Mark Fidrych, Curt Flood, Josh Gibson, William "Dummy" Hoy, Shoeless Joe Jackson, Bill James, Bill "Spaceman" Lee, Roger Maris, Marvin Miller, Minnie Minoso, Buck O'Neil, Satchel Paige, Jimmy Piersall, Pam Postema, Jackie Robinson, Lester Rodney, Pete Rose, Casey Stengel, Fernando Valenzuela, Bill Veeck, Jr. and Kenichi Zenimura. Induction day is July 17 in Pasadena.
Here are the 2011 Baseball Reliquary vote percentages (top three earn election):
February, 21, 2011
2/21/11
6:01
PM PT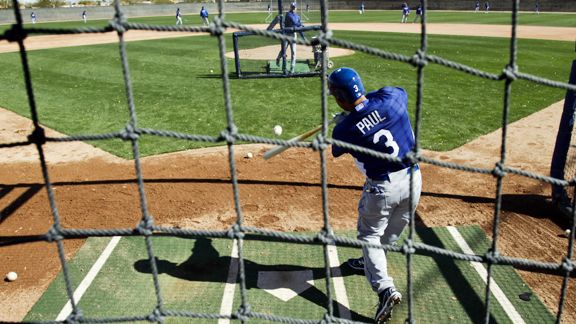 Morry Gash/APXavier Paul takes his swings at Camelback Ranch today.
Maury Wills sings
"Crawdad Hole." Thank you,
Blue Heaven
.
Elsewhere ...
"Oh, occasionally the early evening, but usually the late evening — or the mid-evening. Just the early evening, mid-evening and late evening. Occasionally, early afternoon, early mid-afternoon, or perhaps the late-mid-afternoon. Oh, sometimes the early-mid-late-early morning. ... But never at dusk! Never at dusk. I would never do that."
— Steve Martin
* * *