Dodger Thoughts:

Nathan Eovaldi
October, 4, 2011
10/04/11
5:22
PM PT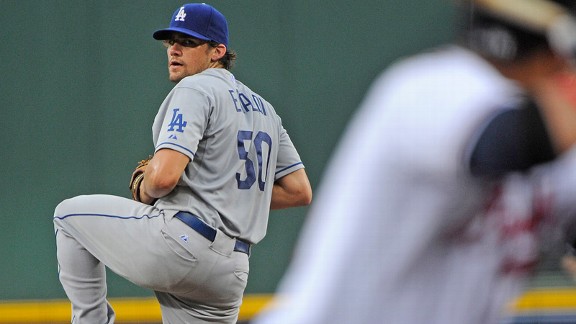 John Amis/AP
Nathan Eovaldi
The setup:
Having spent most of 2010 in Single-A ball with Rancho Cucamonga, for whom he posted a 4.45 ERA with 6.1 strikeouts per nine innings, Eovaldi was slated for nothing more than a year's worth of learning with Chattanooga in the calm of the Double-A Southern League. But his banner season — 2.62 ERA, 99 strikeouts in 103 innings — combined with injuries to Jon Garland, Vicente Padilla and Rubby De La Rosa, vaulted Eovaldi into the Dodger starting rotation August 6.
The closeup:
Eovaldi made six starts for the Dodgers before they pulled the 21-year-old into the bullpen as a workload precaution. In all but one of the starts he pitched at least five innings and allowed no more than two runs, and if not for a sun-aided bloop double that fell in front of Trent Oeltjen
against Colorado on August 28
, Eovaldi could have easily gone 6 for 6. Even so, he had a 3.09 ERA as a starter with a .649 opponents' OPS. Of more concern is that he allowed 43 baserunners in 32 innings while striking out 23. His Expected Fielding Independent Pitching ERA (xFIP),
according to Fangraphs
, was 4.80.
After his final start, Eovaldi went nine days without pitching in a game, then faced only 15 batters over a 15-day stretch as a reliever, with seven of them reaching base.
Coming attractions:
With De La Rosa needing most if not all of 2012 to recover from Tommy John surgery, Eovaldi is a leading contender to take a place in the Dodger starting rotation — though it's far from impossible that, if Hiroki Kuroda returns, the Dodgers might find a way to start Eovaldi in the minors again. There's great respect for the three-level leap that U-less made this year, but whether he's ready to sustain that over an entire major-league season at age 22 remains somewhat in doubt. Nathaniel Stoltz's analysis at
Seedlings to Stars
(via
Lasorda's Lair
) suggests that Eovaldi might be too reliant on his fastball.
August, 6, 2011
8/06/11
11:17
PM PT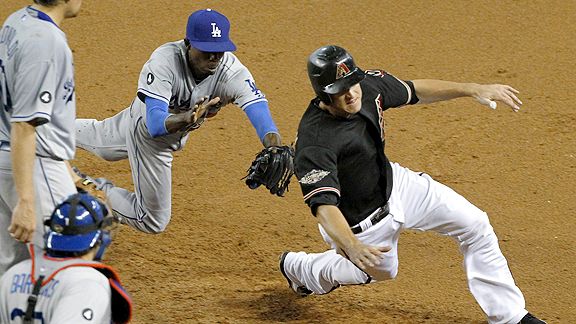 Ross D. Franklin/APDee Gordon dives to tag Kelly Johnson, but ends up not sticking the landing.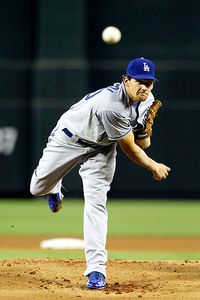 Christian Petersen/Getty ImagesNathan Eovaldi followed through on his first big-league start.
Hey #dodgerfans I'm gonna be ok, just tweaked my shoulder alittle bit...I'll be back really soon!!!
–
Dee Gordon on Twitter
So, yeah, to lose Rubby De La Rosa and Dee Gordon in one week? That would have been unreal.
Instead, despite Gordon's awkward
tag on a rundown play
in the third inning tonight that forced him out of the game following his thud on his right shoulder, the report is that he did not suffer a sprain or dislocation, and should be back in a few days (allowing for the math of Dodger medical reports).
And so a good first start for Nathan Eovaldi was not spoiled. The 21-year-old allowed two runs in five innings and was the winning pitcher in the
Dodgers' 5-3 victory over Arizona
.
Eovaldi struck out two batters in a perfect first inning and was a strike away from re-feating in the second when Ryan Roberts worked out a walk. Eovaldi then allowed a single, another walk, and then a two-run single to opposing pitcher Joe Saunders that seemed like it had removed all the pixie dust from the youngster's debut.
Instead, Eovaldi only faced one batter over the minimum (thanks in part to Gordon) for the remainder of his outing, striking out seven in all, and even got his own first major-league hit and run.
Eovaldi was said to be on a 90-pitch limit for the day, but came out after 77 when the Dodgers put together a two-run top of the sixth to take a 4-2 lead. The bullpen allowed one run over four innings, with Scott Elbert giving Javy Guerra a rest and picking up his second save of the season.
Sunday, Clayton Kershaw pitches to try to give the Dodgers their first road sweep of 2011.
August, 5, 2011
8/05/11
10:40
PM PT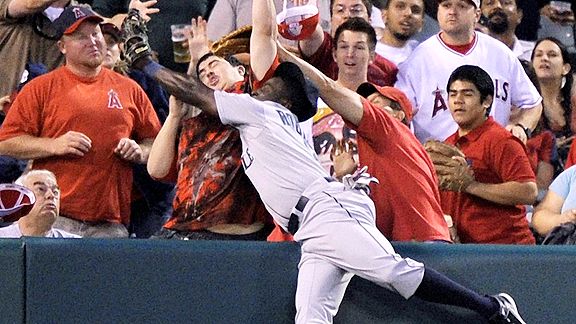 Mark J. Terrill/AP
And he shall be Trayvon. And he shall be a good man.
Short-lost Dodger prospect Trayvon Robinson not only singled, he made a
dazzling catch over the left-field fence
for Seattle in Anaheim in his major-league debut tonight.
At least the Dodgers still have Dee Gordon.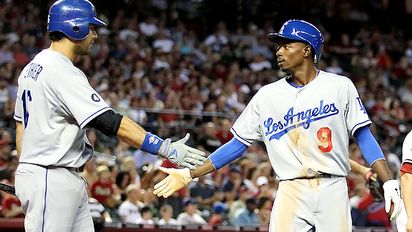 Christian Petersen/Getty ImagesAndre Ethier congratulates Dee Gordon after the rookie scored the Dodgers' first run.
Gordon laid a perfect bunt down the third-base line to start a six, count 'em, six-run outburst in the third inning, and then outfought some ants for a
diving grab in the seventh
to help keep the Dodgers from blowing what remained of their lead, and
Los Angeles outlasted Arizona, 7-4
.
Gordon's catch came with the bases loaded and the Dodgers' 6-0 lead down to 6-3. He dove to his right to catch a Justin Upton liner inches off the ground, then doubled up Sean Burroughs at second base.
Rod Barajas, whose two-run double capped the Dodgers' scoring in the third inning, in the eighth became the third Dodger with double-digit home runs this year, giving the Dodgers an extra run to work with. After Mike MacDougal allowed a sacrifice fly in the bottom of the eighth, Javy Guerra came on for a career-best four-out save.
The Dodgers had 11 hits and five walks, led by Juan Rivera's perfect night (single and three walks), Casey Blake (3 for 5), Andre Ethier (single, double, walk) and Matt Kemp (single, walk). Chad Billingsley was charged with three runs in six innings. And, by the way, Tim Federowicz, who came in the Robinson deal,
homered for Albuquerque tonight
.
The Los Angeles youth movement continues Saturday with the
promotion of Nate Eovaldi
, whose contract was officially purchased by the Dodgers. John Ely was sent back to Albuquerque without pitching this week.
August, 3, 2011
8/03/11
9:09
AM PT
What, the Dodgers still have a future?
Despite the callup of John Ely when Rubby De La Rosa went on the disabled list, Tony Jackson of ESPNLosAngeles.com reports that Nathan "What, no 'U'?" Eovaldi
might be the Dodgers' next No. 5 starter
when the rotation wheel turns that way on Tuesday. Mike Petriello of
Mike Scioscia's Tragic Illness
provides a detailed introduction to Eovaldi, who has a 2.62 ERA for Chattanooga with 8.7 strikeouts per nine innings.
There are two things I want to add to Petriello's post this morning. The first is to compare Eovaldi's performance at Chattanooga this year to
De La Rosa's work there
(spread over the 2010-11 seasons).
Eovaldi (born February 13, 1990): 103 innings, 6.6 hits per nine IP, 4.0 walks per nine IP, 8.7 strikeouts per nine IP, 2.62 ERA in 2011.
De La Rosa (born March 4, 1989): 91 innings, 6.7 hits per nine IP, 4.3 walks per nine IP, 11.7 strikeouts per nine IP, 2.08 ERA in 2010-11.
There are similarities, with the most noteworthy difference being De La Rosa's dominant strikeout rate, which makes Eovaldi's strong numbers smaller in stature. Given that Eovaldi is almost a year younger than De La Rosa but would be making his major-league debut fewer than three months later, I think we can be quite excited about him in the long term, but should certainly temper our expectations in the short run.
Is Eovaldi being rushed? Well, I think his potential callup should be looked at the same way that earlier stints for Jerry Sands and Dee Gordon were. It's not a permanent or do-or-die situation. It's an opportunity, given injuries at the major-league level, to provide a first look at the majors for a potentially important 2012 player. The pressure should be lower on Eovaldi, who unlike De La Rosa would not be making his debut while the Dodgers could still be considered in playoff contention.
The second thing I want to do is check in on ballyhooed 2010 first-round pick
Zach Lee
, who was drafted with the potential of being a top counterpart to Clayton Kershaw in the Dodger starting rotation.
Kershaw reached the majors on May 25, 2008 – just shy of two years after he was drafted. If Lee matched the same exact path, he would be introduced to the Dodger rotation next May. The first hitch in that plan, however, was that Lee signed so late in 2010 that he didn't play in the minors that year, while Kershaw
pitched 37 innings
(striking out 54 with a 1.95 ERA).
Still, let's take a look at how each performed at age 19 for Single-A Great Lakes:
Lee (born September 13, 1991): 81 innings, 8.0 H/9, 2.8 BB/9, 8.1 K/9, 3.22 ERA in 2011.
Kershaw (born March 19, 1988): 97 1/3 innings, 6.7 H/9, 4.6 BB/9, 12.4 K/9, 2.77 ERA in 2007.
Kershaw was promoted before the end of the 2007 season to Double-A Jacksonville, where he had a 3.65 ERA and 10.6 strikeouts per nine innings in 24 2/3 innings. Lee,
who was slowed briefly this year by elbow soreness
, might remain a step behind Kershaw's development path, given that aside from better control, he also hasn't been as dominant.
Nevertheless, we could very well see Lee in the majors by a year from now. And if you can wait a bit longer – just 21 months from now – the Dodgers' 2013 starting rotation could offer Kershaw, De La Rosa, Eovaldi, Lee and Chad Billingsley, not to mention Ted Lilly and other contenders from the farm system. Something to look forward to ...
April, 24, 2011
4/24/11
9:04
PM PT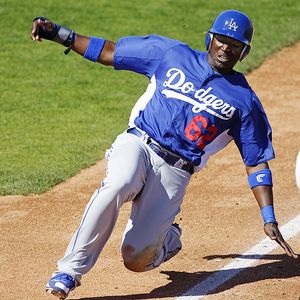 Eric Risberg/APTrayvon Robinson
Hot starts from Dodger minor leaguers:
Trayvon Robinson, 23, OF,
Albuquerque
63 plate appearances, .429 on-base percentage, .661 slugging percentage, four homers, six walks, 19 strikeouts
Jon Link, 27, RP, Albuquerque
12 1/3 innings, 16 baserunners, 10 strikeouts, 2.19 ERA
Bryan Cranston, 55, UT, Albuquerque
No stats, only video
.
Corey Smith, 29, 3B, Chattanooga-Albuquerque
63 plate appearances, .397 on-base percentage, .483 slugging percentage, one homer, five walks, 10 strikeouts
Scott Van Slyke, 24, OF,
Chattanooga
54 plate appearances, .463 on-base percentage, .830 slugging percentage, three homers, six walks, 10 strikeouts
Michael Antonini, 25, SP, Chattanooga
17 2/3 innings, 20 baserunners, 12 strikeouts, 1.53 ERA
Rubby De La Rosa, 22, SP, Chattanooga
15 1/3 innings, 20 baserunners, 19 strikeouts, 1.76 ERA
Nathan Eovaldi, 21, SP, Chattanooga
15 innings, 18 baserunners, 16 strikeouts, 1.20 ERA
Austin Gallagher, 22, 1B,
Rancho Cucamonga
62 plate appearances, .468 on-base percentage, .632 slugging percentage, two homers, five walks, seven strikeouts
Gorman Erickson, 23, C, Rancho Cucamonga
49 plate appearances, .490 on-base percentage, .575 slugging percentage, no homers, nine walks, seven strikeouts
Steven Ames, 23, RP, Rancho Cucamonga
8 1/3 innings, seven baserunners, 15 strikeouts, 1.08 ERA
Jonathan Garcia, 19, OF,
Great Lakes
65 plate appearances, .354 on-base percentage, .712 slugging percentage, six homers, five walks, 17 strikeouts
Garrett Gould, 19, SP, Great Lakes
17 innings, 14 baserunners, 12 strikeouts, 1.59 ERA
Zach Lee, 19, SP, Great Lakes
14 innings, 21 baserunners, 21 strikeouts, 1.29 ERA
Shawn Tolleson, 23, RP, Great Lakes
6 1/3 innings, seven baserunners, 16 strikeouts (out of 19 total outs), 0.00 ERA